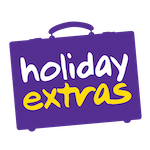 Holiday Extras is a family owned business based in Kent. The company was established in 1983 and today they are the UK's biggest airport parking and hotels provider.

Focusing primarily on travel add-ons such as airport lounges, accommodation and parking, Holiday Extras reportedly help arrange travel extras for nearly 7 million travellers a year.

Airport parking was added to Holiday Extras portfolio of products in 1988, and when at some airports demand continually outstripped supply, they purchased its first car parking company near Birmingham Airport, branding this new business Airparks Ltd.

In October 2007 Holiday Extras acquired BCP Limited, an airport parking operator. At the end of 2013 they acquired Essential Travel from Thomas Cook.

Car Parks Offered by Holiday Extras
Here is a breakdown of all the car parks offered by Holiday Extras at each airport location.
Click each airport or specific car park to be taken through to the relevant information page.