Manchester Jet Parks Ringway
Compare and pre-book this car park at Manchester airport to save up to 60% off gate prices.
£ 9.94
Last 7 days
Average Price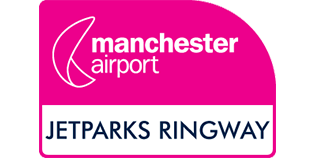 Directions
Exit the M56 at Junction 5 and get in the lane for Cheadle. At the traffic lights select the lane signposted for Terminal 3, Quarry Bank Mill, Gatley and Wythenshawe. Continue along Ringway Road for 0.8 miles and then turn left on to Shadowmoss Road. The entrance to JetParks Ringway will be 100 yards on the right.
Arrival procedure
On arrival at the car park, please drive up to the barrier, which will recognise your number plate and rise automatically. Then drive in and park in any space. If you have any problems, please press the intercom for assistance and quote your reference number. Do not press the green flashing button as this is for customers who've not booked.

It can get quite busy, so please make sure you leave plenty of time to find a space.

Once you've parked your car and unloaded your bags, make a note of the letter and number of the row you're in (the signs are at the end of the row), then head to the nearest yellow bus shelter. There are 3 in the disabled area, numbered 107-109 and two at the far end, numbered 110-111. Wait for the number 9 transfer bus to arrive and take it to the terminal.
Return procedure
On return, collect your luggage and head back to the bus stop where you were dropped off, then get on the number 9 bus back to the car park. When you get back, you'll find your car waiting where you left it so just get in and drive to the barrier.

If you've stayed longer than you booked for, you'll be prompted to make payment using the chip and pin device. If you encounter any problems, please press the intercom for help.
Security
The car park has 24-hour CCTV cameras and patrols as well as barriers and floodlights.
EXTRAS
Disabled facilities
There are spaces on tarmac for blue badge holders that are larger than normal spaces. There are also three bus stops in the disabled area so you won't need to walk far to get on the bus. All buses are DDA compliant.
Additional information
Official airport car park. It operates Automatic Number Plate Recognition (ANPR) for simple entry and exit. Newly built self-park car park with a bus service operating to all three terminals.

The car park doesn't accept trailers.

Due to roadworks in the car park's surrounding area, we recommend allowing additional travel time in case of delays.

Please note that there aren't any toilets at the car park.
Manchester Jet Parks Ringway reviews
Our average review score for Manchester Jet Parks Ringway is 2 from 63 reviews.
Flight out was 6:20 am - so allowed lots of time to get from Leeds to the JetParks Ringway car park. Arrived about 4:20am then could not locate the car park - Sat Nav did not have the new road layout (lots) available and there was not one sign at any of the major junctions to provide directions to the car park. My wife used her phone to guide us into the car park - through a housing estate. Big queue at the bus stop - starting to panic now, made it on the bus but some were left behind and the next bus stop was just waved at because our bus was full. Some said that they had to wait over half an hour for a bus. By the time I got through to the terminal gate, they were boarding the plane. I will not be using this car park again. The amount of money they are making from cars all crammed together and not a penny spent on signage.
May 20, 2019
Do not use this car park if you want to get to your plane on time. We arrived in good time for our flight, however we had to wait for 30 minutes until the first bus arrived, when the driver saw there were 10 people waiting to get on he didn't even stop, but indicated that the bus was full. He then stopped at the next stop and let a couple of people on! We then had another 10 minute wait for the next bus, which we managed to get on. It was almost an hour from arriving at the car park to reaching the terminal. We only just managed to catch our flight as a result, as we were allowed to push to the front of the check in queues. We will never use these car parks again!
May 13, 2019
Even though the bus driver must have seen us heading towards the bus stop he still pulled off and left us. And then we had to wait ages for another bus. Absolute shambles. Won't be parking here again.
May 9, 2019
Miles away and the bus service is appalling. Waited for over 30 minutes on the way in and worse on the way back. Avoid
May 9, 2019
Do not park on this car park! I only wish I had read the other reviews because the same thing happened upon our return from holiday; cling film on the window and a letter with an incident number on the windscreen. Now that I have read the reviews I am even angrier at the total disregard the airport have for their Customers. It is advertised as safe and secure parking, which is against trade descriptions because it is anything but. They just want your money and if your car gets trashed then you get a refund on your parking, which is an insult. It's hardly an incentive to improve security because people just carry on parking there and when you look at the amount of cars on the car park you can see its a cash cow, so why bother increasing security. I was told that my vandalised car was just one of 5 on that particular night and that they haven't had an incident for a while. After reading the previous reviews, this is rubbish unless you call a month a while. Please, please do not park there!
February 27, 2019
Getting results for Manchester Jet Parks Ringway
No results found for Manchester Jet Parks Ringway for your chosen dates.
See results for more car parks