Manchester Jet Parks 1
" Very easy. Booked, arrived, drove in and parked (number plate recognition). Lift to and from airport then we drove out. As easy as that :)" - Zoe Waddington
£ 10.83
Last 7 days
Average Price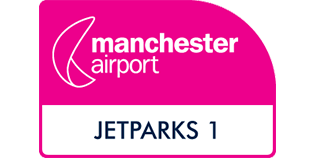 Directions
Please check your email confirmation for details.

Exit the M56 at Junction 5. Keep to the left and take the first exit signposted Terminal 2. At the roundabout at the top of the hill, take the first exit, and then approximately 100 yards further on, turn left into Thorley Lane. Continue down Thorley Lane, past the Etrop Grange Hotel, and the entrance to Jet Parks 1 is immediately afterwards on your left hand side.

The postcode for JetParks 1 is: M90 5AZ.

Arrival procedure
Please check your booking confirmation for details.

Drive up to the barrier, which will recognise your number plate and rise automatically. An orange token automatically be issued. Take the token and park in any space.

If a token does not appear in the slot, scan the QR code on your confirmation, wait for a beep and a token should appear. If there is still no token, press the intercom for assistance and quote your reference number.

Do not press the green flashing button as this is for customers who've not booked.
Departure procedure
Please check your booking confirmation for details.

Drive to the barrier, insert your token and it will lift automatically.

If you've stayed longer than you booked for, you'll be prompted to make payment using the chip and pin device.

If you encounter any problems, press the intercom for help.
Security
The car park holds the Park Mark award and is manned 24 hours a day, seven days a week.
Insurance
Parking is at the vehicle owner's own risk, subject to the car parks printed terms and conditions.
EXTRAS
Disabled facilities
Disabled bays are available for Blue Badge holders.
Additional information
Please note: This booking only allows you to park in Jet Parks 1.

Maximum height 2.2m (7ft 2in) - No trailers. Emergency phones are in operation.

Before you set off ensure you have a copy of your email confirmation (or have made note of your booking reference).

If your actual stay is longer than your booked stay, you will be charged extras on departure at the car parks standard daily rate.

Please note: No refund will be issued for part used stays and any additional time will be charged at the local gate rate.

Please allow sufficient time for your transfer to the terminal. It is your responsibility to ensure that you meet your scheduled check in time.
Previously known as
Manchester Carminder 2
Manchester Jet Parks 1 reviews
Our average review score for Manchester Jet Parks 1 is 4 from 1341 reviews.
We had an amazing driver called Fil. So helpful. Jumped off helped us all with our cases and was genuinely enjoying his job. We offered him a small tip and he accepted and told us it would be donated to a children's charity and that he had nearly raised 500 pounds. Made us very happy and was an amazing start to our holiday. Thank you, Fil xx
May 27, 2019
Arrived there on a very wet day; it was full of puddles and trying to find a space was a real challenge. You cannot see the end of the rows to locate spaces. With all the money they are making they could at least tarmac the area and have an electronic system to allocate spaces.
March 27, 2019
Booked for a weeks holiday in February. Online booking process Ok but on arrive the APNR didn't recognise the car - or others in the queue stretching back into the approach road, so had to reverse and shuffle around with a queue waiting. Speaking to the attendent this is apparently a regular problem (as confirmed by the bus driver). The parking area isn't on hard standing - just mud: few spaces available so had to park surrounded by water and impossible to drag the cases through this to the road. Waited in the rain and first bus was absolutely full. The bus lurches through endless corners into the complex of new buildings around the terminals, and standing surrounded by luggage with people struggling to get off from one terminal stop to the next isn't pleasant. Overall a fairly miserable experience at the start of the holiday. Just not good enough: can't recommend it and won't use again. Another reason for not choosing Manchester airport, which is now a poor advert for visitors arriving from elsewhere.
February 17, 2019
I would never recommend this company for car park bookings after reading all the reviews on here. I believe it is very hard to find and the condition of the car park is not great standards with no lightening and huge potholes that are very easy to damage your car. The actual transfer to the airport is leaving customer very stressed with regards to the timing of their fights.However. now to speak about my experience after booking online and receiving my confirmation to find out it was booked for the date I done the quote as the site had auto filled today's date. I then contacted the company by email and heard nothing when trying to find a contact number. This was also found difficult and I could only find a mobile number the gentlemen on the phone said to send an email of cancellation, then to find we got an email back to say we needed to give 3 day cancellation notice. I was not able to do this as their site had auto filled in the date I done my quote and not for my holiday now two weeks on and still no further forward, I have spent £70.49 for nothing as I never used the parking as it was out of date as soon as it was confirmed. And now they are not willing to give a refund for the error on their part, this company is such a rip off I would highly recommend you to stay clear of this company and take your business to someone with better standards and who treats their customer better and with more respect.
August 1, 2018
booked to park in Jet parks 1 for 6 days as it looked like it offered value for money. on the morning of our trip from Manchester airport we set off to find the car park and that was a challenge as we could not find any signs to direct us to JP1. we stopped and asked someone and he directed us to the airports within the airport itself so was a waste of time, finally found a policeman and he directed us. at the turning off from the main road there was no signage to tell anyone this was the way to go. even the the postcode on our satnav did not recognise it. when we did get to the car park we drove upto the barrier and it let us in and it took a while to find a space as the paces are not marked out so people just abandon thier cars. finally found a space and went to catch a bus. that took 20 minutes for one to turn up and the drive to terminal 1 was a nightmare, as it would of been quicker to walk. coming back was easier and drove up to the barrier and off we went. not sure if this car park is patrolled but the car next to us looked like it had some new scrtaches dwon the side of it.
June 18, 2018