Bristol Premier Car Park
" Excellent hassle free service. Would highly recommend!" - David Stringer
£ 25.91
Last 7 days
Average Price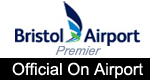 Directions
Bristol International airport is located on the A38, 8 miles south of Bristol. The Premier car park is on your right, close to the terminal, please follow the signs.
Transfers to airport
Transfers are not required as the car park is within walking distance of the terminal.
Arrival procedure
Please check your booking confirmation as details may vary.

The car park operates an Automatic Number Plate Recognition (ANPR) system so it is essential you have entered the correct vehicle registration when making your booking.

On arrival at the car park entry barrier, the ANPR system will read your licence plate. Touch the button on the machine to be issued with a ticket and to raise the barrier. Please keep this ticket safe as you will need to insert it at the exit barrier upon leaving the car park.

If your entry ticket tells you that payment is needed, please press the intercom button at the barrier for help. You'll also need your booking reference number to hand.

We recommend that you bring a copy of your confirmation with you.
Return procedure
Please check your booking confirmation as details may vary.

On your return, please walk back to the car park and find your car exactly where you left it. Then drive to the exit barrier and insert your ticket. If the barrier does not rise, please press the intercom button for assistance.
Security
The car park has CCTV, floodlighting and perimeter fencing, as well as entry and exit barriers and regular security patrols. It has been awarded the Park Mark award for safer parking.
EXTRAS
Disabled Facilities
The car park has dedicated special assistance bays for Blue Badge holders and help button at barriers for assistance.
Additional information
Please allow plenty of time for airport check-in and security procedures.

Please note there is a £15 overstay charge.

Minimum stay/charges may apply at this car park at certain times of the year.

Long wheel based vehicles are not permitted.
Previously known as
Bristol Navigator Business Car Park
Bristol Premier Car Park reviews
Our average review score for Bristol Premier Car Park is 4 from 8 reviews.
It was convenient and apart from the distance from the motorway to the airport it was trouble free. It is advertised at one price and when you book it suddenly becomes very expensive !!!!
April 23, 2017
The new automatic car number recognition software does not work. This slows down the whole process at both the start and the end. The old system of using the credit/debit card should continue while the number recognition software is tested until it can read 90% of the plates. Only then should it be deployed.
May 20, 2011
Excellent hassle free service. Would highly recommend!
May 16, 2011
Only downside was that we were stuck at the barrier for 5 minutes on exiting. The machine claiming that our time had expired when it definitely hadn't. It took two calls on the help button to get the barrier lifted.
April 14, 2011
Everything was fine, except that, as the number plate recognition was not working, it took about 10 minutes longer to leave. I point this out because several people in the queue to leave, commented that it was a very regular occurance!! They should get it sorted out!!
March 22, 2011