EDI Parking Terminal Surface
Compare and pre-book this car park at Edinburgh airport to save up to 60% off gate prices.
£ 17.35
Last 7 days
Average Price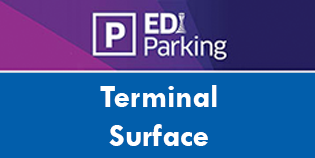 Directions
The Terminal Car Park is located on-site so please follow signs for Edinburgh Airport.

On arrival at Edinburgh Airport please follow signs for the Short Stay Car Park. Your booking is valid for the Surface Car Park only.
Arrival procedure
At the entry barrier your registration number will be recognised. A ticket will be printed showing your registration and booking details. The barrier will open but if you have any difficulties, please press the call button for assistance. After parking make a note of what Zone you are in to help on your return.
Return procedure
After you've landed, return to where you parked your vehicle and drive up to the exit barrier. The barrier will automatically open for you.
Security
All Edinburgh Airport's car parks are covered by CCTV and patrolled by 24 hour security teams. The Terminal Surface car park has the Park Mark accreditation so you can be confident your car will be safe whilst you are away.
Additional information
Trailers are not permitted.
EDI Parking Terminal Surface reviews
Our average review score for EDI Parking Terminal Surface is 4 from 39 reviews.
Daylight robbery. Sixty quid for two days. At least Dick Turpin wore a mask.
July 22, 2019
Easy to find a space. Easy to get in and out. Flightade me slightly late and there was no extra charge.
February 19, 2019
Excellent.
January 1, 2019
The surface car park is not signed and only because of online google map was I able to locate it ahead of time. On arrival the car park was completely full with people parking in restricted areas. Only by accident did I see an attendant who directed me to an alternative car park, a long way from the terminal. A very poor service.
October 1, 2018
I would give it 5 stars if I never had to go round and round looking for a space, I pre book, but its always full. and watch out for crazy taxi drivers, they think they own the road !!!. It is quick and easy, but it must be the most expensive surface / terminal parking in the uK, at £39 for less than 1.5 days, wow, wow, wow, that was half the cost of my flight.
July 31, 2018
Getting results for EDI Parking Terminal Surface
No results found for EDI Parking Terminal Surface for your chosen dates.
See results for more car parks