Liverpool Long Stay Parking
" Great service. Easy to find a space even in August. Number plate recognition very easy on arrival and ticket worked on departure from car park. All in all a fabulous service for a competitive price. Would definitely use again." - Sarah J Storer
£ 16.03
Last 7 days
Average Price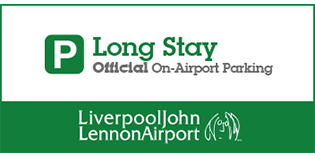 Directions
Liverpool airport is signposted from the M6, the M62, the M56 and the M57. The car park is opposite the terminal. Take the A562 or the A561 until you reach the Speke Boulevard interchange. Take the southbound exit onto Speke Hall Avenue, towards the airport. At the first roundabout, take the second exit. At the second roundabout, take the first exit into the car park.
Arrival procedure
Please follow the instructions in your confirmation email as details may vary.

When you get to the car park, please drive up to the barrier and it will recognise your number plate, give you a ticket and rise. Please make sure you keep the ticket safe as you'll need it to leave the car park on your return. Then, please drive in and park your car in a space.

If the machine doesn't give you a ticket, please press the intercom button so you can speak to a member of staff. Make sure you have a copy of your booking confirmation with you just in case.
Departure procedure
Please follow the instructions in your confirmation email as details may vary.

On your return and once you've collected your luggage, please walk back to the car park and pick up your car from where you left it. You don't need to go to the pay machines in the terminal, just drive to the exit barrier and put your ticket into the slot; the barrier will then lift automatically. If it doesn't, please press the intercom button. Make sure you have a copy of your booking confirmation with you.
Security
This car park has been awarded the Park Mark for safer parking.
Insurance
Parking is at owner's own risk, and subject to the Terms and Conditions of the individual car park.
EXTRAS
Disabled facilities
Blue Badge Holders can use special allocated spaces for disabled passengers in the Long Stay car park.
Additional information
You park your own car and keep your keys.

If you are delayed in returning to your car, the car park may charge you for any additional parking not covered by this package at their own rates. The minimum charge may be more than the price for all your parking through us.

Light motor vehicles only.

No trailers permitted.
Long Stay Price Buster
Because this is a special low-price package, once you've made your booking, you can't change it, and you won't be able to get a refund if you need to cancel.
Liverpool Long Stay Parking reviews
Our average review score for Liverpool Long Stay Parking is 4 from 792 reviews.
Parked in disabled bay with badge in hold in windscreen...unfortunately it dropped onto dash ... though still visible from outside... got £100 fine... so submitted appeal A letter has just arrived this morning threatening legal action and increased penalty and debt collection charges ... so they now want £160 and threatening me with court....seems extremely harsh ... as I did expect response from my appeal and didn't get one...they sent picture of my car where there was obviously sight of badge... I also sent then full copy of both sides of it in appeal... asked feel from this experience disabled better use another airport or taxi if it's not too expensive
April 27, 2019
BE CAREFUL. Punitive charges that in no way reflect the extra hours if you overrun the time you book. No goodwill for regular customers.
March 15, 2019
I use the airport to fly to Ireland several times a year. Most times I get a lift but on occasion use the long stay. I am a blue badge holder. My father was terminally ill so I was having to fly more than usual. I paid for parking for a full week and parked in the disabled bay. I decided to take my blue badge with me to use. Unfortunately during my visit my fathers health deteriorated. So I booked my car in long term parking for an extra week and decided I had to stay which meant not turning up for flight home. My father died the day after. I booked a flight home 2 days later which happened to be Christmas eve. I spoke to the guy in parking to explain my dad had died and I needed to take my car out of the airport earlier than planned. I was sent a £100 fine for failure to display my blue badge in a disability bay. I had left the blue timer sign when I took my badge with me, not thinking of the consequences. I paid over £100 for parking for 2 weeks, 10 days of which I used - and get a further charge £100 fine....plus I had to pay for another flight home...... Beware disabled drivers.. Don't take your badge to Eu .. There was no sympathy for my situation
January 15, 2019
We like Liverpool Airport for the friendly customer service, but we have some reservations about the Long Stay car Park, that we used. My wife and I are currently over 80 years oi age, and we prefer a no fuss and easy to use system for leaving our car, without too great an expense. Sadly the long stay car park does not fulfill those requirements. Our mid afternoon arrival was easy, but if the weather had been inclement the walk to the terminal would have been very difficult, with cases and hand luggage. Our return however was a different matter. Our fight from Lanzarote was delayed by 3 hours and we arrived at 03:30 on a windy, showery and cold night. The walk to the car was not an enjoyable experience. Our main complaint however is the signposting to the EXIT. We spent some time trying to find the way out, and after many wrong turnings we did manage to find the exit. The signposting needs to be improved. It was a very stressful experience.
December 1, 2018
Easy distance to the terminal and great for getting off home quickly. Only prob we found was that with it being dark there could have been a few more exit signs as the directions painted on the floor had been mostly worn away making it easy to miss them and we went around the car park a few times until we'd found the exit by elimination.
October 20, 2018
Getting results for Liverpool Long Stay Parking
No results found for Liverpool Long Stay Parking for your chosen dates.
See results for more car parks