Stansted Official Valet Parking
" Arrived at airport, exactly as stated, within fifteen minutes inside airport. Arrival home, walked about ten minutes down the slope to Red Car park, car there waiting." - Mrs White
£ 32.48
Last 7 days
Average Price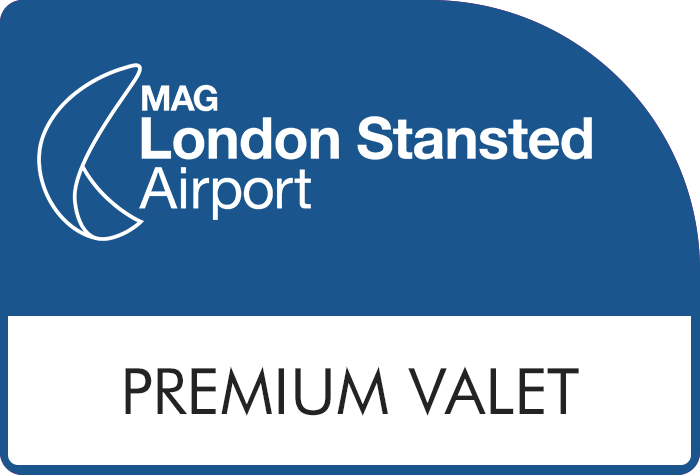 Directions
From London:
Exit the M11 at Junction 8a. Follow the road for just over 1 mile and take the Stansted Airport exit, branch left. At Bassingbourn roundabout take the 2nd exit onto Thremhall Avenue. At Coopers End Roundabout take the 2nd exit towards the Terminal Forecourt. Follow signs for 'Express Set Down' and park in Zone C.

From Cambridge:
Exit the M11 at Junction 8. Take the A120 exit to Stansted Airport. At Priory Wood Roundabout take the 3rd exit. Merge onto the A120 and branch left. Take the 2nd exit off Bassingbourn roundabout onto Thremhall Avenue. At Coopers End Roundabout take the 2nd exit towards the Terminal Forecourt. Follow signs for 'Express Set Down' and park in Zone C.

If you are using a sat nav please enter the below information:
Latitude: 51.89007
Longitude: 0.26371
Postcode: CM24 1RW
Arrival procedure
Please see your booking confirmation for details.

Please approach the terminal forecourt in the right-hand lane. After you have gained entry, please drive to Zone C. The valet staff will complete a form with you and park your vehicle for you on-airport, in one of their secure car parks. All you need to do then is take the 1-minute wall to the terminal.

Please call the car park if you are going to arrive outside of your booked time slot on 01279 680095, to avoid any delays.
Return procedure
Please see your booking confirmation for details.

On your return, follow signs for Arrivals once you've picked up your luggage and make your way to the terminal entrance. Your valet driver will greet and assist you to your vehicle.
Security
Your car will be parked in a secured, official on-airport car park while you are away. The car park is covered by CCTV, patrolled 24 hours a day by security staff and police, has a barrier and lighting at night. It has also been awarded the Park Mark award.
Insurance
The operator indemnifies customers for vehicle damage resulting from any proven act of negligence on the part of its staff.
EXTRAS
Disabled facilities
No transfers are needed, so Stansted Official Valet Parking may be an alternative for disabled customers who might find using transfer buses difficult. Your car will be collected from the terminal when you leave and brought back to the short stay car park when you return.
Additional information
Stansted Official Valet Parking is available 24 hours a day, but should be booked at least two days in advance.

Parking charges are calculated in periods of 24 hours, starting from the time when you arrive at the car park. If you stay for more days than you booked, you will be charged for the extra days at the car park's standard daily rate. If you stay for fewer days than you booked, you will not be given a refund.

The car park cannot accommodate oversized vehicles, including vans, minibuses, buses and lorries, vehicles which are more than five metres long, vehicles with trailers, motorcycles or any vehicle that cannot be driven on a standard car driving licence.

Trailers are not allowed.
Official Valet Leisure Special
This booking cannot be cancelled or amended - no refunds will be given once booked.
Stansted Official Valet Parking reviews
Our average review score for Stansted Official Valet Parking is 3.5 from 3 reviews.
Excellent service and frequently used. On my last trip I was delayed 2weeks due to severe weather - contacted car park from overseas and kept them updated. All went very smoothly upon return. When booking, one has to be careful as similar booking references and descriptions can be confusing.
March 22, 2018
Very Poor. I have used many meet and greet parking at different airports and this is the poorest. Hard to find when you arrive as not well signed posted. When you arrive back and find the office the staff are very poorly trained and the numbering to find where your car is parki is poor and not explain. You are told "its number 26 turn left out if the office and walk straight up, its not far," where you find no numbers and is poorly lit at night. Shame on you for such a poor service.
February 10, 2016
Arrived at airport, exactly as stated, within fifteen minutes inside airport. Arrival home, walked about ten minutes down the slope to Red Car park, car there waiting. Exactly what you need, no charge for exit. Only niggle (and it's really nothing...) Did have to wait 10 mins to get the person up to us in the queue, to check car and take keys, we are ALWAYS late, so this may have posed a problem for US and our usual tardiness!
June 9, 2014