What is the Park Mark award and why is it a good thing?
15 Oct, 2021
Alice Fowler
No Comments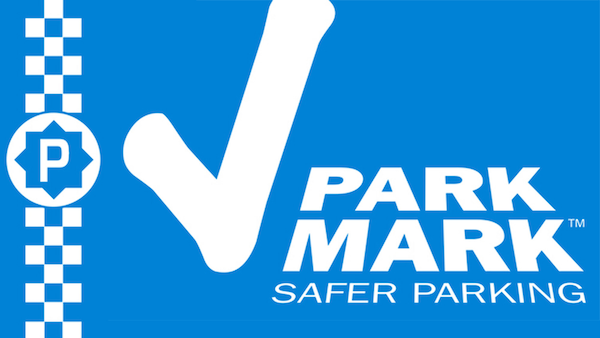 If you are thinking of parking your car at the airport, instead of forking out for taxis or having to rely on friends or family, how do you know the car park is safe? We have all seen horror stories on TV about travellers returning from their trips and discovering that their vehicles have been damaged or that there are hundreds of extra miles on the clocks. What guarantee is there that you are not going to fall prey to the cowboy element when you leave your car at the airport? The answer to the thorny question of car park security lies with the Park Mark award scheme, a nationally recognised benchmark for a secure parking environment for both vehicles and drivers.
What is Park Mark?
Nowadays, 20% of all crime is vehicle related. The Park Mark scheme is a joint initiative between police and car park operators, meaning that members of the public can make an informed decision on where to park safely.
It is awarded to car parks that have been extensively risk-assessed and vetted by the police who look at factors such as the standard of management, the adequacy of lighting, the cleanliness of the environment and the effectiveness of surveillance (both electronic and security patrols).
Safer Parking Scheme is trying to raise awareness of the Park Mark scheme so that more and more car parks improve their standards. Therefore, they could then be given the Park Mark award, which in turn would make the public feel safer using the car park.
Currently, it is estimated that out of 20, 000 car parks, a staggering 5, 000 have been given the Park Mark award!
If this all sounds good, the next question is how to find one of these gold standard car parks. If you are wondering how easy it is to find out whether a car park has the accreditation, you will be pleased to know that when using the Airport Parking Shop website, the results page will indicate which car parks have the Park Mark.
Car parks are re-assessed every year by an accredited assessor, so complacency is not an option for operators seeking to retain the prestigious award.
Benefits of the Park Mark initiative
The Park Mark scheme benefits both its users and operators. Users have peace of mind, knowing that they can leave their car in a well managed, secure and clean environment where it is unlikely to be vandalised or stolen. Park Mark car parks are well lit and the customer has nothing to fear on a personal security level, even if returning to their car in the small hours of the morning. Car park operators benefit from increased and repeat custom.
One airport that has been reaping the benefits of the scheme is London Southend. The Essex airport retained its Park Mark this summer for each and every one of its car parks: Long Stay car parks 1, 2 and 3, its hotel car park and staff car park. Passengers using the airport have 1500 spaces available and, in addition to the usual criteria required of all Park Mark facilities, London Southend also have ANPR (Automatic Number Plate Recognition), and all entrances and exits are controlled by barriers.
If you are planning to leave your car at the airport and want complete peace of mind on your trip, make sure you look out for the Park Mark when booking your space.
Does my car park have the Park Mark award?
When comparing airport parking prices and facilities on Airport Parking Shop website, the search results page will highlight which car parks have the Park Mark award.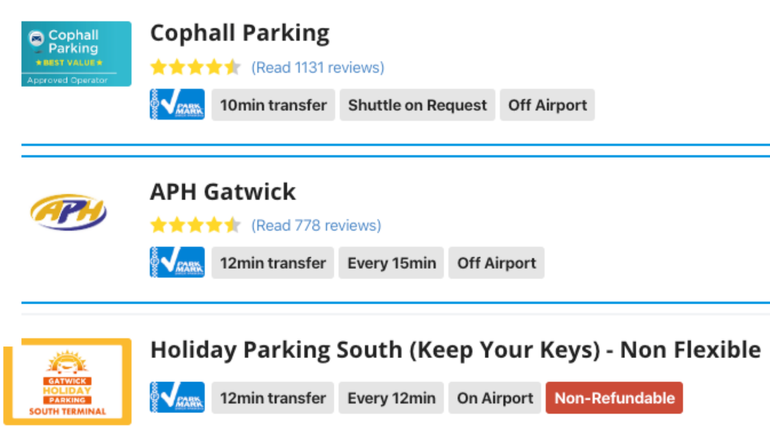 Meet & Greet Airport Parking
With more and more people using the Meet & Greet parking, people are now being concerned about the safety of their car. There are usually endless lists to choose from and it's hard to know which one. Well, picking one that's been given the Park Mark award should hopefully help you! This way, you can put your doubt to sleep as they will ensure you car is not damaged or broken into.
Top tips to help you when selecting Meet & Greet Parking:
Find out where the company will store your car, ask them to show you a picture. This way you can be reassured it will be safe.
Is the business being conducted in a designated location? Meaning, do they have a designated spot such outside the terminal. If they don't, this could be an indicator that they may not be that safe.
Check if the staff member that's greeting you is wearing an official uniform and has an ID badge. Ensure the details match with the ones you have booked for.
Best rated Park Mark Gatwick Airport Parking:
Best rated Heathrow car parks Park Mark Awarded:
Best rated Park Mark Manchester Airport Parking: