Airport Parking for Motorbikes
25 May, 2021
Alice Fowler
128 Comments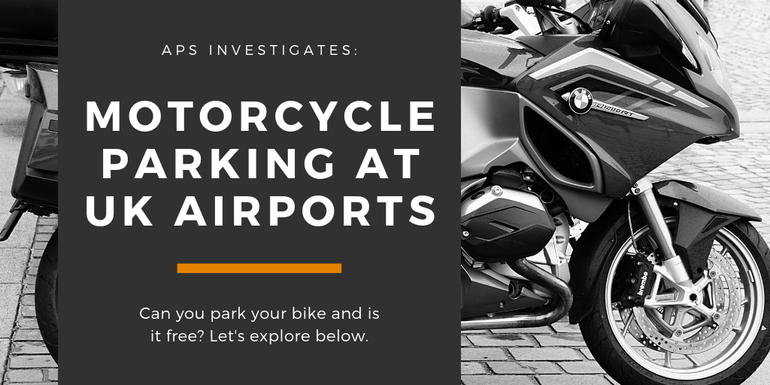 We get it, people don't just drove cars to the airport; plenty of you have motorcycles too and often have the question of "Is motorbike parking free at my airport?"
The answer differs depending on the airport so we thought we'd bring you a 2019 update on what the airports charge (if anything) and where possible, where the dedicated motorbike parking is. Please note, this is a collection of information based on what's available to us at the time of writing, in this case, August 2019.
Simply select your airport from the list below to be taken to the information we have. If you see a 🏍️, click it to be taken to the official website for information on prices if the airport charges for motorcycle parking.
Aberdeen | Belfast City | Belfast International | Birmingham | Bristol | Bournemouth |Cardiff | Doncaster Sheffield | Dublin | East Midlands | Edinburgh | Exeter |Gatwick | Glasgow | Heathrow |Humberside | Heathrow |Inverness Leeds Bradford | Liverpool |London City | Luton | Manchester | Newcastle | Norwich |Prestwick | Shannon | Southampton | Southend | Stansted | Teesside |
Aberdeen Airport
Motorcycle parking is free and you can find designated spaces in the Short Stay Car Park.

They have confirmed that motorbike parking can be found in the Short Stay car park

No information on their site so we have contacted them directly and waiting for a response.
**This is still the case as of May 2021 so we have contacted them again for clarity.**

Motorcycle parking is within Car Park 3 and charged at the same rate as cars are. Confirmed by a Facebook Messenger Agent. 🏍️

Motorcyclists can pre-book a space for a 50% reduced rate by contacting them on 0345 319 9636 (Monday to Friday, 8:00AM to 8:00PM). There is a bicycle shelter outside the terminal building that motorcyclists can use. 🏍️
Bristol Airport

Free parking for motorbikes in the dedicated motorcycle park in the Silver Zone car park and it should be signposted. No pre-booking needed!

The airport have confirmed via Twitter DM that they have free motorcycle parking located at the end of the pick up zone, next to the pay station.



Motorbike parking is free across the site. See the Twitter response below;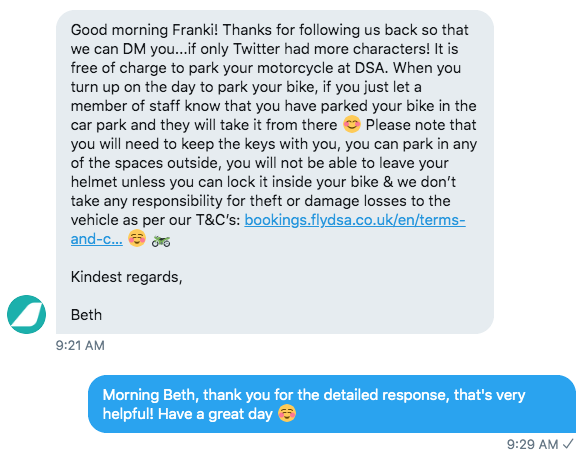 No information on their site so we are awaiting response to our direct message to them.
**This is still the case as of May 2021 so we have contacted them again for clarity.**

They responded with an infographic stating that motorbikes can park in the Short Stay car park outside the terminal for 50% of the advertised cost. Please call 0808 168 6111 and select option 3 to arrange the discount. 🏍️

Motorcycles can be parked free of charge but you are advised to call them on 01392 365 225 to arrange. 🏍️
Edinburgh Airport

Motorcycles are welcome in the Terminal Surface car park and parking is free – see below;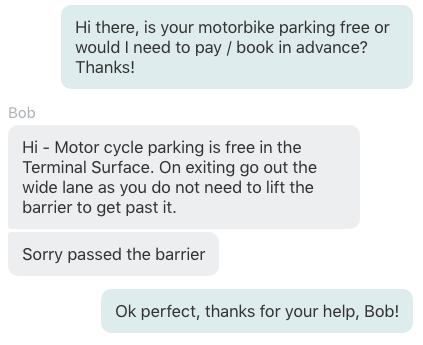 Gatwick Airport

There are dedicated bays in both the North and South Terminal Short Stay car parks and parking is free.

Motorbike parking is available in Car Park 2, but they now charge the same rate as they do for cars. 🏍️
Heathrow Airport

Motorbike parking is available in all 4 terminals and can be found as follows:
(Terminal 2) – Located on Conway Road, access via Inner Ring East. Motorcycles are prohibited from parking in the T2 multi storey car parks.
(Terminal 3) – Head to the back of Short Stay Car Park 1A/5. Motorcycles are prohibited from parking in the T3 multi storey car parks.
(Terminal 4) – opposite arrivals. Motorcycles are prohibited from parking in the T4 multi storey car parks.
(Terminal 5) – next to Short Stay Car Park. You can park in the over height areas of the multi storey car parks only.

"I can confirm Motorcycle parking is free at Humberside Airport and is available in Car Park 1 (Short Stay) or in the Bicycle shelter opposite the main terminal. "
Inverness Airport

"We don't have dedicated motorbike parking at Inverness Airport. Motorbikes can utilise any standard space within any of our car parks paying the advertised rates which are applicable for all vehicles." May 2021
Leeds Bradford Airport

Motorcycle parking is permitted however "motorcyclists are not exempt from payment of parking tariffs and should park in a full parking bay." 🏍️

Motorcycles can park in the Express Drop Off Zone for free, but the bays are limited. Please note that these aren't dedicated spaces, hence the no charge.

The parking here is free, and located underneath the DLR viaduct. If you head towards the front of the Terminal Building, the parking is opposite the turning.

For parking durations of up to 21 days, please use the Mid Term Car Park, where your parking will be free. Any stays longer than 21 days will be charged at the standard tariff. The car parks are monitored but bikes are left at your own risk. 🏍️
Manchester Airport

A helpful customer got in touch to say that he'd just found out that Bikers have to pay 50% of the price of a car and they offer parking in the multi-storey or Mid-stay car parks.  Call 0808 169 7030 , then option 1, to book your parking (2019). We can't find anything else on the site that says otherwise, but as they are owned by the same group as East Midlands and Stansted, we think it's safe to assume this is correct! 🏍️

You are advised to use the Long Stay Car Park when parking for periods of 24 hours or more. You'll have to call them on 0191 214 4341 for a no obligation quote and to book a full car parking space. 🏍️

A Customer Services rep emailed back to say "Just spoke to NCP parking office and they have motorbike parking spaces available in the short stay car park, at the same rate as cars." 🏍️
Prestwick Airport

Due to their use of ANPR, they are unable to accommodate motorcycles; please see the screenshot from our Facebook conversation.



One of their Facebook Agents responded with the following:
"We don't have designated parking for Motorbikes, so it would be a regular parking spot. Our car parks are patrolled and a few minutes walk from the terminal building." 🏍️

The airport confirmed that there is motorcycle parking in the Short Stay Car Park, in a designated secure area. A commenter provided us with this info:
"On the ground floor of the short term car park there is 3/4 barrier to enter through, no ticket needed, and there is a 3/4 barrier to leave through. Should you get a ticket on entry do not worry, go to the customer service counter in the car park, it's very near the exit, and the person there will tear up your ticket and ask you to use Lane No1 with the short (3/4) barrier to exit the car park."
Southend Airport

Free motorbike parking is available in their Long Stay 3 Car Park.


Stansted Airport

Orange Zone Car Park (short stay) and Zone Q (long term car park). Motorcyclists receive a 50% discount on pre-booked parking in either zones – you must call the customer services team* on 0808 169 7031 to pre-book and pay for parking as they don't have the facilities at the airport to do this. 🏍️
However, you also have the option to book parking via Stansted Easy Motorbike Parking if you prefer to book online. This is an exclusive motorbike only carpark so other vehicles are not able to use the space.
No information on their site so we are awaiting response to our direct message to them.
**This is still the case as of May 2021 so we have contacted them again for clarity.**
The above information has been updated to the best of our knowledge, according to the information available to us – if you are aware of any changes, please let us know! (August 2019)
*Contact numbers updated August 2019 and are freephone numbers