The importance of what the airport car park reviews say
15 Jan, 2020
Alice Fowler
1 Comment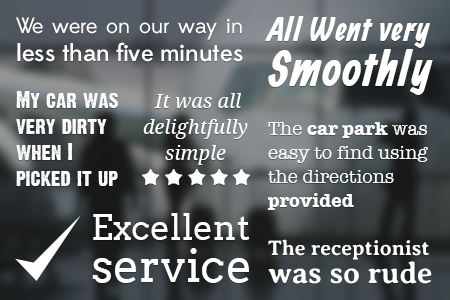 We are all used to consulting Tripadvisor and the like when we are looking at hotels for a holiday or a restaurant for a night out, but what about when it comes to airport car parks? Is there a site that lets us see what other users have to say about their experience?
A quick search on the internet will bring up plenty of websites with reviews to read through. Many of them are of the anodyne variety, e.g. "does what it says on the tin" and "would use again". However, when people go into more detail, what are the things we should be looking out for?
Do you take notice of the reviews?
You will have noted the price when making the booking, so comments about value for money are hopefully academic. There are, however, various things that can prove very useful when taking the decision on where to park.
First of all, take note if users say they had trouble finding the car park, especially if you are using an off-site car park, which could be some way away from the airport. There is nothing worse than having a flight to catch and driving around the countryside or an industrial estate hunting for a poorly sign-posted car park.
Before your trip
Many car parks use an Automatic Number Plate Recognition system. Have drivers complained that their car has not been recognised? If you are in a hurry, you don't want to be left sitting at the barrier waiting for someone to over-ride the system or be stuck in a queue behind someone with that problem.
Were drivers able to keep their car keys with them when they parked or did they have to leave them with the car park operator? We have all heard horror stories about people returning from their trip away to find extra miles on the clock or other evidence that their car has been used by someone in their absence. Even if the operator is not a cowboy, many of us feel uncomfortable leaving our keys and if this is an issue for you, take note of this in reviews.
On your return
When you have finally made your way out of the terminal building after your trip, you just want to get home. Hopefully when you booked your space you will have taken note of how frequent the transfers back to the car park are, especially if you are landing late at night, but what do users say? Have they been left for ages in the cold waiting for the bus? Was it easy to find the bus stop?
Last but not least, has anyone said that the car park operator went the extra mile for them? An amazing number of people manage to leave their wallet, their passport, their phone, etc, in the car on the way to the airport and an equally amazing number of car park operators seem to pick up the pieces cheerfully and at no extra cost, even where it has involved a last-minute dash back to the airport with essential documents. Other accolades have been awarded by users for operators pointing out low tyre pressures and helping to start a car with a flat battery.
As an airport parking comparison site, we encourage our users to provide feedback on the experience they had with the car parks. So far since 2003, we've received over 65,000 car park reviews, and you can find them using the UK Airport Car Park list. Alternatively, view car park reviews for Heathrow, Gatwick, Stansted and Luton.
*Updated July 2017*