96% of the time, Airport Parking is Cheaper than a One-Way Taxi!
07 Oct, 2021
Alice Fowler
5 Comments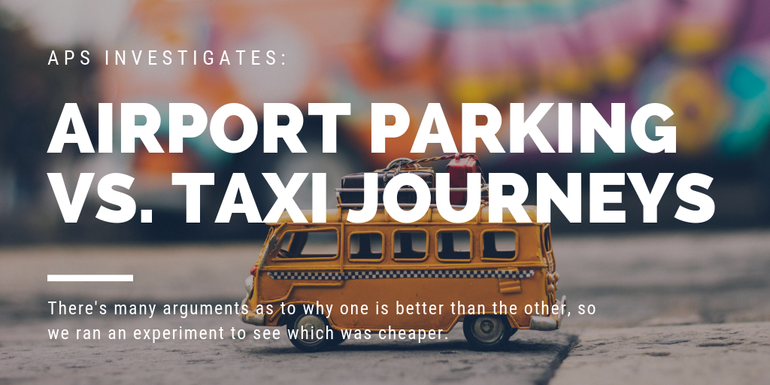 If you have a holiday coming up, you may be wondering whether it is better to get to the airport by taxi, public transport or by driving your own car and parking once you get there. There are of course arguments in favour of all methods. It's natural to weigh up airport parking pros & cons against other methods available, so we're here to help!
It's a question that always gets asked; "Why book aiprort parking when I can just take a taxi?", and it's a valid one! Taxis seemingly take the stress out of having to drive yourself or having to find a parking space, but at what cost does that come?
Airport Parking Shop took it upon ourselves to investigate, as we love a research piece! We compared the cost of parking at the airport from October 5th to 12th to the one way cost of a taxi, return train journey and a coach trip.
Before we go into the figures and the meaning behind them, let's quickly compare the pros and cons of each of the four options;
Airport Parking Pros & Cons
Pros
Travel in your own time and take breaks if needed (especially when travelling with kids!)
Usually cheaper than getting a taxi.
Multiple parking options avaiable mean there is an option for all budgets.
Cons
Leaving your keys behind can sometimes be worrying.
Could cost more than getting the train.
Worrying about the safety of your vehicle.
Getting a taxi to the airport – Pros & Cons
Pros
Being dropped at the terminal entrance.
Not having to do the driving.
Car left at home.
Cons
Can be quite costly, especially when needing to pay a return fee.
Can't easily make stops if needed (travelling with kids).
Traffic delays may mean getting to the airport or being picked up late.
Getting the train to the airport – Pro & Cons
Pros
No traffic jams to worry about.
Airport dependant, you can arrive at the terminal.
Can be quicker than driving.
Cons
Not all airports have a direct train line or station so you will still incur an extra taxi or public transport cost, not to mention the cost of getting to the station beforehand.
What if there are no trains running when you get back?
Longer journey times to factor in.
Getting a coach to the airport – Pros & Cons
Pros
Probably the cheapest option available.
Drop off at the terminal may be available.
Hassle free journey; some coaches even have TVs to keep you entertained!
Cons
They advise to plan to arrive at least 3 hours before your departure if travelling by coach
Coaches might not go all the way to the airport so you may need to change or incur other costs to reach the terminal
You may have long waits to get your coach home if you arrive back at night and services aren't running
So now that we've given you the pros and cons to each of your transport options, let's take a look at just how much you can save when you opt to park at the airport rather than get a taxi. For this experiment, we chose 3 destinations that were likely to use each airport and then took an average cost of a one-way taxi journey in a saloon car, compared to the cost of the cheapest, but most highly rated, airport car park. Please note, that as prices fluctuate, the car park costs used may not completely match those given below.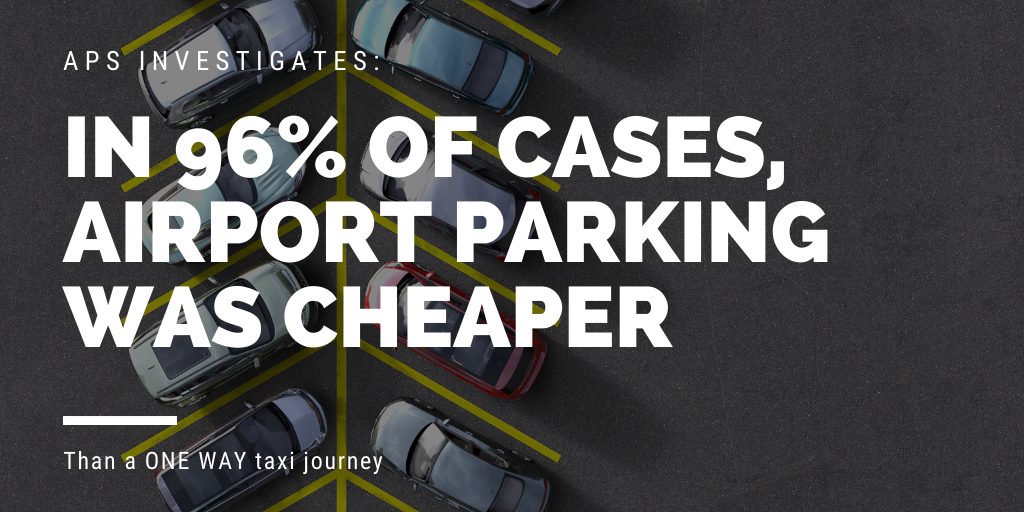 Cost to park: £58.86; Buzz Park and Ride
Average One Way Taxi Cost: £84.56
As you can see, there is a considerable difference between car parking and getting a taxi. Interestingly, the average cost of getting the train, which in all instances you could arrive directly at Heathrow is £29 on average. A coach journey would cost you around £25. So if you don't mind getting the train or a coach, that will definitely save you money. 
Cost to park: £62.98; APH GAtwick Saver
Average One Way Taxi Cost: £105.22
Again, a nice saving of £150(!) if you count a taxi both ways with the convenience of a short transfer. Result! Whilst a train will cost around £33, and you will be dropped at the airport. Coaches are your cheapest option in this instance at around £30 but you will have to change, although you will then be dropped directly at your terminal. Overall for Gatwick, it would seem that the train is your best option! But remember you'll also need to factor in your flight departure and arrival times to make sure trains are running at the time of day / night you need.
Cost to park: £45.01; Luxury Chauffeur Service Manchester
Average One Way Taxi Cost: £102.89
Again a huge difference between car parking and getting a taxi! You'll be saving nearly £60. A train ride would cost you around £40 so a train journey is actually costing the same as parking this time! The cheapest option is getting a coach as that will cost you around £20.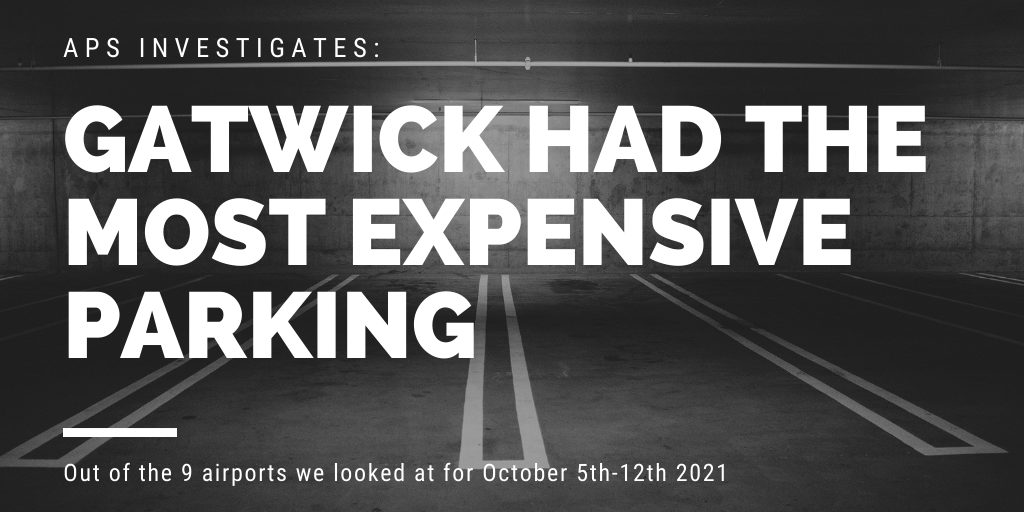 Cost to park: £55.93; APH Birmingham
Average One Way Taxi Cost: £61.50
This was the only instance in our research that a one way taxi journey's cost came close to airport parking In this example, you'd be leaving your car in their trusted off-airport car park and catching the transfer bus to the terminal. This is a great option provided you factor in your waiting and transfer times. In contrast, your best option here would be the train at around £10.30 which takes you to Birmingham International Station where you can jump on the free Air Rail Link service!
Cost to park: £31.25; Edinburgh Low Cost Parking
Average One Way Taxi Cost: £108.50
This was by far the biggest difference in cost we found when looking at taxi journeys from places such as Dunfermline, Kilmarnock and Dumfries, perhaps because they are more likely to fly from Glasgow? Train fairs are around £30 but the train will still require you to get a bus or tram from the station to the airport. While getting the coach will mean a journey to Edinburgh town centre and catching the Airlink 100 service, with tickets from £7.50.
Cost to park: £35.41 Glasgow Flyaway Parking
Average One Way Taxi Cost: £58.22
Not only is there quite a gap between the cost of a taxi and parking at Glasgow Airport, there's also quite a price drop between parking and getting the train! A return train or coach ticket will cost around £14 but you are likely to have to change trains once or twice depending on where you're travelling from. Meanwhile with the coach, you'll also be catching the bus from the city centre to the airport.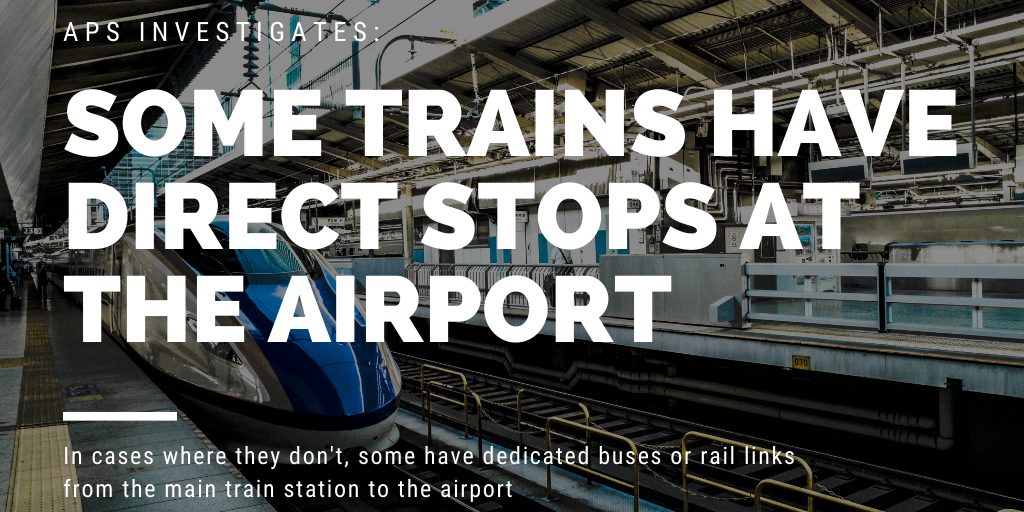 Cost to park: £40.79 Cardiff Highwayman Security Park
Average One Way Taxi Cost: £63.33
When parking at the airport costs you less than half than it would for a return taxi ride, why wouldn't you opt to drive yourself there?! Remember, we just compared the cost of a Long Stay car park at each airport, but you have so many other options including Meet and Greet and Mid Stay that will likely be cheaper, too! Maybe not as cheap as the train which would be around £10. There were no coaches available directly to the airport from Bridgend, Newport or Pontypridd, so you'll have to travel to the Cardiff Central and jump on a bus or in a taxi to get to the airport.
Cost to park: £50 Oakwood Parking
Average One Way Taxi Cost: £68.44
Again, a fairly big difference in cost here between airport parking and a taxi journey; you could get a couple of duty free treats with that saving! The train cost averaged out at about £30, however you'd arrive at Bristol Town Centre (Temple Meads) and have to catch the bus to the airport. In instances of the getting the coach, you'd arrive at Bristol Coach station and catch the Airport Flyer to your final destination.
Cost to park: £44.31 Leeds Sentinel Security
Average One Way Taxi Cost: £70.89
Again, we see a fairly big difference between parking and getting a taxi! The train and coach are still pretty cheap, £26 and £8.50 respectively, but of the three places we compared, Bradford was the only destination that could get you straight to the airport and in some cases, the coach would take 3 times as long as a normal car journey!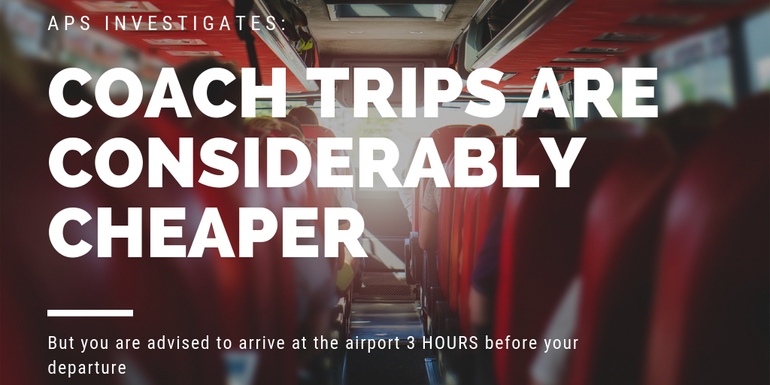 How do you get to the airport?
It's easy to tell that from the above, getting a coach is certainly your cheapest option of getting to and from an airport, but when the journey times are longer than a normal drive, coupled with having to schedule a return coach trip around late arrivals home, is it worth the hassle?
Driving yourself to the airport can also seem like a bit of a chore, but when it can save you almost half as much as it'd cost to take a taxi, wouldn't you rather have the extra cash to spend on a holiday treat? Plus, booking your parking in advance can save you up to 60% of the drive up cost.
What's your preferred method of getting to the airport before a trip? Is cost or convenience the biggest factor for you? You do you just rely on that trusty friend or relative that's always willing to do the airport runs?!
Leave us a comment below with the option you prefer and why.