The Truth About Free Airport Parking
10 Mar, 2023
Franki Napolitano
No Comments
We get it; everyone's always looking for a bargain. You just got a great deal on your holiday and whilst you're still on a roll with saving money, how to get free parking at the airport is the next thing you might look for.
Whilst it's tempting to search for, we're going to look into the dangers of being cheeky and parking up in residential roads rather than booking a legitimate parking option while you're away.

Why You Shouldn't Park On Residential Streets Near Airports
Now, whilst it may be perfectly legal for you to park on a residential street, so long as there are no parking restrictions in place or need for a permit, many feel that it is "anti social", "hazardous" and "selfish" of holiday-makers to use up spaces and create congestion for local residents.
You may think there's nothing wrong with parking up in a quiet cul-de-sac, unloading the car and hopping in a taxi to the nearby terminal, but in the past, this has led to angry homeowners taking the matter into their own hands.
Take the residents of this street in Luton who were so fed up of holiday-makers looking for free parking near Luton Airport and being "too tight to pay for airport parking", that it led to not just graffiti on the cars, but slashed tyres and smashed windscreens on vehicles left there for sometimes, more than 2 weeks.
Cars are smashed after being left in residential street 'to avoid paying Luton Airport parking charges' https://t.co/V4JogNwtiS pic.twitter.com/Ne5iIKM85A

— Yahoo News UK (@YahooNewsUK) August 8, 2017
Or how about some of the residents of Western Avenue and Hale Roade, streets close to Liverpool Airport, who took it upon themselves to douse several cars in white paint and leave notes informing the car owners that the road "is not a car park for the airport!"
Is risking a few hundred quid's worth of damage to your car worth it? Once you've paid for two taxis and the repairs, you may as well have booked airport parking!
How To Park For Free At Airports
Rather than seeking out free parking at the airport which, let's face it, doesn't really exist without annoying people and risking damage to your property, why not look into the cheap alternative options the airports offer?
Airport Hotels with Free Parking
Did you know that airport hotels can also offer parking packages? This is where you book yourself into a hotel the night before you fly but add on your parking, too. You pay one price for the privilege of staying in a comfy hotel and parking your car for the duration of your trip away. The hotels usually have a complimentary shuttle to the airport if they aren't already within walking distance!
Various hotels will have different names for these packages, so we've listed some of the airport hotels that offer parking as well, below. This list may seem a little small, but you'll generally find the same hotel chains serve most of the UK's airports, so for fear of being repetitive, we've listed just a couple:
Holiday Inn London – Heathrow Bath Road offer the Park, Stay and Go package: add 4, 8 or 15 days of parking to your reservation.
Sofitel at both Heathrow and Gatwick offer their Park, Stay & Fly package which also gives you a 4, 8 or 15 day parking option.
The Park, Stay and Fly package from Clayton Hotel Manchester Airport offer 8, 15 & 21 day parking options which is ideal if you're off for a longer trip!
Radisson Blu Hotel at East Midlands Airport offer the Park, Dream & Fly package with either 1–4 days, 5–8 days or 9–15 days of parking included in the price.
The Park & Fly package offered by DoubleTree By Hilton Edinburgh Airport offers 8 & 15 days of parking, with Flexible and Advance Purchase options, allowing you to tailor the perfect parking package for your needs.
Did you know that we also offer hotel and parking deals?
That's right, we're able to offer hotel and parking deals at some of the airports around the UK; simply run a quote on your selected dates to see what's available. We've made them easy to spot by serving the result in a blue "Hotel & Parking Deal" box.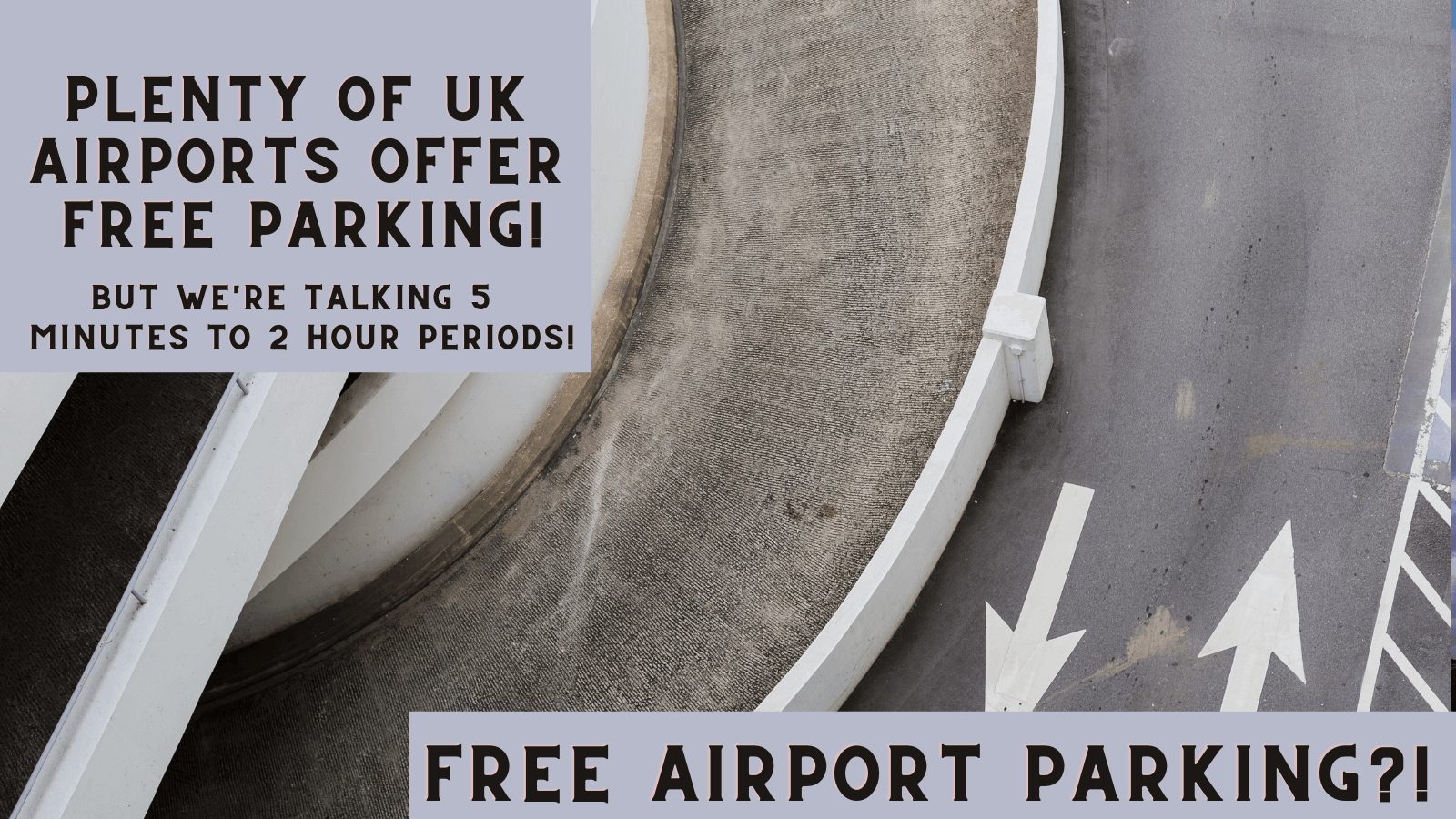 Free Pick Up/Drop Off
Drop Off and Pick Up charges are a contentious subject with many people being horrified at just how much some airports charge to simply drop off passengers! Not all airports charge the earth for the service and some offer free parking periods if you're happy to not be directly in front of the terminal. We looked at each airport to see if, and where, they provide free parking.
Which airports have free parking?
With everything from 5 minutes of free parking to 3 hours, let's see who the most generous airports are;
Airport
Where is the free parking?
Duration

Long Stay Car Park

30 mins

Short Stay Car Park

10 mins

Long Stay Car Park

15 mins

Dedicated Drop Off Zone

20 mins

1 hour

Drop Off Zone / Long Stay Car Park

5 mins / 20 mins

Long Stay 2 (15-20min walk from terminal)

1 hour

Long Stay Car Park (Shuttle needed)

30 mins

Long Stay Car Parks (Shuttle needed)

2 hours

No information

N/A

Long Stay Car Parks

30 minutes

One Hour Free Zone (2-4 minute walk)

1 hour

Drop Off 2 Zone

40 minutes

No Mention

N/A

Mid Stay Car Park / Long Stay Car Park

15 minutes / 1 Hour

JetParks One (Shuttle needed)

Not Specified

Short Stay 2

15 mins

No Mention

N/A

No Mention

N/A

Long Stay 3 Car Park

15 mins

Short Stay Blue Zone

30 mins

No mention

N/A
Our Cheapest Airport Parking Options
Car park prices change all the time, and so we can't guarantee that any one car park will always be the cheapest for the dates you're travelling. However, there are some car parks that tend to have great deals no matter what time of year.
The above are just a couple of options that we know are usually a good price year round, but do run a quote for your chosen date and see what deals you can grab. Off-airport car parks are usually the cheapest and if you book in advance you can save up to 60% off the drive-up price. Paying to park your car may seem like an additional expense and you'd rather hunt for free parking, but the last thing you want is to return from your holiday to find your car vandalised or stolen if you've attempted to park it somewhere for free that you shouldn't have. Pick an affordable, well-rated car park and enjoy your time away knowing your car is well looked after!