Is it cheaper to pre-book Airport Parking in advance?
18 Nov, 2021
Alice Fowler
No Comments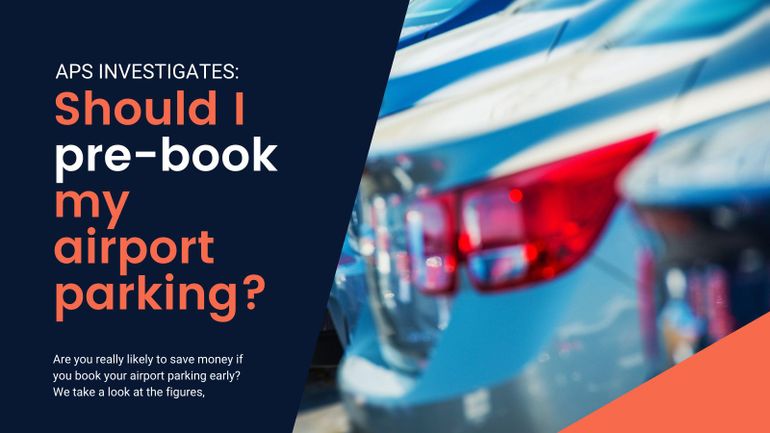 If you've driven to the airport at all in recent years you will often hear that pre-booking your airport parking can save you up to 60-70% off the drive-up price. You might have assumed it's just some marketing spiel we use to convince you to book parking, but it isn't just some figure that is made up! The savings are genuinely that huge. You might be thinking, well, who pays on the day anyway? That would be silly, so surely it doesn't matter when I pre-book, as long as I book in advance?
Wrong again!
First of all, we see many people just turning up and paying on the day (or rather, on the return from their trip) and we'd like to get the word out there that this just isn't the best way to do it.
We did some digging into our data to supply you with some rock-hard statistics to show you just how much money you can save whilst booking in advance.
Firstly, a note about the data we've used. For ease, these prices are all based on averages of car parks, because we sell over three hundred car parks across the airports and no one wants to see a breakdown quite that detailed. We also only looked at the airports where we had enough data to back these claims up. All the data is based on bookings made in August in the last couple of years, as this is the most popular month for travelling.
So, first of all, that headline figure.
Are you ready?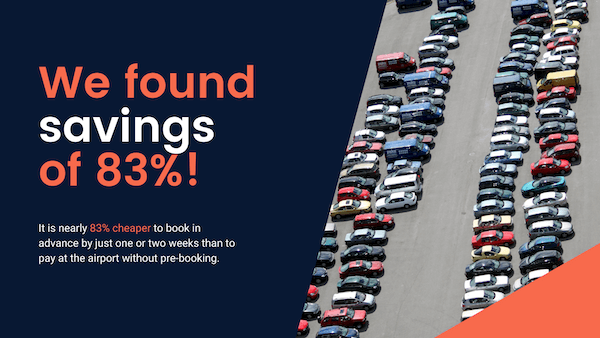 Yes – Based on the scenario that we've mentioned above, we found that the saving you could make by pre-booking airport parking one to two weeks ahead of your trip, rather than turning up and paying on the day, is 82.7%!
That's right, it was nearly 83% cheaper to book in advance by just one or two weeks than to drive to the airport without booking and pay the turn-up prices. That's even better than 60%!
So what's that in real money?
Well, as an average across all the airports, it's a saving of £226 when booking a seven-day stay. That's a lot of money you could be using on something else; like another trip!
How much more expensive is paying the drive-up prices than pre-booking long and short stay car parks?
To give you a more detailed comparison, here are the prices of a seven-day stay at airports where we had both data from pre-booked short and long stay parking versus what it would cost if you were to drive up and pay without booking.
| Airport | Pre-Book Average Cost of a 7 Day Stay | Drive-Up Prices for a 7 Day Stay | Potential Saving |
| --- | --- | --- | --- |
| Birmingham Car Park 5 | £79.36 | £126 | £47 |
| Edinburgh Terminal Parking | £44.76 | £270 | £225 |
| Edinburgh Long Stay | £33.48 | £154 | £121 |
| Edinburgh Mid Stay | £42.10 | £240 | £198 |
| Edinburgh Multi Storey | £74.84 | £360 | £285 |
| Edinburgh Plane Parking | £46.37 | £206 | £160 |
| Stansted Short Stay | £123.20 | £420 | £297 |
| Stansted Mid Stay | £77.95 | £210 | £132 |
Not all car parks allow you to turn up and pay and not all airports allow third-parties to sell their official parking so this is purely a sample. The results, however, are quite clear. Why would you want to spend an extra £200-£300 on parking when that could be your spending money for your trip?
When is the best time to book airport parking?
We all know that drive-up prices for official airport parking are sky-high but the results above show just how inflated they are. So, does it make a difference how far in advance you book, as long as you pre-book? What about booking on the day?
Again, the results are clear. Here are the savings when you compare pre-booking seven-days parking within one day of the departure, to pre-booking within a week.
| Airport | Pre-booked less than a day in advance | Pre-booked between 1 day and 1 week in advance | Potential Saving |
| --- | --- | --- | --- |
| Birmingham | £64.40 | £56.50 | £7.90 |
| Bristol | £48.61 | £42.41 | £6.20 |
| Edinburgh | £47.63 | £40.46 | £7.17 |
| Gatwick | £63.66 | £49.99 | £13.66 |
| Glasgow | £37.19 | £34.88 | £2.31 |
| Heathrow | £66.05 | £50.90 | £15.14 |
| Luton | £87.40 | £54.76 | £32.64 |
| Manchester | £75.05 | £50.26 | £24.78 |
| Stansted | £109.42 | £73.08 | £36.35 |
At some airports it was only a small difference, but others, such as Stansted, you could save over £35 by just booking a few extra days in advance. Time is money when it comes to airport parking, the more time in advance you can book, the more money you'll save.
So what is the best time to book airport parking?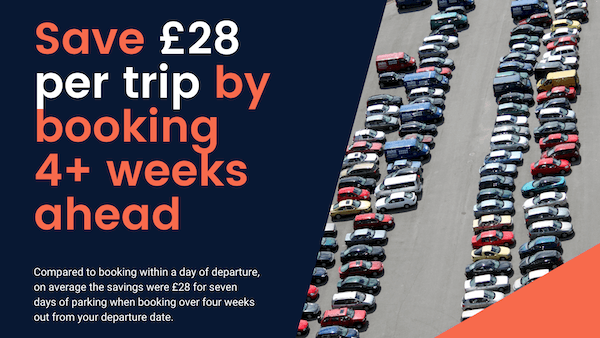 As you can see from our findings the biggest savings come when you pre-book, so you can't rely on just parking on the day – you will pay the consequences later. Even just pre-booking by a day could save you on average over £200 on a seven-day trip. But we found that the cheapest prices were to be found when booking over four weeks out from your departure date. Compared to booking within a day of departure, on average the savings were £28 for seven days of parking.
Our tips for saving money when booking airport parking
Never just turn up on the day and park your car. This is a sure-fire way to flush money away!
If you must leave parking until the last minute, still pre-book, even if it's on the same day as travelling. You will still save money!
Book as far in advance as you can – ideally at least one month before you travel.
Still need convincing that pre-booking is best? We found that 96% of the time, aiport parking was cheaper than a one way taxi fare to the airport!
Here at Airport Parking Shop we know that pre-booking saves money, but we want to get the word out that no matter what your choice of parking, you can get a great deal booking in advance.