How you could benefit from a 3G holiday and why you should take advantage!
17 Nov, 2021
Franki Napolitano
No Comments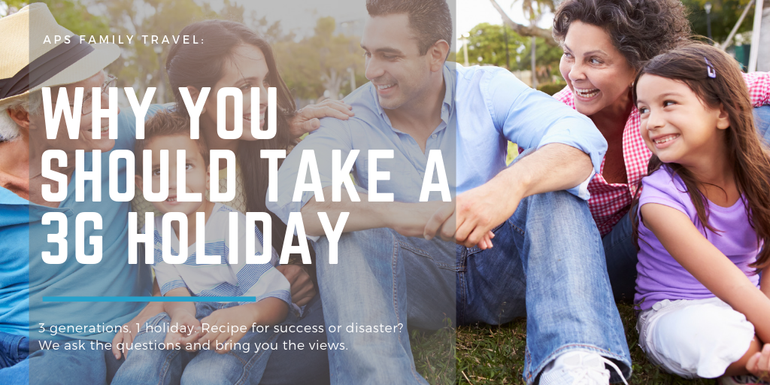 Picture the scene; you have a wonderful week in the sun booked, you're looking forward to getting away, relaxing, enjoying the new surroundings and having a bit of 'You' time.
But wait, you have two children in tow who need feeding, entertaining, washing, more entertaining, not to mention the obligatory sibling squabbles…you get my point.
Suddenly, it doesn't feel much like a holiday at all. It's just like being at home, but in a hotter climate. It doesn't sound like the idyllic break anymore, does it.
Well, this is where a 3G holiday gets its moment in the sun.
What's a 3G holiday?
3G holidays mean 3 generations going on holiday together;
You, your kids and your parents,
You, your kids and grandkids
You, your parents and grandparents
(depends who's reading this article!)
Now to some, the thought of going on holiday with their parents, or their in-laws for that matter, sends a shiver down their spine, "Not in a million years would I do that!!" claimed one of our customers, Mel! No guessing how she feels about it, then!
But wait, there must be more to it than that, especially as 5.4 million young adults are set to holiday with their parents in 2019. So let's take a look into the added benefits of having 3 generations on one holiday.
Perks of a 3G holiday
We think Zoe has the perfect explanation as to why a 3G holiday is a great thing;
"Even on holiday 2 kids are hard work. You don't get the same R&R and that's what you need sometimes so taking your parents along at least lightens the load in that respect" – Zoe.
Okay, so let's look at some of the reasons why taking a holiday with your parents can be a great idea for all the family.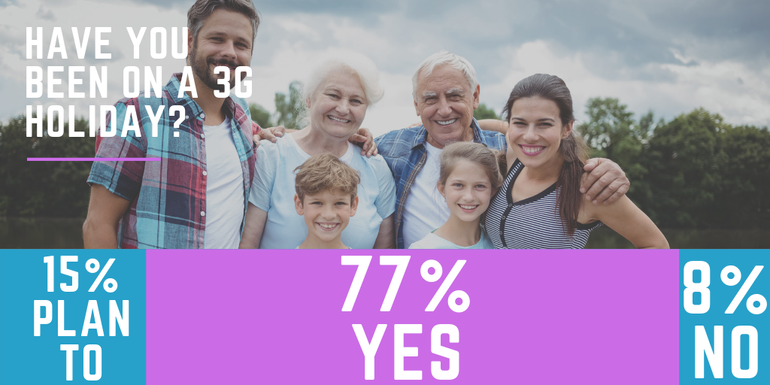 Family connections are made on multi-generational holidays.
For starters, it's a lovely way to reconnect as a family. With plenty of grandparents living a fair distance away from their grandchildren, what better way to spend quality time together than on a holiday? They get to spend time with the grandchildren much more than they would at home, with the added benefit of seeing their own kids, too.
Bringing the family together is also good for your mental health. 51% of grandparents surveyed said that they felt sad or depressed by the fact they don't see their grandkids as often as they like and in 40% of cases, it is because the family live too far apart. Keep that in mind when you're next thinking of a family break; would Mum and Dad enjoy the extra time with us? Most likely!
We've been on many 3G holidays, in fact we are on one right now with both my parents and my in-laws! From a selfish perspective, it's great to have other people to help with the parenting load meaning we actually get a break, otherwise it's just parenting somewhere else! Often harder as you don't have all the things you have at home. But I also think it is great for the kids and the grandparents as they get a much closer relationship, and having had this with my grandparents, I long for the same for my children! I think the grandparents enjoy being with the children and experiencing the holiday through their eyes, where there are often a lot of new experiences, and I'm certain they also do it to help us out! The kids adore their grandparents and I think having them too makes the holiday more fun and special and different to everyday life! I'd say it's a win-win-win! – Nadia
Splitting the cost on a 3G holiday
I suppose this depends on how generous each party is feeling! I'm not suggesting you tap up Mum and Dad for their pension funds here, but since the Pensions Freedom act came in in 2015, there has been a rise in the over-50s drawing on their pension money to fund things like family holidays.
Again, I'm not suggesting that the eldest generation foot the bill here, but perhaps it'd be a nice way for you all to visit somewhere as a family you may not have been able to afford on your own. Pooling your funds together may open up the opportunity to visit destinations you previously found to be out of your budget or make you aware of places you hadn't thought of. The rise of the 3G holiday is seeing destinations such as Croatia and Greece overtaking the old favourites Spain and France, although taking a Staycation in the UK is increasingly popular, too! So why not consider taking a staycation in Scotland or Ireland?
On the flip side, if you agree to pay for your parents to join you on holiday, it's almost an unwritten understanding that there will be a bit of free childcare thrown in, too! That includes taking it in turns to entertain the children on the plane if you're flying somewhere and making breakfast at least, surely?!
Oh, the childcare!
Before you think this is an article on how to use your parents for your own gain, hear me out. If we refer back to the first point, the grandparents are getting the chance to spend some extra time with their dear grandkids, so I can't imagine they'd say no to an afternoon or even a day of childcare! In fact, it's a great way for everyone to feel like they are getting a fair deal. You get some time to yourself to relax whilst the grandkids get spoilt with their grandparents love and attention. I think that's a win win.
"More people to help amuse the children, conversation flows, shared workload, encouraging each other to try new things, silly game playing, evening drinks. Family memories made. Things to reminisce about later. Mostly just so many laughs. I haven't done it justice and I know some would hate it but we love it. " – Karen
Something for everyone on a 3G holiday
Don't forget that a family holiday means there will be something for everyone to do; you might opt to take the kids to the waterpark for the day whilst Mum and Dad explore the town, or they can take the kids on a trip to the beach whilst you enjoy a hike up into the mountains. The possibilities are endless.
"We did our first this year with our baby and my mum. It was a great holiday and my daughter loved seeing Daddy and Nanna all day everyday. " – Fiona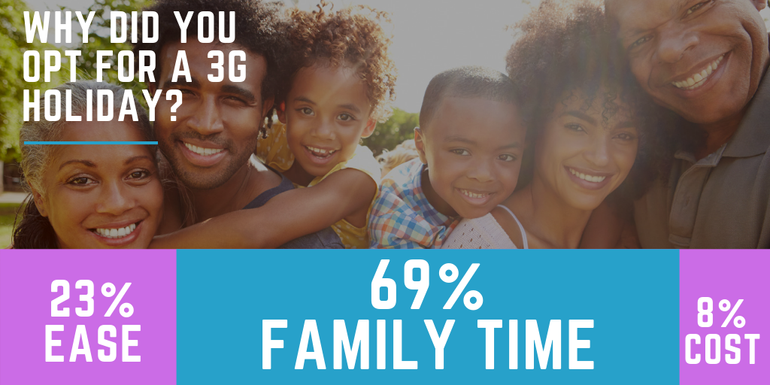 Many of our respondents said that they found their 3G holidays to be more enjoyable than a regular holiday. Sharing responsibilities, experiences and the ultimate 'stress' of holidaying with young children were all winning factors.
Holidaying with another generation may open your eyes to activities you may not have considered before. Whilst beach holidays prove most popular for the multi-gen holiday goers, day trips that include museum or landmark visits, theme parks, food festivals and water based activities all prove to be at the top of the To-Try lists.
Where 3G holidays don't work so well, is where anyone has in mind that holidaying together means everyone has to be attached. You end up spending the best part of a day going in rounds of 'what do you want to do?'. Eventually someone (usually me) cracks and does their own thing, either alone (which is fine) or dragging everyone else along (which becomes a drag – cue guilt). – Skye
Let's stay together.
One thing you'll need to consider is where you'll all stay and if it will work out for all of you. Is it better to all stay together in a villa with your own bedrooms, sharing the cooking and cleaning, or would you prefer a hotel where you can split the children between parents and grandparents rooms and not have to worry about mealtime madness?
Choosing a Villa / AirBnB
Pros: Lots of space, potentially all getting your own bedrooms, the ability to cook and eat when you choose to, no need to worry about the kids making too much noise and disturbing other guests.
Cons: Living away from home, meaning you're still responsible for cooking, cleaning and bed making, limited on-site activities for the childrens entertainment, transfers not always included.
Choosing a Hotel / Resort
Pros: Range of food available all day (especially if you're All Inclusive!), on-site or close by entertainment and activities for all the family, transfers usually included, no need to worry about cooking or cleaning.
Cons: Sleep arrangements may be a bit more cramped / limited, disruption from other guests (or causing it for others), could work out more expensive.
"We stay in a villa so we all have own space etc. Often on a golf resort / spa so everyone can go off at separate occasions to enjoy themselves" – Lorraine
When 3G holidays can be tricky
The obvious here is that you may not get on that well with your parents or in-laws and so holidaying together could bring out more annoyances and disagreements than anything else. Or you could use it as the perfect excuse to make amends with them, offering that olive branch as it were, to show that care and would like to spend time all together and create a better bond and atmosphere for you all.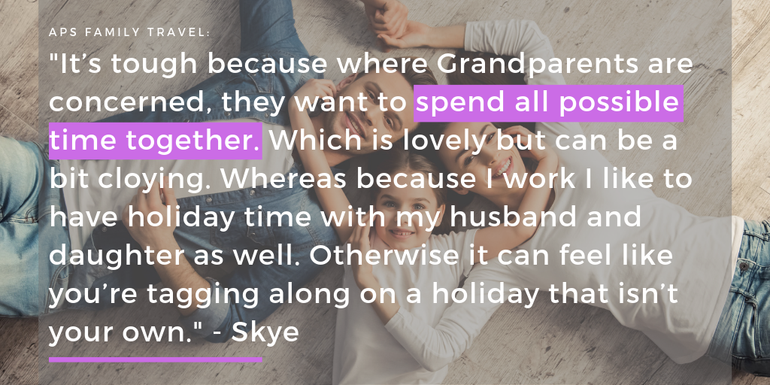 Other considerations you may need to make are the location you choose. Yes, plenty of articles you read online tell you the perfect locations for a 3G holiday are places like New Zealand, Sri Lanka and Kenya, but let's think of the practicality. Long flights and much warmer climates than you are used to are sure fire ways to create tension and be uncomfortable, so what's wrong with a jaunt to sunny Spain or a cottage on the Cornish coast? A holiday is what you make it, not all about where in the world you are.
I've 3G'd a couple of times and will do more in the future.. for the pure reason I love my in-laws and my mum and I love spending time with them… ok yes it's great we get a night off every now and then from the kids and having extra hands means easier with the kids but I seriously just love being with them – Clare
That being said, if the grandparents are up to it, why wouldn't you opt for an African Safari or voyage of self discovery across Europe? Guess that depends on how much time you're willing to spend together..!
Have you been on a 3G holiday? I love to hear about real life experiences, so whether your multi generational holiday experience was a good one or not, leave a comment below.