04 Sep, 2017
Franki Napolitano
2 Comments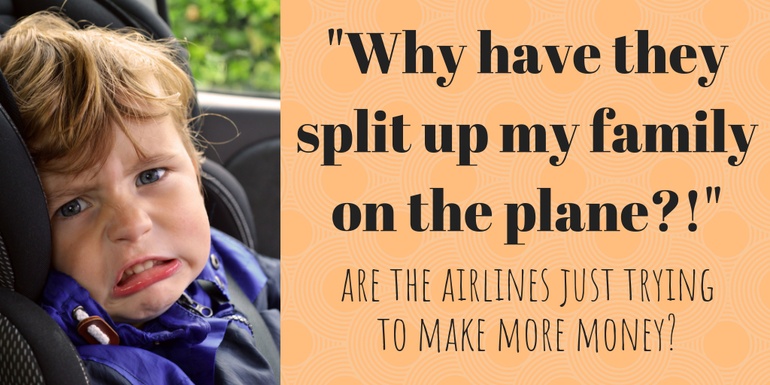 If you've travelled recently, there's a high chance you may have heard unhappy groups asking this very question in your airport or on your flight.
Reports of airlines such as Ryanair, United Airlines, Jetstar and Delta all being accused of splitting up young families on a flight are apparent from a quick Google search.
Many victims claim they are being penalised for not paying for allocated seating; which is usually an added cost on top of the ticket price you've already paid…but is this necessarily always the case?
What do the officials say?
According to the the Civil Aviation Authority, "The seating of children close by their parents or guardians should be the aim of airline seat allocation procedures for family groups and large parties of children"
"Young children and infants who are accompanied by adults should ideally be seated in the same seat row as the adult. Where this is not possible, children should be separated by no more than one seat row from accompanying adults. This is because the speed of an emergency evacuation may be affected by adults trying to reach their children."
Which is fair and in most cases, the airlines do adhere to this. The problem lies where two parents are given seats at opposite ends of the aircraft, with one of them with their child and the other on their own, or with their other child.
So it reality, no this doesn't seem fair at all. Especially when they arrive for the flight to find that it isn't that busy so therefore actually sitting closer together shouldn't be an issue…
Jetstar slammed for kicking two families off a flight after they tried to change their seating arrangements. https://t.co/pdRrokli0T #7News pic.twitter.com/ZohCrlJxPB

— 7 News Brisbane (@7NewsBrisbane) January 11, 2017
Why the random seat allocation?
Statistically, people are more likely to avoid booking a middle seat and opt for the aisle or window seat instead. In turn, this creates more available middle seats than the others that need to be filled.
This is often perpetuated by airlines like Ryanair that allow you to pre purchase your seats and self allocate up to 60 days before the flight. In comparison, those who opt not to pre purchase are only able to check in 4 days before the flight, usually meaning there aren't many full rows of seating left.
"The reason they can't have these window or aisle seats is that these are more likely to be selected by reserved seat passengers many of whom only check-in 24 hours prior to departure. Since our current load factor is 95 per cent, we have to keep these window and aisle seats free to facilitate those customers who are willing to pay (from €2) for them". – Statement from Ryanair regarding the issue.
We should include that while the price of a seat does start at around £2, that would usually end up being for the aforementioned middle seats. It's also now compulsory for parents to pay a £4 fee to ensure they are sat with their child, but can then allocate up to 3 other children a seat for free from close by, available seats. (Since October 2016)
@Ryanair I'm confused-I booked 2 tkts and the system deliberately puts the seats NOT TOGETHER so that I have to pay £4 to change my seat?

— Gabriela Garcia (@gg22mex) August 20, 2017
Oh, but you wish to book an aisle or window seat to be placed next to your travelling companion? That'll be up to £14 extra per person, thanks. Oh, and that's each way!
It's not just young families that face this problem. Plenty of couples and even hen parties have taken to Twitter to complain about being split up.
No seat beside my travelling companion and a charge of 15€ to make it happen. Disgusted! @Ryanair https://t.co/JfTOCje7aD

— Dr Mairead Foody (@MaireadFoody) June 8, 2017
So @Ryanair can u explain why you don't automatically put families together when you have room? Why should we have to pay again ! https://t.co/lIFaromLsX

— Mark Chilton (@mchiltz40) September 1, 2017
@Ryanair allocated seating system is a joke. Deliberately splitting up passengers because they haven't paid to reserve their seat.

— David keith Bayliss (@davidbayliss505) August 21, 2017
Is it all about the money?
Disgruntled passengers and circumstances would argue that yes, it is about money. If the airlines are able to make a bit of extra money off of their passengers, then they will. However, quite obviously, the airlines profusely deny this is the case and instead blame the algorithms the booking systems use. How true do we think this is?
Oh really ? No seats nearby ? pic.twitter.com/t1YmcSOEuX

— raskoblomov (@raskoblomov) September 1, 2017
We'll leave that decision up to you…
Tips to avoid being split up
We'd love to be able to provide a comprehensive list of tips on how to avoid being split up from your travel party on a flight, but we can't as there doesn't seem to be any.  Sorry about that, sad times indeed. We love a helpful tips list!
Apart from suggesting you speak to your chosen airline prior to booking to establish how they allocate their seating, all we can say is that to avoid the inevitable split you could pay the fees to sit together or choose a different airline…
Have you been affected a similar incident to those above? We'd love to hear your thoughts on this matter!