10 Best Irish Staycation and Holiday Ideas
22 Mar, 2022
Hadiya
No Comments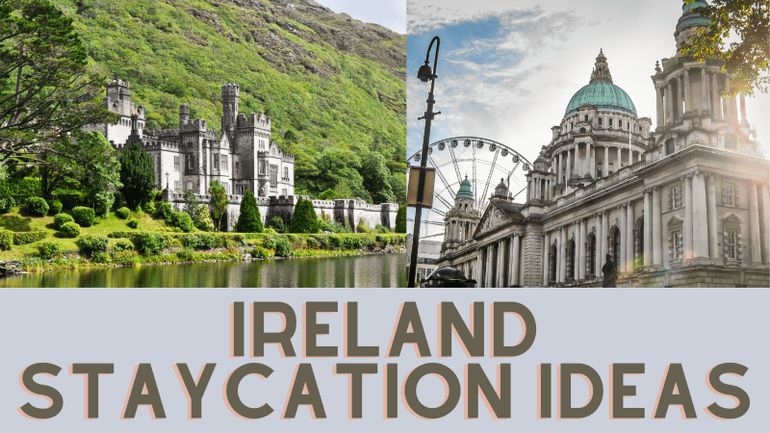 Travel had been greatly affected by the COVID-19 travel restrictions but since the UK has lifted all its travel restrictions now, it's the perfect time to take a holiday! However, if you're still be feeling a little cautious, why not go a little closer to home and take an Irish staycation? It can be a great way to explore the local areas. Here at Airport Parking Shop, we've collated information on some of the best Irish staycation ideas for both families and couples alike.
Irish Staycation ideas for families
The pandemic has been difficult for everyone, but it has been especially difficult for children as many of them may well have not understood the situation. Why not treat your kids to a family trip that they'll never forget?
The Maldron Hotel, County Galway, (Northern Ireland)
First up on the list is the Maldron Hotel in Belfast City. This is a great location to stay in as it's in the centre of Belfast city meaning that all the local activities are very accessible. For instance, you can watch a musical at the Grand Opera House, take in the history at the Belfast City Hall or shop around the grandiose Victoria Square.
The kids will also enjoy a day out at Belfast Zoo! You can see the various animals on their huge 55-acre site, as well as get the opportunity to even feed some. Or you could take them to CS Lewis Square, a picturesque park devoted to the renowned fiction author, CS Lewis. The park has sculptures from his really well-known children's series The Chronicles of Narnia. The kids will love the sculptures of Aslan, Mr Tumnus and much more.
As for the hotel itself, they have large family rooms which can easily accommodate up to four people. They also offer interconnecting rooms if you have a larger family and you all wanted to stay together. All the rooms benefit from free wifi, a 43" flat-screen TV, an ironing board, showerheads or bathtubs, an in-room safe, hairdryer, room service menu and tv and coffee making facilities.
All your dining needs will also be met as breakfast, lunch and dinner are served at the Grain and Grill restaurant at a very reasonable price.
Marine Hotel Ballycastle, County Antrim, (Northern Ireland)
If a city break wasn't what you fancied, then consider taking a coastal holiday at the Marine Hotel Ballycastle in County Antrim. It's the perfect place to come and unwind with your little ones – they will instantly fall in love with the golden beaches on the north coast.
Take your kids to visit places like the Giant's Causeway; an iconic UNESCO heritage site. You can have guided tours of the ancient volcanic site to find out about its history, myths and legends. If you wanted to truly feel on top of the world, then climb up the Shepherd's Steps and take in the breathtaking views from the cliff-top. For all the Game of Thrones fans out there, we suggest going to see the Larrybane Quarry. It is the site of Renley's camp which was shown in season 2. But even if you're not a Game of Thrones fan, it has stunning views of the coast.
But what about accommodation? After you've had a great day out exploring the area, you can come back to relax in the hotel's family rooms which will include a double bed and a bunk bed in another room connecting to yours. But if you really wanted to splash out, then go for their beach house family rooms. All will include, free wifi, room service, en-suite bathroom, a TV, cots and more.
Asgard Apartment in Westport, County Mayo, (Republic of Ireland)
If a beach holiday wasn't really something you'd like, then you might enjoy visiting Westport, which is known to be a very family-friendly town. The kids will love going to the Pirate Adventure Park which was selected as the winner of Best Family Visitor Attraction in Ireland! There is a great selection of activities available, ranging from different attractions to enjoy to taking a train ride on Westport House Express. There are also picnic sites available so pack your favourite snacks and have a relaxing afternoon picnic after spending the morning on different rides.
You could also take the kids to the Achill Experience Aquarium and Visitor Centre. There are sixteen tanks that have all the different kinds of fish and crustaceans that can be found in the Mayo coast waters, including the rare blue lobster! The kids can even get the chance to touch some of the fish including starfish, sea urchins and scallops. We're sure the kids will love this and it will be a day to remember.
After having a fun day out and exploring Westport, you can come and unwind in the Asgard apartments. These are very stylish and modern apartments and next to Westport Coast Hotel. You can enjoy beautiful views of Westport Quay and Clew Bay. In each apartment, you can expect to have a spacious living room with good size bedrooms. The kitchen has all the equipment you need such as a hob, washer, dryer, refrigerator, microwave, dishwasher and even a touch screen cooker. The apartments will all have digital control heating, Wi-Fi, TV and you'll even have access to Netflix.
Dromoland Castle, County Clare, (Republic of Ireland)
If you want to feel like you're in a real-life fairytale then come and stay in Dromoland Castle! This truly magical place has been welcoming people since the 16th century and now you too can experience its enchantment and feel like royalty.
They have a range of accommodation options that will suit all your needs. In all the rooms you can expect to have a comfortable king or twin bed available, soft slippers and a bathrobe, both wireless and cable internet access, a Nespresso coffee maker, a fully stocked minibar and you'll be charged on consumption, TV with movies and music on demand, 24 hours in-room dining, a personal safe and much more. We're sure you'll feel truly pampered and spoiled at this luxurious castle.
The castle is conveniently located near Castlefergus Equestrian Centre and we're sure the kids will love it there. Take the whole family on a horse ride in the beautiful Irish countryside. If you're in need of a rainy day activity, however, why not visit the Escape Room, Ennis? It's the perfect way to bond as a family whilst solving puzzles. This could be a very exciting day and something everyone will remember.
Decoy Country Cottages, County Meath, (Republic of Ireland)
The last ones on our list are the Decoy Country Cottages! They are set in the quaint and scenic countryside of Meath and are the perfect place to get away with your family. There are eight lavish self-catering cottages you can stay in. The cottages consist of a ground floor and first floor. On the ground floor, you can find a big kitchen and ample space for the dining area. There is a separate spacious living room with a TV, so it's the ideal place to unwind in the evening. You've also got access to a downstairs toilet. In some cottages, there is a downstairs bedroom too. But for most, you'll find the double or twin bedrooms on the first floor with ensuites.
If that isn't enough, you'll also have access to a playground, fitness centre, spa facilities, parking, treatment rooms, BBQ area, a DVD/Book library and you even have access to an indoor den with a pool and air hockey! Entertainment for all, no matter your age or likes.
If you manage to leave the comfort of these cottages, you should definitely check out some of the local attractions like Tayto Park, The Zone, and the Navan Adventure Centre, to mention just a few. Tayto Park is the place to go for all the thrill-seekers out there. It has rides for all ages so you can be sure that both you and your little ones will enjoy the park!
Alternatively, you can go to The Zone, which again has a wide range of activities, such as karting, bowling, laser combat, VR, XBOX, lazer maze & even a laser sniper. We're sure this will be heaven for the kids so you definitely need to visit. If Tayto Park and The Zone don't sound exciting enough, then we suggest going to the Navan Adventure Centre. Here, you'll find yourself spoiled for choice; you can go pedal go-karting or play mini-golf, or have a go at their obstacle courses. You can even try your hand at human foosball!
Irish Staycation ideas for couples
Whilst the pandemic has been difficult for families, it has equally been challenging for couples. Why not reignite the passion and treat yourselves to an Irish staycation?
Fota Island Resort, County Cork, (Republic of Ireland)
First up on the list is Fort Island Resort. This resort is one of the most well-known places to stay in Cork County. It has huge open spaces where you can explore their picturesque gardens, or go for a relaxing walk in the woods. All the golf enthusiasts must try out their state of the art golf course. It held the Irish Open in 2001 and 2002!
If golf isn't your thing, then we're sure you'll enjoy having a relaxing spa day at the Island spa. Prefer something a little more exciting? Check out Fota Adventures. If you like the sound of trying your hand at watersports, they offer kayaking and stand up paddleboarding! Might be wise to bring an extra pair of clothes, just in case! Alternatively, to experience something a little more peaceful, you can go orienteering. Dig out those walking shoes and take in the beauty of Fota Island.
After a day filled with activities, you can expect to come back to a very cosy and comfortable lodge. Each lodge boasts a spacious open plan kitchen, with all the equipment you need. Housekeeping services are available should you require them. You'll also have free wifi, parking and access to their woodland where you can take evening strolls.
Eco-Cabins at Ard Nahoo Retreat, County Leitrim, (Republic of Ireland)
If the resort didn't sound like something you'd enjoy then we recommend you stay at Eco-Cabins at Ard Nahoo Retreat in County Leitrim. The Guardian named this as one of the top ten retreats in the world! At this peaceful site, you can expect to find a range of eco-cabins such as Holly, Willow and Hawthorne.
In all of the cabins, you can find fully equipped kitchens, as well as having stunning views of the green hills and picturesque mountain from the private deck. These cosy cabins will make you feel like you've escaped from the world, making the perfect place to come and unwind with your significant other.
The retreat offers a multitude of ways to relax and unwind; why not start with a therapeutic yoga lesson? After your yoga class, you can sit back in their hot tub which overlooks Loch Nahoo. They also offer messages; treat yourself to a message and ease the tension in those muscles!
But if you felt like venturing a little further, the retreat is only a short distance from Dromahair Village. You can go check out the local pubs and restaurants as well as do some shopping. Or try your hand at a wide range of sports. These range from Canadian canoeing to kayaking. You can also see some historical buildings like Parkes Castle and Creevylea Abbey.
Forest Domes at Finn Lough Resort, County Fermanagh, (Northern Ireland)
For a truly memorable experience, we recommend going to the Finn Lough Resort, which has a variety of accommodation options to choose from but by far the best one to try is the Forest Domes. These beautiful domes are tucked away in the forest and are perfect for feeling closer to nature. These are especially a delight at night when you can sleep under the stars without having to compromise on your comfort! With their premium domes, you can even benefit from a bath overlooking the forest.
Alternatively, they also have suites which are very modern and done to a high standard. You can either choose from a Sky Suite or a Lake/Panoramic Lake Suite, all of which will have breakfast delivered right to your door. For something a little more luxurious, you could pick their Lakeside Villa. You'll have access to a private garden, stunning views of the water and a balcony where you can watch the sunsets and sunrises from.
If you are able to leave this cosy retreat then we suggest you climb Cuilcagh Mountain which is also known as Ireland's Stairway to Heaven. It is a steep climb so get those walking boots ready. But the view from the top makes it all worth it so we're sure you'll love this. If this is too much walking for you, then explore Lough Erne on a water taxi. It's a great way to explore the area and your tour guide will tell you all about the local history.
Thatcher's Rest Cottage, County Meath, (Northern Ireland)
Come and stay at this beach cottage for a truly memorable experience. It was awarded the best beach holiday house in Europe in 2016 so it will certainly not let you down.
This picture-perfect cottage comprises a huge open plan lounge that features a stone fireplace and oak flooring. It has a fully equipped kitchen that includes a microwave, oven, fridge, freezer and much more. It's a three-bedroom cottage, having one master bedroom, one double and one twin so rest assured, you'll have plenty of room. What's more, is that it has a big bay window seat where you can watch the sunset over the sea.
There's plenty to explore in the local area too! For instance, you can go visit Ireland's Ancient East, which is a place of legends and myths and holds about 5000 years of European history. It's a great way to explore stone age art, castles, ancient monasteries, fortresses and much more. Or you can wander around The Boyne Valley which was listed as the top 21 History Destination in the world in Lonely Planet in 2013. You can take private day tours of this historical valley and see places like Hill of Slane, Hill of Tara, Old Mellifont Abey, Loughcrew and much more.
Once you've soaked up all of the local history, why not check out one of the various festivals that are held in the nearby area? (When restrictions allow, of course.) Choose from the Drogheda Arts Festival, Dublin Arts Festival, International Literature Festival Dublin and much more.
Killarney Glamping at the Grove, Country Kerry, (Republic of Ireland)
Last but certainly not least is the Killarney Glamping at the Grove. This is perfect if you want something a little unique and out of the ordinary. Each glamping suite has a double bedroom with a double bed, linen, stylish furniture, heating, as well as electricity and an ensuite. The suites have been designed specifically to cater for Irish weather so you can be assured that these glamping sites will provide you with comfort whatever the weather.
You can also enjoy scenic views of the meadows from your private decked patio at the front. You will have access to a private kitchen that comes stocked with everything ranging from marshmallows to a BBQ. However, you might not want to cook as you're on holiday after all! Instead, you can easily order takeaway from a restaurant nearby that will drop the food off right at your doorstep.
There is also lots to explore in the local area. For starters, you can go to the picturesque Killarney National Park. It has something for everyone, whether you want to check out a castle, admire the magnificent waterfall or enjoy magnificent views of Killarney's lakes and mountains. We're sure you'll have a day filled with adventures here! For those seeking something a little more physically challenging, we recommend you check out the Star Outdoors in Kenmare. They offer everything from kayaking to archery and paintballing. They even have a Wild Atlantic Waterpark where you can enjoy a climbing wall, trampoline, obstacle course, jungle bars and much more.
We hope you enjoyed our Irish staycation ideas and got some inspiration for your next holiday. However, if the restrictions don't ease, and you're unable to fly to Ireland, then have a look at our guide to a Scottish staycation instead.