Best 12 Scotland Staycation & Holiday Ideas
22 Mar, 2022
Hadiya
No Comments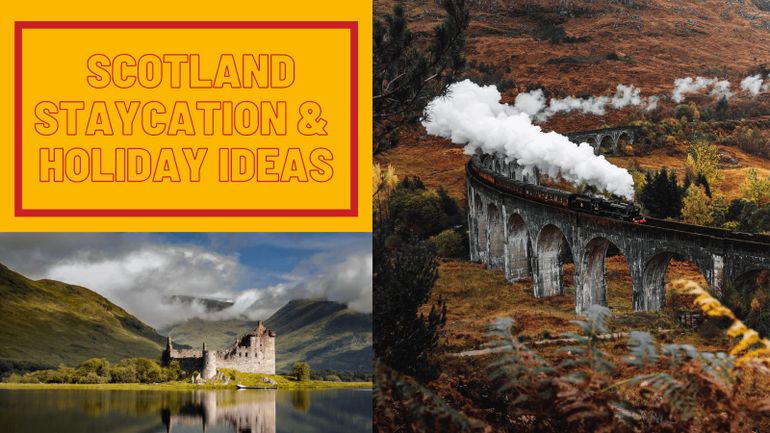 The UK has lifted all the travel restrictions now so we're free to go wherever you want to go. But if you're still feeling a little worried about travelling abroad, what not take a staycation to Scotland? A staycation is a great way to save money and explore the local areas.
Here at Airport Parking Shop, we're making this even easier for you by compiling the best Scotland staycation ideas for both couples and families, as well as picking some of our favourite lodges in Scotland.
Scotland Staycation Ideas for Couples
The pandemic hasn't been easy for anyone and particularly for many couples. It might have been the first time you had to do long-distance or stayed with each other for such a long period of time, or perhaps missed out on the perfect wedding. So why not plan a cute Scotland staycation and visit these amazing and unforgettable places together to make up for a tough year?
The Haunted Fernie Castle, Fife
First up on the list is staying in the haunted Castle Fernie. It was constructed as a tower house in the 14th century and over the coming centuries, it was remodelled and renovated many times. In the 19th century, it was sold and then converted into a hotel.
"So, why is it haunted?"
Well, many guests have reported the lights turning on and off by themselves. But this could just be faulty lights, right? Yes of course, but how do you then explain the sightings of the spirit of the Green Lady? She is a young woman who once sought refuge in the castle from her father. Once he found her, in an attempt to get away from him, she supposedly jumped from the castle and died. Or was she pushed? She has been reported as being seen as recently as just a few years ago!
Now, if this doesn't scare you and you still fancy a visit, the castle has 20 bedrooms with ensuites and if you're looking for something romantic, they even have a treehouse suite. We think this is a castle certainly worth a stay!
Tree Howf, Dunblane
If the castle didn't sound like something you'd enjoy, what about staying in an actual treehouse? The Tree Howf is a stunningly built treehouse nestled up in the branches, giving you a 360-degree view of the picturesque Ochil Hills.
Complete with a wood-burning oven, as well as a two-ring gas hob, it's the perfect self-catered, romantic getaway. Bring the food and drinks of your choice and cook up a feast under the stars.
This could be the ultimate experience for you and your partner to immerse yourself in and take in the peace and quiet around you. Watch beautiful sunsets and sunrises from the balcony that overlooks the magnificent Ochil Hills and the nearby lochan. What's more, is that there is a huge window above the bed, so you can stargaze at night!
Knoydart Hide
In 2016 this beauty was voted as one of the top five romantic holiday cottages by The Times so you can be assured that you won't be let down.
Take a break from the world and come and hide away in this stunning cottage that offers both a hot tub and infrared sauna. The cottage offers complete privacy and it's nestled in a wonderfully scenic setting overlooking Loch Nevis. To reach this haven you need to take a water taxi; amplifying the feeling that you've escaped the world and you can truly unwind with your loved one.
Spend some quality time together by stargazing, going for a dip in Loch Nevis or simply wandering around the nearby surroundings. If you wanted to take a day trip, take a ride on the famous Jacobite steam train that was seen in Harry Potter! Or you could book an e-bike and see Gavin Maxwell's Lighthouse or admire the Cuillin Hills.
You could even arrange to have a private tour given in a 4 x 4, where you can find out all about the vibrant history of Knoydart. It's the perfect way to visit some of the more obscure parts such as the old settlement at Airor. Whatever you choose to do, we're sure it will be a totally unforgettable experience.
Buchan Ness Lighthouse, Boddam
Last but certainly not least, you can stay in a lighthouse! Now that is pretty cool and definitely worth visiting, I mean how many people can say that they've stowed away in a lighthouse?!
At Buchan Ness Lighthouse, you'll feel the fresh sea air on your face as soon as you step out of your car; it's a truly dreamy location to stay with your loved one. You have the choice of staying in either Skerry Cottage or Dundonnie Cottage. Both cottages have a master bedroom and a second bedroom with twin beds. You can enjoy stunning views of the sea from the windows as you relax in the lounge. You will also benefit from an open fire, TV & DVD player, a completely modern bathroom and the kitchen has all the essentials you'll need. It even has a decking area through the kitchen and from there, you can see breathtaking views of the sea.
If you wanted to explore the local area, you've certainly got a lot of choices. You could see the Slains Castle which is known to be the place where Bram Stoker had the idea for his well-known novel Dracula. The castle is set atop the cliffs giving it an eerie and gothic feel. If this felt a little too gloomy, then you could take a romantic boat trip around the lighthouse, meaning you'll get to see the beautiful pink granite cliffs, the coves, the various caves, as well as the magnificent cliff stacks. Alternatively, you could just take a relaxing walk around the coastline and you'll get a chance to see sea life such as dolphins, seabirds and seals.
Scotland Staycation ideas for families
So far, we've shared some great ideas for a couples getaway but worry not, we've plenty of great ideas for those with little ones!
Newton Farm Holidays, Inverarity
We'll start the list with Newton Farm Holidays who provide an amazing farm experience. You'll be given a very warm welcome by both the hosts and the animals at the farm. It's located in the quaint county of Angus and is run by Graeme and Louise. They wish to give the visitors the best experience and the farmhouse has recently won two of Scotlands' Regional Thistle Awards for being the Most Hospitable B&B and for also providing the guests with the Best Outdoor Experience! The farm has a cottage as well as a farmhouse B&B.
In the cottage there are three bedrooms; two doubles and one single meaning it can accommodate five to six guests easily as an extra bed can be requested. The cottage is finished to a high standard and it's been given a 4-star rating by VisitScotland. It is beautifully secluded so you can enjoy complete privacy. Each bedroom benefits from a radio alarm, hairdryer, flat-screen TV, bed linen and towels. Free wi-fi is also included so you won't feel too shut-off from the rest of the world.
In the farmhouse B&B, you'll be welcomed into a ground floor family room that has an ensuite. Whilst it is only one room, it is very large and has a double bed, as well as a double sofa bed so four people can easily fit in this room. Upon request, you can get a cot for the little ones.
The best thing about this farm is that it's pet friendly! You'll simply need to let them know beforehand so they can make arrangements accordingly.
Although there is loads to do on the farm that will keep you and your little ones entertained, you can also go and see the nearby castles. The Glamis Castle is only a 12 minute drive from the farm and it's filled with history. You can visit their nature trails which the little ones will enjoy or you can take afternoon tea in their Victorian Kitchen Restaurant. Alternatively, you can visit Dunnottar Castle, which is a 45 minute drive from the farm. This hauntingly beautiful castle is set atop a cliff with stunning views of the coastline. Kids can wander around the castle and play hide and seek whilst you admire the views.
Craig Tara Holiday Park, Ayr
If you prefer more traditional family holiday settings, then we recommend visiting Craig Tara Holiday Park in Ayr. It has everything in one place, such as access to the beach, an indoor heated pool with a waterslide, a sports hall, a flight tower where you can either jump into an airbag or you could zip along the Adrena-Line & a climbing wall! We are sure both you and your kids will enjoy this…as well as burn plenty of energy.
They also have two play villages, one being the Lighthouse Harbour Adventure Village where there are interactive play areas for your kids to explore all things coastal; think Coastal Chef School, Coastal Lab, Boathouse Stage and an Activity Cove.
They also have a toddlers' play village specifically designed for toddlers. This play village has a toy kitchen, pretend lifeboat and even little shops where they can let their imaginations run wild. The park even has a sea-facing nine-hole golf course so if you're a golf fan, this park will surely be a delight.
Accommodation wise, there are three options; you can choose to stay in Dalrymple Village and Balmoral, which is located in a very peaceful and quiet area. You'll benefit from a parking space, 40" TV, the option of an integral deck & you'll be guaranteed a play area nearby.
The second option is staying in a caravan which again has great features such as two or three bedrooms, sheets and bed made for when you come, TV, microwave and gas and electricity is also included.
The third option is an apartment that gives you a more homely feel and again it will be equipped with everything you need for a comfortable stay.
The Sail Loft Bunkhouse, Portsoy
If you were looking to save some money, youth hostels can be a great option! They're budget-friendly so this means that you can spend less money on accommodation and more on activities and seeing the amazing location you're visiting.
So why not consider staying in The Sail Loft Bunkhouse. It's a brand new hostel which was opened by Prince Charles. It has all the self-catering facilities that you'll need such as a kitchen equipped with hobs, fridge, freezer, microwave and cutlery. You can also benefit from separate male and female toilets with shower facilities and hot water.
In your room, you'll be provided with bed linen and you can request towels for a small fee. All the bunk beds will have their very own reading light, a charger socket and even a secure locker where you can store things like your mobile phone, camera, tablet and other valuable items.
You could ask for 2 private bedrooms which have adjoining doors to other rooms, so they'd be perfect if you were visiting with a larger family. The rooms also have plenty of space for cots so you don't have to worry about that if you're coming with the little ones. The Bunkhouse has been recommended as a great place to stay by VisitScotland, as well as being given a 4-star rating by them. So, we're sure, you'll enjoy your time here.
Tummel Valley Holiday Park
Our final Scotland staycation recommendation for families is Tummel Valley Holiday Park in the Highlands. This beautiful location is hidden away in a woodland setting with the River Tummel just beside it. There are plenty of activities here to keep everyone entertained such as playing golf, catching a fish, going cycling with the family or taking a walking tour around the Highland and exploring the beautiful surroundings.
If you'd prefer to stay on the site, worry not! There are lots of indoor and outdoor activities available that will keep both you and your family busy. For instance, you can take a relaxing swim in the indoor heated pool. The kids can enjoy adventure play, amusement arcades, sports court and much more. There is even a newly renovated Boathouse Bar and Restaurant where you can dine with the family. They also do takeaways if you'd prefer a cosy movie night-in together.
Speaking of accommodation, they offer both caravans and lodges for you and your family to comfortably enjoy. They have a wide range of caravans with either two or three bedrooms and all of them fully are equipped with kitchen appliances such as a microwave, fridge freezer and some will have a grill, oven and dishwasher too. Most caravans will also benefit from a flat-screen TV. Alternatively, you can choose to stay in a lodge of which there are a great number of options available too. You can stay in either a two, three or four-bed lodge depending on your needs. Again, all the lodges will have a microwave, oven, grill, dishwasher, some will have a fridge & freezer too!
Scotland Staycation Lodges
So far, we've given you some great Scotland staycation recommendations for both family and couples. We've covered treehouses, castles, and cottages so now, let's take a look at some of the great lodges you can stay in in Scotland. Lodges can be an ideal location for both families, couples, or even groups of friends as it's usually a quiet retreat from it all and it will feel very homely.
Thurston Manor Lodges, Dunbar
First up on the list are the Thurston Manor Lodges. They are located by the Lammermuir Hills and very close to the stunning East Lothian coastline. It's only an hour from Edinburgh so if you wanted to take a day's trip to the city, it shouldn't be a problem. The estate is known to be visited by kings in the past and now you too can visit and feel like royalty.
They offer Superior lodges, Deluxe lodges and Dog-Friendly lodges. In the Superior lodge, you'll be given big spacious rooms that are ideal for both couples or family. There is an open plan, fully equipped kitchen and you can opt for a two or three-bedroom space. This means that the master bedroom will have a double bed and you'll have a twin bedroom in the second and third bedrooms. You can also benefit from an outside deck where you could have a picnic!
The Deluxe lodges are also very spacious and have a contemporary built. They're pretty cosy so you'll feel wonderfully comfortable and at home here. Like the Superior build ones, you will have a fully equipped kitchen and again, there are two and three-bedroom options available. In some of the Deluxe lodges, you are welcome to bring your pet.
If you wanted you to treat your pet to a holiday too then you could stay in the Dog-Friendly lodges as they're specifically designed for pets. Your dog will get a room of their own as well as lots of treats. There will also be dog toys and leads available, as well as having access to a gated veranda so they could get some fresh air. Like the other lodges, you will have an open plan kitchen that is fully equipped and a double bedroom. The single bedroom will be a dog's room with a dog bed, bowls and more. The dog room can house up to two dogs so this lodge is perfect for a couple with dogs.
Landal Piperdam, Dundee
Landal Piperdam is also a great option for you to consider for your staycation. It's surrounded by the pastoral and idyllic Angus countryside with little treats to offer such as the famous 'The Room with a View' restaurant. You can golf at either their 9 or 18 hole courses or you can take a relaxing spa day at the Admire Spa. They also have activities like archery or Segway's splash which can be enjoyable for both children and adults alike.
As the retreat is set in the countryside, you should definitely take some time out to explore its beauty. You can do so either by foot or get on a bike and cycle around the beautiful hills and glens of Angus. There are many magical trails you can explore such as Camperdown & Clatto, Backmuir Woods, Gask Hill and many more. This retreat has something for everyone and whether you're coming with family or just with a partner, you'll surely feel welcomed.
In terms of accommodation, you can stay in their stylish lodges with stunning views of the loch and golf course. They have several options available with rooms ranging from two to six bedrooms. Most of their lodges are pet friendly so you don't have to worry about leaving your pet home; they too can have a holiday with you. Most of them also feature a hot tub which is perfect for relaxing at the end of the day.
St Andrews Forest Lodges
Next up on the list is staying in St Andrews Forest Lodges. St Andrews is famous for having one of the oldest golf courses in the world and the lodges are situated a mere five minutes away from it. If you're an avid golfer, check out the St Andrews green fees and get booked on for a round! If golf isn't your thing, there is plenty to do around the area. For instance, you can visit the coast of Tentsmuir Forest and there's a chance that you may see seals and dolphins close to the shore.
They have a set of three lodges you can choose to stay in. The Lawrie Plus Lodge has a comfortable and cosy open plan kitchen and two-bedrooms, with one being a double and the second a twin bedroom and both have ensuites. If this wasn't enough, you even have access to your very own hot tub! The Lyle Executive Lodge also benefits from an open plan kitchen, with one double bedroom and one twin, both of which have ensuites for added comfort. You can also enjoy some fresh air on the terrace that has outdoor furniture for your use. At the end of the day, you can relax in the private sauna.
If you're with a larger group, then you should opt for the Montgomerie Lodges. These can house up to six people as it has two double bedrooms and one twin, again, all with ensuites. It's got a fully equipped kitchen and an outside terraced area. This lodge also has a sauna.
Wildside Highland Lodges
The final ones to make it to our list are the Wildside Highland Lodges. You will find these located in the picturesque Scottish Highlands, only three miles away from the serene Loch Ness. It's the perfect place to come if you want to escape from it all, with its serene and natural setting. Come for a visit, whether it's with a partner on a romantic getaway or with family, the idyllic and peaceful surroundings certainly won't disappoint!
They have a variety of lodging options to choose from, ranging from one bedroom to three bedrooms. The lodges are set in completely private areas with views of the Loch and the mountains surrounding it. You'll have an open plan, fully equipped kitchen with a fridge, freezer, dishwasher and more. In most of the lodges, you'll find a utility room with a washing machine; the perfect place to store your walking shoes! In almost all of the lodges, you'll have access to the hot tub which is located in the private decking area outside as well as a barbecue and private lawn.
We hope this guide helps you find the best Scotland staycation recommendations! Whether it's staying in a treehouse on a romantic break or visiting a holiday park with your family, we're sure you'll love your stay. If you wanted to include other places in the UK, then why not have a look at our guide on staycation ideas to rival our overseas counterparts?! Let us know where you decide to go and what you thought of the place.