Flying whilst Pregnant: What you need to know
24 Sep, 2021
Franki Napolitano
No Comments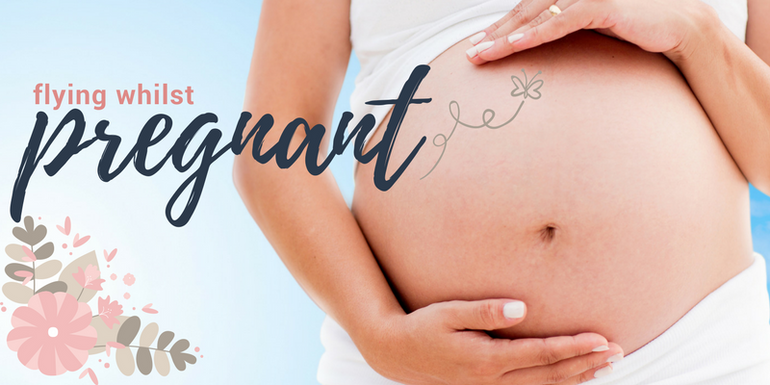 Should I be flying when pregnant? When is it safest to? Will I cause any harm to my unborn baby? These are just some of the thoughts women may have when flying whilst pregnant, so we thought a quick guide to help put your mind at ease would be just what the doctor ordered.
Preparation before flying when pregnant
Women are able to fly up to 28 weeks into the pregnancy without needing a doctors note, so if you are flying and returning before then, you won't need to do much else!
If travelling after the 28th week, you'll need a letter from your GP or Midwife confirming the following information:
You're fit and safe to fly
You are expected to have a normal pregnancy
Your due date
Although it's important to remember that some doctors may charge for this letter.
Can flying harm me or my baby?
Don't worry, there's no proof to suggest that flying or anything connected with flying puts you at greater risk of miscarriage or birth defects, so please don't worry about that!
You should consider these things being at a greater risk of when flying during your pregnancy:
Swollen ankles and legs,
Pulled ligaments from lifting items that may be too heavy
Seemingly worse jet lag.
Other than that, be mindful that flying in the later stages of pregnancy may also increase the possibility of a slightly premature birth; tempting fate by being away from home and all that! Babies don't care too much about when and where they arrive..!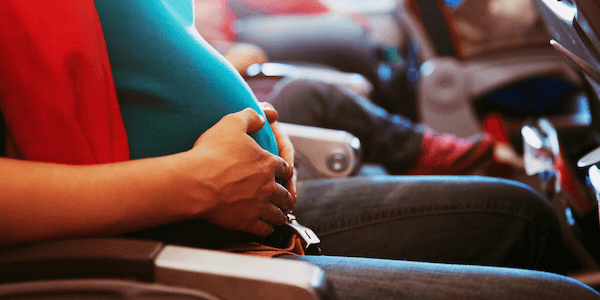 Are airport body scanners harmful during pregnancy?
In a word, no. The body scanners in security omit such a low frequency electromagnetic field that they are deemed safe to be used by all. Again, there is no proof to suggest that the scanners have any adverse effects on mother or baby, but just to compare, let's look at how the radiation emitted from airport scanners compares to other forms of scanning:
| | |
| --- | --- |
| Scanner Type | millirem count |
| Airport Scanner | 0.005-0.01 mr |
| Medical Xray | 10 mr |
| Mammogram | 13 mr |
| CT Scan | 400 mr |
Note: 10,000 millirem is considered the danger threshold, just to put the table into perspective. Credit: TSA
And, as pointed out by TUI during our research for this article, pregnant security officers pass through security scanners everyday..! 
Safest time for flying when pregnant
You're safe to travel at most stages of your pregnancy. Many women prefer not to fly in the first trimester, or in the first 12 weeks, due to increased nausea, fatigue and the already heightened risk of miscarriage. That being said, most airlines will let you fly up to 37 weeks pregnant, but be mindful that it means you need to have travelled home before the end of your 36th week of pregnancy.
However, if you have experienced Gestational Diabetes, High Blood Pressure, Bleeding, Hyperemesis Gravidarum (debilitating morning sickness) or have suffered a previous miscarriage or early labour in a prior pregnancy, please consult with your GP or Midwife about your plans to travel.
I'm having twins, does that restrict when I can fly?
Not really, except you will only be able to fly up until the 32nd week of pregnancy, rather than 37th. This is applicable to twins and other multiple pregnancies.
Taking vaccination for pregnant women
"If you must travel to areas requiring inoculation, you should get your jabs. The risk of catching an infectious disease far outweighs the risk from vaccination." – Dr Reynolds, NHS Choices 
We think that pretty much sums it up! Use the link above for full information on vaccinations whilst pregnant from the NHS. Please also be aware that there are some anti-malaria tablets that aren't safe for pregnant women to take, so this needs a conversation with your GP or Midwife.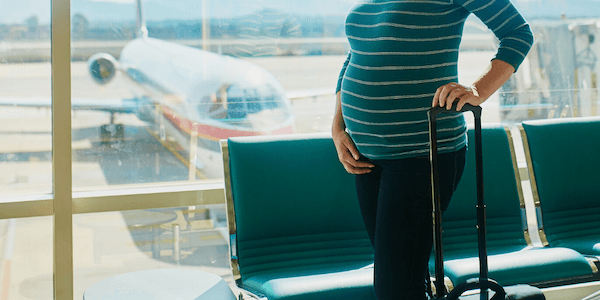 Travel insurance during pregnancy
For this, you'll need to read the small print. Your existing insurance policy may well already cover you for the duration of your pregnancy, some to just 28 weeks and some will not automatically include it. As with everything, please check this with your insurance provider before you fly!
If your travel insurance doesn't cover your pregnancy, insurance providers like Holidaysafe provide single trip pregnancy insurance for for a very reasonable price for up to 40 weeks. But it must be noted that they only provide cover for up to 28 weeks for normal pregnancies. 40 weeks cover is only available in case of an emergency. However, you should be aware that most airlines won't allow you to travel after 37 weeks unless there is an immediate need to. So, we recommend you check with your airline and only travel after 37 weeks if it is absolutely necessary.
Airline's policies for pregnant women
We looked at a few of the most popular airlines from the UK to see what their pregnancy policies were;
Top tips of flying when pregnant
To help keep you comfy, we suggest wearing loose fitting clothes, positioning the seatbelt under your bump rather than over it and requesting an aisle seat at check in to make getting up and down easier.
The stage of your pregnancy will determine how comfortable you are when seated for long periods of time, so be sure to move as frequently as you need to. It is recommended that you move around every 2 hours for at least five minutes to stretch your legs.
Stay hydrated! Keep a bottle of water on you at all times. Not only will it help keep headaches at bay, it can help with circulation and helping to prevent more uncomfortable swelling.
We know everyone loves the window seat but in your pregnancy, try to take the aisle seat! It is better if you need to go to the toilet or just move around.
Try to relax! Remember, this might be your last trip by yourself and with your partner so try not to stress too much and have fun!