20 Jun, 2014
Jurga Sefton
No Comments
You've worked out your summer holiday budget, booked your flights, and then… you groan. You forgot the airport parking. Extortionate, rip-off, always more expensive airport parking.
Or is it?
At Airport Parking Shop, we decided to have a look at whether or not airport parking really does always get more expensive year on year. So, we gathered data for 27 of the UK's leading airports, looked at the cheapest available option for each, and found that over a quarter of airports have parking options available that are cheaper this year than they were in 2013, while prices remained the same for 19% of the UK's airports.
Although London City had the biggest price reduction with prices down 39% year on year, it is still the most expensive overall with 2 weeks parking costing £140.
Leaving your car for two weeks in August at Stansted and Gatwick airports will cost you less this year than last year, with cheapest option now available at 30% less for Stansted and 3% less for Gatwick.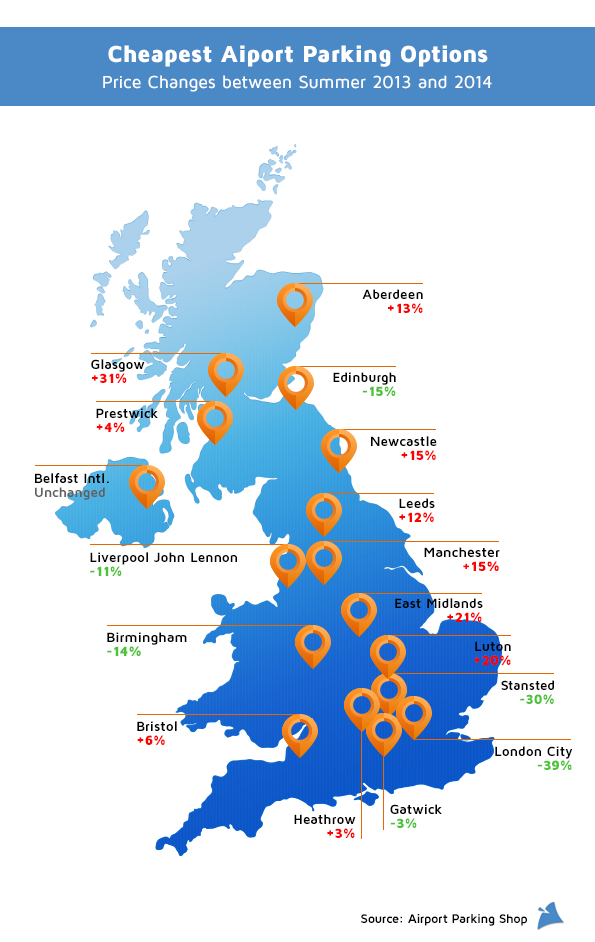 What We Compared
A year ago, we took an example of 14 days (two weeks' trip) in August and ran parking searches for each and every airport listed on our site. The dates we chose were 12-26 August, and we repeated the same search in early summer this year. Read More