A Guide to Sleeping at the Airport
23 Nov, 2021
Franki Napolitano
No Comments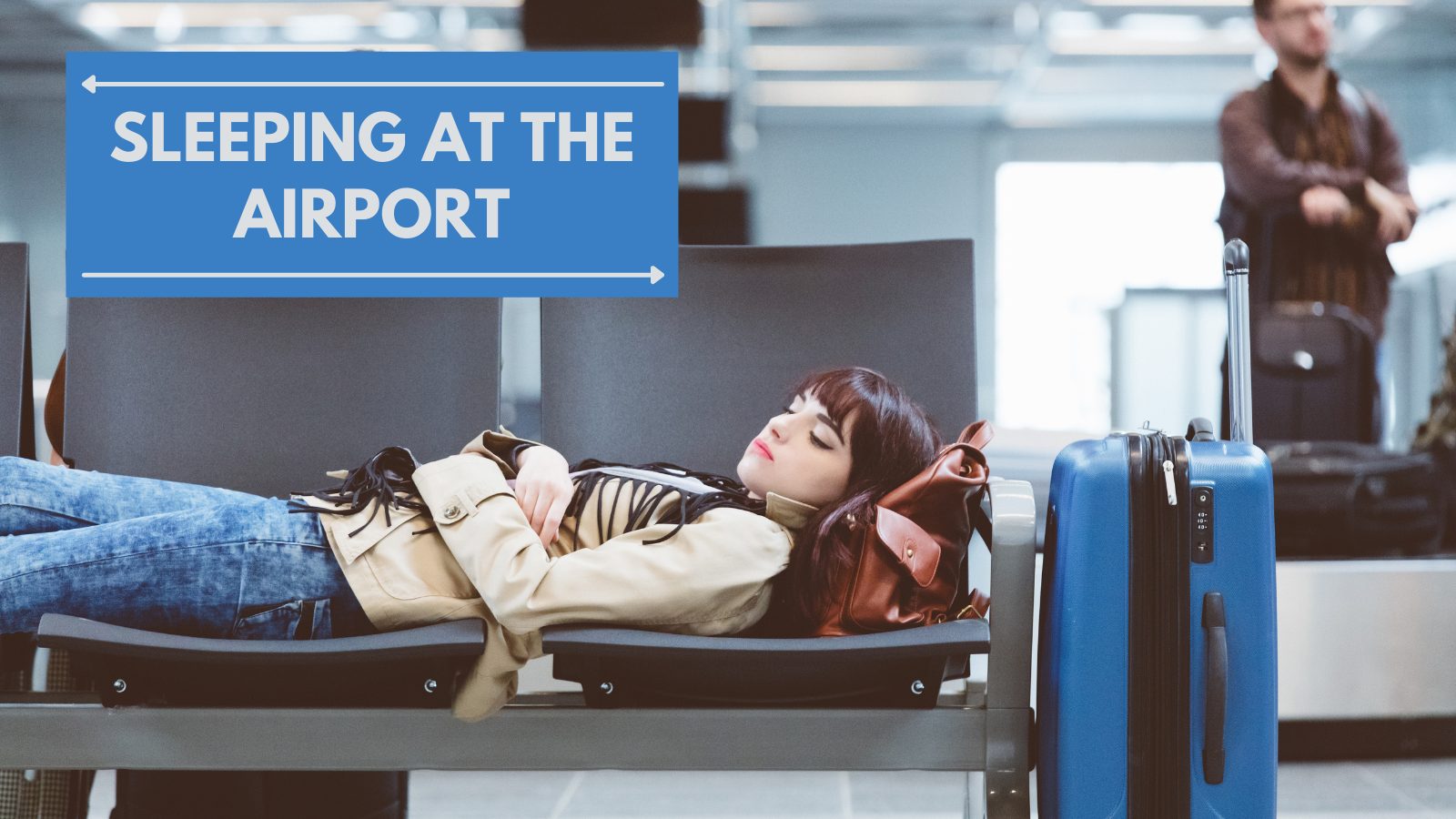 It is not only budget-conscious backpackers who find themselves sleeping in airports. Recent storms, the volcanic ash crisis of 2010 and the Gatwick Airport drone shutdown in 2019 have all left travellers in the lurch, wondering how on earth they were going to manage to sleep.
It is against the law in some countries, frowned upon by many airports and could be downright dangerous in some places so the following advice comes with a strong caveat: you should be sleeping in airports at your own risk, particularly if you are a lone female!
Some airports have a supply of camp beds for stranded travellers, but they are limited in number so be prepared for the worst case scenario if you know the weather is bad or there are other extenuating circumstances that mean you may have to rough it for the night.
What are your options?
However, before resigning yourself to an uncomfortable night, make sure the airline has fulfilled its duty to you. You may be entitled to overnight accommodation or at least meal vouchers, and airlines are not always quick off the mark in telling passengers. We have prepared a helpful guide on what to do if your flight is delayed or cancelled so why not check that out and find out your rights are in these situations!
Alternatively, if you can afford it, you could buy your way into an airport lounge where you stand a better chance of peace and quiet plus of course refreshments and showers. Most lounges have a dress code: you don't need to be wearing a suit, but smelly trainers and crumpled clothes are unlikely to be welcome.
Bench-type seats are not often found at airports, with individual seats with arm rests being the norm nowadays, so if you want to stretch out rather than sleep in a sitting position then you are going to have to take to the floor.
Depending on what else you have in your carry-on luggage you may be able to fit in a simple air mattress and sleeping bag. In some airports this will be like a red rag to a bull but if you are stranded through no fault of your own (rather than just being too mean to stump up for a hotel room before your crack-of-dawn flight) you stand a better chance.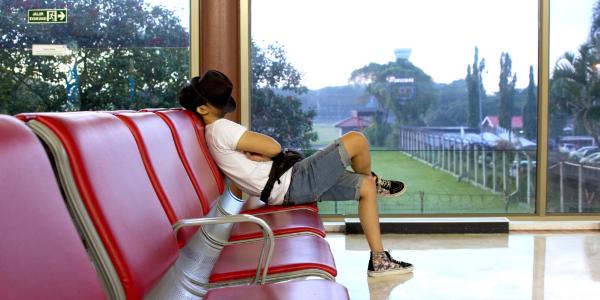 Get yourself a comfy spot
If you don't have an air mattress and sleeping bag, a large towel will keep most of your body off the dirty floor and you can use clothing or your carry-on holdall as a pillow. A few antibacterial wipes could even make the floor seem less of a health hazard!
Choosing a good sleeping spot can make all the difference. If things look bad, try a different terminal. If you have not yet cleared security you may find that the Arrivals hall is a better bet than Departures. In large airports you may find that the international terminal stays open at night whereas the domestic one may shut.
The best spot will have no announcements, little footfall, and a comfortable temperature. Whilst on the subject of temperature, make sure you have plenty of layers as some airports can be overwhelmingly hot and airless whilst others have ferocious air conditioning.
Be mindful of security
Security is of course an issue if you are sleeping at the airport. If there are no left-luggage facilities, you are going to have to be inventive to keep your belongings safe. If you have a length of string you can tie the handle of your luggage to your ankle or wrist so that you will wake if anyone tries to move it. Best of all though is the chain padlock (for bikes) which can be used to secure your baggage to the leg of your seat.
There are several websites that allow users to post comments on individual airports and their suitability for spending the night. Like a lot of advice proffered on the internet, it can go out of date quickly: the sympathetic attitude of that friendly security guard or the unlocked cleaner's cupboard that offered a quiet and dark spot to get some shut-eye may not be relevant to future travellers. General advice, such as the fact that the small regional airport shuts between the hours of midnight and 5 a.m., is far more likely to be of use.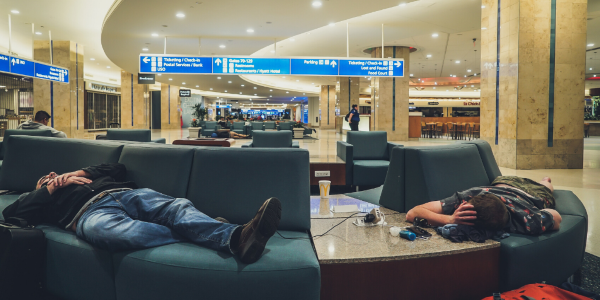 Best airports to sleep in the UK
Airport
Where can you sleep
Glasgow Airport

Most people sleep at the 2nd floor's food court as the restaurants close from 11 pm to 4 am. However, they will prepare to reopen around 3 so by that time, you might have to relocate.
Before security, you'll be able to find rows of benches that are located near Tesco Express.

Dublin Airport

Dublin airport installed sleep pods in Terminal 1 back in 2017. But we don't have updated information if they are still there.
You can sleep in the food shops landside where you'll find comfortable chairs.
Terminal 1's 24hs McDonald has some really comfy chairs so could be a good place to catch some sleep

Heathrow Airport

Throughout all the terminals, there are rest zones with comfortable seating available, as well as having charging ports 
At terminal 2, you may be able to find a quiet area near gates B31 – B49.
In terminal 3, you'll find some padded armrest-free seats above departures located near the Pret a Manger
For terminal 4, you can use Costa's seating to sleep and it's open 24 hours so you can stay as long as you like! But do buy a little something.
At terminal 5, you can find some comfy seating above the departures close to the Zone G

Gatwick Airport

There are quite a few benches located throughout the airport both before and after security. But after security, the seating is comfier, with some being armrest free.
Some passengers suggest that South Terminal is a better option to sleep in as it's quieter.

Manchester Airport

In terminal 1, you can find the best seating as they have quite a few armrest free chairs and benches.
At terminal 2, there are some benches but it can get quite noisy at night
In terminal 3, there are some nice seating but it's reported, there's not too many.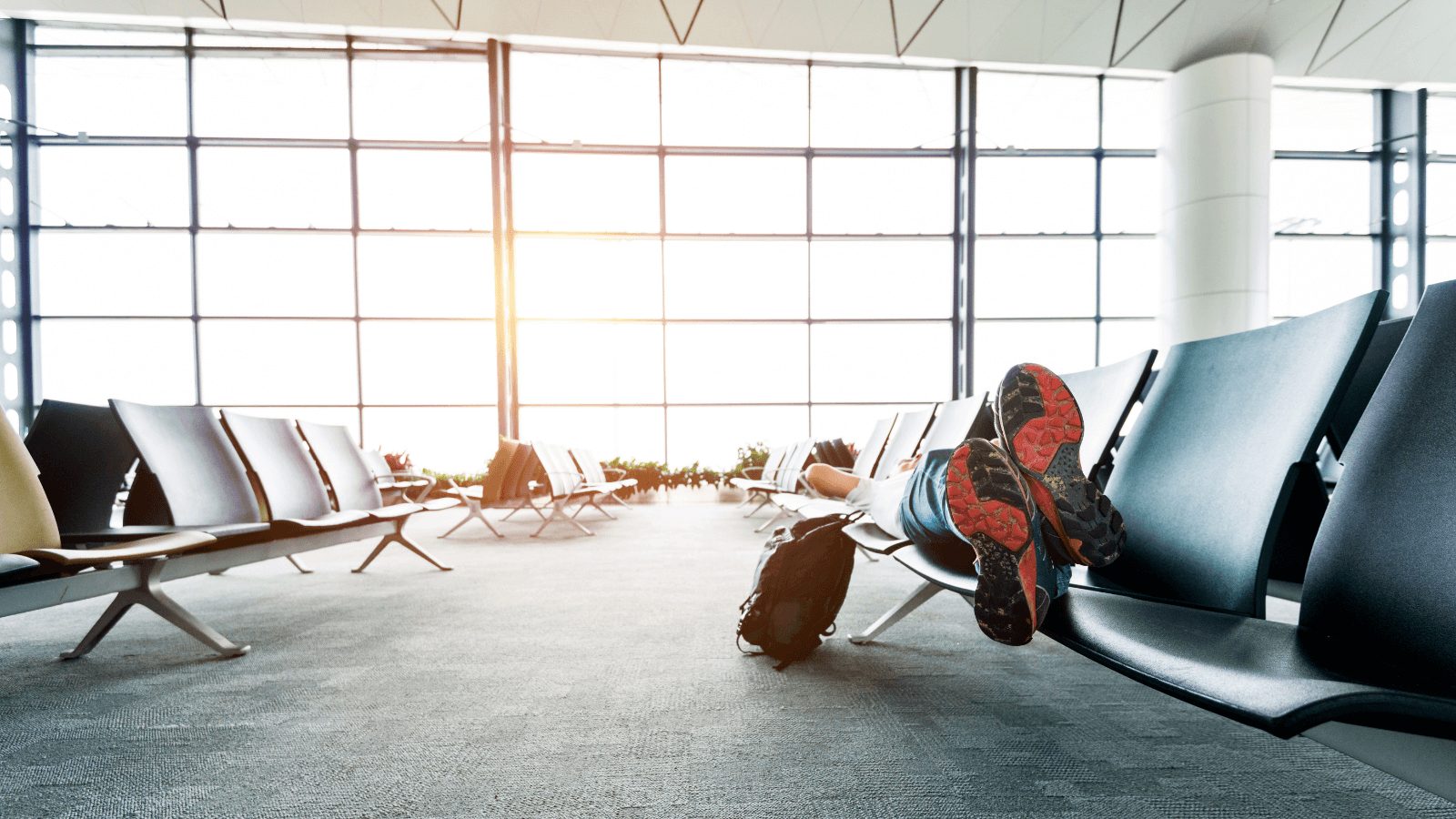 Best airports to sleep in the World
1. Sleeping in Singapore Changi Airport
This airport has been awarded the best airport in the world for years so it's no surprise that it's the best airport to sleep in too. They have a lot of comfortable chairs, benches and even sofas! If this wasn't enough, they also have dedicated Snooze lounges with reclining seats and the best thing is, they're free! If you really wanted to spread out, they have carpeted floors so that's an option to consider too.
Where are the Snooze lounges located?
In Terminal 1, you'll find the lounge on airside, Transit East on Level 3
In Terminal 2, there are two lounges called the Oasis Lounge and the Sanctuary Lounge. You'll find the Oasis Lounge airside, Transit North Pier, located opposite E11. The Sanctuary Lounge can be found at Transit North Pier, opposite E5.
In Terminal 3, the lounge is situated airside, Transit North Mezzanine, which is adjacent to the Singapore Food Street.
Finally, in Terminal 4, you can find it airside, Departure Transit on Level 2M.
As these are free, there are limited spaces available so make sure you get there early!
2. Sleeping in Seoul Incheon
This airport offers a lot of comfortable seating with no arm rests so you can lie down comfortably. But if you wanted to find something a little more comfortable and quieter, like Changi Airport, they have designated Relax and Nap Zones. In the Relax Zone, you can find yourself some really comfy reclining seats and in the Nap Zone, you'll get a choice of padded benches and even beds! Again, these are all free to use and are open 24 hours, they're conveniently located near the free shower facilities too.
Where to find them?
In Terminal 1, you can find these zones inside security on level 4, West Side, East Side and Center.
In Terminal 2, you can find these on level 4, by Gate 268 and 231.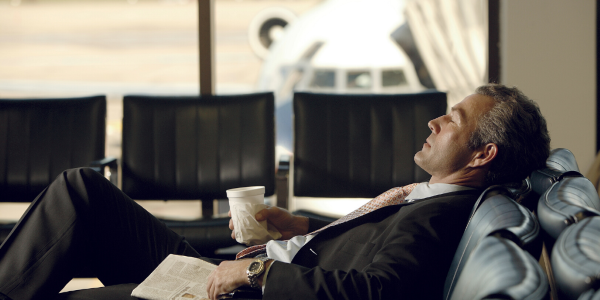 3. Sleeping in Helsinki Airport
This stylish and modern airport has a fair amount of armrest free seating and some reclining chairs can be found throughout the airport. Although not all gates at this airport will have seating so make sure you find a good spot elsewhere if this is the case for your gate. Though they don't have dedicated rest zones like the other two airports, they do have the Kainuu Lounge which can be found at Gate 31. It is a quiet place for the passengers to relax and unwind. Though beware, the seating is limited so ensure you get there in time to get your reclining seats! But if you can't find a spot, this lounge is carpeted, so if you bring a sleep bag with you, you'll be all set.
If you're travelling via Finnair, you can use their lounge in Terminal 2! All you have to do is show your ticket and you'll find plenty of comfy seating here. Of course, you can always pay for entry if you don't have a Finnair ticket but it may be expensive.
4. Sleeping in Tokyo Narita International Airport
This airport has managed to always come high up on the best airports in the world list too so you can expect them to have plenty of space for sleepers! They certainly don't disappoint as they offer a wide range of benches and sofas, some which don't have armrests. Overall Terminal 1 is the best for sleepers as there's a specific area for the sleepers where they can find comfy benches, as well as a carpeted floor. So make sure you arrive early to get a seat but also have a sleeping bag as a backup option, in case you can't find a space. In Terminal 3, you can even find some lie-flat sofas but they will be limited so again, get there super early to bag your spot. They recently opened up quiet rooms too, in which you can find wifi, aircon and lie down properly too!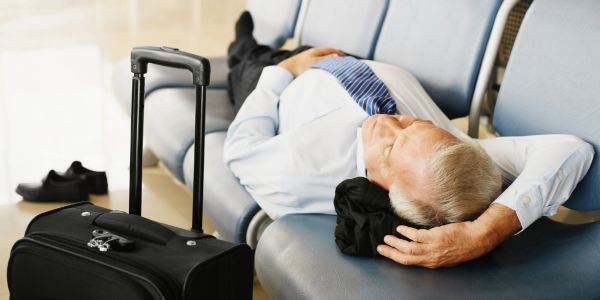 5. Sleeping in Osaka Kansai International Airport
Last but certainly not least, this airport offers a lot of comfortable seating, with some of them being armrest free. Like most of the other airports mentioned above, they have a dedicated rest zone! You need to simply go to the Aeriplaza on floor 2 and you'll find the rest zone, it is open 24 hours a day. The best thing about the rest zone is that they offer free blankets to borrow from 11 pm to 6 am. Now that is a real dream come true! The shower rooms are also located nearby but you might have to pay a little extra to use them.
Tips for sleeping in airports
Eat a light meal and drink lots of water! Most airports have a lot of fast-food chains and it's tempting to buy a big meal but if you're planning to sleep at the airport, it is probably best to avoid that! This is because greasy foods tend to make you more bloated and it'll be uncomfortable to sleep.
Unless you're someone that can fall asleep anywhere, you want to bring some headphones with some calming music. This will not only keep the noises at bay but will also help you sleep better.
Make sure to wear comfortable clothes because it'll surely be harder to sleep if your clothes are stiff and tight. We recommend a t-shirt with a jacket and loose trousers, this will not only help you sleep better but it will also be very useful when you're on the plane too.
Don't forget to set your alarm or phone just in case you manage to drop off into a deep sleep. You don't want to miss your flight! We recommend setting it at least half an hour before your boarding time.
Arrive early! You want to get to the airport as early as possible to ensure you get a good spot.
Pack an eye mask! One of the most difficult things about sleeping in an airport can be bright fluorescent lights. So having a good eye mask could make all the difference.
Pack some post-sleep essentials too! Some airports do have shower room facilities but this won't be the case for all airports. So you want to ensure you have face wipes, deodorant, travel toothbrush and toothpaste, and a comb to name a few. You don't want to get on your flight feeling grimy so these are a must!
Most importantly have fun! It can be enjoyable and adventurous to sleep in an airport so enjoy the process.
We hope you enjoyed our guide on sleeping in airports! Let us know if you are an airport sleeper and some of your tips.