Know Your Rights: What Happens When Your Flight is Delayed
11 Jul, 2019
Jurga Sefton
2 Comments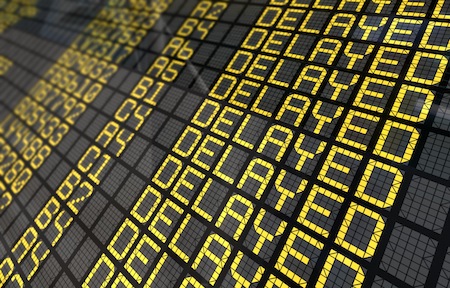 There is nothing more annoying than arriving at the airport to discover that your flight has been significantly delayed. Don't take it lying down: read on to see whether you are entitled to assistance such as free calls, free food and free accommodation or even a cash sum in compensation.
In practice anyone flying out of the UK will be protected by the Denied Boarding Regulations. This is because these regulations apply to anyone flying on an EU-based airline (including budget carriers) OR anyone flying with a non-EU-based airline from an EU airport (i.e. all UK airports). Anyone flying from a non-EU airport on a non-EU carrier is not entitled to the same level of assistance and you will have to look at the airline's Condition of Carriage to see what their duty of care is.
Requirements
Whether or not you are entitled to anything depends on the length of your flight and the length of your delay. You must fall within one of the following categories:
– A flight of 932 miles or less with a delay of at least 2 hours
– A flight of more than 932 miles within the EU with a delay of at least 3 hours
– A flight outside the EU of between 932 and 2,174 miles with a delay of at least 3 hours
– Any other flight with a delay of at least 4 hours
So long as you fall into one of the above categories you are entitled to:
– Two free telephone calls, emails, telexes or faxes
– Free food and drink depending on the time of day
– Free hotel accommodation and transport between there and the airport if the flight is delayed to the following day
Further points to note are as follows:
– If your flight is delayed for five hours or more, you can elect to receive a refund instead of flying
– In order to qualify for assistance or compensation of any kind you must have checked-in on time and have a confirmed booking
– An EU airline is defined as one that has its headquarters and main place of business in an EU country
– The regulations do not apply if you are travelling free of charge
– The airline may offer you vouchers instead of money, but you are not obliged to accept this
– As of June 2014 the financial compensation levels will change and will only be paid if the delay is a minimum of five hours
Financial Compensation
Financial compensation is due as follows:
– For flights up to 932 miles delayed by more than 3 hours – 250 Euros
– For flights over 932 miles and within the EU delayed by more than 3 hours – 400 Euros
– For flights outside the EU between 932 miles and 2,175 miles delayed by more than 3 hours – 300 Euros
– For flights over 2,175 miles delayed by between 3 and 4 hours – 300 Euros
– For flights over 2,175 miles delayed by more than 4 hours – 600 Euros
What are the differences between a flight cancellation and a flight delay? We will gladly explain them to you. Well actually, Ramón will do it! 🛫🗺️https://t.co/RPr57RYHp5

— Flight-Delayed.co.uk (@FlightDelayedUK) August 28, 2018
Extraordinary Circumstances
The only time the airline can wriggle out of paying you the financial compensation detailed above is where there are "extraordinary circumstances". You will, however, still be entitled to the assistance package i.e. free calls, refreshments, overnight accommodation and transport.
However, what exactly is meant by the phrase "extraordinary circumstances"?
Extraordinary circumstances are circumstances out of the airline's control such as a security problem, political unrest, extreme weather, strikes or technical problems unless these have arisen due to lack of maintenance.
It is not unheard of for airlines to stretch the meaning of "extraordinary circumstances" so if, for instance, you see that other airlines are managing to take off on time during an extreme weather event but yours is not, it may be worth challenging the airline's decision on compensation. If you are still not happy, the Civil Aviation Authority may be able to help.
Although strikes are regarded as extraordinary circumstances, this only applies to the actual day of the strike. Although you will not be entitled to financial compensation on the day of a strike you will still be entitled to assistance such as free calls, food and accommodation. If planes are in the wrong place the following day because of the strike and this causes a delay to your flight, then the normal compensation rules apply.
Late to collect your parked car?
If your flight back to the UK is cancelled or delayed and your car is in an airport car park, you are likely to be charged for the excess parking period at the normal "gate rate" so unfortunately you will not get the benefit of any special deals.
After the Icelandic volcanic disruption a few years ago many car park operators waived the extra fee so long as passengers were able to provide evidence of the date on which they should have arrived home. This, however, was a one-off and unlikely to be repeated by car park operators. Your airline is not likely to pay your extra parking costs, given that the compensation under the Denied Boarding Regulations is designed to cover such consequential costs.
If you are struggling to write a letter claiming compensation, there are several templates online including one from the Daily Mail and the consumer magazine Which?.