How to beat the airport parking price hikes this Easter
20 Jul, 2021
Alice Fowler
No Comments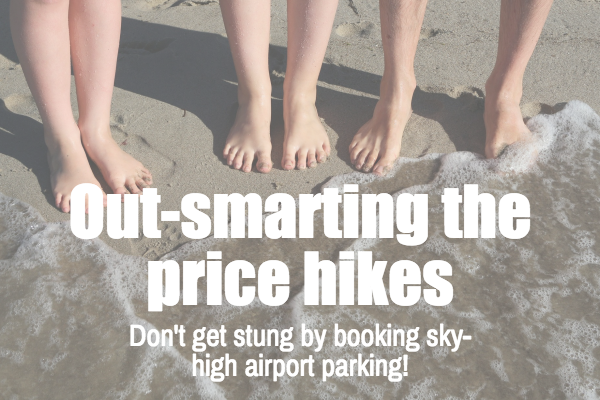 As schools are able to pick their own holiday dates, arranging the annual family holiday can sometimes be tricky! Especially when this year the varying dates for Easter holiday breaks actually falls over three weeks! This varies by county too, so if you have a child in primary school in one county, and one in secondary school in another, picking a date to go away can get even more complicated.
So not only do you have the cost and timing of your holiday fluctuating, your parking may end up being a bit more costly, too. With this in mind, every year we take a look at some of the UK's busiest airports to see how you can avoid paying too much for your airport parking.
It's worth noting that we've seen a big difference in prices for Easter 2019 versus other years. This may be due to timings as the data for this year was taken slightly closer to Easter than we have done in other years. The closer to Easter you get, the pricier the car parks may get. We can't 100% rule out that airport parking in 2019 is just simply more expensive than other years, however.
A sample of car parks were used at each of these locations so individual car parks may vary, and as always prices are subject to change.
We ran our experiment to include the weeks surrounding the Easter break, Saturday-Saturday, across a range of different parking options.
Weeks affected by Easter in 2019
6th April 2019 – 13th April 2019
13th April 2019 – 20th April 2019
20th April 2019 – 27th April 2019
Interestingly, in previous years we have found that the middle week is the most expensive. However, this year the first week, the week leading up to Easter is the most expensive. So if you can hang on until after Easter to go away, you'll save some money!
At Heathrow, we saw that their 5* Meet and Greet Car park beat both of the other top Long stay and Meet and Greet Car Parks; not only were they cheaper, £115 compared to £176 for the most expensive option, they also didn't increase their price during the 3 week Easter break. The other two saw increases of between £20-£40 during this period.
Average Easter Price Hike: £27
Best Buy: 5* Meet and Greet – no price increases and a good price!
Worst Buy: Happy Days Meet & Greet. It's up in price year on year and showed a £39 difference between the cheapest week and the most expensive week. Not so happy, if you ask us. ☹️
Average Easter Airport Parking Prices at Heathrow 2019
| Week | 2017 | 2018 | 2019 |
| --- | --- | --- | --- |
| Week before Easter | £89.31 | £130.73 | £140.65 |
| Week including Easter | £89.31 | £130.73 | £122.98 |
| Week after Easter | £89.31 | £130.73 | £113.32 |
Over the last three years you can see that 2019 is the first year there has been major fluctuation in the average price at Heathrow. This year, the price steadily decreases, so if you need to book Heathrow parking and your flexible on your trip dates, definitely try to go later rather than earlier!
Gatwick follows a similar trend to Heathrow with the average prices decreasing as time goes on. All car parks showed an increase over the three weeks, but the actual price hike itself wasn't too bad for most of the car parks – £58.50 on average for a week's parking.
Average Easter Price Hike: £11.50
Best Buy: APH Parking (Park and Ride) With only a small price fluctuation of £7.65 between the cheapest and the most expensive weeks, as well as being one of the cheaper options overall.
Worst Buy: LG Parking has the largest markup with a 22% increase!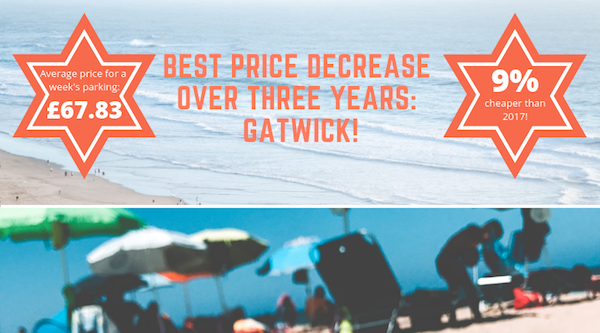 Average Gatwick Easter Airport Parking Prices 2019
| Week | 2017 | 2018 | 2019 |
| --- | --- | --- | --- |
| Week before Easter | £73.98 | £45.47 | £75.03 |
| Week including Easter | £75.48 | £56.09 | £65.01 |
| Week after Easter | £74.48 | £50.01 | £63.45 |
Manchester consistently comes out as a great airport to fly from in terms of airport parking at Easter. Despite being one of the UK's busiest airports, the airport parking prices didn't fluctuate anywhere as near as much as other airports we tested.  Some products were worse than others however the products selected were very reasonable.
None of the products that we selected changed prices across the weeks we tested, so Manchester gets five stars from us in terms of consistent pricing and not taking advantage of the holidays!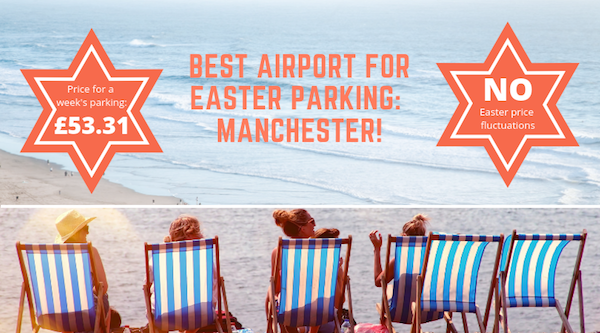 Average Easter Price Hike: 🎉 No price hike! 🎉
Best Buy: Toad Park and Ride if you want to save the pennies, it remains a solid £50 for a week no matter which week you choose.
Worst Buy: None of our picks were overpriced or hiked prices up, so well done Manchester!
Average Easter Airport Parking Prices at Manchester 2019
| Week | 2017 | 2018 | 2019 |
| --- | --- | --- | --- |
| Week before Easter | £40.00 | £46.00 | £53.31 |
| Week including Easter | £40.00 | £46.00 | £53.31 |
| Week after Easter | £40.00 | £42.66 | £53.31 |
Luton wasn't too bad in terms of price increases, which was surprising bearing in mind it's a London airport and is often quite popular around holiday periods. Increases were only in the region of a few pounds, with the Meet and Greet product having the biggest increase of £10. Again, the most expensive week was the very first week we tested.
Average Easter Price Hike: Just £5!
Best Buy: Paige Airport Parking offered very minimal price variation and was the cheapest product.
Worst Buy: The Meet & Greet product Express Meet & Greet came in with the highest price hike of £10, however the Official Long Stay was the most expensive.
Average Luton Easter Airport Parking Prices 2019
| Week | 2017 | 2018* | 2019 |
| --- | --- | --- | --- |
| Week before Easter | £62.65 | N/A | £72.65 |
| Week including Easter | £62.65 | N/A | £67.65 |
| Week after Easter | £60.31 | N/A | £67.65 |
*Erroneous data collected in 2018 so data not included
Tips to beat the increases
From our research above we have determined some clear trends that if you are able to steer clear of, you should be able to save some pennies if you are going away over Easter.
Pick your timing
The first one is obvious, and most likely not an option. However, if you are able to make it work, it's where you'll save the most money. Of course, it goes without saying that if you can organise taking your holiday in the weeks before or after the weeks affected by Easter you'll save a lot of money. 2019 was slightly different to other years that the most expensive week was the one just prior to Easter, so this year, we'd recommend trying to take your trip after Easter to bag the cheapest parking.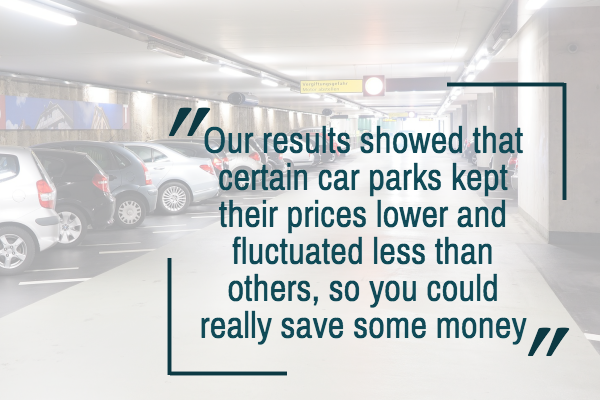 Choose your car park wisely
Quite often the official long stay car parks were far more expensive and had the biggest price hikes. You might be worried about using a car park not operated by the airport but you can choose car parks that have the Park Mark and have good reviews. All car parks used in our research have a rating of 4 stars or more. Our results clearly showed that these car parks kept their prices lower and fluctuated less than others, so you could really save some money.  There are of course exceptions and some car parks will still see huge price increases the closer the holidays get.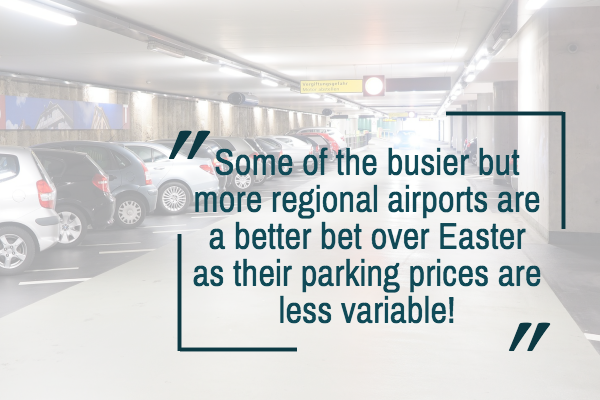 Airport flexibility
Not everyone will be lucky enough to do this, but if you have the option of travelling from two different airports, you may find that one is much cheaper than the other. This is particularly the case when you look at airports that are a bit more regional, when we conducted our research it seemed that despite being busy still, airports such as Bristol had far more consistent prices for airport parking over the Easter period. As you would expect, the London airports were all far worse and will be expected to get worse the closer to Easter we get.
Book early!
We do love to say it – but booking in advance really can save you money. This is even more the case when you are booking for popular holidays such as Easter and half term. The rush of families trying to make the most of time off school and workers taking advantage of the bank holidays means that car parks can get booked up quickly and  the fewer spaces are left the more expensive they can get. We saw this recently for the February half term where certain Gatwick car parks rose to several hundred pounds for just a week!
We hope this has helped you beat those airport parking price hikes and you can save a bit of money for your holiday. Have you been caught before by these cheeky price rises around holidays, or know of any tips we've missed? Let us know in the comments below!