Top 10 Remote Holiday Places To Stay In the UK
24 Jan, 2022
Hadiya
No Comments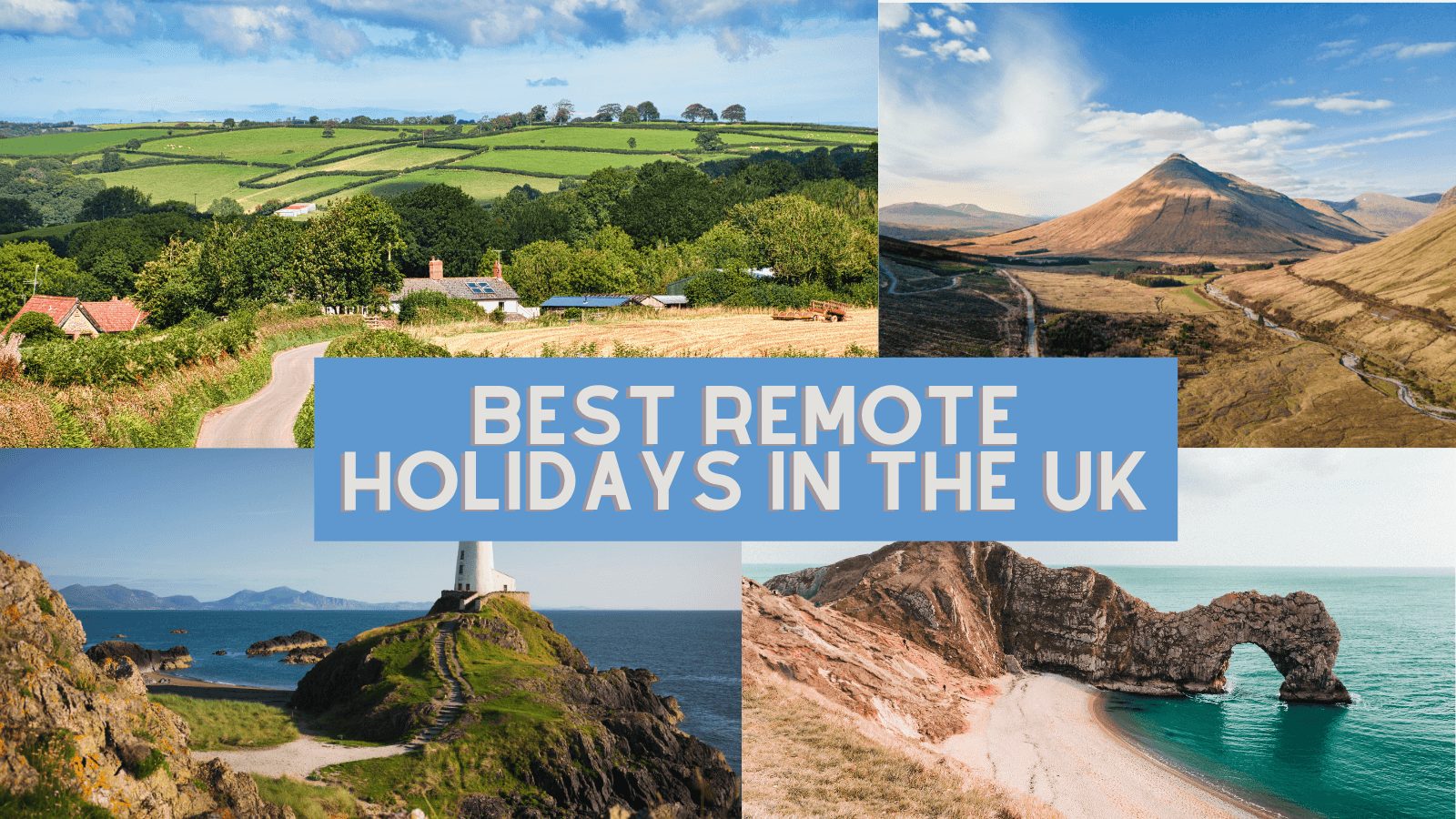 Holidays are great, but sometimes we can all have the same great idea and your holiday destination can be full of people. Instead, why not get away from it all for your next holiday? Stay in some of the most remote places in the UK where it'll be just you and your loved ones. No more tourists and crowds! Not to mention, with the ongoing pandemic, a remote holiday could be safer.
With this in mind, we've listed what we think are some of the best remote holidays to take in the UK.
Ristie Accommodation, Foula Island, Scotland
First up on our list is staying on Foula Island in Scotland! At times, people have described this as "the edge of the world" and it's one of the most remote inhabited islands in the UK. So you'll definitely be in the right place for your remote holidays on this beautiful island. On this island, you can truly shut off and witness a way of life completely different to ours. For example, the residents here will celebrate Christmas on January 6th and New Year a week later, as they follow the old Julian calendar.
So, where can you stay? Well, the island offers some self-catering accommodations and we think the Ristie Accommodation in Foula is a good option. It is situated among the breathtaking scenes of the north end of Foula. If you book both their studio and croft house, then it can house as many as eight people. Let's not forget about the spectacular sight of the Gadda Stacks that you'll get from this accommodation. In the evenings, you can enjoy the breathtaking sunsets. If you want to venture out further, then Stanes boulder beach is only a short walk from here.
Sobrachan, Kilmartin, Argyll & The Isles, Scotland
Next up is staying in a very contemporary and modern house that oversees Loch Awe and mountain Ben Cruachan. This place gives you the opportunity to have all the modern conveniences, whilst also escaping the crowds. Sobrachan offers a ten-acre garden, has beautiful streams, gorgeous waterfalls, a hot tub, decorative bridge and if this wasn't all, the property even features a suspension bridge. It can host up to 10 people, making it perfect for both families or groups of friends. It has 5 bedrooms, with four having an ensuite but the 5th bedroom is next to the bathroom.
Some of the most stunning places in Scotland can be easily accessed from this property. For instance, the historic Rannoch Moor is a picturesque mountain area that is only an hour away. You can find the Aonach Eagach Ridge, the Buachaille Etive Mor, Bidean nan Beinn and many more as some of the main attractions of this place. It is a favourite for climbers and walkers! Or you can have a relaxing beach day at Kilmory beach. But if you want to visit a town, then we recommend going to see the delightful harbour town of Oban. The town offers something for everyone, from going to shopping to diving, to kayaking to listening to live music!
The Torridon Boathouse, Scottish Highlands, Scotland
Our last but certainly not least recommendation for remote holidays in Scotland is the Torridon Boathouse in the Scottish Highlands. It's the perfect romantic hideaway that can be found on the shores of Loch Torridon. This old boathouse has been converted into a luxury two-bedroom and it has everything you'll need.
It is enclosed by the Torridon peaks and it's the perfect place to just unwind and watch the delightful sights around you. But if you were able to leave this stunning place, there are many activities you can indulge yourself in. For instance, you can go paddling, do archery, fishing or climb the Torridon ridges such as the "Horns of Alligin". This magnificent part of the Scottish Highlands has some of the best mountain scenery in Europe so if you're a photographer, you'll be very much spoilt!
Whilst the surrounding areas are absolutely beautiful, the inside of the boathouse is nothing short of spectacular too! You'll have a very cosy lounge with a wood-burning stove where you can relax in the evenings. Both of the bedrooms are good-sized and have all the amenities you'll need. But, the highlight of this property is surely their stunning conservatory from where you can enjoy the breathtaking landscape.
If you enjoyed the above Scotland remote holiday destinations, then go ahead and check out our Scotland staycation ideas. Some of the places we list include places from staying in a lighthouse to staying in a haunted castle!
Exciting news!! Our private self-catering cottage 'The Boat House' has been listed by@thetimes as one of the 50 best holiday homes in the UK. "a big bay window faces onto Loch Torridon from this stylish boathouse. The views are sumptuous"https://t.co/S8XruQyNKB pic.twitter.com/TBS6TFfuLp

— The Torridon (@thetorridon) March 5, 2019
The Little Barn, North Yorkshire
This exquisite barn can be found in between the historical town of Richmond and the charming Dales village of Reeth in North Yorkshire. To ensure you can make the most of your remote holidays', the little barn has no wifi or mobile signal so that, you can truly unwind here. But, luckily, this place does have electricity!
It has been restored from an old agricultural building into a small yet very peaceful getaway. From every window, you can be assured that you'll be given the best views of the countryside. The kitchen has all the necessary equipment to make yourself a delicious meal, all you need to do is buy the groceries and you're set! The bedroom is nice and cosy with the bed made from reclaimed wood and has drawers underneath for storage. There's also a cupboard where you can easily store your luggage. Enjoy the simplicity of life here with your partner, take days to explore the local area and the night to stargaze as the skies are exceptionally clear at night.
After recharging and relaxing, we suggest you check out the scenic and quaint village of Reeth. In this village, you'll get to see a cute little cafe where you can have an afternoon coffee or tea. If you're interested in learning about history, then go see the Swaledale Museum! But if pubs are more your vibe then the Charles Bathurst Inn is a great country pub with log fires and exceptional local food.
If you're feeling a little more adventurous, then why not go cycling in the Yorkshire hills? We especially recommend visiting the well known Buttertubs Pass when cycling.
Quick!! July and August are totally sold out at The Little Barn, a beautifully romantic haven for two in rural North #Yorkshire – but there's still some September availability up for grabs – 23rd for 2 nights and the 27th for 4 nights.
Find out more > https://t.co/4cqVtQ1zTv pic.twitter.com/cmj2cyR3Wa

— Host Unusual (@HostUnusual) July 22, 2020
The Beach Hut, Devon
Now this wonderful little beach hut is as remote as it gets! It is a completely isolated and totally exclusive cove, all for just you and your loved one. It can only be booked for 2 nights so it's the perfect remote holiday for a weekend. Just imagine having a beach to yourself, completely cut off from the world, and having breathtaking views of the South Devon coastline. It doesn't get better than that! Also, like some of the other properties mentioned, there is no internet or mobile signal available. But, we're sure you won't even need to go on your phone, the scenery will be enough!
The property itself has a double bed and you'll have to climb a ladder to reach it. A big dining table and two very beautiful hammocks where you can relax and watch the waves. The kitchen is fully equipped with everything you might need to cook a meal. But the highlight of the property is definitely the wood-fired hot tub. Simply light the wood burner for a few hours and the hot tub will be ready to use.
This is a truly magical place and we completely understand if you don't want to leave this but if you do, the local area will not disappoint you. You can take a trip to the Newton Ferrers, it is only a mile away and it's a great place to see by boat. Salcombe is also located close by and there are various watersports you can undertake there. But if you wanted to do something more lowkey, you can take a walk, or go on a horse-riding excursion.
The Beach Hut – nr. Plymouth, Devonhttps://t.co/k2xbZx3TZ6
Just for 2, from £275 / night
This snug, off-grid #Devon #beachhut is the ultimate romantic bolthole – totally secluded, reached by a cliff top path, with its own #privatebeach, wood-fired #hottub & open air shower. pic.twitter.com/RYZDeJvcrU

— Coolstays (@Cool_Stays) February 9, 2020
Frenchman's Creek, Cornwall
Next up on our remote holidays' list is Frenchman's Creek, which has been named after a nearby creek. It was built in 1840 for either a farmworker or a boatman. Over time, it has inspired many authors because of its enchanting nature. One of the more well-known novels is Frenchman's Creek by Daphne du Maurier. This lovely cottage is nestled in the rich woodland near the Helford River and it's one of the most romantic cottages in Cornwall. However, it can house up to four people so you can easily come with a small family too.
It is perfect for those who love to be surrounded by nature. You can take a circular walk around Frenchman's Creek and get a taste of the village life, the wooded valleys, as well as seeing the sheltered creeks. The splendid area of the Helford River also has so much to offer such as seeing the stunning gardens at Trebah and Glendurgan. Why not take a ferry across the river and have lunch in one of the many waterside pubs and then take an evening stroll down the coast path. If you wanted, you could walk as far as Falmouth and then get the bus back.
There is also the pretty village of Mawan Smith where you can explore the thatched public house and have a coffee or tea in the Cornish Maid cafe. But if you wanted to do more shopping then we recommend venturing a little further and going to Falmouth or the Cathedral City of Truro.
Frenchman's Creek – a wonderfully secluded woodland cottage in Cornwall – is available to book for this weekend! https://t.co/OYX1E9yv90 pic.twitter.com/AgWJ0sPpZt

— The Landmark Trust (@LandmarkTrust) July 31, 2017
Balancing Barn, Suffolk
Want to have the comfort of modern living, yet also enjoy a relaxing remote holiday away from the crowds? Well, the Balancing Barn is the choice for you! This creative property has been designed by the Dutch architecture practise MVRDV. As the name implies, this is a four-bedroom property that is suspended above the ground and what's more, it even has a child's swing hanging at the end. It can be found near the edge of a peaceful nature reserve close to Southwold.
At one end of the property, you'll find a kitchen and dining area with direct access to the garden. Whilst on the other side of the property, you'll find the living room with huge glass windows, skylights, and even a glass floor in the middle! It can house up to 8 people and has 4 bedrooms, all with ensuites. The two-bedroom has an in-room bathtub! Now, it surely doesn't get better than this. You'll be pleased to know this property is baby and dog friendly so come with your whole family as well as your pet.
You can find the Walberswick village nearby where you can have a relaxing beach day and then visit the local pubs in the evenings. You'll also be close to Dunwich Heath and Minsmere RSPB reserve and some of the really picturesque coastal walks. Despite its remote status, the town of Southwold is a 15-minute drive from here and it has a lot you can explore such as a working lighthouse, beach huts, cliff top cannon and of course, we can't forget about the beach.
An indescribably golden weekend at @LivingArch's Balancing Barn in Suffolk✨🍃 pic.twitter.com/UuritbFyCy

— Alex Krook (@alex_krook) September 15, 2019
Blagdon Lower Barn, Dorset
Now, we've another barn on the list and this one is located just two miles from the Dorset villages of Martinstown and Portesham. Again, it's totally isolated and can be accessed by a 400m drive from the road. It's perfect for a place to have an outdoor break in the wonderful Dorset countryside. There are many walking routes you can take from this farm and wander around the area and take in the rolling countryside.
It has three bedrooms and can host up to six people so you can either come with your family or a small group of friends. The barn is dog friendly and you can bring up to two dogs. So, no need to leave your dogs at home, they can enjoy the holiday alongside you. An outdoor kennel will be provided for them and we're sure they'll love running around the barn. If you're a wildlife lover, this place will be a delight for you as you can see the deer and hare grazing in the garden and the nearby fields.
If you want to see the surrounding areas, there is plenty to do! We recommend a visit to the Jurassic Coast, an absolute must. It's a UNESCO World Heritage site and its rocky shores go as far back as 185 million years! You can look for fossils, take a relaxing walk at the beach or simply marvel at the beauty of Durdle Door and Lulworth Cove. We suggest you come at sunset and take in the breathtaking views. Now, Dorset isn't just well known for its gorgeous coastline, it is actually also known for its Area of Outstanding Natural Beauty. So be sure to take a walk, cycle or if you're feeling adventurous, a horse ride, to explore the peaceful Dorset countryside.
Blagdon Lower Barn is totally secluded, an ideal location for an outdoor break in #Dorset: https://t.co/mG7TcywFam pic.twitter.com/iZAQuXBg7L

— Rural Retreats (@Retreat_News) January 25, 2017
Rose Castle Cottage, Cumbria
Now, we're back with another cosy and remote cottage, and this time, it's in Cumbria! This two-bedroom 19th-century cottage can accommodate up to four people. Again, like all the other locations mentioned above, this is completely isolated and sits atop the Tarn Hows. It is also free of all the modern technology so you can have a true remote holiday experience. But rest assured, electricity will be provided from a generator and whilst there'll be no Wi-Fi, you'll be pleased to know that there are power points for your mobile chargers.
As this beautiful cottage is located in the heart of lakes, it makes it perfect for going on walks. You can take the circular trail that leads around Tarn Hows for some spectacular views of the mountains. If you're lucky, you might even see the rare Belted Galloway cattle and the Herdwick sheep grazing the lake. It is truly a magical sight to see! Want to go on a steam yacht Gondola? Well follow the path from the cottage towards the Monk Coniston jetty and from there, you can board the yacht!
As the seasons start to merge, catch the last of the sun or the first falling leaves with your loved one. We've handpicked our top holiday cottages for couples: https://t.co/2c3qO7vLRN

Image: Rose Castle Cottage, Cumbria pic.twitter.com/rNoipnOJNE

— National Trust (@nationaltrust) September 21, 2021
The Wilds, Crickhowell, Brecon Beacons, Wales
Last but most certainly not least is this exquisite Welsh farmhouse! It's close to Crickhowell and it's covered by the Black Mountains. This self-catering farm can accommodate up to twelve people! So you can come with both your family and friends. This very modern farmhouse utilises the indoor-outdoor space very masterfully so that you can get stunning views of the mountains, as well as the beautiful Welsh countryside. What's more, is that you can bring your dog along with you so they too can enjoy this impressive place! But please note, there will be a charge of £60 per week or part thereof. The highlight of the property is most definitely the hot tub that gives you a 360-degree view of the Welsh valleys.
Once you've settled in and relaxed, be sure to check out the picturesque Brecon Beaches National Park! It has a range of activities that you can indulge in, such as walking around the many trails, going horseback riding to explore the area or fishing. If you're feeling adventurous, then we recommend checking out Wye Valley Canoes! They can provide you with either single or double kayaks and you may hire them from just a few hours to a few days. They're a great way of exploring the River Wye. An absolute must that you have to try out is Llama Trekking. Yep, you heard it right! You can book half-day trekking tours with Llamas and go through the Golden Valley.
We hope you enjoyed our list of these remote holiday places to stay in the UK! Let us know which ones you'd like to visit.