The 7 Best Airport Lounges In The World
19 Jan, 2022
Hadiya
No Comments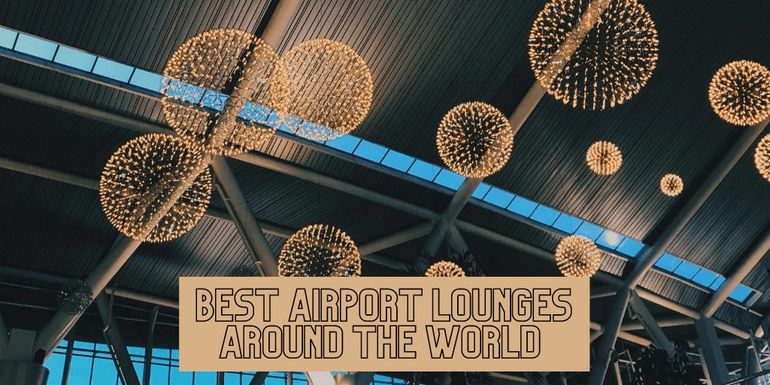 Here at Airport Parking Shop, we have compiled a list of the best airport lounges in the world for you to browse through.
Airport Lounges are the perfect way to start your holiday early. You simply book a lounge and voila! You'll now successfully avoid the busy crowds and the noise – they can even make you forget that you are in an airport! Most lounges will have the price of food and drink included in the entry fee so you can treat yourself to a delicious meal or snacks. There are also many other perks such as snooze areas, showers and some lounges even have spas so it can be a great idea to book an airport lounge!

Emirates First-Class Lounge, Dubai International Airport
We all know that Emirates are renowned for their first-class services on air but let's take a look at what you can expect from them on the ground! This first-class lounge is roughly 100,000 square foot, which essentially means it's as big as a terminal building in some airports.
Even without knowing what's inside, we can already expect it will be extravagant and it does not disappoint. Their services start before you have even set foot inside the airport. Emirates will send you a chauffeur to collect you from your hotel. If this doesn't set expectations high, we don't know what will!
So, what can customers expect after arriving?
A champagne lounge which is separate from the normal bar
A wine cellar, which is again separated from the normal bar
A coffee bar
Cigar Lounge where you'll have a trained wine steward help you choose the perfect drink
Day beds
A business centre where you can charge your electronic devices
An in-house duty-free boutique so you can have a more intimate shopping experience
Dedicated quiet areas
Shower spas, so you can refresh in style before your flight
Of course, the best food is provided, with dishes ranging from all across the world
Direct boarding, yep, you don't even have to leave the lounge!
We really think this Emirates First Class Lounge is one of the best airport lounges you can visit. From the chauffeur pick up to the direct boarding option, it's surely going to make your trip completely hassle-free!
Who can access it?
First Class passengers only
Emirates First Class airport lounge opening hours
The lounge is open 24/7.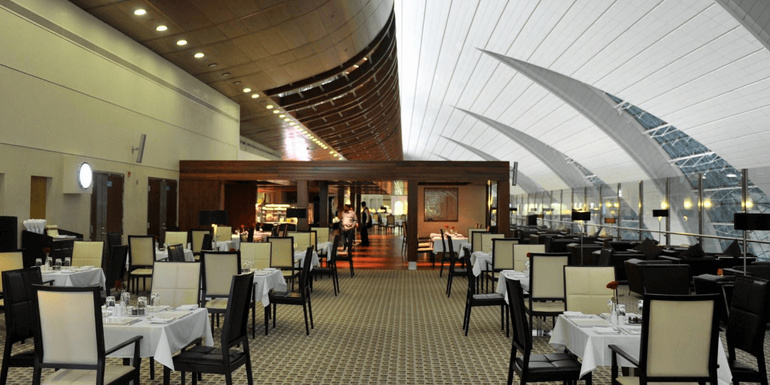 Photo credit: Bill Holler
Virgin Atlantic Clubhouse, John F. Kennedy International Airport
This lounge is a take on a modern yet retro look with neutral greys and off-white with the splash of red. The low pendant light adds to a relaxed and club-like atmosphere. You'll instantly feel at ease as soon as you enter the lounge. The staff are also very friendly and will be able to accommodate your needs.
What are the services that customers can expect from them?
Get their signature cocktail
Try out their delicious a la carte menu, or their smaller tapas-style dishes and of course, their renowned Clubhouse burger
If you just wanted some quiet time, they offer peaceful relaxation pods where you can unwind or perhaps take a nap!
Treat yourself to a spa treatment if you're travelling on a Virgin Atlantic flight
If you fancy a game, you can go explore the entertainment zone where you can play pool amongst other games
Showers are also available if you want to freshen up before your flight
If you want to go shopping or elsewhere, you'll be able to leave your hand luggage at the lounge and they'll keep it safe for you
You can even bring a guest with you except if you're a Singapore Airlines member! But they have to enter the Clubhouse with you, be flying on the same day, from the same terminal, on an international flight that is operated by Virgin Atlantic, Delta Air Lines, Air France or KLM.
Who can access this lounge?
Customers who are travelling in Upper Class
You're a Flying Club Gold member
If you are a Delta SkyMiles Diamond/Platinum/Gold Medallion cardholder and you're travelling on a Virgin Atlantic flight
You are a Fly Blue/Platinum/Gold member and you're travelling on a Virgin Atlantic flight
Singapore Airlines KrisFlyer Elite God members and PPs member and you're travelling on a Virgin Atlantic flight
If you hold a Virgin Australian Velocity The Club/Gold/Platinum membership and you're travelling on a Virgin Atlantic flight
Virgin Atlantic Clubhouse airport lounge opening hours
The Clubhouse is open from 5am to 8:30am and then again from 3pm through to to 6:30pm.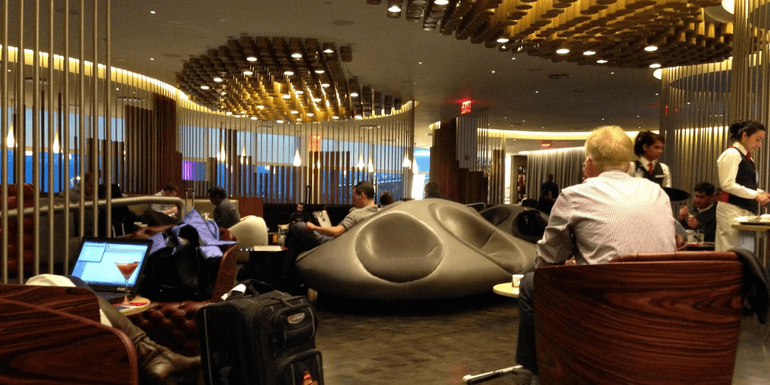 Photo credit: David Jones
Al Dhabi Lounge at Abu Dhabi Airport
Come to relax before your flight in this modern and sleek lounge by Plaza Premium located in Terminal 1. You'll be greeted by friendly staff who'll welcome you upon your arrival and will be able to help with anything you need.
What services can customers expect from this lounge?
Enjoy both hot and cold drinks at their open bar. You can also find a buffet of hot food for breakfast, lunch and dinner. Vegetarian options are also available.
Go ahead and take a shower in their fully serviced shower rooms.
Wi-Fi, electronic services and work stations are available so you can catch up on last-minute work.
There are a number of flat-screen TVs available so sit back and watch a movie or browse through the many different newspapers and magazines.
There is a dedicated smoking area for smokers.
Baby changing rooms are available adjacent to all restrooms.
You can also benefit from seated massages.
A prayer room is available for those who might wish to pray.
Who can access this lounge?
If you're a First or Business Class passenger flying with any airline except for Etihad Airways.
You're qualified for lounge access that is given by your airline's frequent flyer program, again except for Etihad Airways.
If you are a member of Priority Pass, selected Diners Club International or American Express cards, you'll be given complimentary access.
Al Dhabi airport lounge opening hours
Open 24/7.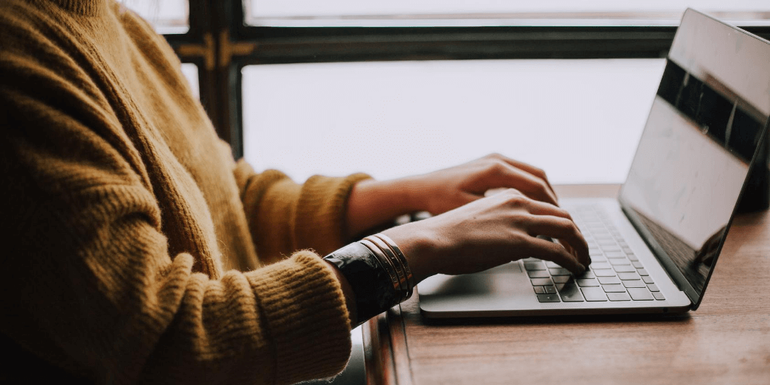 Strata Lounge, International Terminal, Auckland Airport
This is a beautifully designed lounge with sliding glass doors and a relaxing atmosphere. You'll feel instantly at home as soon as you enter.
What services are available to customers?
Exquisite international dishes and drinks are available
Feel refreshed and rejuvenated by taking a shower before your flight
Feel free to simply sit down and relax with a newspaper
Wi-Fi available
Access to TV if you fancy watching something
Who can access this lounge?
It's open to everyone, regardless of your ticket class or airline!
Important notice: It is currently temporarily closed until further notice due to Coronavirus.
Strata airport lounge opening hours
Open from 5am to 1am the following morning.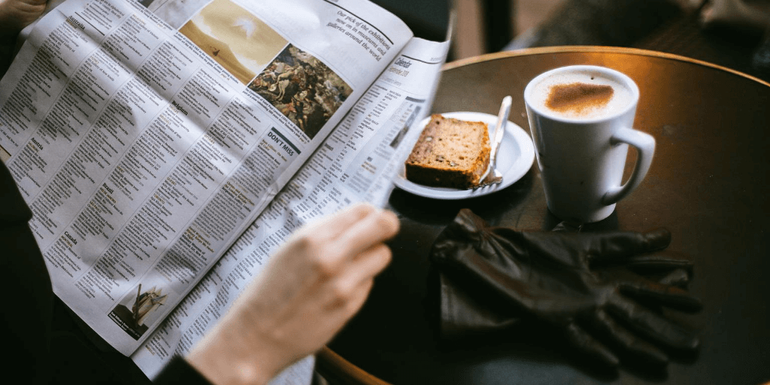 British Airways Concorde Room, London Heathrow Airport
This is the most exclusive and luxurious of all the British Airways lounges, after visiting this, no other lounge will do! It's adorned with stunning chandeliers which creates a very homely and inviting atmosphere. You'll find this located in Terminal 5 and upon entering, you'll be greeted by a member of staff, who'll offer you a glass of champagne! This is one of the best airport lounges in the UK.
What other services can you expect from this lounge?
You'll be provided with the best food in your own private dining booth, with a full waiter service! You'll have the option to pair this with a glass of wine or champagne.
If you wanted to get away from all the noise and wanted something more secluded, then the private cabanas are for you! These are fully private rooms with a bed and ensuite to give you ultimate privacy. There is room service available should you wish to dine here or have a little nap, the staff will cater to your needs.
If you want to work instead, there is a dedicated business suite available for you to use.
You can ask for mobile chargers if you can't find yours. Simply ask a member of staff and they will be able to loan it to you.
Who can access this lounge?
You must be a first class passenger, flying on a British Airways flight.
If you're under 18, you must be with an accompanying adult.
British Airways Concorde Room airport lounge opening hours
Open from 5am to 10pm.
If you're parking at Heathrow but you aren't eligible for access to this lounge, don't worry! They might not be quite as amazing as the Concorde Room but there are plenty of lounges that don't have any entry restrictions, you just pay a fee to get in. You can browse all the lounge options available on the Heathrow Airport Guide.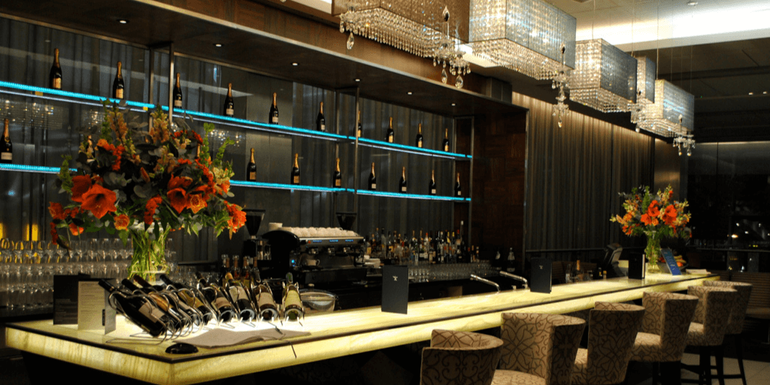 Photo credit: Tom Mascardo
Qatar Airways Al Mourjan Business Lounge at Hamad International Airport
Step into this decadent lounge with its luxurious hues of gold and ivory. The design is a mixture of modern and traditional architecture, taking inspiration from both the East and the West and fusing it together to create this stunning lounge.
It is roughly 10 times the size of an olympic pool so there's plenty of room for you to enjoy yourself and feel at ease.
What other services can you expect from this lounge?
There's a variety of food to choose from, you can either choose to order something light or order a three course meal. Whatever, you desire, it'll be catered for. Not to mention, the food options are extensive too – you can choose from either a local or international cuisine. Their bar offers a range of options for those looking for beverages!
Showers are available so you can freshen up before your flight! All the showers are spacious and comfortable.
They have dedicated quiet rooms where you can either just wind down and relax or take a quick nap before your flight.
As well as the quiet rooms, they offer private family rooms which have flat screen TVs and comfy sofas so it's the perfect way to relax as a family in one of these rooms.
They also offer game rooms if you want to entertain yourself before your flight. It also includes a children's nursery.
If you wanted to catch up on last minute work, worry not! They offer conference rooms as well as business centres. If you want something a little more private, you can use one of their business workstations, this is where you'll have access to WiFi and your very own display screen.
Who can access this lounge?
If you're flying with Qatar Airways & Oneworld and you're a First Class or Business Class passenger. However, if you're flying with Economy Class from these airlines, you are able to buy access to this lounge.
Qatar Airways Al Mourjan Business Airport Lounge opening hours
Open from 12am to 11:59pm.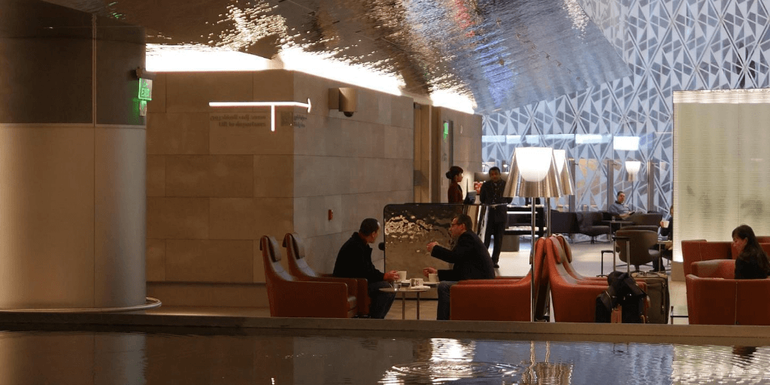 Photo credit: Detlef Schobert
Turkish Airlines Lounge at Istanbul Airport
This lounge will give you a unique experience as the lounge has partnered with Istanbul Modern. This means that the lounge has now merged with a museum! You'll certainly have a one of a kind experience here. Just as you enter, you'll see a beautiful self-playing piano and it's such a lovely welcome!
What services are available to customers?
Storage lockers are available so you can easily put your luggage away and roam around the lounge freely.
Workstations are available should you wish to do some work before your trip.
One of the lounge's highlights is the food! The lounge does a great job of having the food area spread out all over the lounge so that one area doesn't get crowded. You can either self-serve from their buffet options, or you can custom order from one of their live cooking stations and have the food freshly prepared! Or, you can self-serve from one of their open kitchens where a range of delicious dishes are constantly being cooked. Remember to save room for desserts as they're renowned for their sweet dishes! Likewise, you'll see many drinks options located throughout the lounge.
There are also daybeds which are separated by the curtains.
There's a golf course simulator! So if you're a golf fan, you'll want to check this out.
A video games area is available too so if you didn't fancy golf, maybe you'd rather play video games.
A play area for little ones is also available, with a model plane in which they can play inside!
There are private sleeping rooms available with a TV, a twin bed and a small desk but there are specific requirements in order for you to be eligible for these. These include: you have to be flying with Turkish Airlines Business Class and the layover has to be from 4 hours to 9 hours in its duration, And at least one of your connecting flights has to be over 8 hours in total! So before using these, make sure you meet the requirements.
Showers room available so you can feel refreshed before boarding on your flight.
There's even an art gallery so if you're an art lover, be sure to check that out.
There's a prayer room available for those passengers who might wish to pray for before their travel.
Who can access this lounge?
If you're flying with Turksih Airlines or Star Alliance airlines internationally and you're a Business Class passenger
Turkish Airlines Airport Lounge opening hours
Open 24/7.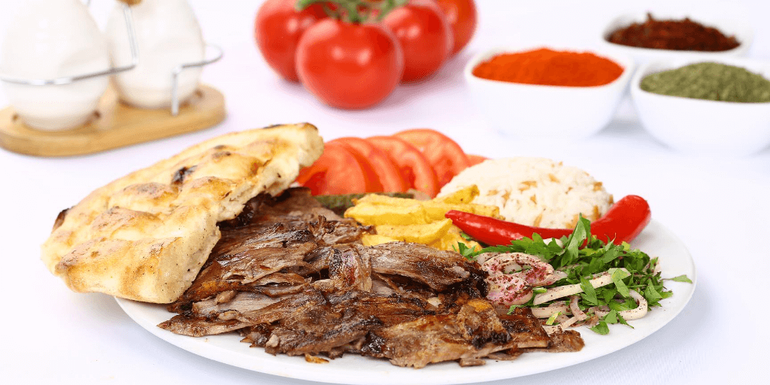 We hope you enjoyed our list of the best airport lounges to visit around the world! Let us know which one is your favourite, or if you've ever visited one of these before. We'd love to know your thoughts!