Can my child fly alone? We explain what's meant by Unaccompanied Minors
20 Sep, 2019
Alice Fowler
247 Comments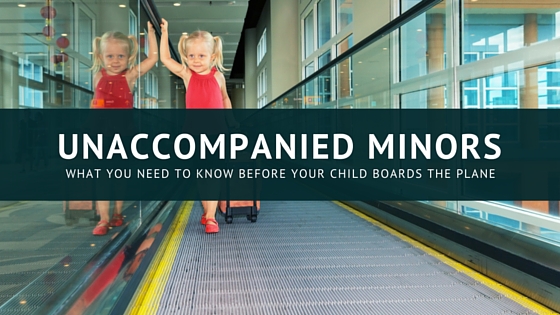 There are plenty of reasons for children to need to fly alone these days, from going to visit relatives abroad without parents, to logistics surrounding school terms finishing at different times.
Headteachers now have the power to set their own holiday schedules for their schools, which can result in more schools having different term dates to each other; a problem for parents with children in different establishments!
This might result in an increase of children flying alone to join their family on holiday, or going out to stay with relatives or friends.
Of course, there are many other reasons for children needing to fly alone, so we've compiled the information you need to know before waving goodbye at the airport! Many airlines offer these services, from EasyJet, to Lufthansa, to Qantas and ANA. KLM even have a dedicated lounge at Amsterdam Airport!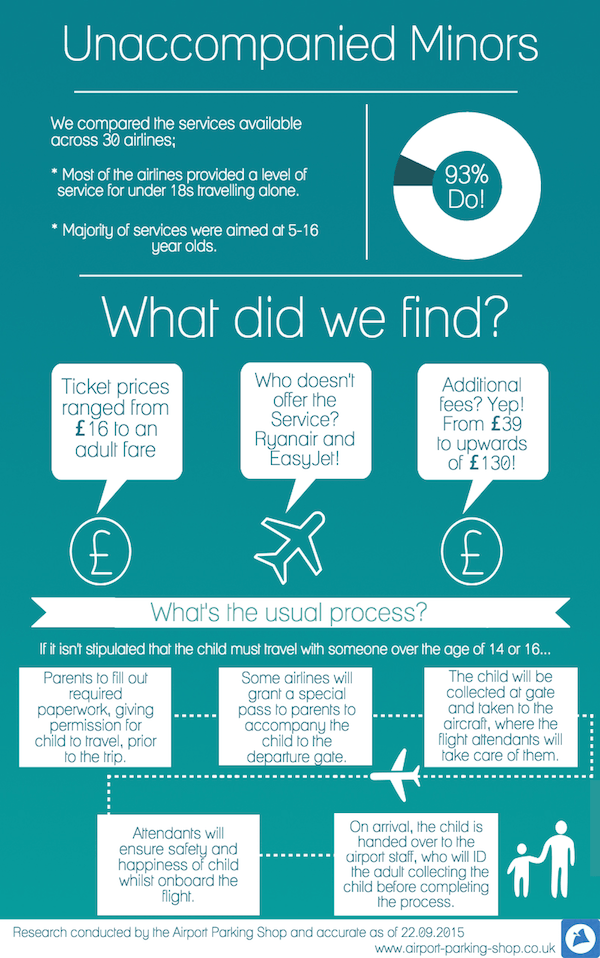 Before you book
First of all, it is important to note that children flying alone are usually called "Unaccompanied Minors" and that each airline sets its own rules and regulations regarding these. Ages, prices, and routes allowed are all variable.
We suggest that you thoroughly research the airline and destination that you are planning to use for your child as many airlines will not accept unaccompanied minors on routes that require a connecting flight or stop over such as Alaska Airlines (5-7 year olds), JetBlue and Norwegian. Virgin Atlantic allow this, however only if the connection is to or from another Virgin flight.
Some even have restrictions regarding the time of the flight – for instance, unaccompanied minors are may not be permitted on the last flight of the day to certain locations.
If you are flying from America, ensure your airline allows children on international flights, for example South West Airlines only allow domestic trips.
In some cases the budget airlines, such as EasyJet, WizzAir and Ryanair, do not allow children under 14 (under 16 for Ryanair) to fly alone at all. The age that a child is classed as an adult by the airline varies as well, so it is really important to double check this if you have two children flying together.
You can find a list of airlines and their policies that we have compiled at the end of this blog.
Using the services
Throughout most airlines, the service generally works in a similar way. You will have to book it separately in most cases, sometimes online and sometimes through their offices.  You will probably need to fill out some paperwork, which will include all the information the airline need to know about the child, as well as information about the parents and of whomever is collecting the child at the destination.
Children between 5 and 12 years old
Please be aware that most airlines will not allow a child under 5 to fly without someone over the age of at least 16.
At the airport, you can accompany your child whilst they check in, at which point they will be assigned a member of staff who will oversee the whole process.
In some cases, you can be granted a pass to allow you to accompany your child to certain points within the airport; this can vary from just up to security, to right through to the departure gate.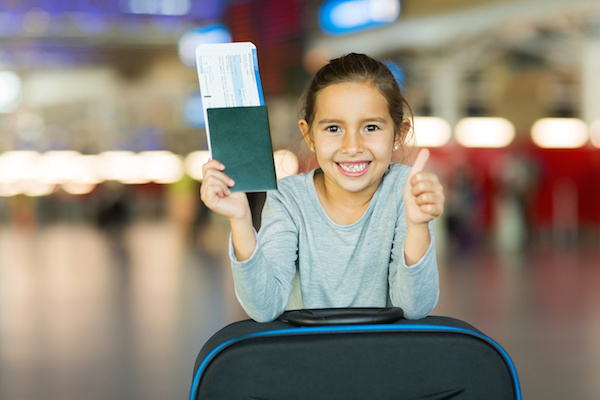 If this isn't available, or an option for you, your child can also be assigned an escort who will guide them through the airport, up until they board the plane. They will then be handed over to a member of the airline crew, usually the lead air steward, and will be overseen throughout the flight. They will then be escorted off the plane and handed over to the adult collecting them, after identification checks to ensure this is the correct person!
12-18 year olds
They may still be able to use the Unaccompanied Minor Service, but may not have the option to be escorted through the airport or monitored on the flight. This does differ with each airline, so just double check what their packages include!
It can also mean that they will be responsible for their travel in the same way in which an adult would –  checking in, dealing with flight delays and getting through security – so make you they are well prepared and know what to expect!
Cost
The price of a ticket can vary vastly; from a discounted rate to a full adult fare. Don't forget, you may also be subject to an additional fee, too – in some cases, this can be upwards of £130 (if this is the case, be sure to check whether this is each way!).
Always check with the airline before you book, and be sure to do some comparisons across different airlines for the best deals.
Children flying alone – Airline Unaccompanied Minors Policies
Air France

Name of Service
KIDS SOLO
Age Restrictions
On international flights provided by Air France, children 5 to 14 years of age who are traveling alone are required to travel as Unaccompanied Minors. They benefit from the Kids Solo service which is included in the ticket price. Adolescents from 15 to 17 years of age who are traveling alone can receive Air France assistance upon request, they'll benefit from the Kids Solo service but it is a chargeable service.
Additional Information
With Kids Solo, you can track your child's route in the app!
Prices
For children between 15 and 17, this service is subject to an extra fee, between €50 and €80 for a direct flight and between €75 and,€100 for a flight with connections.

Alaska Airlines

Name of Service
Unaccompanied Minor Service
Age Restrictions
Ages 5-12 travelling alone are required to use the Unaccompanied Minor Service. It is optional for those aged 13-17. Service is available on domestic and international flights.
Additional Information
For 5-17 year olds – No departures between 9pm and 5am.For 5-7 year olds – No connections.For 8-12 year olds – no connections to the last flight of the day or more than 2 hours stopover.
Prices
5-7 – $50 USD/CAD each way per child 8-17 – $50 USD/CAD each way per child for non-stop/direct flights,$75 USD/CAD each way per child for connecting flights

American Airlines

Name of Service
Unaccompanied Minor Service
Age Restrictions
Ages 2 – 5 must be accompanied by adult over age of 16.

Children aged 5-14 who will be traveling alone will be required to use the Unaccompanied Minor service unless accompanied by someone else over the age of 16.

Ages 5-7 require the service and can only travel on non-stop or direct flights.

Ages 8-14 require the service and can travel on direct flights as well as journeys that connect through the following airports: CLT, DCA, DFW, JFK, LGA, LAX, MIA, ORD, PHL, PHX.

Ages 15-17 are not required to use the service but can request it.
Additional Information
Unaccompanied minors cannot travel on the last scheduled flight of the day from the connection city, and their journey cannot include any overnight connecting flights.

Anyone travelling internationally under 18 may need to present a Letter of Consent.
Prices
$150 surcharge plus tax each way for children 5 – 14, plus the adult fare.

ANA

Name of Service
ANA Junior Pilot (Unaccompanied Minor)
Age Restrictions
5 through 11 years old who are traveling alone as unaccompanied minor.
Additional Information
If you wish to request assistance for a child who are 12-16 years old, ANA will offer ANA Airport Support.

Different rules apply if you are flying to or from Mexico City, so please check these in advance.
Prices
Please note that the child fare does not apply to unaccompanied children, adult fares will be applied. The applicable fare varies depending on the country of departure.

British Airways

Name of Service
None
Age Restrictions
Only children above the age of 14 may travel alone on British Airways. Any child under the age of 14 wishing to fly will need to be accompanied by someone over the age of 16.
Additional Information
British Airways have removed their Unaccompanied Minors Service as of May 2018. No assistance will be given to those flying alone.
Prices
Children will have to travel as an adult, and therefore the cost is the price of their adult ticket.

Cathay Pacific

Name of Service
Unaccompanied Minors Service
Age Restrictions
Children aged 6 to 17 years can travel as Unaccompanied Minors, and children between 6 and 12 must travel as an unaccompanied minor.

Those aged between 12 and 18 can use the service for a fee but are under no obligation to do so.
Additional Information
Check carefully what documentation is needed for the route.
Prices
Between Hong Kong and all destinations in Africa, Europe, the Middle East, North America, the South Asia Subcontinent and Southwest Pacific: HKD800/USD100

Other routes: HKD400/USD50

easyJet

Name of Service
None
Age Restrictions
Children under the age of 14 cannot travel unless they are accompanied by an adult who is at least 16 years old and who will take full responsibility for them.
Additional Information
N/A
Prices
Children over the age of 14 will have to buy an adult ticket.

Emirates

Name of Service
Unaccompanied Minors
Age Restrictions
Children above 5 and under 15 years of age.
It can also be used for children travelling in a different cabin from their parents.
Additional Information
Accompanying adult must be over the age of 18.
Prices
Cost of an adult fare and may vary depending on the flight.

Etihad

Name of Service
Unaccompanied Minors
Age Restrictions
5 and up to (but not yet) 12 require the Unaccompanied Minors service

12-17 year olds can travel as a Young Passenger and the Unaccompanied Minors service can be bought but is optional.

Additional Information
If your flight or a segment of your flight is operated by a partner airline, then different age classifications and policies may apply.
Prices
Full adult fare plus a variable fee depending on route (60-100USD).

EVA Air

Name of Service
Unaccompanied Minors
Age Restrictions
Ages 5 to 12 years old may travel with EVA Air.
Additional Information
Parents need to fill out an Unaccompanied Minor form, including local contacts at both departure and arrival pick-up points.
Prices
The child must hold a UM applicable fare ticket.

FlyBe

Name of Service
No Unaccompanied Minors service provided
Age Restrictions
N/A
Additional Information
As of May 2018, FlyBe no longer accept Unaccompanied Minors bookings.
Prices
N/A

Garuda Indonesia


Name of Service
Unaccompanied Minors service
Age Restrictions
Children between 6 and 12 years old may use the service
Additional Information
Names of the person or people picking the child up must be submitted.
Prices
No information given.
A full list of airline policies can be found here.