How Much Will Correcting My Name On My Ticket Cost Me?
24 Sep, 2019
Franki Napolitano
No Comments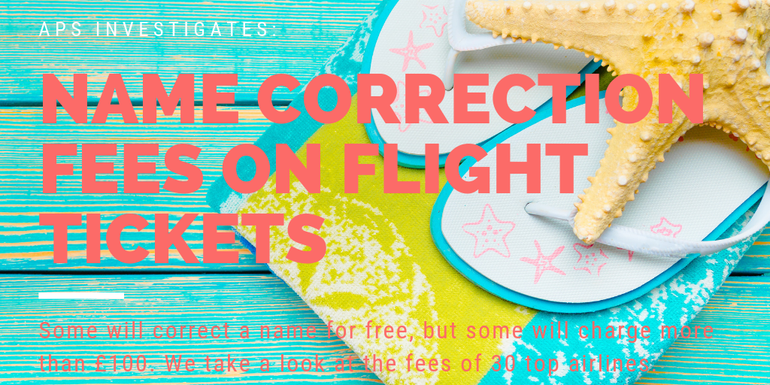 "If you don't like your name that much, you should change it by deed poll. It's much cheaper than changing your airline ticket!"
This was actually said to me when checking in at a Ryanair desk before a trip to Spain. My friend who booked the tickets did so in my name Franki, but my passport shows my full name, Francesca. Cue a 'confused' clerk when asking me if Franki and Francesca were two different people…
I was lucky in this instance that she waived the £120 last minute name correction fee as I hadn't booked the ticket myself, but if she hadn't, I'm not sure I'd have been prepared to spend double the cost of my ticket to correct my name..!
It sparked me to do a little research for Airport Parking Shop; what's the average cost of correcting your name on an airline ticket?
I took 30 popular airlines that fly UK customers all over the world and I was shocked at the vast difference in the fees that airlines charge!
Why do airlines charge to change or correct a name on a ticket?
In most cases in the research, the fees are charged because it sometimes means cancelling and reissuing a ticket, which seems valid. In some instances, the airlines don't specify this and simply say it's an admin fee which seems a little bit unfair.
Some offer 'grace periods', usually 24 hours, in which you can correct name spellings for free, whilst some will allow you to change up to 3 letters for free right up until 2 hours before the flight leaves. It really does depend on the airline! Speaking of which, let's take a look at the 30 airlines I looked into and what their policies are.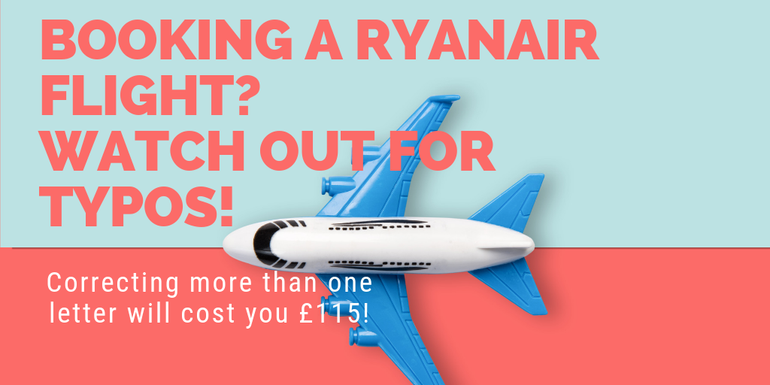 I used a combination of simply looking at their fee pages where it was clearly displayed for anyone to find and reaching out to the airline directly on Facebook messenger to ask the question. It's fair to say that most of the airlines I asked were happy to provide me with information, apart from Cathay Pacific and Qatar Airways who both refused to give me any information regarding the cost to make corrections.
Click the ✈️ to be taken to their webpage with clear details.
Flight Ticket Name Correction and Change Fees from 30 Airlines
| Airline | Cost | Fare Conditions |
| --- | --- | --- |
| Aegean | £17.66 | Any difference in fare/tax costs, these are charged too. ✈️ |
| Aer Lingus | £35 | Can only make changes if you booked with them directly. ✈️ |
| Aeroflot | £22 | You'll need to visit one of their offices and request the reticketing option. ✈️ |
| Air Baltic | £39.40 / $50 | This is to change up to 3 letters. ✈️ |
| Air Canada | Free | Can only correct tickets on flights operated by Air Canada, can't if other airlines are involved. |
| British Airways | Free | However the rules do vary depending on the type of ticket you have. Check out the conditions here: ✈️ |
| Cathay Pacific | Undisclosed | According to the Facebook conversation I had "Name correction is allowed only for special cases and will require approval from our team." However, they were unable to tell me a cost.✈️ |
| easyJet | Free | Spellings of Names can be changed for free. Changing the name to another passenger from £25.✈️ |
| Emirates | £39.40 / $50 | "In genuine cases of typo errors, we can check with our Reservations Team for an exception on the name correction…The name correction fee is USD 30 in all markets except the UK, which is USD 50." ✈️ |
| Finnair | From £66.23 / €75 | Charges for flights in Europe are €75 per correction. If flying to the US, this increases to €200 / £176.50 ✈️ |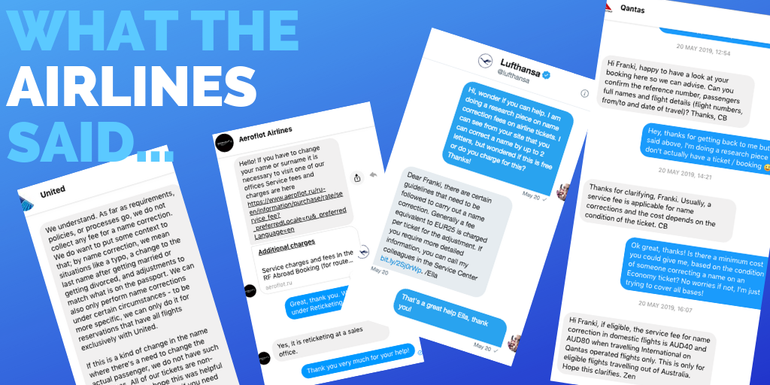 Name correction fees range from Free to over £100!
| Airline | Cost | Fare Conditions |
| --- | --- | --- |
| Flybe | From £50 | The fee increases depending on how far in advance you make the change and how you change it (online, using their contact centre or in the airport) ✈️ |
| Iberia | Around £80 | Website says name changes are forbidden, but the Facebook chat agent advised: "Names can be corrected depending on the number of letters" and for more info, I needed to call their team in Spain. But from personal experience, it costs about £80. Note, don't offer to book flights for a stag do; I ended up having to change 2 names..! ✈️ |
| Japan Airlines (JAL) | £40 | Nothing specific about name corrections or changes, but their site references a ticketing service fee for name changes. Best to contact the airline directly. ✈️ |
| Jet2 | Free | Genuine errors of up to 4 letters can be changed for free, but not whole names. If you want to transfer the ticket to a new person, it'll cost you £35 + flight price difference ✈️ |
| KLM | Free | Corrections can be made for free up to 30 hours before you fly – Flight restrictions apply so be sure to check their T&Cs. ✈️ |
| Lufthansa | £22.08 / €25 | This is for a name change for up to 2 letters. Anything more than that isn't permitted and a new ticket will need to be issued ✈️ |
| Norwegian | Free | For small spelling corrections, these can be corrected for free. Changing a name to someone else is from £55-£90 on their LowFare LowFare+ and Premium tickets respectively ✈️ |
| Qatar | Unknown | Even though their Facebook team advised me that "Regrettably, we can only authorize a wrong type name up to three letters only", they referred me to the media team to obtain the information on the fee, but I am still awaiting their response. ✈️ |
| Qantas | From £21.79 / $40AUD | $40AUD for Domestic flights within Australia, or $80AUD / £45.75 for international flights. They also operate a "Same Day, No Mistake" option – change details up until midnight on the day of booking Free of charge ✈️ |
| Ryanair | £115 | Although there is a 48 hour grace period when booked direct. One letter change is free* ✈️ |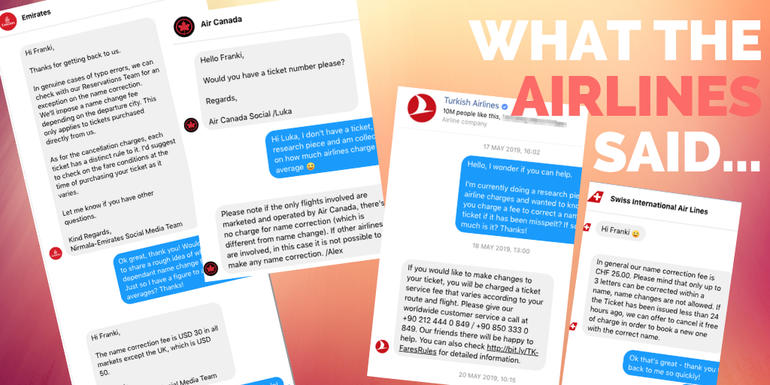 Name correction fees can be standalone fees or on top of fare differences!
| Airline | Cost | Fare Conditions |
| --- | --- | --- |
| Singapore Airlines | £39.40 / $50 | Contact the team on singaporeair.com/contactus to correct your name. |
| Swiss International | £19.67 / 25CHF | Or free within 24 hours of booking. You can change up to 3 letters. Name changes aren't allowed |
| Thomas Cook | £35 | This rises to as much as £100 depending on the type of ticket you have and the time at which you do the correction. ✈️ |
| TUI | £25 | But this increases to up to 100% of the flight cost if corrected within 14 days of travel ✈️ |
| Turkish Airlines | Charged at a % of your ticket cost | You'll need to pay a Ticketing Service Fee which varies depending on your route and flight type, according to our Facebook chat! |
| United Airlines | Free | The helpful facebook agent G says "We do not collect any fee for a name correction. We do want to put some context to that; by name correction, we mean situations like a typo, a change to the last name after getting married or getting divorced, and adjustments to match what is on the passport.We can also only perform name corrections under certain circumstances – to be more specific, we can only do it for reservations that have all flights exclusively with United." |
| Virgin | Free | Legal name changes and spelling mistakes can be changed for free. You can't transfer a ticket to another person, a new ticket will need to be purchased ✈️ |
| Vueling | From £44.15 / €50 | This is a cost each way + fare difference. 24 grace period is free if booked direct. ✈️ |
| West Jet | Free | However conditions do apply based on the type of tickety you have. ✈️ |
| Wizzair | £39.74 / €45 | This price is valid for all changes made online. Costs may increase for changes made over the phone ✈️ |
How much does it cost to correct your name on your plane ticket?
Average cost to correct a name: £27.83
Most expensive airline name correction fee: Ryanair at a massive £115 in advance. If you just need to correct one letter, it says on their site it's free. *However, I recently tried to change Steve to Steven online and it still wanted to charge me the £115…so maybe give them a call if you're unsure!
Cheapest airline name correction fee: Aegean at £17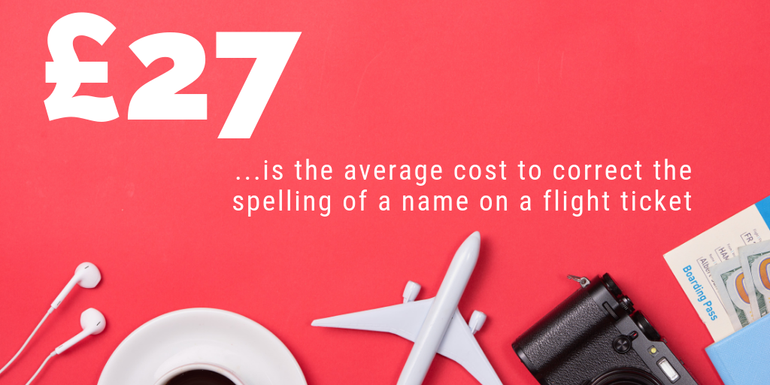 What I found most often is that the name correction fee could be subject to ticket type, when and how the ticket was booked, how the correction is made and some would also require you to pay any difference in fare / taxes.
Some airlines stated that changing married names could be done for free, whereas some stated that corrections simply weren't allowed and you'd need to cancel and rebook your ticket. To be on the safe side, take extra care when booking your ticket as a simple spelling mistake could cost you more than the flight!
before booking, be sure to double check the correction policies, simply click the plane ✈️ symbols above to be taken to the airline policy on name corrections before you book.
Have you had any nightmares when it comes to correcting a name on a ticket? I'd love to hear your stories in the comments!