21 May, 2014
Jurga Sefton
No Comments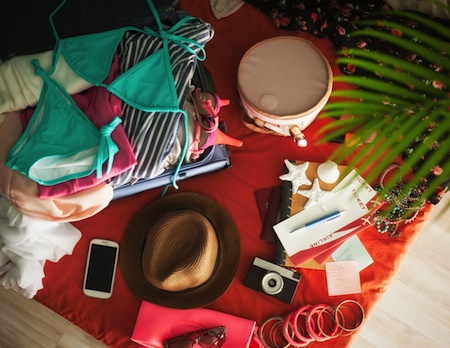 If you hate packing, get confused about what you can and can't take in your hand luggage and never seem to have enough room in your case for the essentials, read on. We guide you through some of the thorny problems and even tell you what to do if your worst nightmare comes true and you end up standing at the luggage carousel long after everyone else has collected their baggage.
Capsule Wardrobe
Packing is much easier if you have a "capsule wardrobe", a term coined in the 70s to denote a collection of clothes that can be mixed and matched to maximise the number of outfits that can be created.
Devotees say that with just eight or nine basic items you can create up to thirty outfits.
Colour is key with capsule wardrobes. Base your look around one dark colour such as navy, black or grey and then choose a neutral colour such as white, cream or stone. Add in a splash of colour that goes with both the dark and neutral colours such as red, blue or green and take it from there.
Accessories such as scarves, wraps and jewellery can transform your look and turn a daytime outfit into something far more glamorous.
Packing Cubes and Compression Bags
If you dislike clutter, you can maximise space and simplify packing by using packing cubes, lightweight fabric bags used to create different compartments in your suitcase. Large ones are good for trousers and dresses, medium ones for tops and small ones for undies.
If you share a suitcase with your partner, you can use one colour for their clothes and another for yours, making it easier to find your own stuff when you unpack. They are also particularly useful if you are changing hotel frequently. Just put the cubes in your hotel drawers and don't worry about unpacking them.
Compression bags squeeze the air out and maximise what you can fit in your case.
The Problem of Shoes
Shoes are definitely the most awkwardly shaped items to pack in your case. Whilst it is tempting to pack a pair for every occasion it is best to be disciplined and minimise the number of pairs you pack (a comfy pair for walking, a lightweight smart pair and a pair of open-toed sandals or flip-flops).
To save on room always try to wear the heaviest pair for travelling in. A drawstring bag or even just a groceries bag keeps pairs together and provides protection from dirt for your other clothes. Place shoes heel to toe, sole-side outwards to make packing easier. Don't forget to put small items such as phone chargers inside your shoes to maximise space.

Liquids
Liquids (and that includes creams, gels and pastes) can be carried in your hand luggage but must be in containers of no more than 100ml and placed into a see-through re-sealable plastic bag, no bigger than 20cm by 20cm. Each passenger is restricted to one plastic bag and it must not be tied or knotted at the top. Containers of more than 100ml are not allowed even if the liquid inside is minimal.
Medicines over 100ml are permitted provided you have approval from the airport and airline before you travel and you have a letter from your GP or a copy of your prescription. Baby food and baby milk are also permitted in quantities over 100ml insofar as it is needed for the journey. The adult may be asked to taste it. You can find more practical packing tips when travelling with a baby or a small child on our Flying with Babies & Toddlers guide.
If you are packing liquids in your hold luggage, a belt and braces approach is advisable: pack them in a couple of waterproof bags to ensure your clothes do not end up covered in sun-cream should spillages occur.
Lost Luggage
If you have arrived in Milan but your suitcases have gone to Malaga, what should you do?
Go to the luggage handling counter at the airport and fill in a Property Irregularity Report. Take a copy with you along with the agent's contact details. In the majority of instances the airline will find what has happened to your case via its barcode and return it to you within a day or two free of charge.
Meanwhile you can buy essentials to tide you over. Some airlines will give you a one-off payment to cover this whilst others give you an amount per day. It is also worth checking your travel insurance to see what you are entitled to.
If your bags are still not with you after 21 days, they are considered lost and you can make a claim accordingly.
If you are travelling with someone else, always pack half of your clothes in their case and vice versa so that a lost case is not a complete disaster.
Finally do not forget to label your luggage clearly inside and out!