Top 5 free apps you need on your holiday: the verdict
12 Oct, 2021
Lauren Perry
4 Comments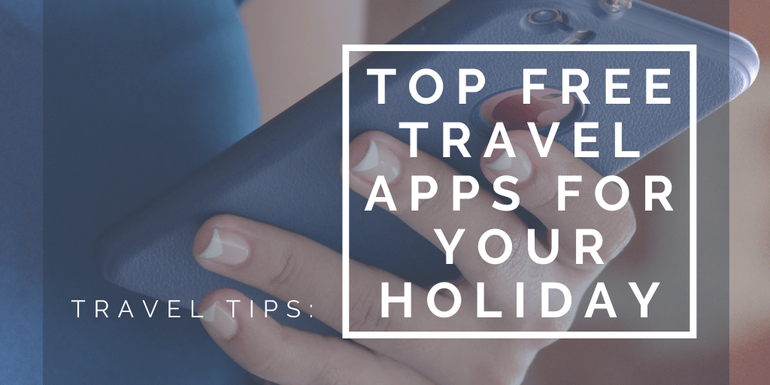 There's almost too many phone applications out there to choose from.
Which ones do I really need? Can I download them on the road? Will they cost me anything?
Today, we're diving into the world of your phone to help suss out exactly which apps can help you, and which ones we recommend.
Our top nominations cover everything from apps to carry your boarding passes to language apps to help you nail the lingo. All we need next is an app to do the luggage packing for us!
Jump to: Wallet | Guides to Airports | Airlines | Travel Guides | Language and Translation | Flight Compensation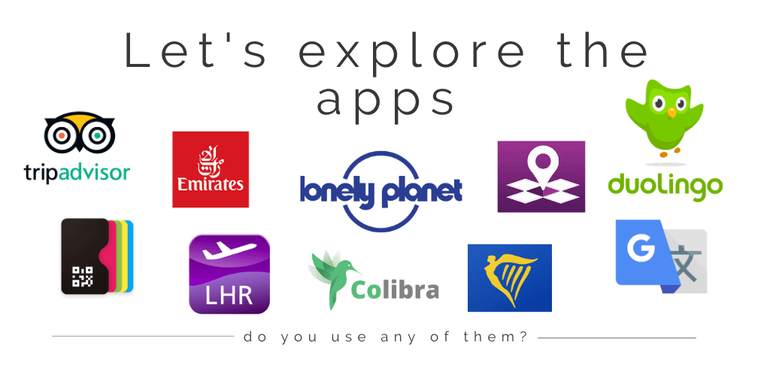 1 – Wallet: WalletPasses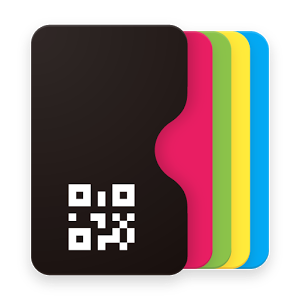 Step one: You're at home juggling hundreds of printed sheets; one for your departure flight, another for your National Express connection… Take a break from paperwork hell and breeze through the airport with one of these.
Wallet apps are great because they carry all your major boarding passes and travel essentials – some even carry loyalty cards too.
Goodbye chaotic paper chases, hello virtual wallets.
Our recommended app:
| | | |
| --- | --- | --- |
| Name | Star rating on Google Play | Downloads from Google Play |
| WalletPasses | 4.6 ⭐ | 5m downloads |
Best feature:
The default settings turn your screen brightness onto maximum which makes it easier for airport scanners to read your boarding passes. (You can turn this function off in settings if you want but it's a pretty useful feature.)
It stores all your boarding passes in one place, regardless of who you're flying with and when. You can even add on your voucher codes and loyalty cards too!
Can work alongside Apple and Android wallet if you have them set up on your phone or tablet.
Works well abroad. We tested this in Crete with self service scanners and it worked a treat!
Most honest review:
A Google user, 4*, 02/01/2017
"Great, but a few niggles. Been using this for a while. Super reliable, but would like to be able to reorder boarding passes. Always seems to be open to the one I need later rather than the one I need right now. Haven't been able to get the 'show on lock screen' to work either. But a very nice app nonetheless."
Data Usage:
9/10. It's very efficient but remember that the more passes and cards you add, the more data it'll use up.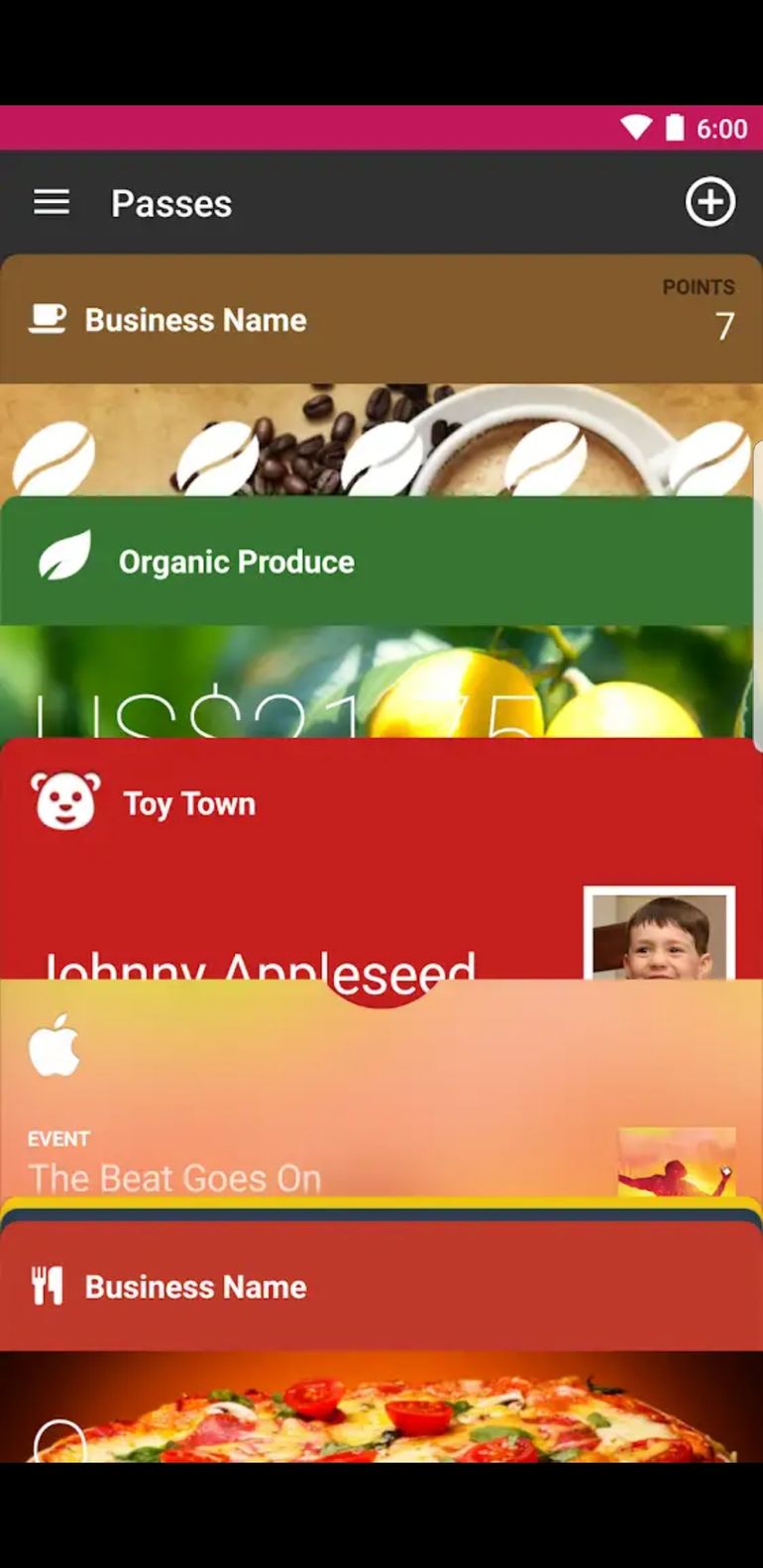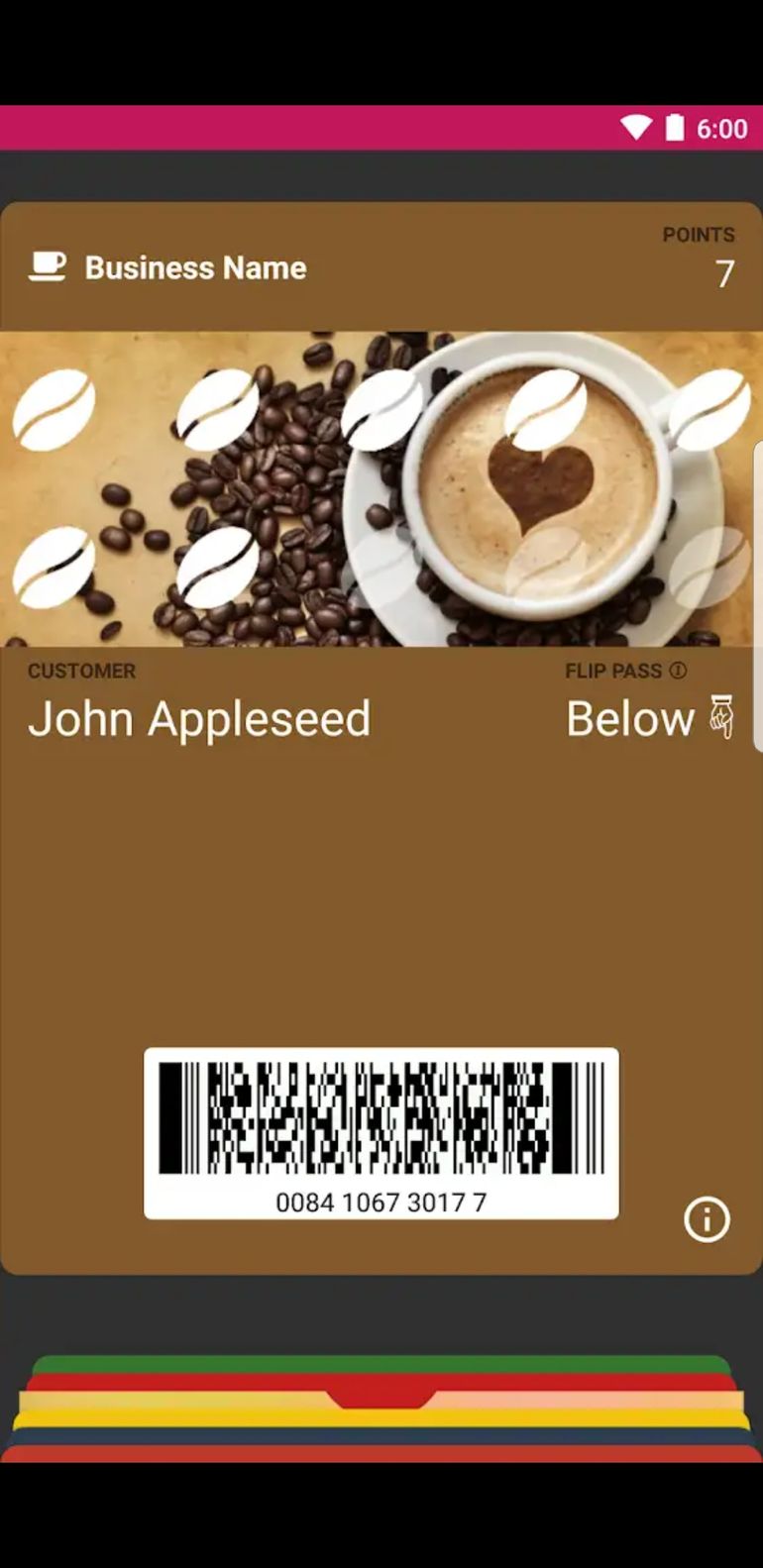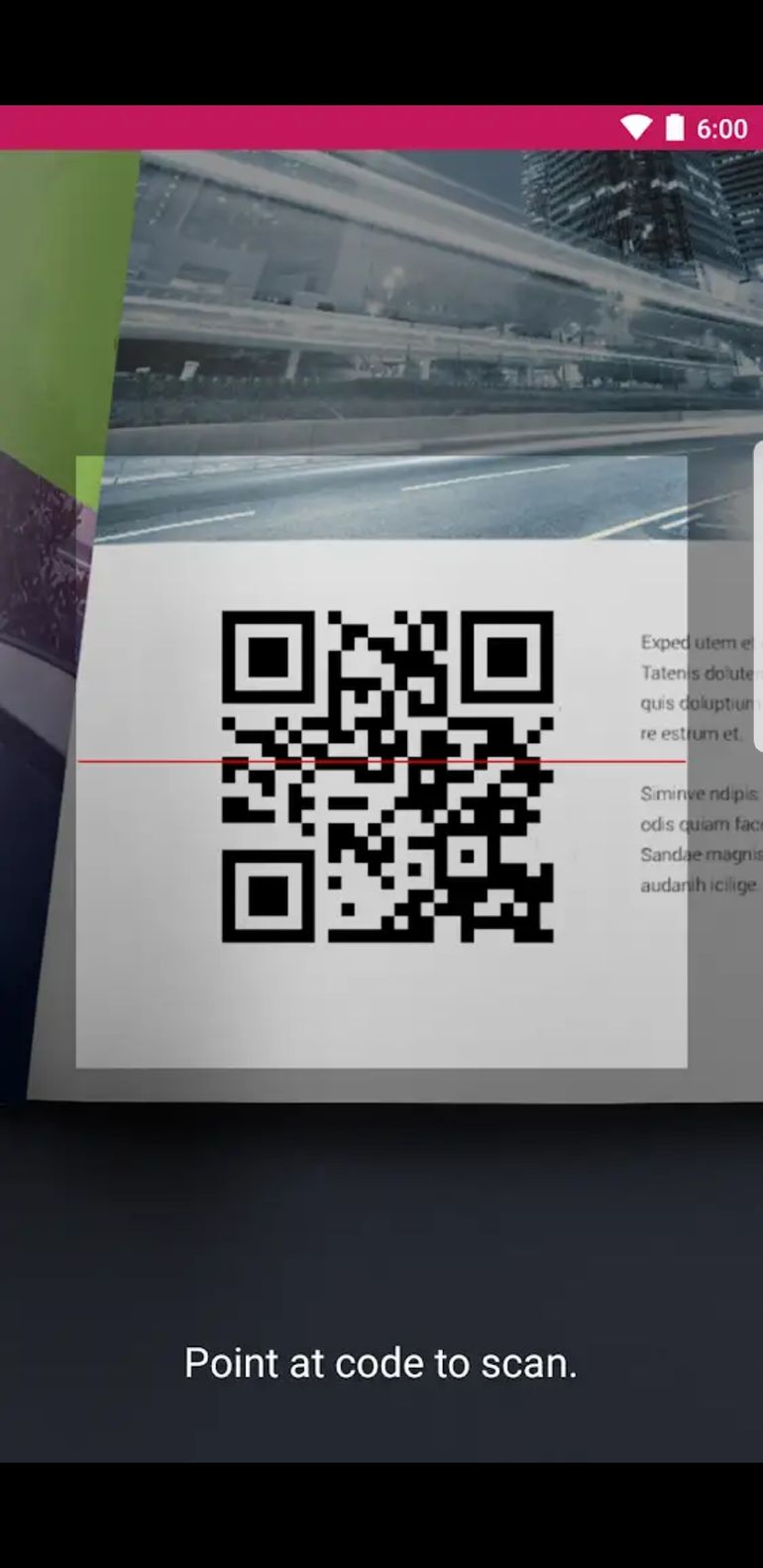 Worthy mentions:
| | | |
| --- | --- | --- |
| Ryanair bubble | 3.0 ⭐ | 500K+ downloads |
Ryanair Bubble. This app is really handy if you're travelling with Ryanair. It does require you to download their main Ryanair app to support it but it looks good, is easy to use and stores everything you need in one place. It also generates a messenger style bubble on your phone which makes a handy quick-access feature.
2 – Guide to the Airport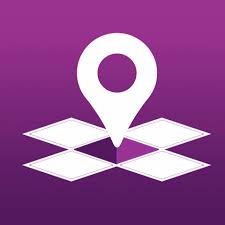 Step two: You've made it to the airport but the kids are busting for the loo and you need to find your departure gate!
Airport Guide apps make life at the airport super easy.
The one we've picked out even offers directions from wherever you are, to wherever you need to be. Simply allow the app to access your location and ask it to take you to "Boots, terminal 2, upstairs" or the "toilets nearest security".
We suggest downloading this one:
| | | |
| --- | --- | --- |
| InMapz | 3.5 ⭐ | 10K+ downloads |
Best feature:
It covers all major airports and shopping centres worldwide. No need to download multiple apps, the app can guide you around your arrival and destination airports.
You can map to pretty much anywhere. Ask it to take you from a drop pin, directly to your terminal gate.
Click on the terminal icon, select "view inside" and you can view the inside of each terminal and drop pins for shops, baby change – even the escalator!
Covers all major airports, but not the little guys. So if you're travelling to a very small foreign airport, you may need to go old-school and use a map.
Best review:
Shabnam Koosha, 5*, 20/06/2016
"I live in Vegas and I always get lost when inside malls and casinos…. I started to use InMapz to find places and now I can't imagine not having it… It is beautiful and fast. Love the purple color. LOVE THIS APP!"
Data Usage:
7/10. The app can use a lot of your phone's storage if you download multiple airports. We downloaded two (LHR and BCN) at 44MB (the average app size is 38MB) – just keep an eye on it if you're downloading lots of airports and travelling the world!
Requires frequent updates on loading, so be aware of your 4G data usage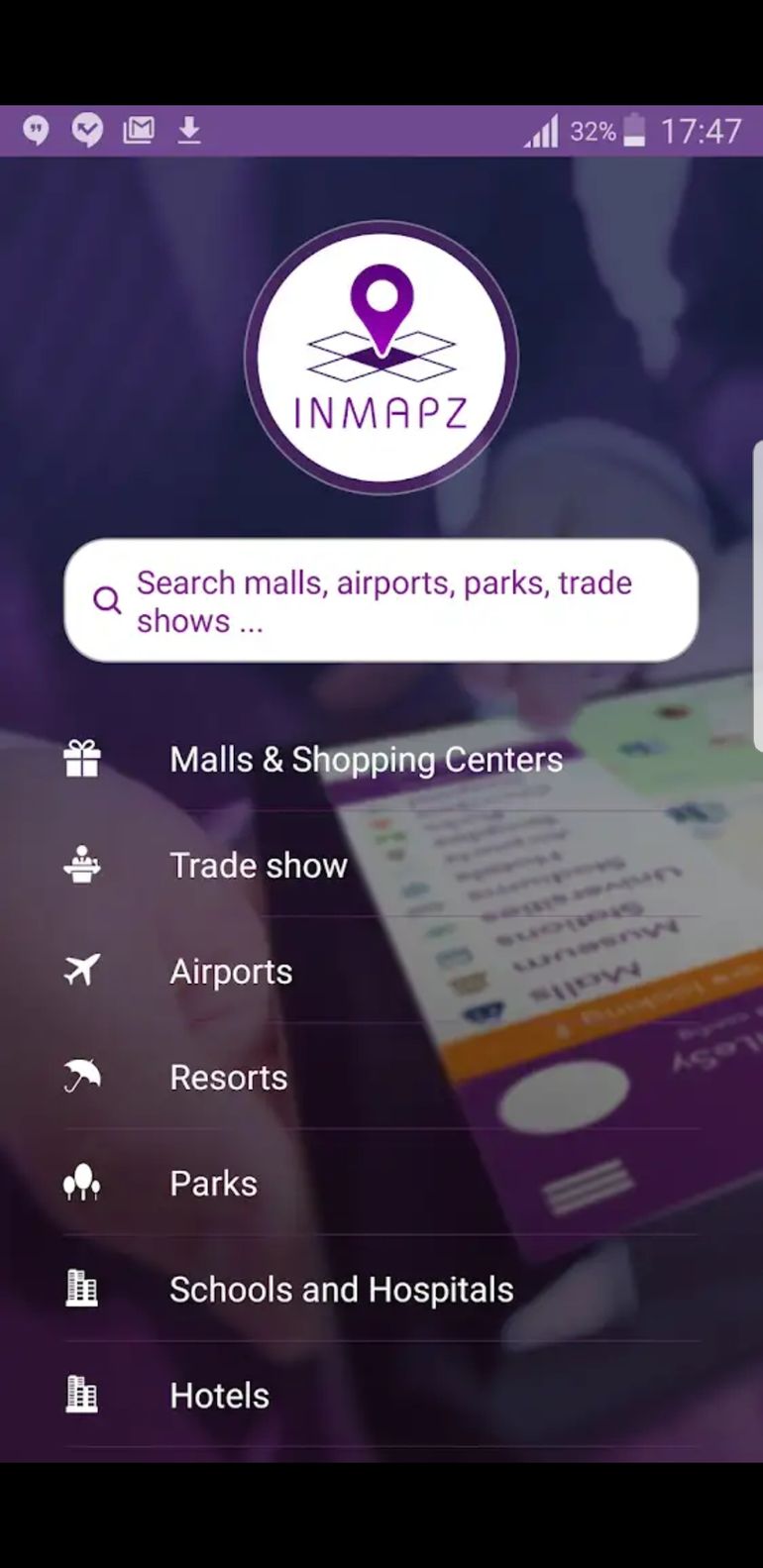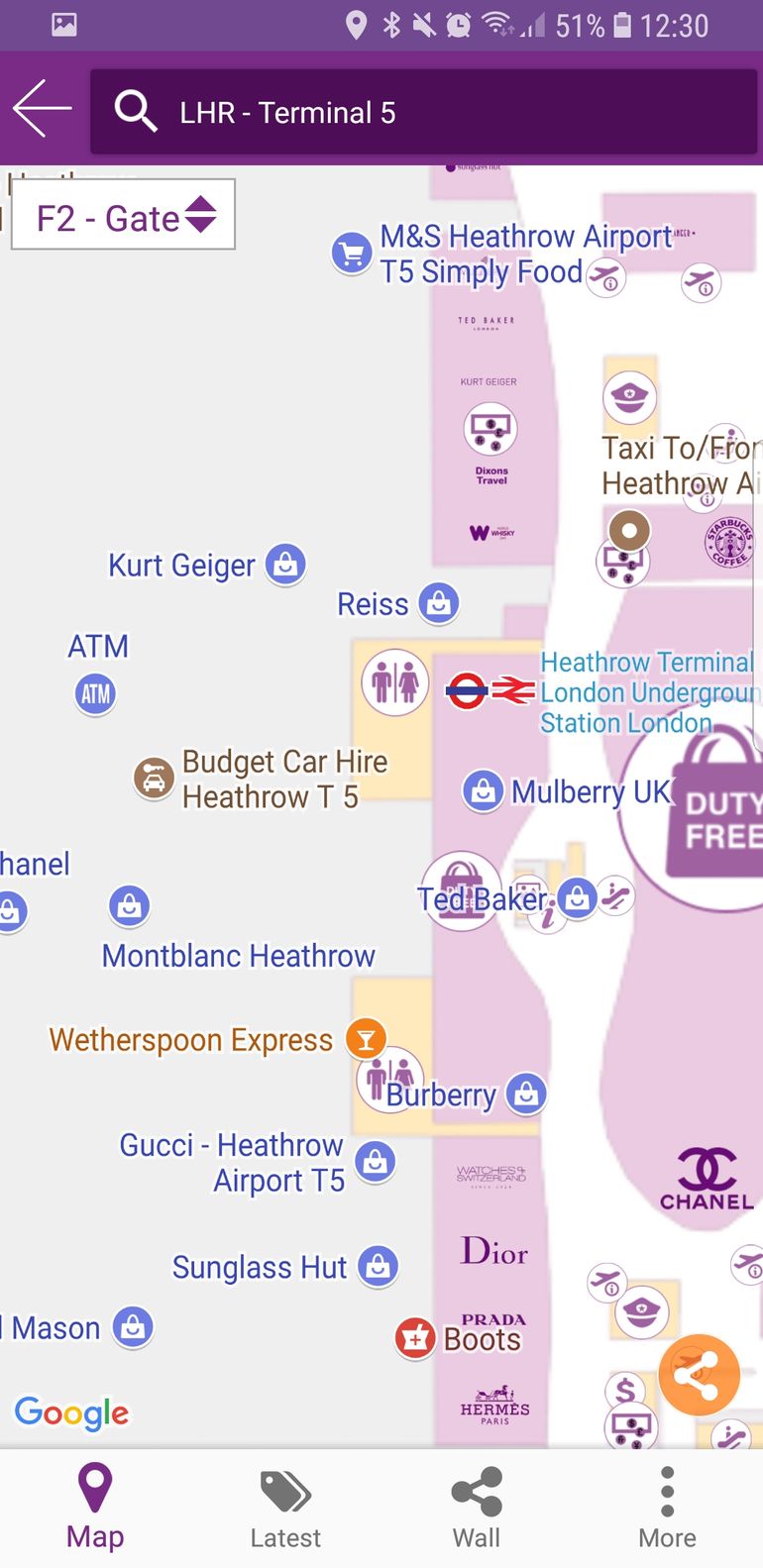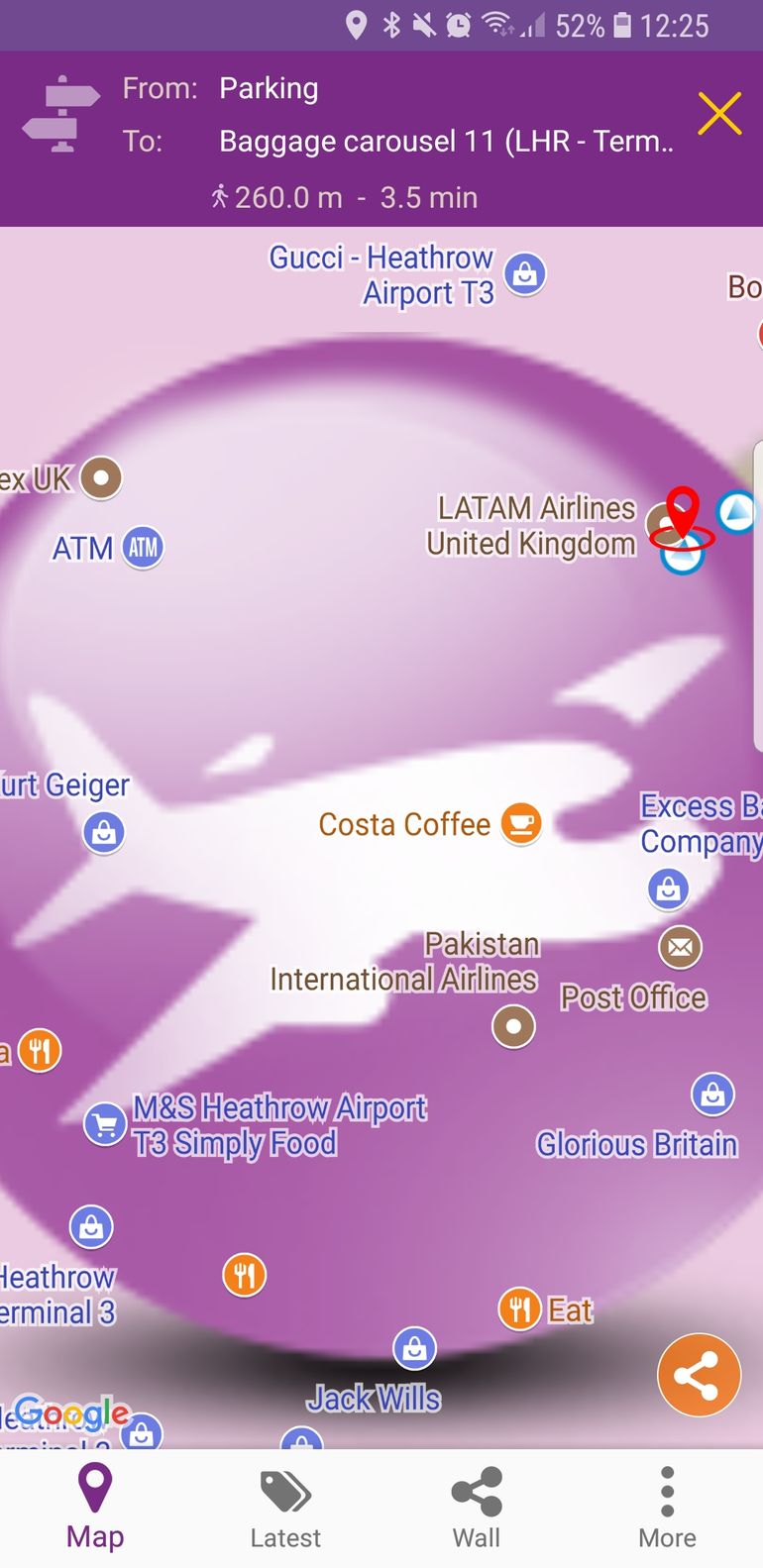 Worthy mentions:
| | | |
| --- | --- | --- |
| Heathrow AG app (official) | 4.4 ⭐ | 100K+ downloads |
Lots of airports run their own apps now. You can download Heathrow Airport Guide App (official) at 4.4 stars or Gatwick at 3.2 stars. They're more local and can offer flight details and some have wallet facilities but most have similar functions to InMapz.
3 – Airline Apps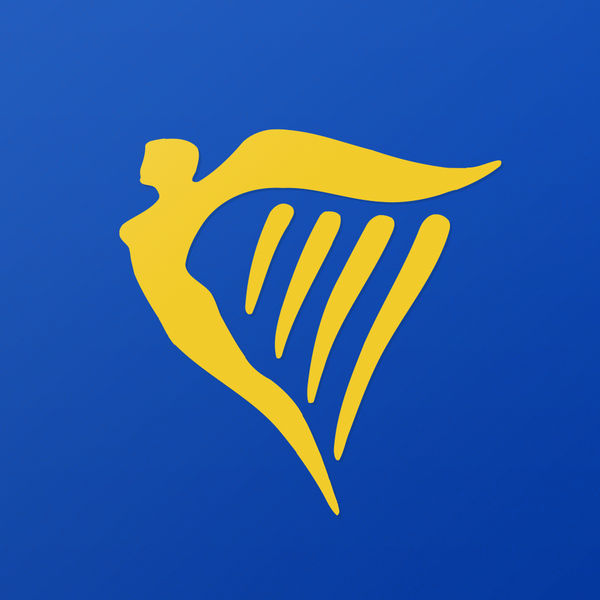 Step 3: You made it to the airport, you passed through security but now you want to know gates, times, delays and general airline info.
Most airlines offer apps and most have a wallet function and options to browse flights, check times and find package deals. Just be aware that most of these apps contain ads that can get annoying.
Our Top Choice:
| | | |
| --- | --- | --- |
| Ryanair | 4.0 ⭐ | 10M+ downloads |
Best feature:
This app might not rank as highly in star reviews (easyjet, Emirates and BA all rate more than 4 stars) but it partners with Ryanair Bubble which is a pretty handy wallet app
Also links to "myRyanair" so you can keep an eye on your account and flight credit
Covers all the essentials: "Search for Flights", "Manage trip/ Get bookings" and "Boarding Passes"
If you're happy using data roaming on your phone or want to download it in advance, you can download small travel guides and the latest inflight magazine onto your phone or tablet
Includes recommendation for Ryanair rooms, car hire, Ryanair holidays and Activities and Tours
Best review:
A Google user, 5*, 21/05/2018
"Great app. Well worth getting and makes life easy. Just wish they would tell you gate numbers"
Most honest review:
John D, 3*, 19/05/2018
"Reluctant to update due to bad reviews. Hope they fix this app soon as it has promise. Please give us the option to disable the hard sell on car hire, hotel rooms and insurance…"
Data Usage:
8/10. Depending on how much content you download in advance (the inflight magazine for example), it's pretty data-efficient.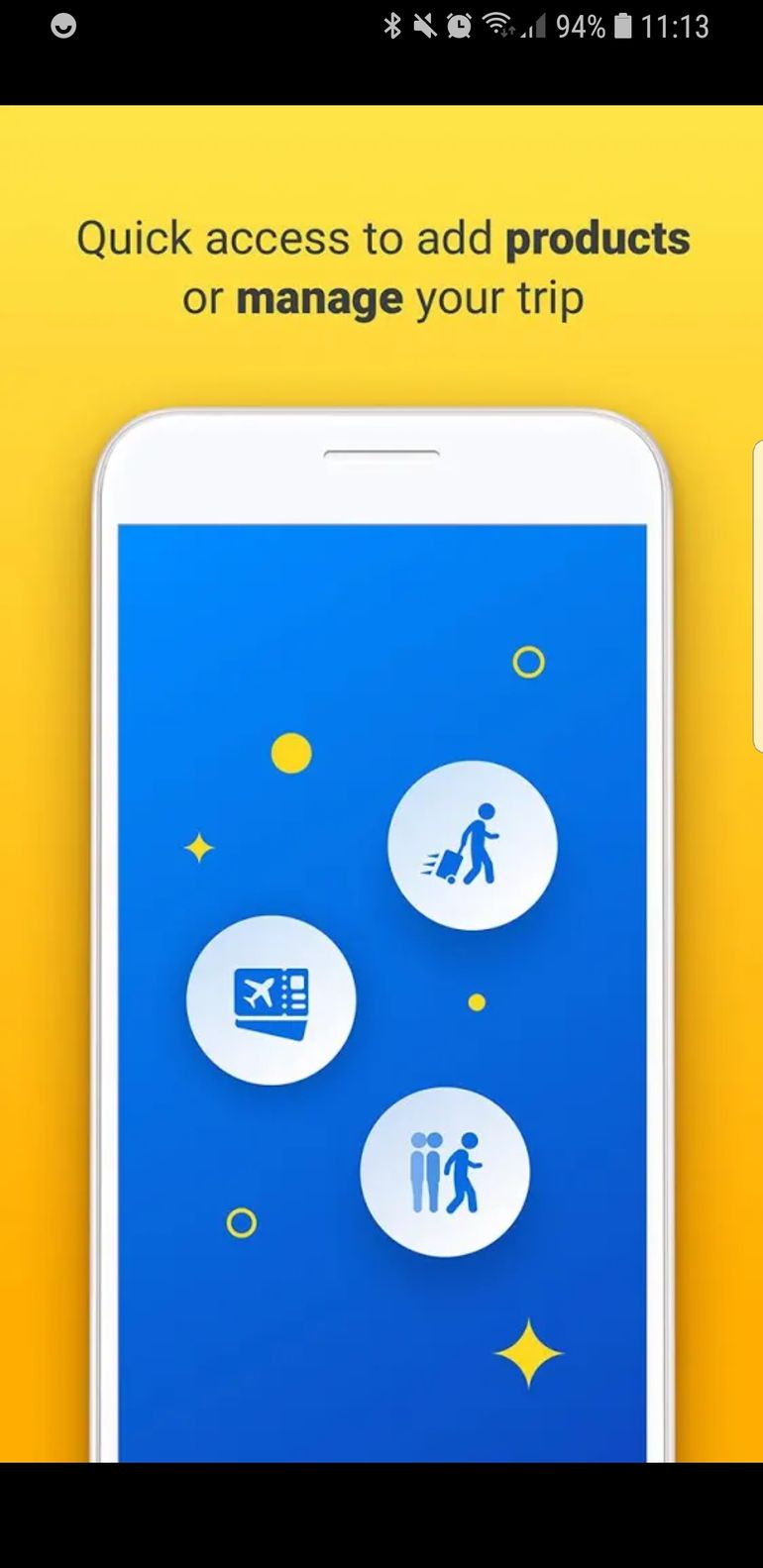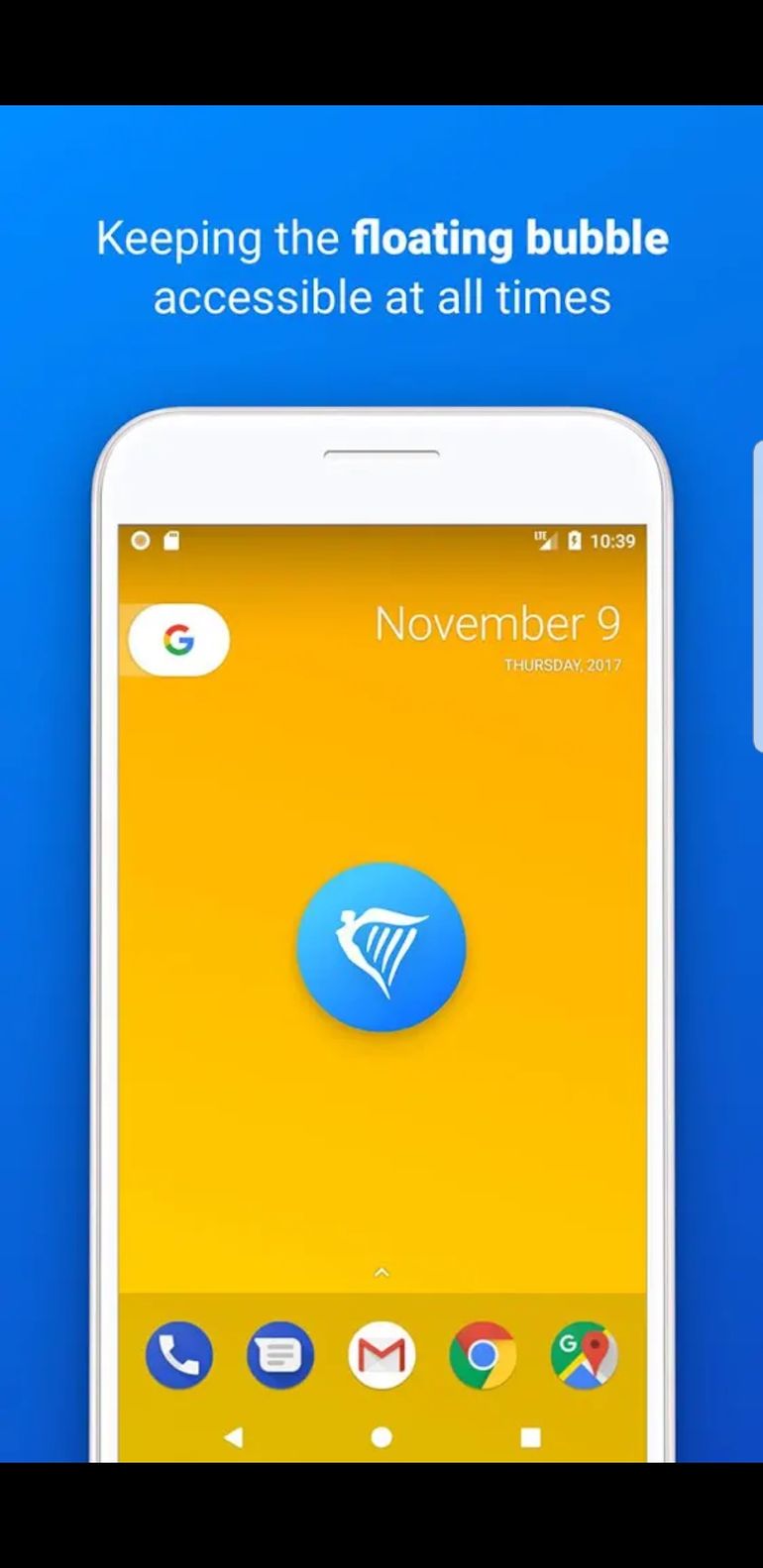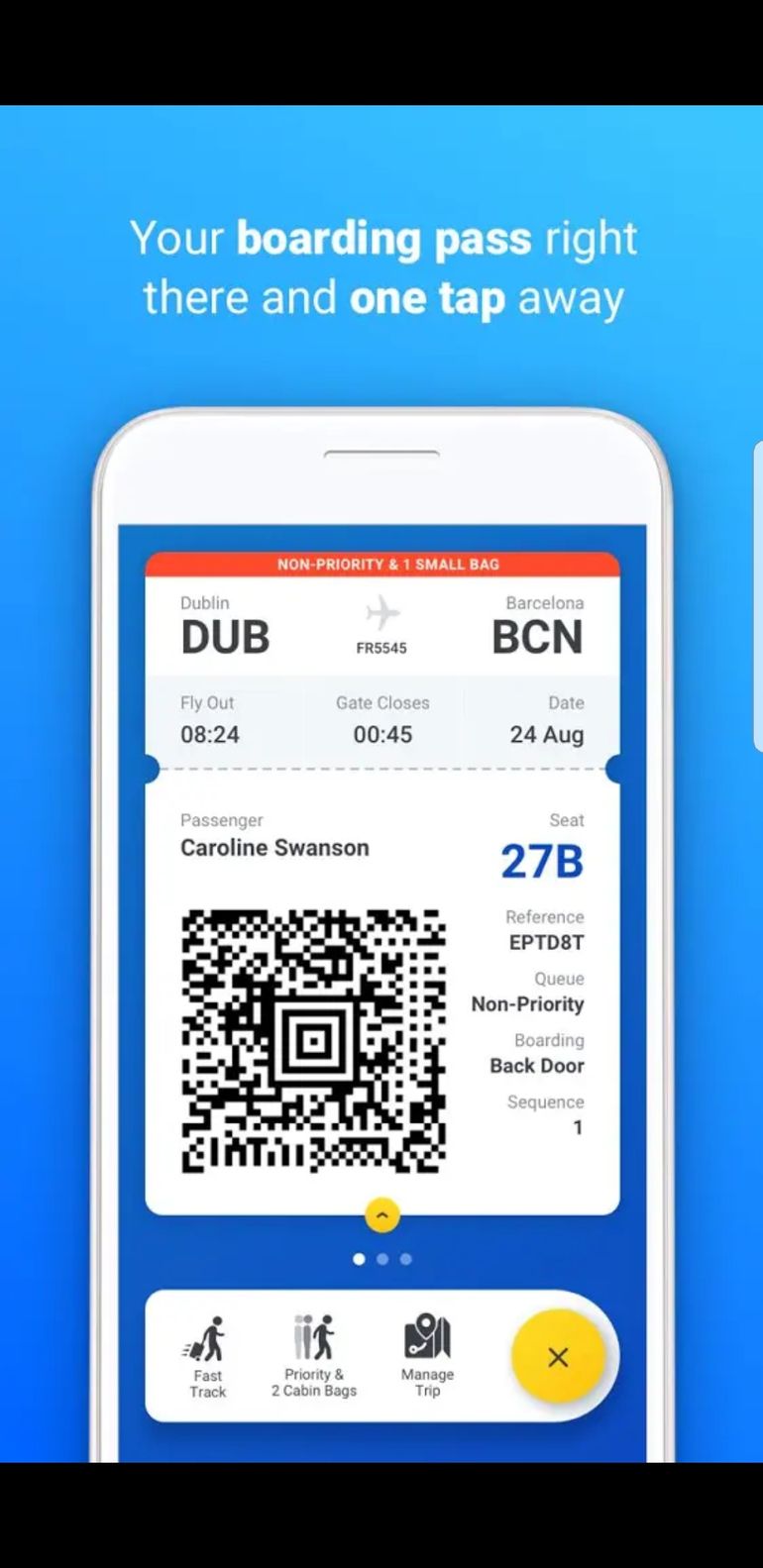 Worthy mentions:
| | | |
| --- | --- | --- |
| Emirates | 4.6 ⭐ | 1M+ downloads |
Emirates. It's a very slick app with the same features as Ryanair. The app encourages you to log in but you can skip and use the app to browse flights.
At the end of the day, we recommend you download the airline app to suit your trip. They are all very user friendly and most store your boarding passes and allow you to browse for more products like package holidays or car hire.
4 – Travel Guides: Lonely Planet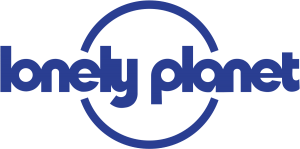 Step 4: The plane doors open and you can take the first breaths of your holiday; whether that's feeling the heat hitting you in southern Spain or letting the sweet smell of roasting hot chocolate steaming in Reykjavik fill your senses, you need to know where to head!
Travel Guides like Lonely Planet and Cultural Trip offer great insights to your destination that you may never have heard of.
Our Top Choice:
| | | |
| --- | --- | --- |
| Lonely Planet | 4.4 ⭐ | 1M+ downloads |
Best features:
You'll discover a different side to your destination with this app. From "top experiences" to searching things to do near you via their interactive map, it's time to get exploring!
Search with great filter options. You can sort by recommended, nearby, price (including free) as well as subcategories like "aquarium", "architecture", "mountain" etc.
Once you download your city guide, click the navigation at the top right and select "Need to Know" and you'll be equipped with a phrasebook, transport tips, neighbourhood divisions and a budget plan to help you see what city costs are like.
Best review:
Adeline Wieler, 5*, 08/05/2018
"Great app. So excited to use it for my upcoming trip. It has helped me gauge where I'd like to go and filter places based on price and proximity. My only concern is the occasional freezing and crashing, but it usually works after rebooting the app…"
Data Usage:
7/10. You pick the city you're going to, so you only have what you need and don't eat through your storage or roaming data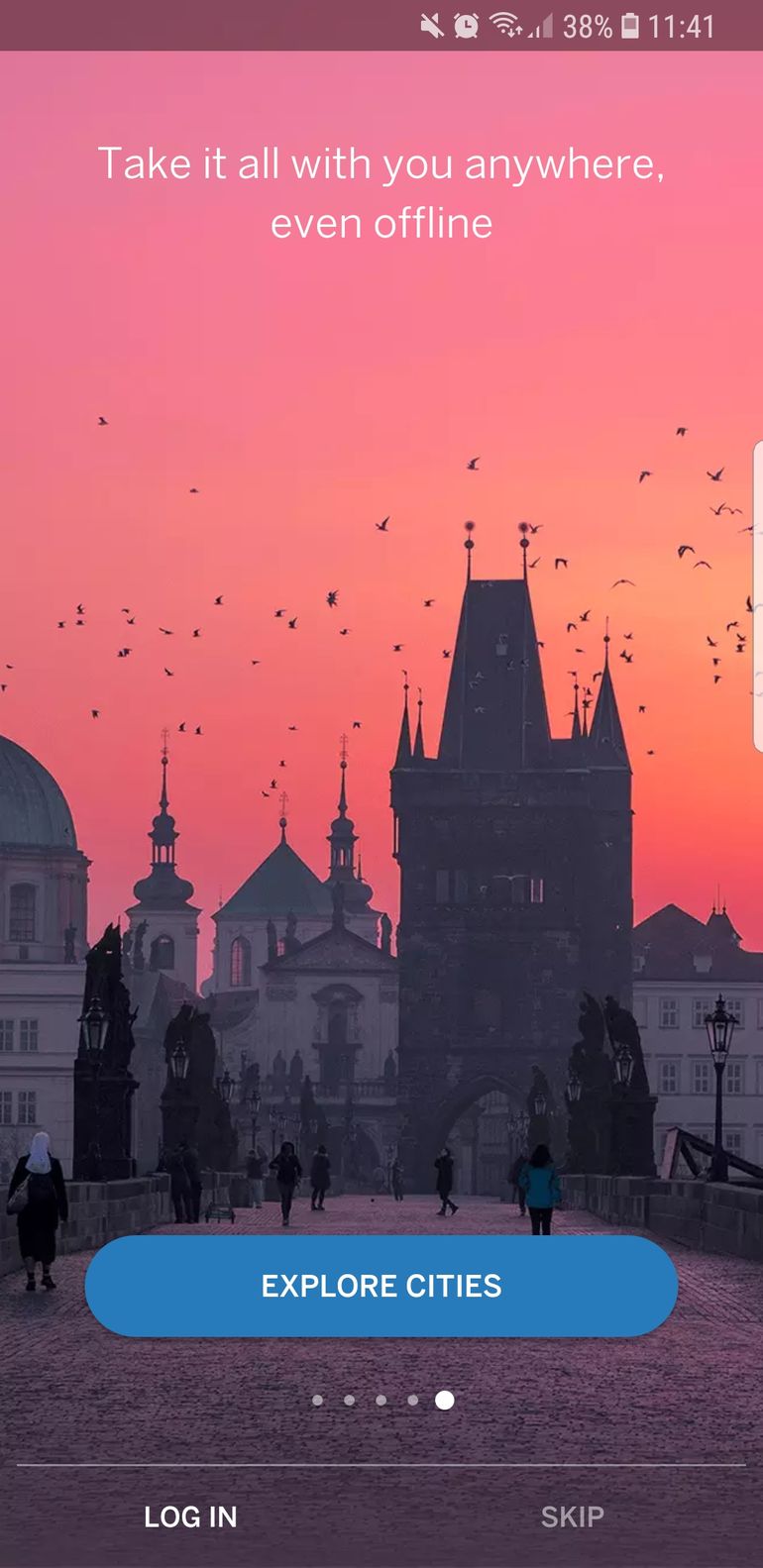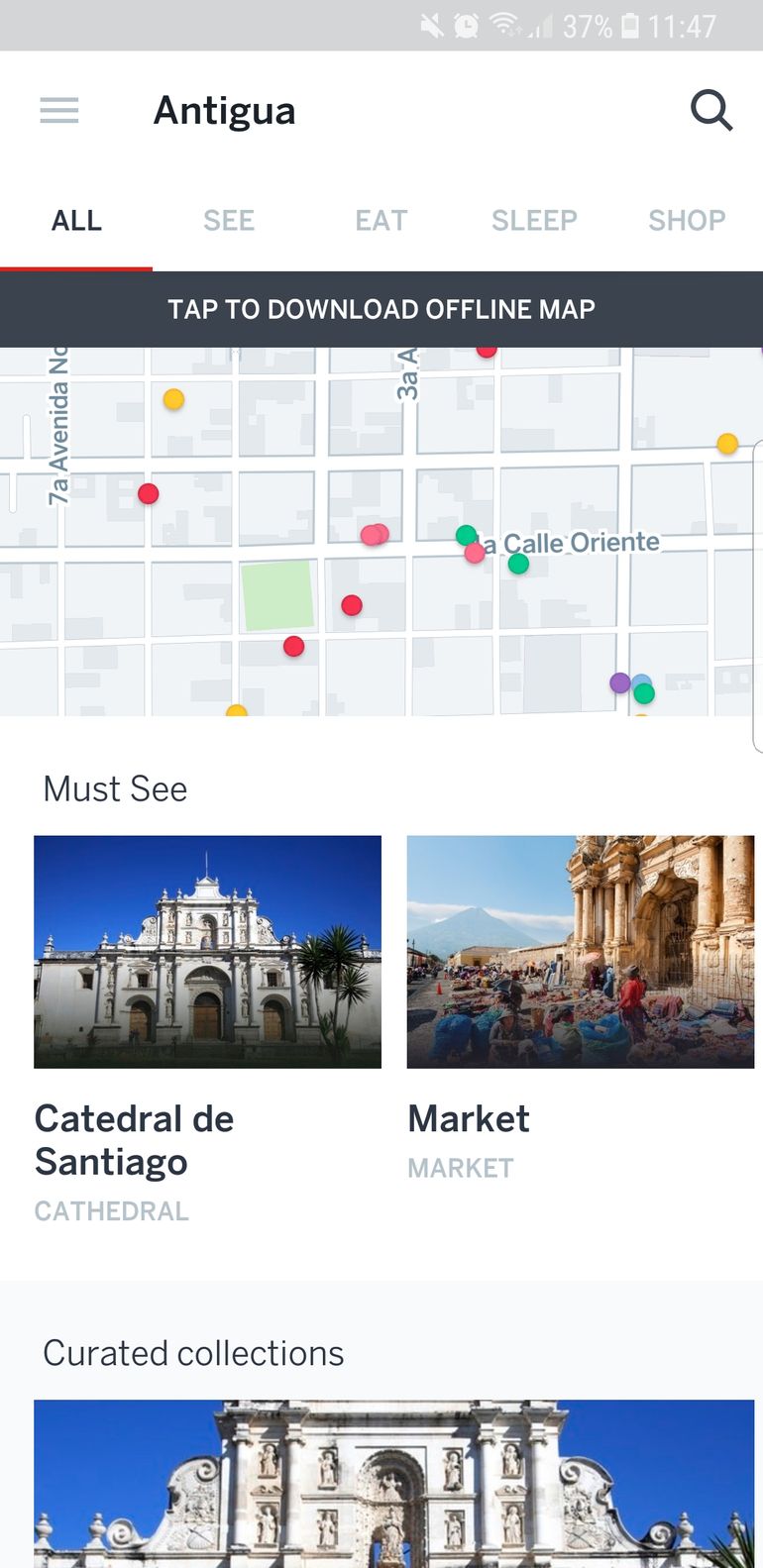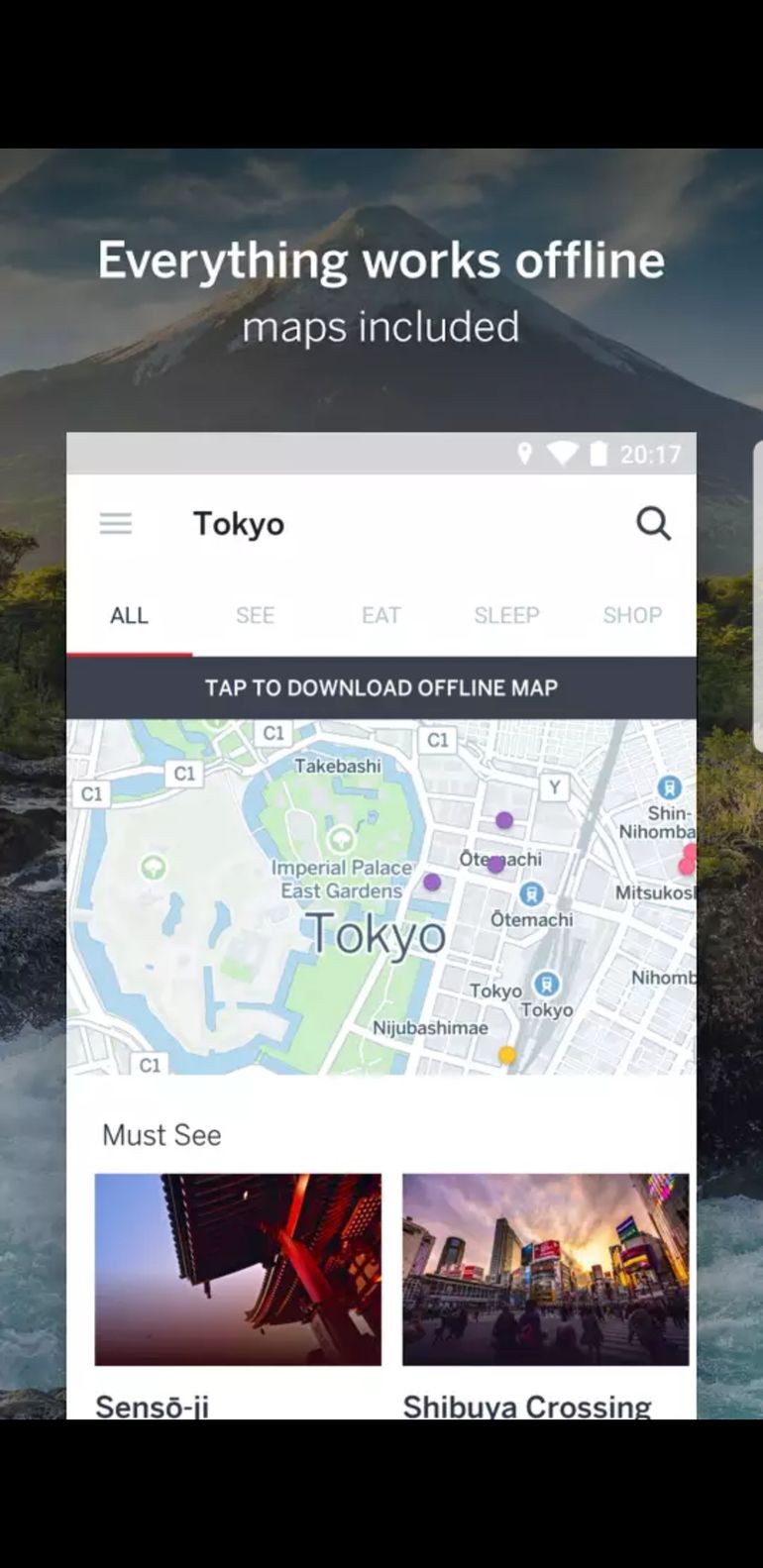 Worthy mentions:
| | | |
| --- | --- | --- |
| Tripadvisor | 4.4 ⭐ | 100M+ downloads |
Tripadvisor. Better known for public reviews, this app had to be a close runner-up for us. It's great for finding local restaurants or things to do with honest reviews and ratings from other travellers like yourself but it's not quite as pretty or user friendly.
5 – Language Apps: Google Translate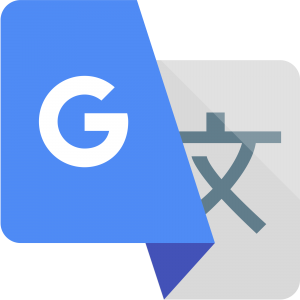 "Ne parlez pas français?", "¿no entiendo español?", no problem! Here we look at the best language and translation apps.
We can't help but endorse Google translate if you're looking for a quick word for word translation or Duolingo if you want to better get to grips with a new language.
Top App:
| | | |
| --- | --- | --- |
| Google translate | 4.5 ⭐ | 1B+ |
Best features:
The camera translator is cutting edge and can be a god-send in sticky situations. This app will font match and transform text into your chosen language in real time. Just hold up your phone up to instantly understand your surroundings
It's worth noting that it cannot match all fonts. We tested this on birthday cards in Amsterdam and the app will either glitch or refuse to translate sections. Having said that, it is usually pretty reliable.
You only download the languages you'll need for your trip so don't worry too much about it hoarding your phone's storage.
You can use a stylus or your finger to visually write the words you want translated – particularly handy for non Latin characters like Chinese Hanzi and Japanese Kanji (漢字).
It includes a read-aloud function to help you with pronunciation
Best review:
Tom Naughton, 5*, 10/05/2018
"Seeing someone's face light up when they hear this old man's phone speak to them in their language – it's one of the best moments ever. Walls come tumbling down – it's amazing. Thank you Google."
Most honest review:
Dr. Suman Kumar, 3*, 21/05/2018
"Google translate is one of the great app I have, but… I cannot use camera translation for ARABIC to English. Whenever I tried it showed "Camera translation is not available for this language pair"…"
Data Usage:
5/10. This app does take a fair amount of memory, but you only download the language you need. Don't worry too much about storing an international dictionary on your phone.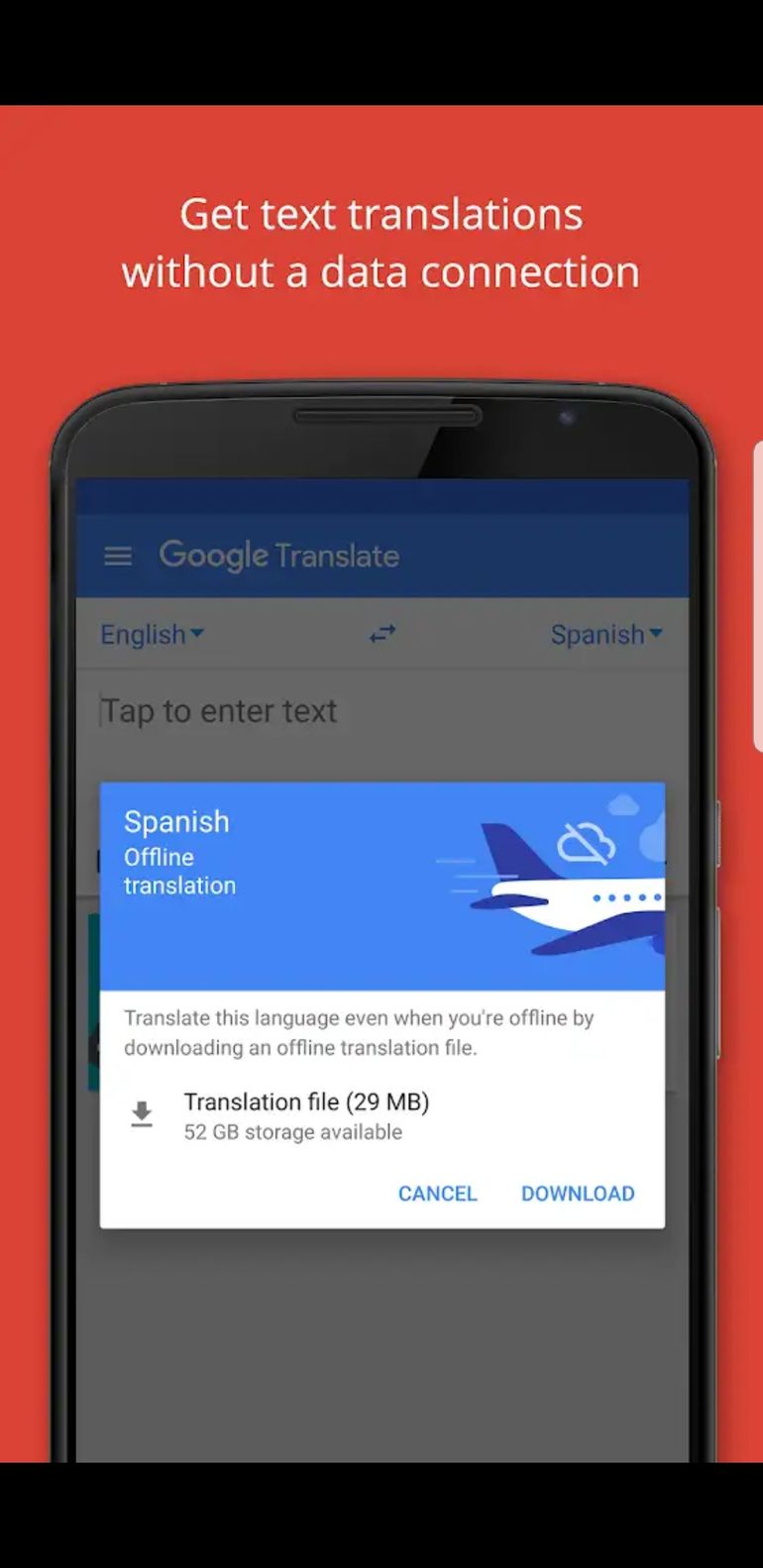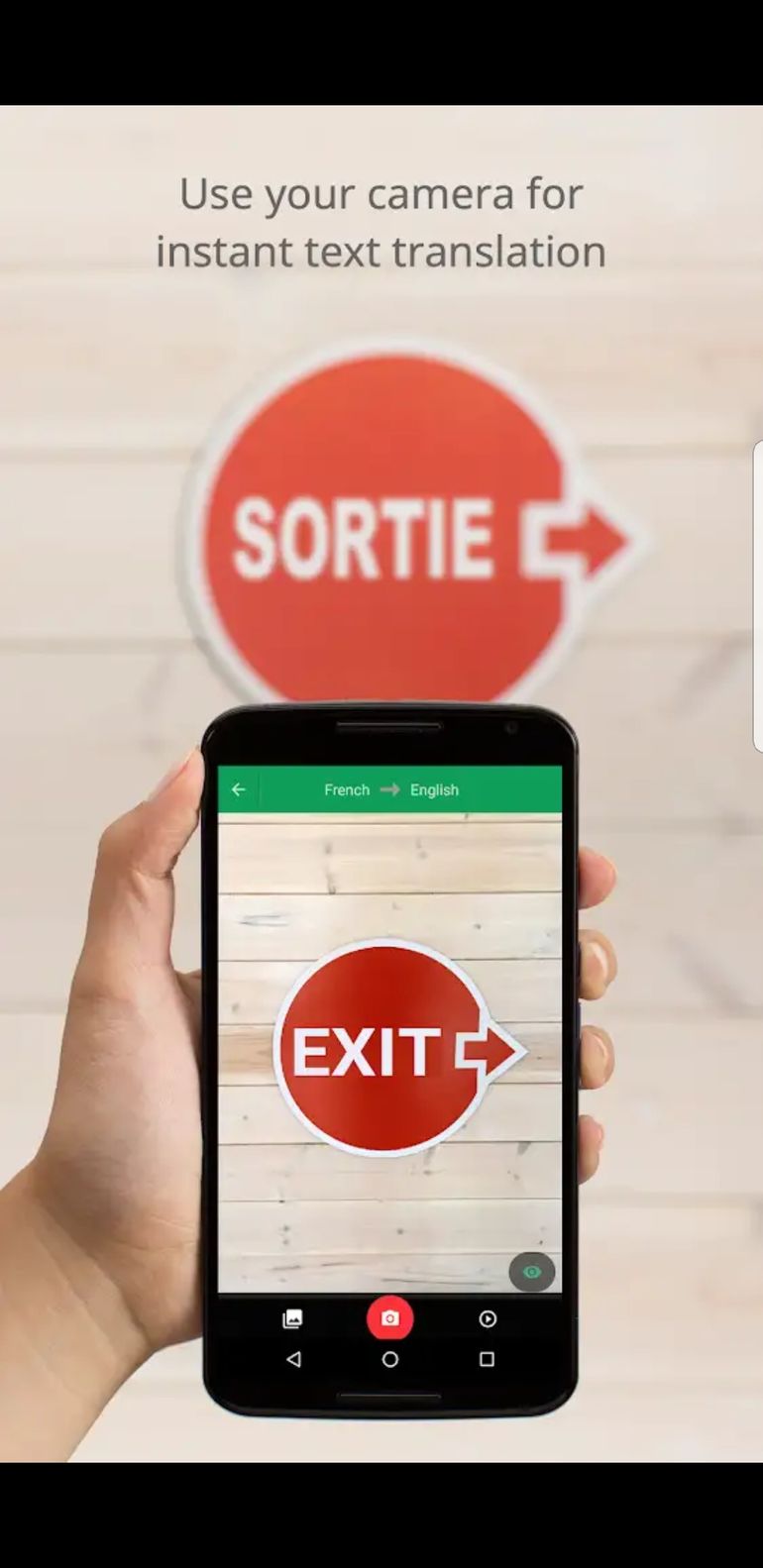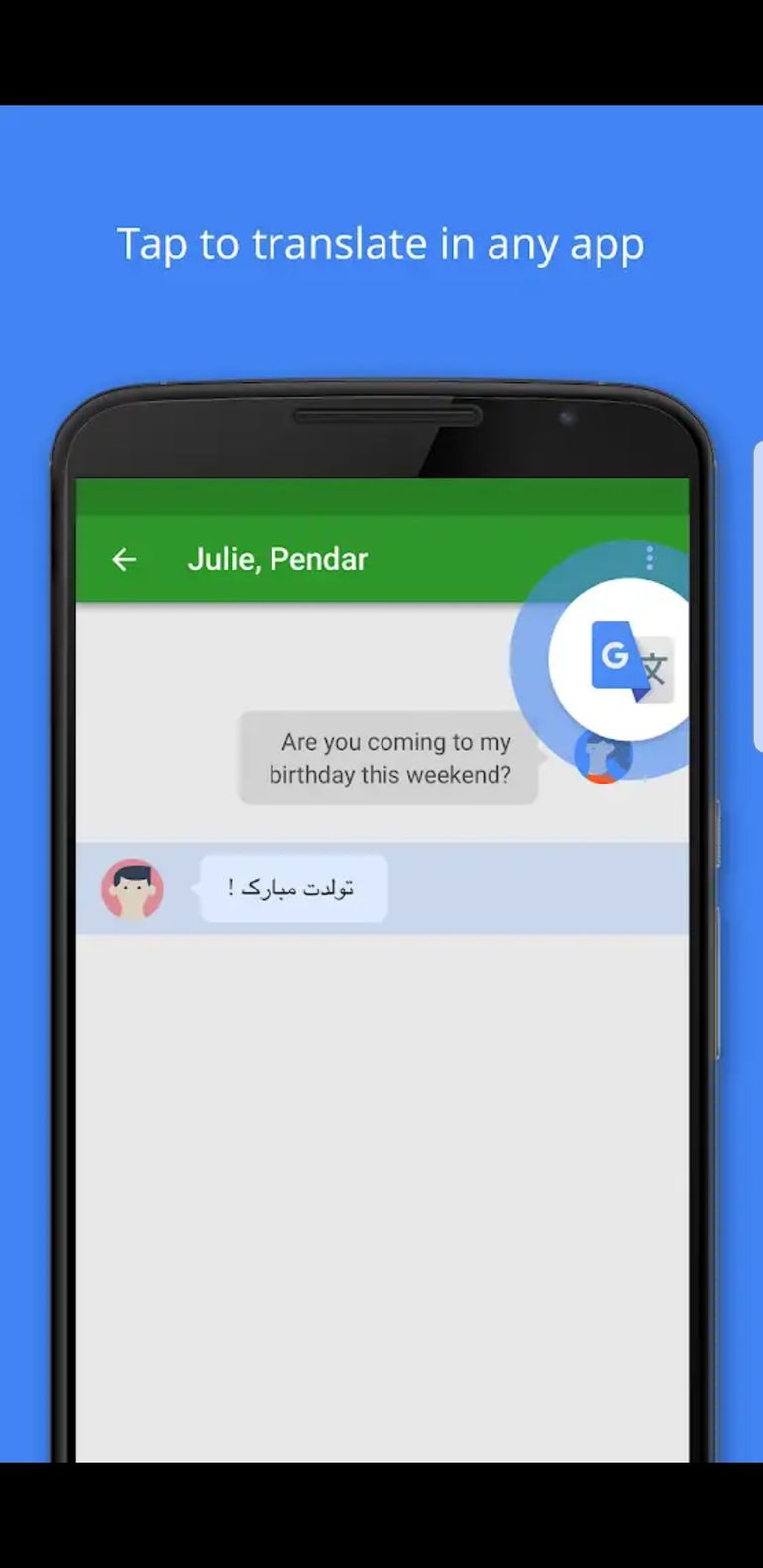 Worthy mentions:
| | | |
| --- | --- | --- |
| Duolingo | 4.7 ⭐ | 100M+ downloads |
Duolingo. This app had to have a mention because it helps you get a better native understanding of the language.
Google translate purely gives you the sentence in your chosen language, whereas Duolingo educates you in the language you chose. It can explain variations of the word, what the cultural connotations are, what different plurals and singular terms are and help conjugate it depending on who you are talking to or with.
In our opinion, Duolingo is a better 'language' app whereas Google Translate is a better 'translation' app.
---
Bonus App – Flight Delay Compensation: Colibra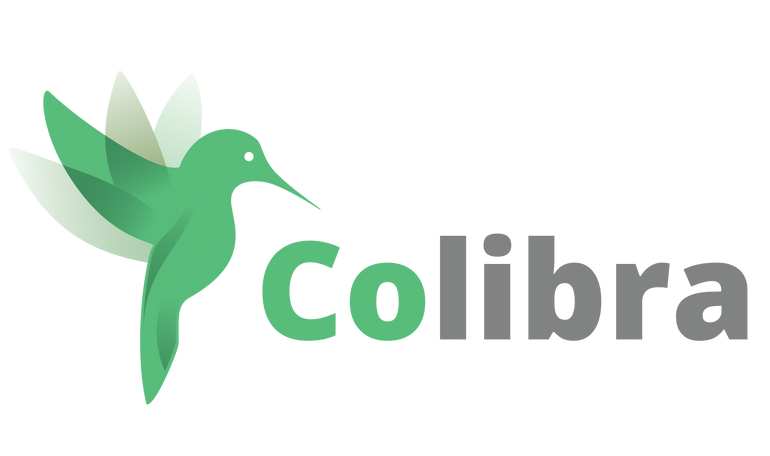 Colibra arrange compensation payments to passengers whose flights have been cancelled or delayed by more than an hour, regardless of the reason.
You'll need to download, register and upload your boarding pass before your scheduled flight to reap the benefit however, it's not something you can do retrospectively. That being said, if the worst should happen, Colibra will have your compensation to you within 24 hours of landing, without the need for lengthy claim processes.
Top App:
Best features:
Use the in-app flight tracker to keep up to date on your flight information.
Store your Boarding Pass in the Wallet for ease of use.
Real-time info on gate changes and delays straight to your phone.
Choose your payout terms.
Best review:
Plamen Shkodrov, 5*, 20/05/2019
"Great idea! Very pleasing and easy to use interface. Definitely recommend!"
Most honest review:
Daniel Jaffal, 1*, 31/12/2019
"I haven't gotten the chance to use the app yet, but when I installed it, it asked if I want to be reminded to use it whenever I am near an airport, so I said yes. Well I live 1 km away from one, and now I am constatly receiving notifications about that, and worst part, there is no settings button to change that preference."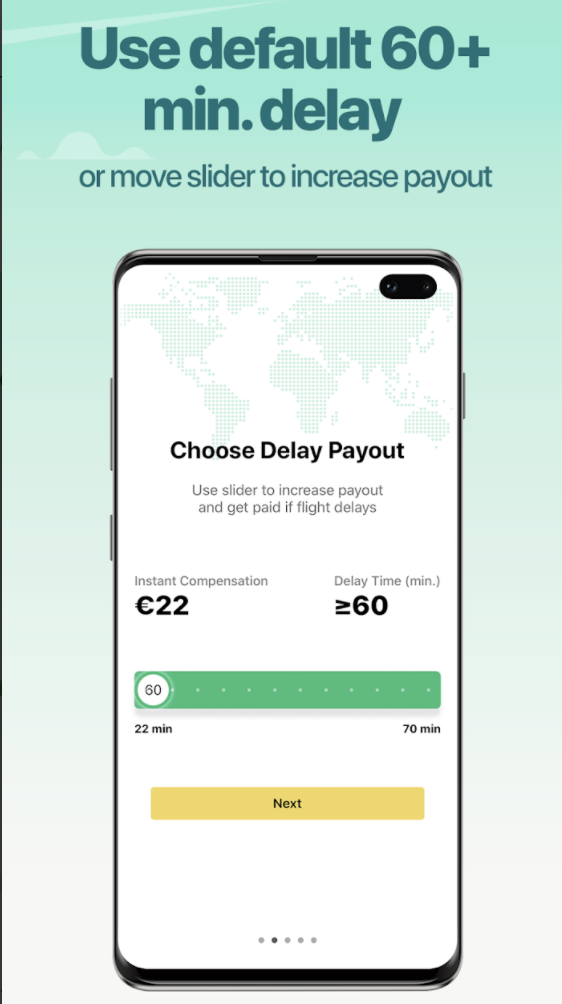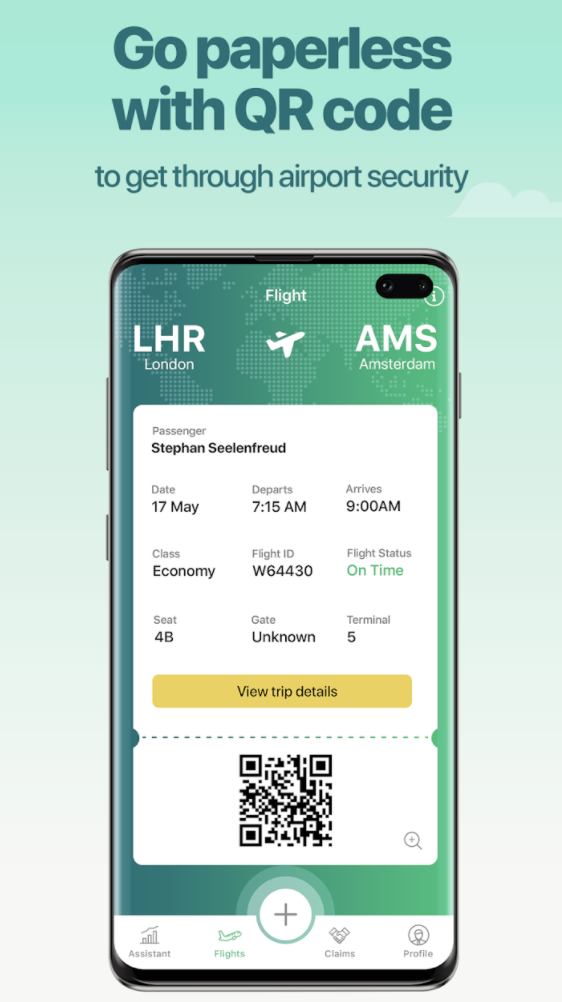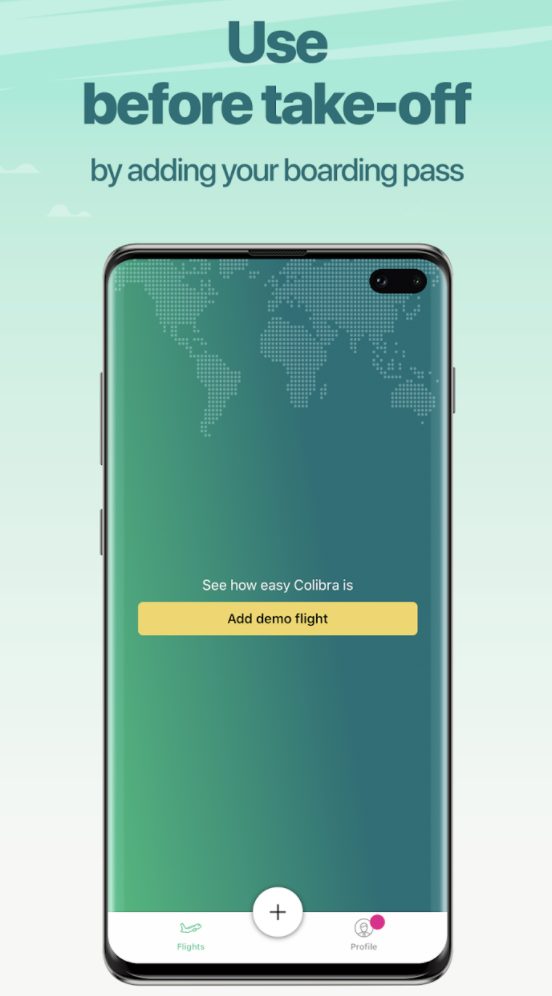 From the whole team here at Airport Parking Shop, we hope you have a wonderful break away.
Don't forget to look up from your phone every once in a while to enjoy the real life around you!