Flying with babies and toddlers. How to survive?
15 Jan, 2020
Franki Napolitano
39 Comments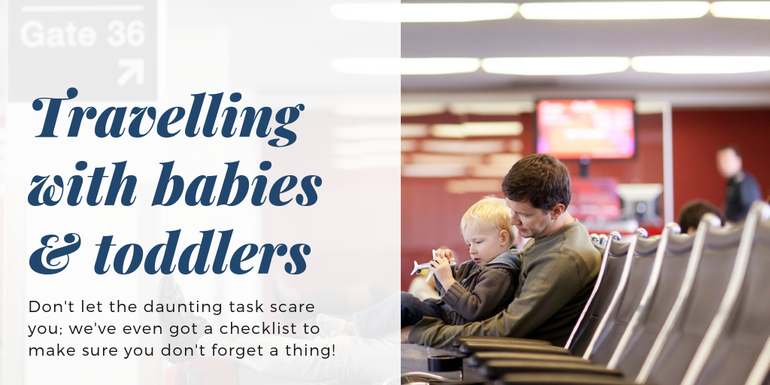 If your offspring hasn't reached the school age yet, you may find yourself looking for a sunny mid-year break at pretty much any time of year. Buckets and spades (and even a sun hat!) still stand a good chance of giving your little one a quality time in the September sun. If you are flying with babies this autumn and booking your first trip abroad with your baby, or a toddler, you might find the packing process overwhelming. Here we share some our tried and tested tips to help make the journey easier and stress-free.; we've even included a free downloadable list of items to pack to make sure you don't miss anything!
Can I take baby milk through security?
Yes, you certainly can! The quantity is restricted though; in your hand luggage, you can take up to 2,000ml of breast milk / sterilsed water, but your baby must be present. You can't however take frozen milk through, but you can take it in your hold luggage. If you're taking your own supply, most restaurants and bars will be happy to warm it up for you, so don't be afraid to ask!
Some powdered milk manufacturers also sell ready-to-use cartons (usually 200 ml) which, if sealed, can normally be taken through security (always check with the airport you are travelling from). For example, people travelling from Gatwick Airport are advised to carry the amount of baby milk required for the journey in their hand luggage, and the rest should be packed in the checked-in baggage. Remember, you can always buy ready-to-drink milk from places like Boots in airport departure lounges if you'd rather not take lots through with you; you can even pre-order it to ensure it's there!
What about baby scissors; can I take those through the airport?
If you are a well-organised parent who always carries a small pair of scissors to open milk cartons, you may need to check with your airport whether you will be able to take those on board. According to London Heathrow Airport website you can take nail scissors in your hand luggage providing the blades are no longer than 6 cm measured from the point where the blades cross, whereas Gatwick Airport Security Guidelines also state the blunt scissors shorter than 6 cm should also have rounded ends if you want to take them in your hand luggage. It's probably best to check the up-to-date lists of prohibited items on official sites such as Gov.uk.

Can I take a pushchair on the plane?
Most parents will understandably be very protective of their baby carrying equipment and go to great lengths to avoid any possible damage to prams, pushchairs and car seats. In most cases you will be able to take your child's pushchair, pram or buggy to the departure gate, or even right up to the aircraft door and it won't have to be tossed about with other suitcases on the way from check-in to the aircraft.
Please note that your child might need to come out of the buggy for a while when you go through security checks and the buggy might be checked separately. However, it's wise to check the arrangements for carrying pushchairs onto the aircraft and returning them afterwards with the airline you will be flying with.
Airlines have different rules of what can be taken and at what cost, in fact that alone can be key when selecting what airline to fly with. Here's a list of some of the airlines that fly out of UK's airports and what their policies are with regard to taking pushchairs (and travelling with infants in general).
Airline Guidelines on travelling with children*:
British Airways – Information on reserving your seat, getting a carrycot and child seat supplied by BA, as well as children's and infants' baggage allowances.
Flybe – Details about taking pushchairs, as well as rules and regulations for unaccompanied children.
Monarch – Find out details of luggage allowances for infants and toddlers and information on the Travelchair, a specially designed chair for disabled children to use.
Emirates – A guide to flying with young people.
easyJet – The airline's Flying with Children Guide.
Ryanair – Find out about taking infant equipment, boarding, and services available to parents flying with infants.
Wizz Air – What you need to know when booking tickets for infants and children with Wizz Air.
Aer Lingus – Covers various aspects of family traveling with Aer Lingus.
Iberia – The guide is split into different sections based on your child's age.
Lufthansa – The guide contains the airline's own travel checklist.
Swiss Air – Informative page of information based on your child's age.
Austrian Airlines – Tips on bookings, infant equipment and rules for children traveling alone.
Air France – Find advice for travel with infants and children.
KLM – Equipment, children's meal information, play packages and Junior Set Service.
Virgin Atlantic – Family Flying information.
Air Canada – Contains a useful table of booking, ticketing and seating rules for infants.
Qatar Airways – Child baggage allowance and fares information.
*Use the above guides to find out details and policies on taking car seats for your trip.
Please note that some airlines require that you take a fully collapsible umbrella-style pushchair, which, especially if you are travelling on your own with your offspring, might be difficult to fold while holding the baby. Trying to fold it yourself with a baby strapped in a front carrier, whilst leaning forward to do it is a challenge to say the least. Having a one hand fold / unfold stroller would be best but not all pushchairs on the market are that easy!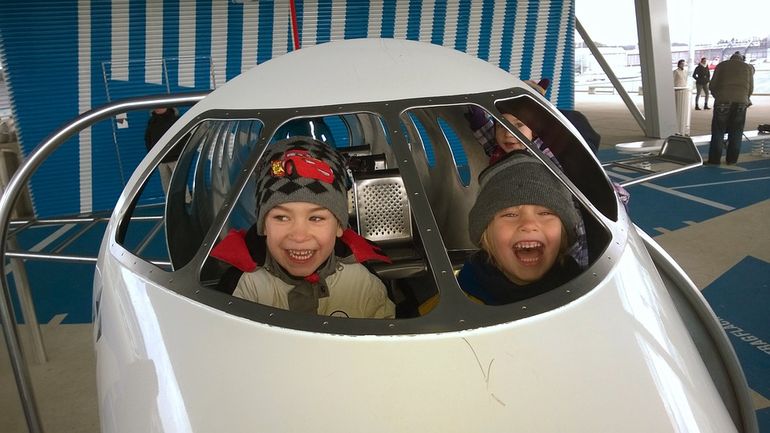 What food can I take on the plane for my child?
You probably know this already, but a small snack at the right time can do wonders to your toddler. Always pack something to eat. Need ideas? Small packets of raisins, rice crackers, bread sticks, dried banana chips, sliced apples, rusks – anything that isn't too runny or requires a spoon is great. You don't want the passenger in front of you to find your child wiping messy hands onto their hair (as infants under 2 years old have to be held on parent's lap and they will try to make the most of it!).
If your precious bundle of joy is still breastfed, take a scarf or a wide shawl for privacy. Some airports have dedicated Mother and Baby rooms where you can nurse in private if you prefer. For example, Gatwick Airport has great facilities where armchairs and playpens are provided for older children when their mum is feeding the baby; however, if you have to breastfeed on board, try to get the window seat – you don't want people bumping into your baby's feet or the head if you are sitting in the aisle seat.
How do I keep my child entertained on a flight?
Some mums swear by giving their baby a glossy magazine to tear while on the plane. Colourful pictures, noisy page turning, excitement – and you can chuck it afterwards. Toys and books are always good to have, however if you are flying with a child younger than 2 years and you have to keep them on your lap throughout the journey, it might be a bit of a stretch to keep picking up that ball that rolls down the aisle every 3 minutes. For the younger ones entertainment try taking a toy chain, hooking it onto the foldable tray (or your own seatbelt belt) and then using that to secure the toy (preferably with some hoops / rings). Crayons and a small sketchbook are ideal for older children. Our guide to keeping children entertained on longer journeys offers a wide range of ideas for kids of all ages.
Be prepared for the mess; have a spare set of clothes (for both of you!)
Be prepared, this will be messy. If you expect to exit the plane at the end of your plane journey wearing crisp cream linen trousers or that floaty white silk blouse, think again. We'd suggest wearing something that can double as a burping cloth (for babies) or a handkerchief / wipe / kitchen towel for toddlers. We have seen mums change in the bathrooms as soon as they land, so if your hand luggage space allows it, have an extra change of clothes for yourself . It goes without saying that you HAVE to have an extra change of clothes for the child! Choose clothes for the little one that you can layer easily, and peel them off if needed! Especially if you are travelling to a hot climate and the heat will hit you as soon as you step out of the plane.
What about nappies and wipes, can I take those?
For babies and toddlers, take as may nappies, pull ups and baby wipes as you'd like in your hand luggage; we'd always suggest taking a couple more than you normally would carry in your nappy bag just in case your hold luggage is delayed or you have an emergency! You probably already wonder how you managed to live without baby wipes before becoming a parent, but a plane journey is the time and place where you will absolutely worship the inventors of them.

How best to pack for babies and toddlers
Try and distribute key items between various bags, so if there's a small chance of losing one bag, you can survive with only having the other. Another tip is to start packing in advance; a week before your trip, open your main suitcase, leave it somewhere easily accessible and start collecting all the things to take as you go along, don't worry about the order yet. As time goes on you will get the feel of the volume of your luggage and won't need to stress the night before when it turns out you can't fit it all in! The days when you could throw a few essential items into your hand luggage and not even worry about a check-in bag are over for a while, and you'd be shocked to realise your baby has more outfits for the holiday than the parents put together.
What should go in my hand luggage and what shall I put in my checked bag?
You will say it's impossible but keep your hand baggage to a minimum. Hats off to people who travel with their baby or a young child on their own. If you are a first-time parent and this is your first flight with a baby, forget your previous life where you could sit back, relax and read a book. You won't need the book, you have all the entertainment you need! So reduce your hand luggage by removing items that you know you won't have a chance to use on the plane.
However cutting down is easier said than done. Here's a checklist of baby/toddler items you should take with you split into two groups – items that should go into your hand luggage and items that can go into hold.
Follow this link to our Flying with a Baby Packing Checklist Document to make sure you don't forget anything for your little one!
One thing in the list we thought we'd highlight – if you're taking your child on a trip within European Union make sure you apply for an European Health Insurance Card (EHIC) for the little one. If you don't have an EHIC as an adult yet it's worth getting one for yourself and you'll be able to add your child to the initial application; however if you are already an EHIC holder you will need to phone them on 0300 330 1350 and provide your child's details so that an individual card is posted to your home address.
Finally; the best lugagge to take as a parent?
Hands down, it's got to be a backpack as your hand luggage; if you don't see it, it doesn't need to use up your hands! Another space-saving and hands-freeing piece of equipment is a front baby carrier. The combination of a backpack and a baby carrier is an absolute must if you are travelling with the little one on your own. If all else fails, ask people for help. You'll be surprised who will be around to help you out be they airport staff or fellow travellers.
Older children will be able to take their own backpacks on board with their toys and books, and it will be much easier to spread the load. They will also enjoy 'feeling the part', carrying a backpack just like Mummy or Daddy.

Feeling ready to travel with your baby?
Good, it's now time to relax. Take a deep breath and go with the flow, it will be a lovely journey after all; be confident in the knowledge that you know how to survive flying with babies and toddlers!