Have breasts, will travel : Only 43% of airports confirm dedicated breastfeeding facilities
21 Jul, 2021
Alice Fowler
19 Comments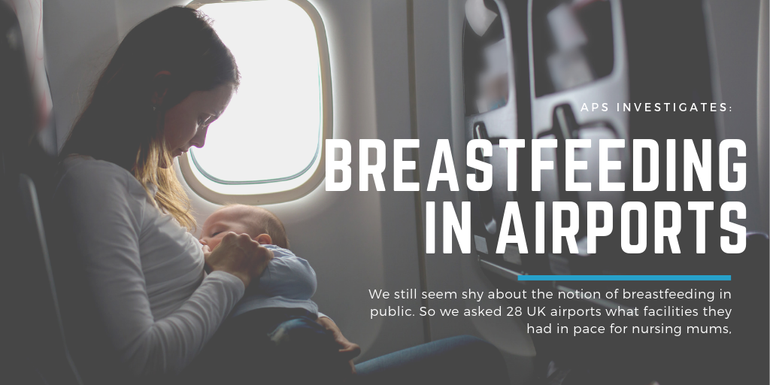 Back in 2015, we ran an experiment with airports in the UK and Ireland and in May 2021, we ran it again to compare results. Initially, we wanted to see if the UK and Ireland's airports were loud and proud tweeters, or simply the begrudging "we tweet because we have to" kind of crowd. Secondly, we didn't just want to ask them some benign question that no one cared about; we wanted to ask them something that really mattered. Something that's not always obvious from a quick trip to their website.
So we asked 28 UK and Irish airports via Twitter:
"Do you have dedicated mother and baby rooms for nursing mums?"
The results, needless to say, were very interesting. Below, you'll find the 2015 results compared to the same experiment carried out in May 2021 to see if there were any changes or developments in the answers.
This time we took to good old Facebook Messenger, Twitter and Direct email addresses to ask the question;
"Do you have private facilities for mothers to breastfeed in?"
Often with very quick responses! If you want further information, simply click the 🤱 where it's listed below to be taken to the relevant page on the airport's website.
"Does my airport offer private breastfeeding facilities?"
| | | |
| --- | --- | --- |
| Airport | Facilities back in 2015 | Facilities now in 2021 |
| Aberdeen | Baby change facilities both landside and airside, with nursing facilities landside. | "We have a dedicated facility for breastfeeding landside (before you go through security) in the terminal. We also have baby changing facilities both landside and airside." |
| Belfast City George Best | No dedicated rooms but many quiet and comfortable seating areas. | They do not have a private breastfeeding area but mothers are welcome to feed wherever they feel comfortable throughout the departure lounge. |
| Belfast International | No reply | They don't currently have a specific place for breastfeeding however they do have seating in the baby changing facility. |
| Birmingham | Neither their Twitter response nor website provided relevant information. | There are a number of family rooms located around the terminal that can be used for feeding. 🤱 |
| Bristol | Facilities located throughout the terminal. | Every set of toilets has a parent and baby room which you are welcome to use for feeding your child. If you require any further assistance, please do not hesitate to get in touch or speak to a member of staff at the airport. |
| Cardiff | A room on 1st Floor Departures, but welcome to feed wherever. | "You can use the ladies/baby change areas" |
| Dublin | All baby changing facilities have seating within the unit. | There are baby feeding rooms in both terminals, introduced in 2017. 🤱 |
| East Midlands | Dedicated baby changing rooms with seating for nursing adjacent to men's and ladies' toilets both before and after security. | Same response as 2015, with the addition of "Please note that we promote feeding across our site and don't restrict where this can take place." |
| Edinburgh | We have quiet rooms in the toilets in UK Arrivals, Gate 12, Gate 19 and just after Immigration. | Similar to 2015; "We have baby changing facilities around the airport and quieter spots if you'd prefer." |
| Exeter | No reply | No reply – still waiting |
| Glasgow | We have a number of mother and baby rooms. You'll find more info in the "terminal facilities" section on our website. | "We have no dedicated area but speak to an ambassador on the ground and they can assist with giving access to certain spaces. There are baby changing facilities throughout the airport" |
| Humberside | We have baby changing areas within our ladies facilities. | "We do not have private facilities, however we would be able to allocate a quiet place, such as the Medical Room or even our Environmental Zone, which would allow you the privacy you require. Please come to the Information Desk and we will try and accommodate your request for privacy." |
| Inverness | No reply | "We have a feeding chair inside our baby change facility landside and airside at the airport." |
| Leeds | No reply | Nope, still no reply from these guys either |
| Liverpool | Just by the toilets both landside and air side (through security). | "We have a dedicated family room and a baby change on the Upper retail level. On the departure level close to Gate 2, you'll find a baby change station and another at Gate 30. There's also a baby change in international and domestic arrivals and a family room and baby change on the main check in/arrival concourse." – We love detailed responses! |
| London City | We do have baby changing rooms within the airport but no dedicated nursing rooms. | "There is a baby changing/feeding room before security, just past the lift on the right-hand side. If you require the facility after security, please ask a member of staff." |
| London Gatwick | Equipped rooms for feeding and changing babies are shown by either a bottle sign or a babycare symbol. | Same as 2015. For more detailed information click here: 🤱 |
| London Heathrow | We have dedicated family areas within our terminals. More info: http://bit.ly/1yINIhZ. Seating is available throughout the terminal and people are welcome to feed baby wherever they are comfortable. | Information is still correct. Visit the Baby Facilities drop-down section here for more info 🤱 |
| London Luton | Sorry, we don't, but if you contact a member of our passenger services team prior to security, we can find you somewhere you'd be able to get some peace and quiet. Please visit the desk in the concourse under the welcome sign for assistance. | They simply directed my enquiry to their website which says "If it's time to feed your little one, just ask one of our Passenger Service Assistants to guide you to the nearest spot for peace and privacy." 🤱 |
| Manchester | There are baby changing facilities available in the terminals. | Their website states that the ladies toilets have dedicated spaces to feed in but that they support feeding throughout the airport.🤱 |
| Newcastle | You can find a list of our facilities for babies and children on our website. (We've taken out the link they gave us as it no longer works!) | The facilities mentioned in 2015 are still available and they advised us that "If you approach a member of our passenger service staff whilst here, they will be able to take you to a private area available. Before security will probably be easier for you if you'd like privacy." Their site only references baby change facilities 🤱 |
| Norwich | Baby change facilities but no dedicated feeding rooms. | "Unfortunately we don't have the Private breastfeeding areas in our airport, but we do have the baby changing rooms." |
| Robin Hood / Doncaster Sheffield | Mother and baby facilities are before and after security, close to the toilets. | "We do provide baby rooms that have facilities to change and sort your baby out and most have a chair in. These are located as follows: 1 by WHS landside, 2 opposite WHS at the bottom of the corridor and another 1 by the children's play area." |
| Shannon | Yes we do, of course, nursing mothers can feed wherever they feel most comfortable. | "We have a designated feeding room past our information desk on the right-hand side, but we welcome mothers to feed wherever they feel most comfortable in the airport." |
| Southampton | Facilities on our main concourse have a nursing seat and facilities airside have baby changing (after Security). | Response is still the same, Southampton have a dedicated baby changing area. |
| Southend | No dedicated rooms. But there are areas upstairs and downstairs which are quite quiet both landside and airside. | We couldn't find specifics surrounding the facilities available but we found this article about the partnership between Southend Hospital and A Better Start Southend. |
| Stansted | In our departure lounge adjacent to the main toilet block there is a mother and baby room. | "You will find a breastfeeding room located in the main Departure Lounge – head towards the Escape Lounge. You will also find this facility in satellite 1 and 3 (depending on which gate you are travelling from)." |
| Teesside International | No reply | No reply…5 years later and still no available information. |
 This data was compiled in January 2015 and again in May 2021
It's all about privacy
Being a new mum can be quite an overwhelming experience, and if it's not your first child you may well have a toddler in tow. Airports are busy, daunting experiences at the best of times and trying to find somewhere to feed baby amongst it all can be pretty complicated.
Bear in mind back in 2010 it was made illegal for anyone to ask a mother breastfeeding in public to leave, so you could find a comfy seat and get on with it. This is more than acceptable, but the lack of privacy may not be for everyone, especially with there being so many different cultures within airports.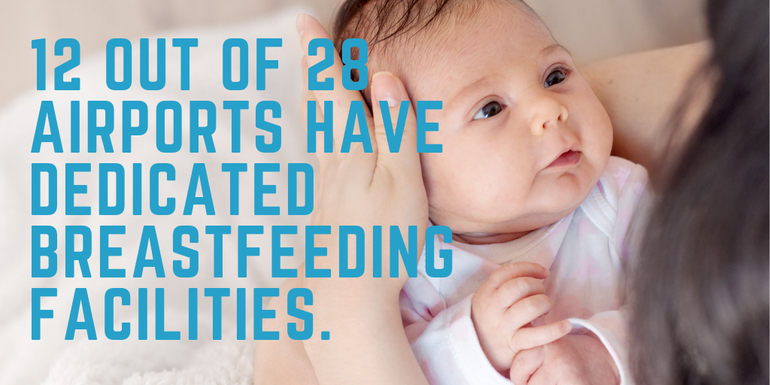 Disappointingly, only 12 out of the 28 airports asked replied that they had dedicated mother and baby rooms for nursing mums. That's around 43%. This is surprising given the number of families that are on the move nowadays and that this has only increased from 10/28 or ~40% in 4 years…
"Yes we do! Of course, nursing mothers can feed wherever they feel most comfortable. #familyfriendly #flyshannon" – @ShannonAirport
In 20015, Shannon, Southend, Cardiff, and Belfast City George Best all encouraged breastfeeding mothers to use wherever in the airport they felt comfortable, although George Best and Southend said they did not have anywhere dedicated. Today, It is still the case for George Best and Southend who are without dedicated rooms but advocate feeding wherever the mother feels comfortable.
Luton Airport admitted they did not have any, but went to great lengths to encourage us to speak to a member of the passenger services team who would find us a quiet room upon arrival and this was still the case during our 2019 research.
And the award goes to…
East Midlands, Gatwick, Humberside, Liverpool and Shannon all win our award for the "Best Response" – offering helpful, detailed information in a timely manner, and actually answering our question in full. If you're a nursing mum, there should be no worries travelling through these airports!
Birmingham Airport is in receipt of both our "Needs Improvement 2015" award and "Most Improved 2019" – their rather mediocre response in 2015 was:
"we do, please follow this link to our website for details;" – @bhx_official
Which provided a (now broken) link to the Special Assistance page..!
However having spoken to them 4 years later, they advised that "There are a number of family rooms located around the terminal that can be used for feeding". Nice one, Birmingham!
Finally, the "Was It Something We Said?" award goes to Durham Tees Valley, Exeter, Inverness and Leeds Bradford who didn't respond in 2015 and haven't yet responded to our 2019 request. Come on guys, it's been 4 years!
Airports doing breastfeeding mothers proud.
A special mention must go out to Southampton Airport who replied with this lovely photo of one of their mother and baby rooms in 2015: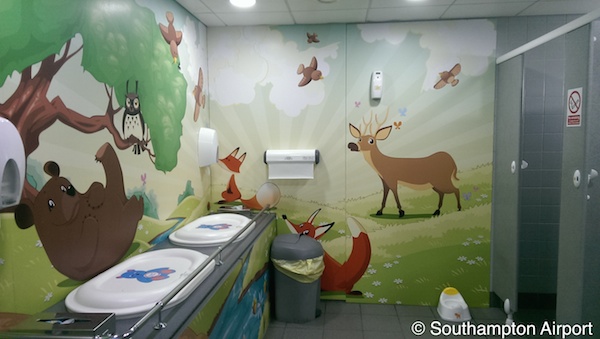 And one should also go to Dublin Airport for showcasing their 2 dedicated Baby Feeding Rooms, built in 2017.
Let's also give a huge "Thank you!" to Aberdeen, Bristol, London City, Heathrow and Stansted for all mentioning they had dedicated breastfeeding or family rooms available in the terminal!
More UK airports need dedicated breastfeeding facilities.
Overall, we were impressed at the response rate, however, we're a little disappointed that there wasn't really any vast improvements in the number of airports with dedicated facilities! Let's hope the next time we revisit this subject that the number of UK airports with a dedicated breastfeeding facility has risen closer to 20!