Have breasts, will travel – less than 40% of airports confirm breastfeeding facilities
27 Jan, 2015
Alice Fowler
19 Comments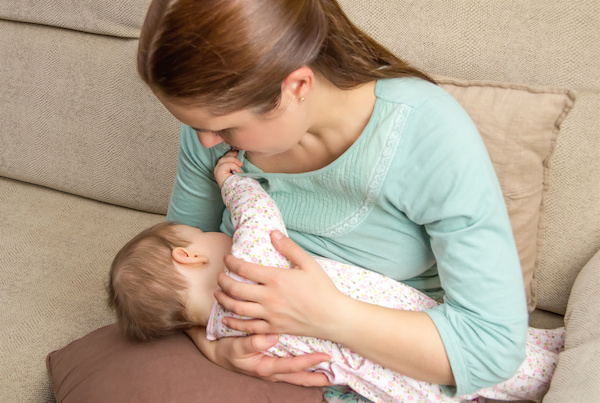 It's 2015. It's the year that Back to the Future suggested we would have hoverboards and flying cars. This may not be the case, but it's certainly about time airports came into the 21st century, and we headed to Twitter to find out if that was the case.
Firstly, we wanted to check out if UK and Ireland airports were loud and proud tweeters, or simply the begrudging "we tweet because we have to" kind of crowd. Secondly, we didn't just want to ask them some benign question that no one cares about, we wanted to ask them something that really mattered. Something that is not obvious from a quick trip to their website.
So we asked 28 UK and Irish airports via Twitter:
"Do you have dedicated mother and baby rooms for nursing mums?"
The results, needless to say, were very interesting. Take a look at our summary of airport facilities according to their responses, and discover exactly what we found out.
| | |
| --- | --- |
| Airport | Facilities |
| Aberdeen | Baby change facilities both landside and airside, with nursing facilities landside. |
| Belfast | No reply |
| Belfast City George Best | No dedicated rooms but many quiet and comfortable seating areas. |
| Birmingham | Neither their Twitter response nor website provided relevant information. |
| Bristol | Facilities located throughout the terminal. |
| Cardiff | A room on 1st Floor Departures, but welcome to feed wherever. |
| Dublin | All baby changing facilities have seating within the unit. |
| Durham Tees Valley | No reply |
| East Midlands | Dedicated baby changing rooms with seating for nursing adjacent to men's and ladies' toilets both before and after security. |
| Edinburgh | We have quiet rooms in the toilets in UK Arrivals, Gate 12, Gate 19 and just after Immigration. |
| Exeter | No reply |
| Glasgow | We have a number of mother and baby rooms. You'll find more info in the "terminal facilities" section at http://t.co/i1HpFhnZYg. |
| Humberside | We have baby changing areas within our ladies facilities. |
| Inverness | No reply |
| Leeds | No reply |
| Liverpool | Just by the toilets both land side and air side (through security). |
| London City | We do have baby changing rooms within the airport but no dedicated nursing rooms. |
| London Gatwick | Equipped rooms for feeding and changing babies are shown by either a bottle sign or a babycare symbol. |
| London Heathrow | We have dedicated family areas within our terminals. More info: http://bit.ly/1yINIhZ. Seating is available throughout the terminal and people are welcome to feed baby wherever they are comfortable. |
| London Luton | Sorry, we don't, but if you contact a member of our passenger services team prior to security, we can find you somewhere you'd be able to get some peace and quiet. Please visit the desk in the concourse under the welcome sign for assistance. |
| Manchester | There are baby changing facilities availble in the terminals. |
| Newcastle | You can find a list of our facilities for babies and children on our website. Hope this helps – http://www.newcastleairport.com/babies-children. (Link only mentions baby changing facilities) |
| Norwich | Baby change facilities but no dedicated feeding rooms. |
| Robin Hood | Mother and baby facilities are before and after security, close to the toilets. |
| Shannon | Yes we do, of course, nursing mothers can feed wherever they feel most comfortable. |
| Southampton | Facilities on our main concourse have a nursing seat and facilities airside have baby changing (after Security). |
| Southend | No dedicated rooms. But there are areas upstairs and downstairs which are quite quiet both landside and airside. |
| Stansted | In our departure lounge adjacent to the main toilet block there is a mother and baby room. |
 This data was compiled between the 16th – 23rd January 2015.
It's all about privacy
Being a new mum can be quite an overwhelming experience, and if it's not your first child you may well have a toddler in tow. Airports are large, busy, daunting experiences at the best of times and trying to find somewhere to feed baby amongst it all can be pretty complicated. Bear in mind that as of 2010 it is illegal for anyone to ask a mother breastfeeding in public to leave, so you could find a comfy seat and get on with it. This is more than acceptable, but the lack of privacy may not be for everyone, especially with there being so many different cultures within airports.
Disappointingly, only 10 out of the 28 airports asked replied that they had dedicated mother and baby rooms for nursing mums. That's less than 40%. This is surprising given the number of families that are on the move nowadays.
"Yes we do! Of course, nursing mothers can feed wherever they feel most comfortable. #familyfriendly #flyshannon" – @ShannonAirport
Shannon, Southend, Cardiff, and Belfast City George Best all encouraged breastfeeding mothers to use wherever in the airport they felt comfortable, although George Best and Southend said they did not have anywhere dedicated. Luton Airport admitted they did not have any, but went to great lengths to encourage us to speak to a member of the passenger services team who would find us a quiet room upon arrival.
And the award goes to…
East Midlands, Gatwick, and Shannon all win our award for the "Best Response" – offering helpful, detailed information in a timely manner, and actually answering our question in full. If you're a nursing mum, there should be no worries travelling through these airports!
Birmingham Airport is in receipt of our "Needs Improvement" award – they needed a second tweet to get a response in the first place, and when it came it was rather mediocre:
"we do, please follow this link to our website for details; http://bit.ly/1ztjYar" – @bhx_official
The page they sent us to is also the wrong link – feeding baby may be a slight inconvenience but I don't think it classes as caring for the disabled? Although great to know that they do have a Changing Places toilet. Sorry Birmingham!
A special mention must go out to Southampton Airport – they did take two tweets to get a response but when they did they replied with this lovely photo of one of their mother and baby rooms: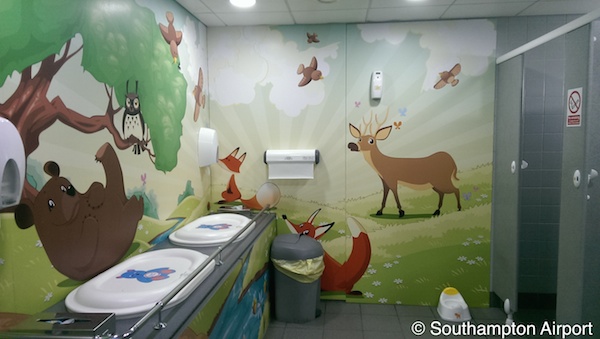 Little details make the biggest difference
How cute is that?! Their landside mother and baby room is equipped with a nursing chair.
Now let's take a look at the nitty gritty – how all the airports actually performed in terms of social media.
We tweeted a total of 26 UK and 2 Irish airports. Of these 28, we had an 82% response rate, with only 5 airports not responding at all. 8 airports required a second tweet to get a response, however, our initial tweets were sent out late afternoon on a Friday, so it might have just been wrong timing. Take a look at our infographic to see the total stats: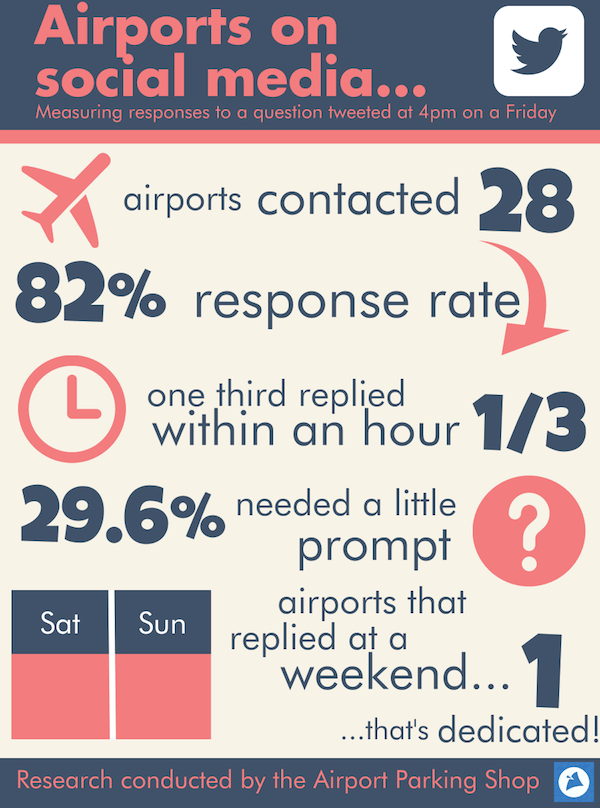 The UK is a bit of a front runner when it comes to how airports deal with social media; in a compilation of worldwide airport Twitter accounts with the most followers in December 2014, 6 of the airports we tweeted made it to the top 10. Both Heathrow and Gatwick also made it into the top 10 airports with the most interaction on Twitter in December 2014. Given this, we'd hope for fairly prompt, useful information.
Always read the question carefully…
Out of those who replied (23 out of 28), 7 didn't even answer the question properly, either redirecting to their website where the information was not always available, or answering regarding baby changing rooms. Baby changing rooms may be a viable option for nursing mums but unless they specified that these facilities had nursing seats or other options available, it was not answering our question at all.
Overall, we were impressed at the response rate, however the information provided in most cases needed a little more thought and attention to the question. Customers are not going to like being pigeonholed into the rough topic that the airport thinks the query relates to, especially when there is no guarantee that a baby changing room contains the facilities or environment for feeding baby. Hats off to East Midlands for replying at a weekend, and to Shannon for getting in some relevant hashtags in there, but we are still awaiting replies from Belfast International, Exeter, Durham Tees Valley, Inverness and Leeds. If you are looking for somewhere quiet to breastfeed at an airport we hope this research has helped; as disappointing as it is that there are so few dedicated facilities!