Your future airport: Technology innovations changing our journeys
20 Jul, 2021
Alice Fowler
1 Comment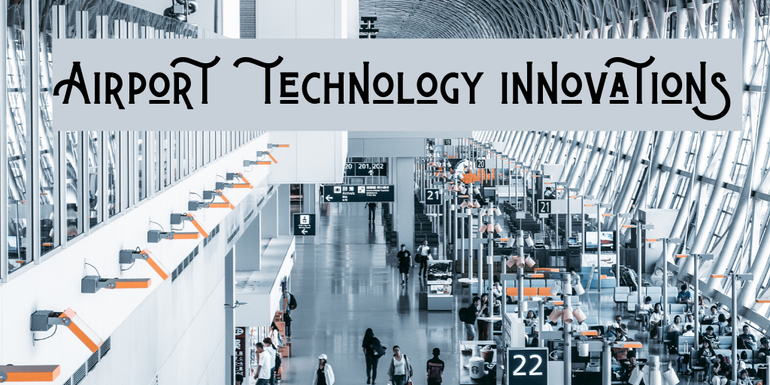 It seems technology is constantly moving at break-neck speed, and this certainly doesn't exclude the travel sector! We take a look at some of the recent airport technology innovations.

Airport Parking Innovations – Robot Valet Parking
If you've gone away recently and have parked your car at the airport, you'll know that depending on the service you book, how you actually park your car can vary. If you've booked a valet/meet and greet service then someone else takes your car away and parks it for you, and some long stay car parks will do the same. Short stay and some long stay car parks often mean driving around with a keen eye watching for a free space, although this does mean you get to keep your keys!
A new innovation from Stanley Robotics has introduced "Stan" – a friendly looking robot that parks your car for you. With all the relevant information at its mechanical fingertips, you simply park your car, and Stan will collect it and park it separately. This means that car parks can run as efficiently as possible, as Stan will know where to put the car in relation to when it will be needed again.
Stan family is growing again! These two are now ready to join Gatwick Airport 🤖🤖🇬🇧 pic.twitter.com/zapUa2uEYK

— Stanley Robotics (@StanleyRobotics) July 26, 2019
This will free up spaces in car parks and allow staff to effectively manage the comings and goings of passengers. Stan will have flight details for each passenger, so in the event of delays or cancellations, the robot will be able to adjust the schedule accordingly.
This innovative approach to parking is being trialled at Charles De Gaulle airport in Paris, and recently Gatwick have announced that it will now trial the system too. They will be allocating a certain number of spaces for Stan to operate and if it goes well, they'll expand! It seems we may see quite a few more airports trialling this scheme from Stanley Robotics in the near future.
Not to mention, this Airport innovation is very good for the environment too because it gets rid of the passenger traffic in the car park and the robot is operated on an electric engine so it doesn't produce any harmful gasses!
AIRSTAR Robots at Incheon Airport
Speaking of robots, they're not just parking your cars! At Incheon Airport in South Korea, AIRSTAR is a friendly-looking robot that can check you in by leading you to the correct check-in desk, as well as update you on wait times in the departure hall and speak to you in several different languages.
It seems more and more likely that robots will become a large part of our journey through the airport, whether it's parking your car or guiding you to your check-in counter!
Meeting #Airstar the Robot at Seoul Incheon Airport #voicerecognition #CustomerService #Robotics pic.twitter.com/6soOrjYAQe

— outi asmi (@outi_asmi) October 28, 2018
Innovation meets sustainability – Green Airports of the future
More and more these days we're turning a critical eye to the impact of our actions and this includes airports. Boston Logan International is a prime example of this, as they are proud winners of the Leadership in Energy and Environmental Design. With heat-reflecting materials used in the construction of Terminal A, wind turbines and an environmentally friendly asphalt on the runway, they have certainly tried to make headway towards being a more sustainable airport.
Did you know: From environmentally conscious building design to the creation of parks and green space, Massport is always working to increase sustainability and resiliency. 🏙🌳#SustainableMassport pic.twitter.com/HfMjmTm9Uf

— Massport (@Massport) December 2, 2019
Oslo in Norway have followed suit with a recycled approach to their new terminal expansion. Sustainable timber was used along with reused steel and an environmentally friendly concrete mixture. In fact, they're so passionate about their "recycled" approach that they recycle the winter snow to use in the summer to act as coolant! Now that's ingenious.
Many other airports are now putting this on their agenda, so we should see great innovations at airports to improve their sustainability.
Augmented Reality guiding you around Gatwick Airport
Using Augmented Reality and over 2000 beacons positioned around the airport, your experience going through Gatwick is about to become far simpler. By downloading the app your journey through the airport becomes a much more pleasant prospect, with AR guiding you to where you need to go, and sending you notifications about the airport and your flight. It could even enhance your shopping time as there could be the possibility for retailers to push special deals and announcements to passengers.
#tech Gatwick Airport launches indoor navigation system to help passengers find their way https://t.co/ABXNG1a1hd

— Digital Times (@DigitalTimesApp) May 25, 2017
This app could have big implications for travellers who find the airport a huge and daunting environment. Listening for announcements, trying to find your way around the endless signage, and moving through the crowds can all be challenging at the best of times. As we've explored before, passengers who are hard of hearing, are affected by autism, mental health problems, and other issues all find such situations at the airport more difficult than others. This app could help them through the maze and reduce stress around the whole trip.
Airport technology innovation that truly looks to reduce the unpleasant aspects of flying – we are definitely on board!
Changi Airport leading the way in airport innovation
There's a reason that Changi Airport has won the World's Best Airport Award for the fifth year in a row , with innovative additions such as a rooftop swimming pool, dedicated snooze lounges, gaming and movie zones, and much more. A layover at this airport seems less like a hassle and more like part of your holiday!
Tackling jetlag with this wondrous thing – Changi airport's rooftop swimming pool in 33C 🙂 pic.twitter.com/l7uip98wpN

— louise matthews (@Loumat33) July 10, 2016
It seems they can't just stop there, however, and are constantly pushing the limits on how technology can help the passenger, shown recently by more and more of the process being automated with brand new bag drop machines to accompany the already heavily automated check-in process.
They now want to encourage others to do the same, and so have set up a multi-million dollar project called Living Labs. This will enable companies and startups to develop technology to improve and advance the airport experience, with the opportunity to use the Changi Airport environment to test their new ideas. With such an impressive airport cultivating the next generation of innovations, we can't wait to see what they have in store!
Edinburgh Airport's Translation device – Pocketalk
Travelling is usually stressful but it can be made more stressful if you're travelling to a foreign country and you fear they won't understand your language. But you don't have to worry about that anymore if you're travelling through Edinburgh Airport!
They have recently rolled out their Pocketalk device that can translate up to 74 languages. Both staff and passengers alike can speak into the device speaking one language and it will be translated into the desired language through either speech or it will show it on screen. The device uses either your data or WiFi to translate 55 languages voice to voice, 19 languages from voice to text and another 37 language, some of which might be quite obscure, to also voice to text! So, if you're travelling through Edinburgh Airport, at least the language barrier won't be a concern anymore.
🗣️| In the spirit of #ScotlandLovesLanguages we've introduced @Pocketalk_US, a device which enables two-way voice translation so we can help our international passengers as they travel through the airport. pic.twitter.com/CJhC5LL2jQ

— Edinburgh Airport (@EDI_Airport) February 6, 2020
Etihad Airways completely transforms Check-in technology
Etihad Airways collaborated with Elenium technology to create a better passenger experience by having an automated check-in and boarding process at Abu Dhabi International Airport. Using this technology, passengers will be able to check-in for their flight and register their biometric data on their phone before reaching the airport. This will massively reduce the waiting time. The biometric data is then used to recognise the passengers, the travellers can experience a personalised duty-free experience by using a voice interactive display.
The baggage drop also uses innovative AI technology to not only scan but also remember the individual suitcases that are placed on the belt. They are then assigned to the guest reservation, making the tagged luggage practice redundant.
If this wasn't enough, you also no longer need your boarding pass! All you have to do is simply walk through the boarding channels and it will automatically validate you!
Ditch the bag tags. 🛫 Guests can drop off their bags with no bag tags using the Voyager Bag Drop. Using cameras and other sensors with advanced feature detection algorithms Voyager can uniquely identify a bag. #ptelondon #bagdrop #eleniumvoyager pic.twitter.com/QiQ24hkTCI

— Elenium Automation (@EleniumAuto) March 27, 2019
These are just some examples of the amazing things that are happening with the airport industry, but with airports and companies setting the bar so high, we are pretty certain that when you pull up at the airport in the future, things will be very different!
Have you seen any exciting new airport technology innovations lately? What do you think about being met at the car park by a robot?