24 Nov, 2015
Franki Napolitano
5 Comments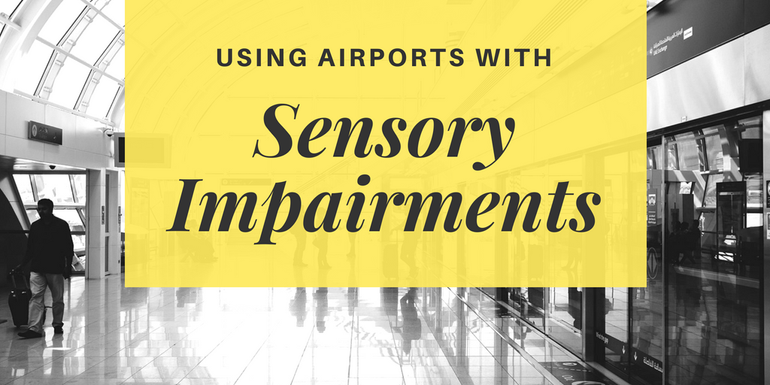 Navigating your way through an airport can be intimidating at the best of times; large crowds with multiple conversations at once and rows of flickering,  fluorescent flight boards can be a bit much for some. But what about those that those that don't, or can't experience these things? How different is the journey through an airport for a passenger that is hard of hearing or visually impaired? And what do UK Airports do to support those with Using Airports with sensory impairments?
We at Airport Parking Shop were curious to find out so did our own little bit of research on 7 of the top UK airports;
Of all those that we researched, each stated they are very welcoming and accommodating to those with disabilities, with multiple services available ranging from clearly indicated help points to Changing Places for those with more severe disabilities.
It was great to see that across all seven airports we looked at, all of them welcomed Assistance Dogs and had induction loops – some just at Check In and Customer Service Desks and others such as Gatwick have them throughout the whole airport.
Other services across all airports included payphones and credit phones that were hearing aid friendly, as well as Special Assistance Seating which is clearly marked.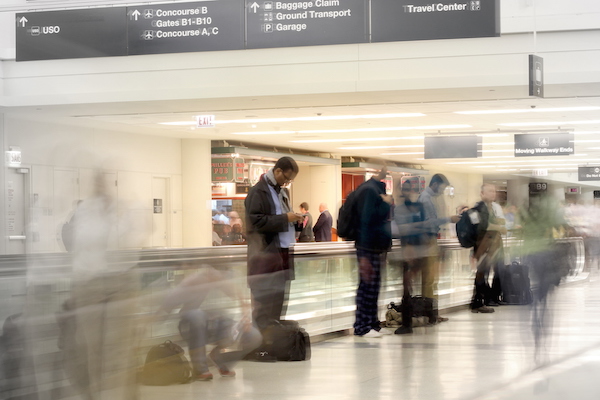 Photo Credit: Oleg Shpyrko
Special mention should go to the Heathrow, Manchester, Birmingham and Stansted who all advertised these extra services;
Heathrow
The airport are currently trialling* a service with SignLive which allows deaf passengers to communicate with a BSL trained agent within seconds. The service works via online video chat and is currently available Monday-Friday, 8am-8pm and Saturdays 8am-1pm. If the trial is successful, they plan for the service to be available for all operational hours. They also provide a dedicated Quiet Room in Terminal 3 should passengers need some respite from the busy terminal.
Manchester
Manchester Airport have teamed up with DisabledGo to bring their passengers a comprehensive guide to the airport and the facilities available. In it, you can find a range of information from where all the hearing loops are throughout the terminal, to  the level of the information desks and even how well lit certain areas are!
Birmingham and Stansted
Although all airports mention that their staff have received disability training, these two state that they also have staff who can use BSL (British Sign Language) and are available in the terminals, usually contactable via the Service desks.
All 7 suggested you contact the airport should you require any additional assistance, with at least 48 hours notice. If you require assistance on the plane during the flight, your specific airline may have different notice periods, so be sure to check this when you book! 
What about the passengers?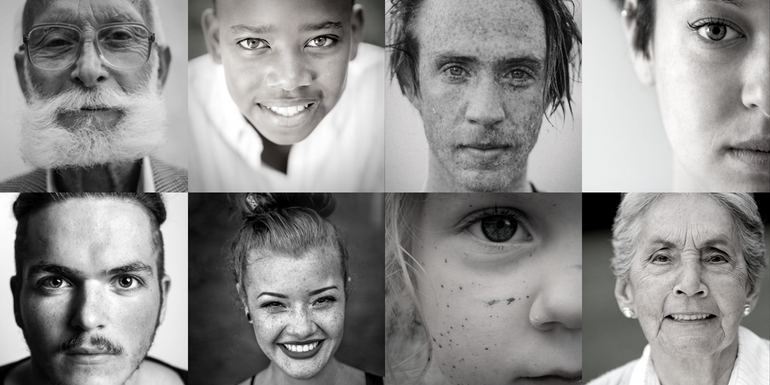 Following the airports side of the story, we thought it would be interesting to hear from our customers and followers on their experiences as a hard of hearing or visually impaired passenger. Starting with some Twitter outreach, we contacted RNIB, scope, Action on Hearing Loss, European Blind Union, and DSN to ask their communities for feedback.  
The consensus from those who were hard of hearing mainly focussed on the size of the airports. Because they encompass wide, open spaces,  most are acoustically poor and reverberant, making concentration difficult. It was also mentioned that the amount of people is often difficult to manage and can be overwhelming.
For those with visual impairment, knowing which signs to look out for can be a struggle as it isn't always made clear which ones are important, i.e. which ones display changes to flight information, and which ones are for general airport information purposes only. This again leads to confusion and sometimes anxiety.
Travelling through airports was often described as "stressful" and that many people actively avoid doing so.  Airport staff were said to be "rude" and that "They seem to prioritise those in wheelchairs…People who need help aren't always in a wheelchair!"
Exceptional service for blind travellers: Certificate to thank Passenger Services https://t.co/DJYF15nvcH

— Exeter Airport (@Exeter_Airport) October 23, 2015
Interestingly, we found that in a study conducted by the European Blind Union in 2011, 62% of the respondents said that they are often offered a wheelchair simply because they have requested special assistance, with one participant even stating she wasn't allowed to walk and was made to use one! We also had similar findings when we looked into Autism in Airports  – read that blog here!
Having said that, 86% of the EBU respondents reported positive outcomes with regards to the assistance services available. Likewise, some of our participants said that they are looking forward to travelling again, now that they have heard good reviews about the assistance services available. This news is very encouraging, and lets hope it resonates with the airports!
Assistance Dogs at UK Airports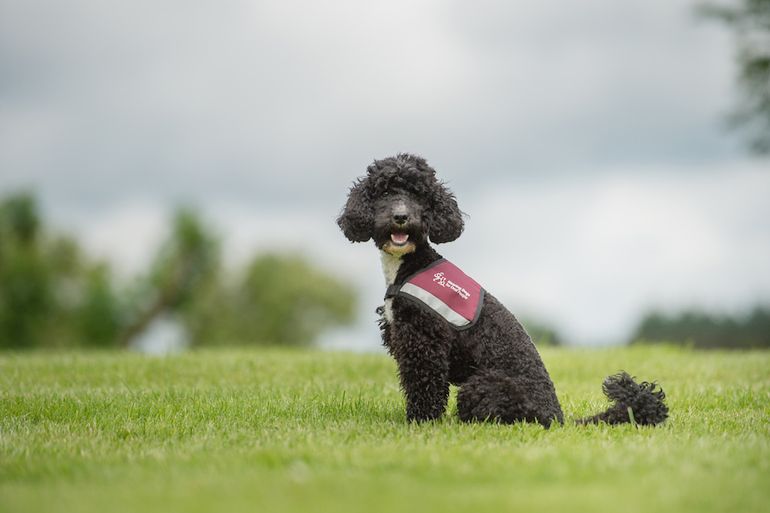 Photo Credit: Hearing Dogs for Deaf People
Both Guide and Hearing Dogs are welcome at all UK airports, but they must all comply with the Pet Travel Scheme regulations. It's advised that you give your airline at least 48 hours notice should you be bringing your assistance dog with you.
When it comes to travelling with an assistance dog, the participants felt more could be done to make the journey more comfortable for their companions. From our own study in 2015, we noted only one of the airports had a dedicated area for the dogs to relieve themselves. When we revisited this in 2018, we were pleased to see that this had increased to four of the seven airports providing relief areas.
Given what we have found during our research, and from the participants that got in touch, below we have collated the best tips for those travelling with a sensory impairment, from what to do to prepare for your trip to hacks for when you reach your destination!

Do you have an experience you'd like to share with us? We'd love to hear from you!
*Information updated and known to be correct as of May 2018