What's it like to use airports with a Sensory Impairment?
06 Feb, 2023
Franki Napolitano
7 Comments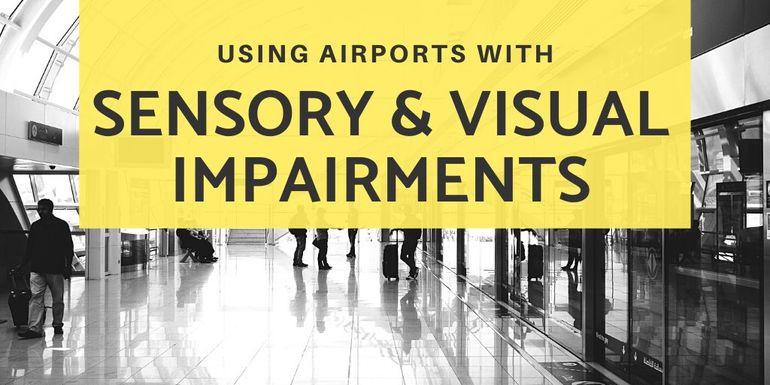 Navigating your way through an airport can be intimidating at the best of times; large crowds with multiple conversations at once coupled with rows of flickering, fluorescent flight boards can be a bit much for some. But what about those that don't, or can't experience these things? How different must it be for a passenger that is travelling with Sensory Impairments like hard of hearing or visually impaired? And what do UK airports do to support those using airports with sensory impairments?
We were curious to find out so did our own research into 22 of the UKs airports to see what provisions they provide; click the links below to be taken to the information on your chosen airport.
Aberdeen | Belfast City | Belfast International | Birmingham | Bristol | Cardiff | East Midlands | Edinburgh | Glasgow |Gatwick | Heathrow | Leeds Bradford | Liverpool | London City | Luton | Manchester | Newcastle | Prestwick | Southampton | Stansted | Teesside Airport

Of all those that we researched, each stated they are very welcoming and accommodating to those with disabilities, with multiple services available ranging from clearly indicated help points to Changing Places for those with more severe disabilities.
The information we have supplied below is based on what is currently available on the official airport sites as of October 2021. If it wasn't explicitly stated by the airport, we haven't included it, simply so we don't confuse information. If you know of any updates we can make, please leave a comment!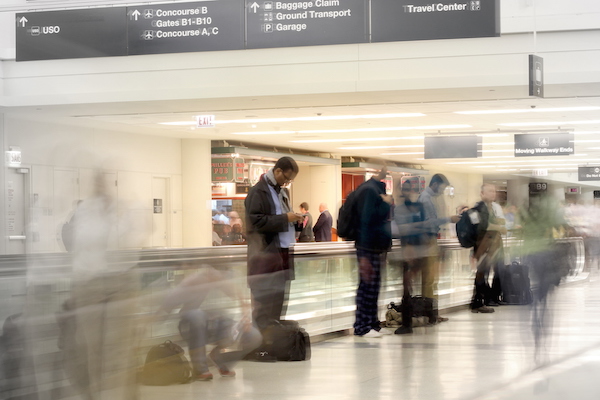 Photo credit: Oleg Shpyrko
It's fair to say that most aiport's signage uses black text on a yellow background for optimal contrast to make it as clear as possible, so, let's take a look into whether they have additional measures for the visually impaired and what they offer for those that are hard of hearing.
You'll find induction loops in the terminal wherever you see the 'sympathetic ear' symbol and tactile signage at the entrance to toilet facilities. Assistance Dogs are welcome but they state this needs to be pre-booked with your airline to ensure the aircarft and destination have the provisions for the dog.
They are currently working with Action on Hearing Loss to improve their service to those that are hard of hearing. All Assistance Dogs that are PET compliant are welcome.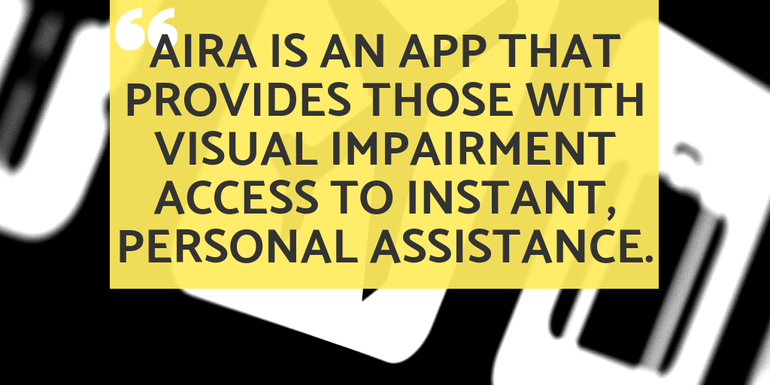 No information regarding additional provisions for hard of hearing or visually impaired passengers. Assistance Dogs are welcome and dog relief facilities can be made available on request.
Birmingham Airport
There are staff trained in British Sign Language (BSL) and you can contact them via the OCS Reception desk which can be found on the ground floor, opposite Spar. The airport also have Induction and mini-loop systems installed throughout the airport.
Assistance Dogs registered on the PET scheme are welcome. Please check that you are flying with an approved airline and route. For help with this, contact the OCS desk on 0121 767 7878.
You can now also find RoomMate assisstance.
According to a press release from 2019, they offer the Ramble Tag service for passengers with visual impairment. This is a lightweight band that is worn on the arm of the Guide, which the passenger with visual impairment can then hold on to. Please request this from the OCS desk either by phone 01275 473403 or email them on prm.brs@ocs.co.uk.

Assistance Dogs are permitted on approved airlines and routes, but this must be arranged at least 48hrs in advance.
Induction loops wherever you see a 'sympathetic ear' symbol and Assistance Dogs are welcome. You'll need to ensure your dog complies with the PET travel scheme.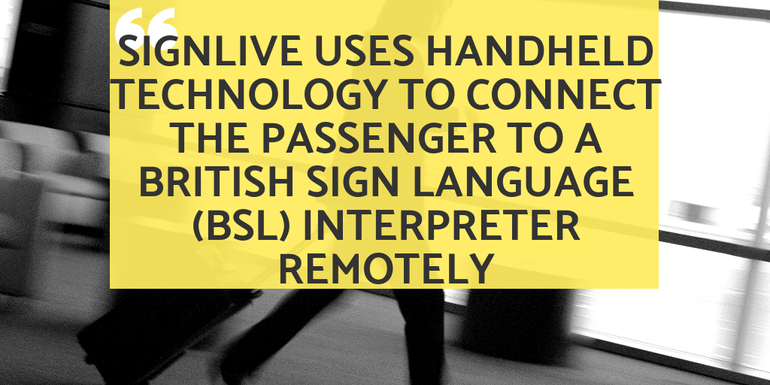 East Midlands Airport
Induction loops are located in various locations throughout the airport and can be found wherever there is a 'sympathetic ear' symbol. In a change from other airports, their signage is yellow text on a blue background for those with visual impairment. Any assistance required should be booked with your airline and discussed with the airport in advance.

Assistance Dogs are permitted as long as they are on the PET scheme.
They were the first UK airport to introduce the SignLive service for deaf or without speech passengers. SignLive uses handheld technology to connect the passenger to a British Sign Language (BSL) interpreter remotely so they can seek assistance whilst in the airport. The devices can be used throughout the terminal and are available from the Special Assistance Reception (landside) on request.

Induction loops are located in various locations throughout the airport and can be found wherever there is a 'sympathetic ear' symbol.
Assistance Dogs are welcome and it is recommended that you contact the animal receiving centre at least 48hrs in advance on either arc@extrordinair.co.uk or call 0131 317 7277 to discuss any requirements. You should also contact your airline to make them aware, too. You'll find a dog relief area next to the multi-storey car park.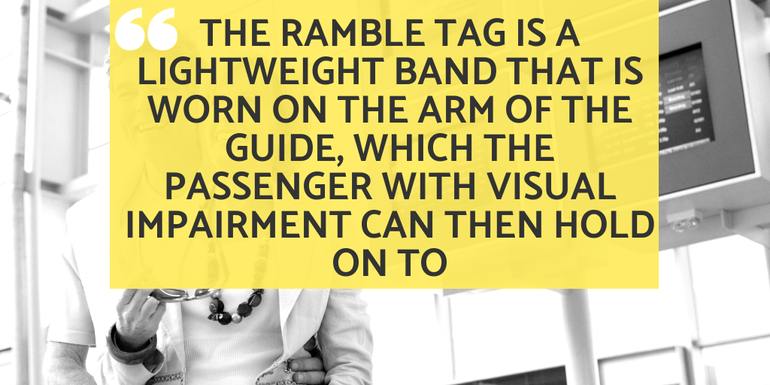 Induction loops are situated within the terminal and Assistance Dogs that comply with the Assistance Dog Scheme are welcome. For any questions, email at GLA.PRMLeadership@OCS.co.uk
Induction loops can be found throughout the terminal including at gates, waiting areas and check in counters, just look out for the 'sympathetic ear' symbol. Assistance Dogs registered on the PET scheme are welcome and be sure to contact the special assistance desk when you arrive so they can offer any support you may need for the travelling process.
Relief areas are available, just speak to a member of the mobilty assistance team for directions.
Gatwick Airport was the first airport in the UK to open a sensory room. It is a calming place for those that need to have a little alone time. However, if you want to use it, it's best to pre-book it to ensure you're guaranteed a space.
Action for Deafness charity trained more than 150 staff at the airport and have delivered several sessions. The staff are now more confident than ever in assisting those with hearing impairment.
A free 24/7 service is available to the Visually impaired and blind passengers. You simply download the app, Aira and you will get a trained agent who will be able to access your phone's camera and guide you through the airport. They can help you read important documents, and even find your bag for you! But we're unsure if this scheme is still running so double check with the airport before travelling.
Throughout the airport you'll find induction loops wherever there's a 'sympathetic ear' symbol, as well as payphones and credit card phones that are adapted for hearing aids and text pay phones.
SignLive is also available; simply use an app to connect you to a BSL interpreter in seconds and use the service throughout your airport journey. If you would like to use this 24hr service, be sure to contact an Assistant Agent or head to one of the Assistance host desks or from a Passenger Ambassador.
Aira is an app that provides those with visual impairment access to instant, personal assistance. It allows the passenger to connect with a professional agent who can guide them through Heathrow Airport, offering advice on how to navigate their way to the gate, shops, restrooms and more. Please note, you are not permitted to use your phone in Security. Instead, Aira will direct the passenger to an Assitance Agent or Passenger Ambassador.
Assistance Dogs are permitted so long as they are part of the PET scheme and you've booked them in with your airline. Relief facilities can be found outside of T2, with a safe walking route from T3, too. If you need one after security, please contact the team on 020 8757 2700 for access to a suitable outdoor area.

They also provide a dedicated Quiet Room in Terminal 3 should passengers need some respite from the busy terminal as well as RoomMate facilities in the Terminal 2 restrooms.
They state that passengers that are hard of hearing or are visually impaired but don't wear glasses or hearing aids can request a hidden disability lanyard.
For visually impaired wanting to check their website, they have the option to use it via a screen reader.

Assistance Dogs on the PET scheme are allowed, so long as you have checked that your airline and route is approved.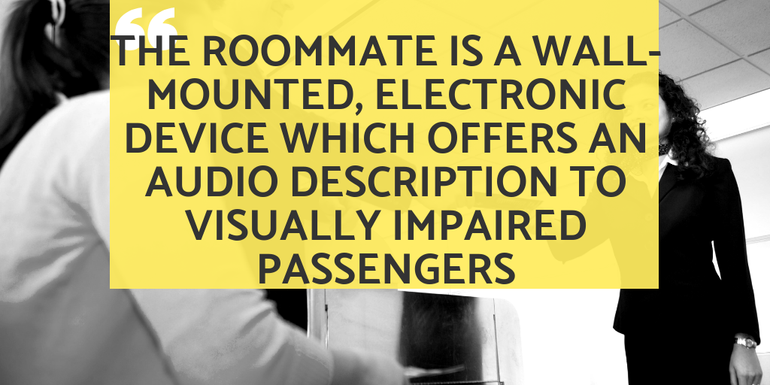 The airport has two designated assistance areas. One is located within the main terminal (landside) and the other is Airside. Both areas have reserved seating available and are hearing loop systems installed.
Assistance dogs are welcome at the airport.
There are portable hearing loops available for use in the terminal; speak to the team on assistance@londoncityairport.com for more information and on how to request use.
As long as you've given your airline at least 48hrs notice, your PET registered Assistance Dog is welcome to travel with you.
You'll find Induction loops at the check in desks and customer service desks. Your Assistance Dog can travel with you if it's PET registered and you inform Clece Care, Luton's care provider, at prm-ltn@clececare.co.uk.
Manchester Airport
Phased Array coverage systems have been installed in key areas of the terminal.
RoomMate technology is avaialble in all three of Manchester Airport's terminals. The RoomMate is a wall-mounted, electronic device which offers an audio description to visually impaired passengers to help them navigate their way around the disabled access toilet facilities. You'll find the RoomMate in the followoing locations;
T1 – Accessible Toilet in main Departures (Opposite Temptation)
T2 – Accessible Toilet opposite the service disruption desk
T3 – Accessible Toilet opposite Nook.
The below information is taken from Manchester's website:

On entering the accessible toilet, an audio announcement is triggered and the unit advises that a recorded description of the room is available. If the user is visually impaired and requires the description, they are then given the instruction to wave their hand in front of the unit to activate. The unit is placed to the left or right of the door frame at mid-height and the initial announcement advises which side of the door the unit is placed and has the addition of 4 sonic pings after the announcement, to guide the user to it. There are 2 sets of identical phrases giving a sequenced description. The first set allows the visually impaired user to form a mental picture of the room, whilst the repeated set enables the user to navigate within the room.
Assistance dogs are welcome at this airport but you must make sure that they must follow the guidelines of the Pet Passport Scheme. You also must let the airline know in advance so they can make the arrangements needed.
There's also a Sunflower Room located in Terminal 1 where you can go and relax if you need a moment of silence from all the noise.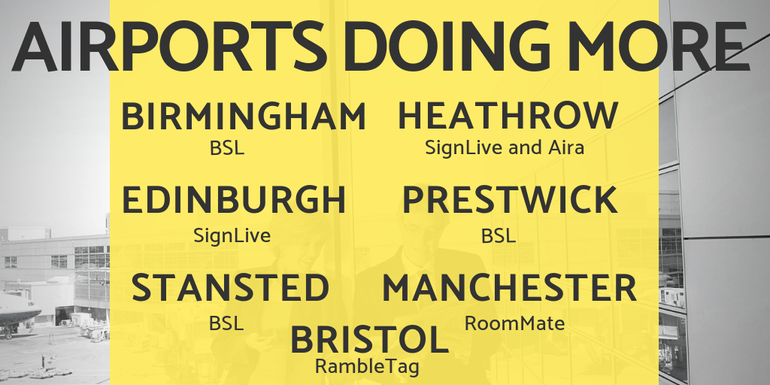 Currently working with various disability groups to improve their services to those with sensory impairments. Assistance Dogs are welcome with facilities to scan for microchips and for the dogs comfort. Speak to a member of the team should you need access to a relief area for your dog.
You can now also find RoomMate technology in the terminal's toilets.
There is a sensory area at this airport for those wanting to have a quiet moment. Simply go to the Special Assistance desk and they'll guide you towards the area.
In February 2019, 12 members of the Passenger Handling and Security teams, with no prior knowledge of it, receieved training in BSL to help improve passenger experience. Speak to a member of the Passenger Handling or Special Assistance teams for more information on how to contact one of the BSL trained staff.
There are induction loops available at their information centre.

Assistance Dogs are welcome and the airport will "endeavour to provide appropriate facilities on request".
You'll find payphones and credit card phones throughout the airport which are all adapted for use with hearing aids.
The airport work with Guide Dogs and supply quarterly training to ensure staff can adequetley assist those with visual impairment. Guide Dogs recognise Southampton Airport as an "Open for Business" partner, meaning they acknowledge the work tha airport are putting into making their facilities as accesible as possible.
Stansted Airport
Hearing loops are available, as well as BSL trained staff. You'll also find reserved seating with low-level flight information screens, designed to make them easier to read. If you still have difficulty, you're advised to let your airline know at check in.
Assistance Dogs can only travel if they are registered with the PET scheme and if they are allowed by your airline and holiday destination.
No information on the provisions for hard of hearing passengers available. Assistance Dogs registered with the PET scheme are welcome in the airport and are processed as normal through the central search area.
What about the passengers travelling with Sensory Impairments?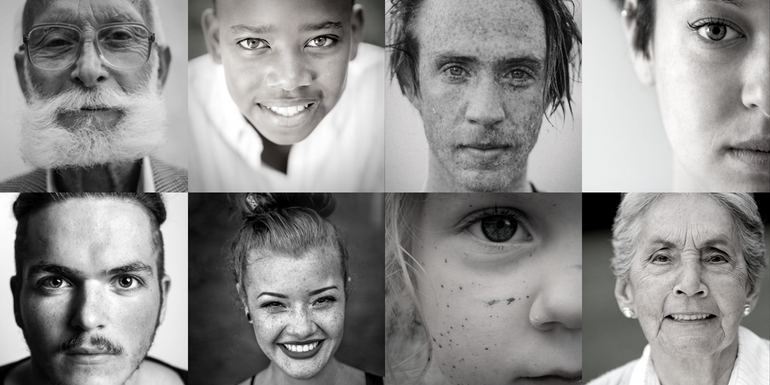 Following the airports side of the story, we thought it would be interesting to hear from our customers and followers on their experiences as a hard of hearing or visually impaired passenger. Starting with some Twitter outreach, we contacted RNIB, scope, Action on Hearing Loss, European Blind Union, and DSN to ask their communities for feedback.  
The consensus from those who were hard of hearing mainly focussed on the size of the airports. Because they encompass wide, open spaces,  most are acoustically poor and reverberant, making concentration difficult. It was also mentioned that the amount of people is often difficult to manage and can be overwhelming.
For those with visual impairment, knowing which signs to look out for can be a struggle as it isn't always made clear which ones are important, i.e. which ones display changes to flight information, and which ones are for general airport information purposes only. This again leads to confusion and sometimes anxiety.
Travelling through airports was often described as "stressful" and that many people actively avoid doing so.  Airport staff were said to be "rude" and that "They seem to prioritise those in wheelchairs…People who need help aren't always in a wheelchair!"
Exceptional service for blind travellers: Certificate to thank Passenger Services https://t.co/DJYF15nvcH

— Exeter Airport (@Exeter_Airport) October 23, 2015
Interestingly, we found that in a study conducted by the European Blind Union in 2011, 62% of the respondents said that they are often offered a wheelchair simply because they have requested special assistance, with one participant even stating she wasn't allowed to walk and was made to use one! We also had similar findings when we looked into Autism in Airports  – read that blog here!
Having said that, 86% of the EBU respondents reported positive outcomes with regards to the assistance services available. Likewise, some of our participants said that they are looking forward to travelling again, now that they have heard good reviews about the assistance services available. This news is very encouraging, and lets hope it resonates with the airports!
Assistance Dogs at UK Airports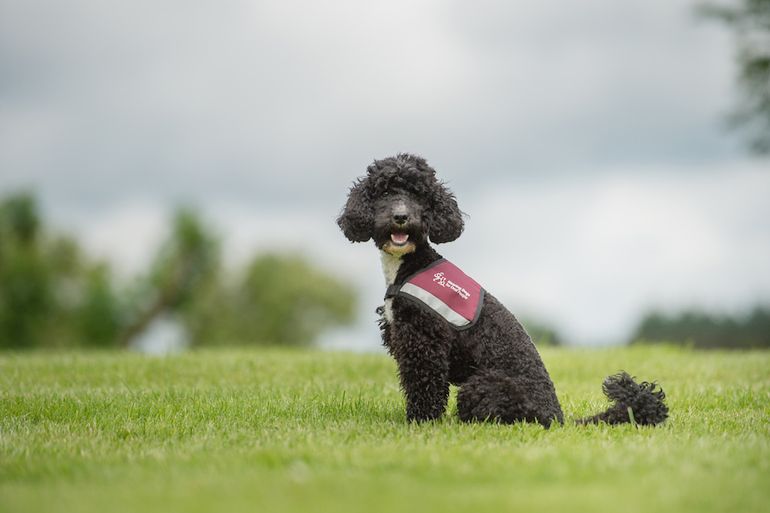 Photo credit: Hearing Dogs for Deaf People
Both Guide and Hearing Dogs are welcome at all UK airports, but they must all comply with the Pet Travel Scheme regulations. It's advised that you give your airline at least 48 hours notice should you be bringing your Assistance Dog with you.
When it comes to travelling with an Assistance Dog, the participants felt more could be done to make the journey more comfortable for their companions. From our own study in 2015, we noted only one of the airports had a dedicated area for the dogs to relieve themselves. When we revisited this in 2018, we were pleased to see that this had increased to four of the seven airports providing relief areas.
Given what we have found during our research, and from the participants that got in touch, below we have collated the best tips for those travelling with a sensory impairment, from what to do to prepare for your trip to hacks for when you reach your destination!

Do you have an experience you'd like to share with us? We'd love to hear from your experience of travelling with Sensory Impairments.