Why all airports should have an Eagle 2 lifter
19 Jul, 2021
Franki Napolitano
6 Comments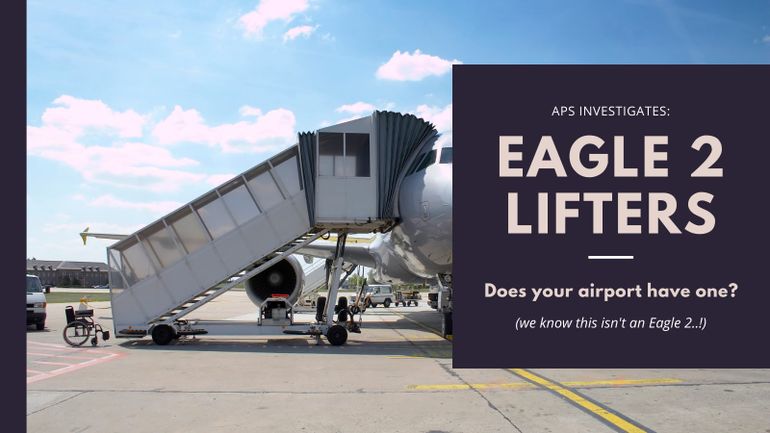 The thought of travelling conjures many emotions; you'd usually associate it with happiness and excitement, however, when you're disabled or a person with reduced mobility (PRM), those feelings can quickly turn to apprehension and nerves. One of the biggest worries is how to get from your wheelchair and into your airplane seat in a dignified and comfortable way, as sometimes it doesn't go too smoothly…

That's where the Eagle 2 Lifter comes in; this handy piece of kit, designed by Australian manufacturer Haycomp, allows dignified transition from wheelchair to seat, ensuring a more pleasant experience for the PRM.  It works by placing the passenger in a comfortable sling attached to a portable frame, allowing 2 airline staff safely move the frame to, and safely place the passenger in, their seat. Take a look at it in action in their demo video:
Does my airport have an Eagle 2 Lifter?
Great question! Thanks to Tony Clough, carer and volunteer Changing Places campaigner, we have found that not a lot of UK airports actually have an Eagle 2 Lifter, which is a terrible shame.
'Changing Places and Eagle Lifters go hand in hand in my opinion at airports. If you need hoisting facilities for your basic human needs then an Eagle lifter will certainly give you a much more dignified way of getting into your seat rather than being 'man-handled'. I've seen this happen to my adult sister over the last 20+ years which is very degrading. These aren't a gimmick or a nice toy to play with. Airports should offer BOTH to PRMs.'
–Tony Clough
At the time of this article, November 2018,  just 8 of the UK's airports have one available to use. Our table below highlights in which UK airports you can find an Eagle 2 Lifter:
Which UK airports have Eagle 2 Lifters?
Airport
Do they have
an Eagle 2 Lifter?
How do I book it?
Aberdeen Airport

No

Birmingham Airport

Yes

Please contact the OCS Special Assistance team on 0121 767 7878
Belfast City Airport

No

"Unlikely to purchase an Eagle Hoist at any time in the near future" – Bill Doole, Airport Duty Manager

Belfast International Airport

Yes

"Yes we do, though the PRM email help-desk advise you contact your airline to arrange" – OCS Team
Bournemouth Airport

No

"Unfortunately at this present time we do not have any plans to purchase an Eagle 2 hoist"
Bristol Airport

No

"We are looking at the potential of introducing one at some point in the future. We do offer the use of Pro-Move slings though." Duncan Lowe, Airport Services Manager
Cardiff Airport

No

"We'll be reviewing all Special Assistance equipment over the winter period and will consider the addition of an Eagle 2" – Angela Summers, Terminal & Customer Services Manager
Doncaster Sheffield Airport

No

Please contact Westgrove on 01302 625099 who look after PRMs
Dublin Airport

No

East Midlands Airport

No

Edinburgh Airport

Yes

Email eaglehoist@edinburghairport.com with 48hrs notice
Exeter Airport

No

"To ensure you get the correct information about the assistance you require please contact the airline you will be travelling with" – Passenger Assistance Team
Gatwick Airport

Yes

Email eaglehoist@gatwickairport.com  with 24hrs notice

Glasgow Airport

Yes

They advise you contact the airline you'll be travelling with at least 48hrs in advance
Heathrow Airport

Yes

Email special_assistance@heathrow.com to arrange
Humberside Airport

No

"Unfortunately we do not have an Eagle 2 lifter however we do have an Ambulift" – Hayley, Information Desk
Inverness Airport

No

"We are about to have discussions with the company that assist our customers. We shall definitely look in to the Eagle 2 lifter."
Leeds Bradford Airport

No

Liverpool Airport

No

London City Airport

No

Luton Airport

No

"I'm afraid that CCS who manage our special assistance do not utilise the eagle lift here at Luton Airport. If required, we can use a ProMove Sling"
Manchester Airport

Yes

Email manair.eaglehoist@ocs.co.uk with 48hrs notice

Newcastle Airport

Yes

Email eagle.hoist@newcastleinternational.co.uk with 36hrs notice
Norwich Airport

No

"Unfortunately we do not have an Eagle hoist at Norwich Airport but transfer customers using lifting slings, and where possible, slide board and slide sheets" – Aaron Frost, PRM Services Trainer
Prestwick Airport

No

Shannon Airport

No

Southampton Airport

No

Southend Airport

No

"I can confirm that we have an ambulift which I believe is the piece of equipment that you are referring to"…
Stansted Airport

No

"Unfortunately, most of our aircrafts are too small to accommodate the lifters" – Tom Brady, Ops Manager
Teesside International Airport

No
How do I book an Eagle 2 Lifter?
Using the contact details above, each of the airports ask you to provide the following information:
Name and contact details of passenger requiring use
Date of travel and flight details
Passenger's height and approximate weight
Whether you'll be using your own sling or not
Whether you have used the service before.
What's it like to use an Eagle 2 lifter?
We took to good old Twitter to see what UK travellers had to say about the Eagle 2 lifters, or the lack of them!
Accessibility in airports
This is an important subject, one that we feel very strongly about here at Airport Parking Shop. Encouragingly, more UK airports have Changing Places facilities than they do Eagle 2 Lifters, so perhaps this will spark an upwards trend of more Eagle 2s being available across the country; we can only hope!

Have you ever used an Eagle 2 Lifter as a PRM? Perhaps you're cabin crew who has had experience transporting passengers in one of the lifts? We'd be keen to hear your thoughts on the availability and usefulness of them and how other airports can follow the example of Heathrow, Gatwick, Newcastle and so on.