Changing Places Facilities at UK Airports
06 Feb, 2023
Franki Napolitano
13 Comments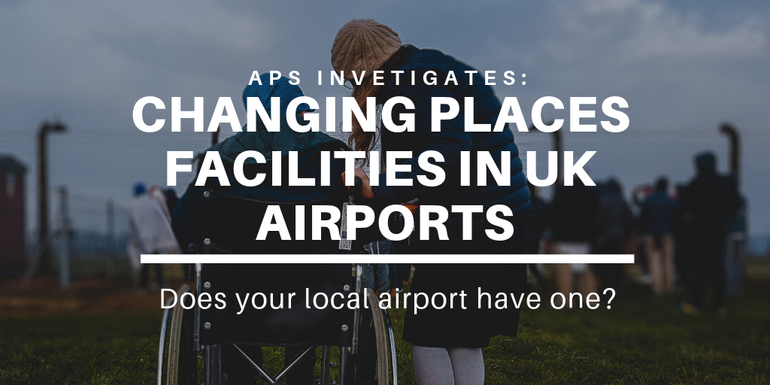 Accessibility of public places is of utmost importance, and airports are no exception! With this in mind, we've compiled a list of the Changing Places facilities at UK airports that are already installed and available for access. This is an ongoing list and is being updated when we can so if you know of one that's missing below, please leave us a comment!
This piece was last updated in February 2023
What is a Changing Place?
Changing Places is a campaign on behalf of people who are unable to use standard accessible toilets. Changing Places are usually more spacious and fitted with advanced equipment, such as a height adjustable changing bench and a hoist; they provide disabled users, family members and carers a private, comfortable and hygienic space.
You can use a Changing Places facility?
The rooms are reserved for those who are disabled, including those with profound and multiple learning disabilities. They are welcome to use the facilities assisted by their family members or carers, as there's plenty of room space allocated for those who provide help.
Does my local airport have a Changing Places facility?
UK's leading airports have stepped up and installed a list of Changing Places facilities. Airports that do have them use the Changing Places logo in their directional signs.
You can now find Changing Places facilities at the following airports:
Where it's available to us, we have detailed below what facilities each of the airports have, where to find them and how to access them.
Heathrow have a Changing Places facility in all 4 terminals and they include height-adjustable adult-sized changing benches, hoists, shower facilities, extra wide rolls of paper, and non-slip floors. You can find them as follows;
Terminal 2: After security – arrivals level, opposite Gate 18
Terminal 3: After security – departures level, opposite Gate 7
Terminal 4: Arrivals – opposite London Underground escalators
Terminal 5: After security – departures level, Special Assistance Lounge – Lichfield Suite, opposite Gate 20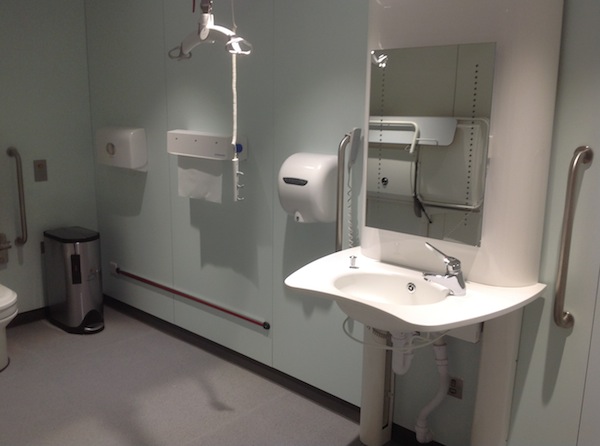 Two adult Changing Places facilities, one in South Terminal and one in North Terminal. The facilities include an adjustable bed which lowers to ground level, a hoist and flexible wash basins, a large wash room, and full shower facilities. These facilities are free to us, no pre-booking is required and they are both located after security. Please contact a member of the PRM (Persons with Reduced Mobility) staff on the day; details of how to do so are located outside the room.
There are two facilities in the airport; one located land-side in Arrivals and the other is airside in the departures lounge.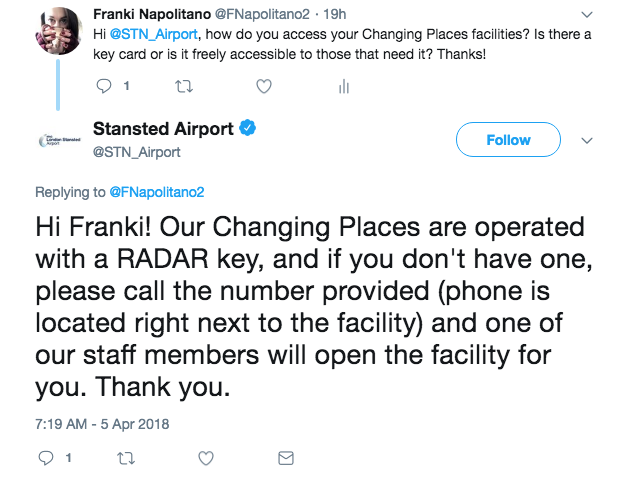 Three Changing Places facilities are located air-side within the departure lounge in each terminal: Terminal 1, Terminal 2, Terminal 3.
Manchester Airport Changing Places are fitted with the following equipment: an overhead full room coverage hoist system (sling not provided), a mobile hydraulic height adjustable changing bench, a wide tear off paper dispenser; a privacy screen, a peninsular conventional close coupled WC with grab rails and support arms, an electrical height adjustable sink.
Manchester Airport does not provide slings, advising customers to bring their own sling (loop fastening slings are compatible). Customers should return the hoist it to the charging point after use so that the next person will be able to use it.
There are some weight limits applied to the equipment: for basin use – 100 kgs, for bench use – 190 kgs, and for hoist use – 200 kgs. Sling safe working load is 31 stone.

This is an unmanned facility and users must satisfy themselves as to its suitability prior to use. Contact 0330 333 0304 for more information and to get the pin code to use the facility on your departure date.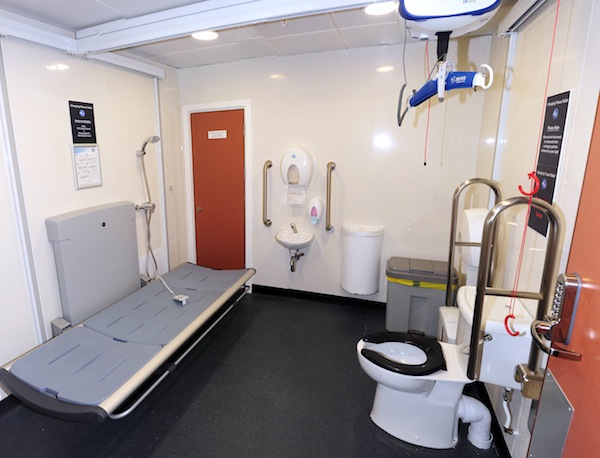 The Changing Places facility is situated in the departure lounge near the toilets behind WHSmith Books. The room contains: a height adjustable changing bench; a hoist system to lift between wheelchair, toilet and bench, plenty of space for the bench and toilet to be approached from either side.

To access the facility you will require an entry code, which you can get from the OCS Special Assistance desk at the time of booking or by using the courtesy phone provided.
Customers should bring their own slings (compatible with the loop system) as no slings are provided by the airport for health and safety reasons.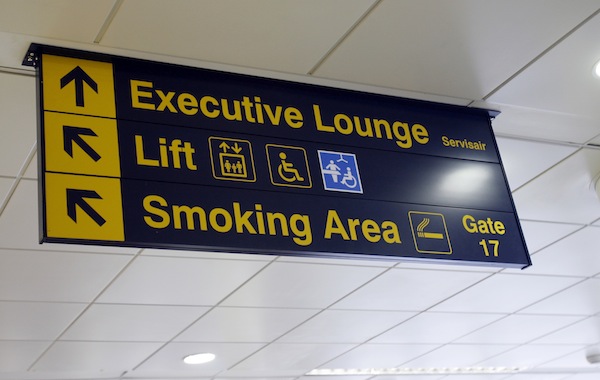 take the lift up to the first floor to find the Changing Places facility at East Midlands. Open 24 hours a day / 7 days per week, fully equipped with a changing Bench (height adjustable, adult sized, free standing), a ceiling track hoist and a toilet unit with room either side for the carers.
Access with a RADAR key; if you don't have your own, either request the access code from the the Passenger Service desk when you check in, or call the phone number that can be found on the door to the facility and the airport staff will be happy to assist.
George Best Belfast City airport was the first airport in the UK to publicly support the Changing Places campaign by introducing a Changing Places toilet. Located before security.
The Changing Places Room can be found on the first floor of the departure lounge, opposite Saltaire Bar & Eatery. They provide an adjustable bed, a privacy screen and a tracking hoist, Please note that the hoist is only compatible with slings with a loop fastening and the airport do not provide slings. To access the facility, please use the assistance phone outside of the room to speak with Customer Services.
The Changing Places toilet is located in the Check-In hall, before security. It offers a large, comfortable space to use with all the features you'd expect.
Aberdeen are the latest airport to open a Changing Places facility and it can be found in the departures lounge. Facilities include an electronic hoist, height adjustable bench and no key is required for access.

We're pleased to announce our new accessible toilet within our departure lounge has been officially accredited as a Changing Places facility! @CP_Consortium 🎉

Find out more about it here: https://t.co/3OSZgjDu6w pic.twitter.com/tJ5DubzGZD

— Aberdeen Airport ✈ (@ABZ_Airport) October 2, 2018
Please call the Special Assistance team on 01275 473403 to obtain the pin code for the facility and to pre book your visit, although there is so need to prebook, you can just use on the day as you need to. The space can be found land-side in Arrivals and includes a mobile hydraulic height adjustable changing bench and hoist, a privacy screen and an electrical height adjustable sink.
The facility can be found on the 1st floor of the terminal building, has enough space for 2 carers to help with assistance, and an adult-sized, height adjustable changing bench with a hoist. The room does not need to be pre booked.
Head to the main check-in area to find the facility which will be clearly signposted. Feel free to use the shower, height-adjustable sink, a hydraulic bench and privacy screens.
The facility can be found by Arrivals Carousel 4; current access is via a keypad, however this will be switching to an intercom system eventually. Please seek assistance from staff for access by speaking to a member of the Assistance Team. Inside you'll find a height adjustable washbasin, a hoist with ceiling loop, a free standing, adult sized, height adjustable bench, non slip floors and an emergency alarm.
Opened in 2017, the Dublin Airport Changing Places facility includes a ceiling mounted hoist, adjustable bed and non slip floor.

The new facility comprises of a fully height adjustable bed, centrally located toilet with plenty of space for assistance, an adjustable sink and a ceiling mounted hoist. It can be found before security and is open to the public, so if you're in the area and in need of a private changing space, feel free to pop in.

The Changing Places facility in this airport comprises of an automatic toilet, shower, body drier, a wall mounted, height adjustable bench, ceiling hoist and adjustable sink. The room is unsupervised so please contact airport staff should you need any further assistance.

Whislt they have previously stated the airport had "adult changing facilities", Luton have now also been officially added to the Changing Places list. You can find their facility after security adjacent to Gate 17, located within the "quiet space" seating.
One of the newest Changing Places facilities to be added to the list is at Edinburgh Airport. You can find it After Security in Departures, close to the Special Assistance area.
Where can I find Changing Places facilities?
There are now over 1000 registered Changing Places in the UK, including those at the UK airports. Use this searchable map to find Changing Places facilities across the UK, as well as their opening times and detailed descriptions of the equipment available for use.