Airport Parking for People with Disabilities & Special Assistance requirements
27 Sep, 2021
Franki Napolitano
40 Comments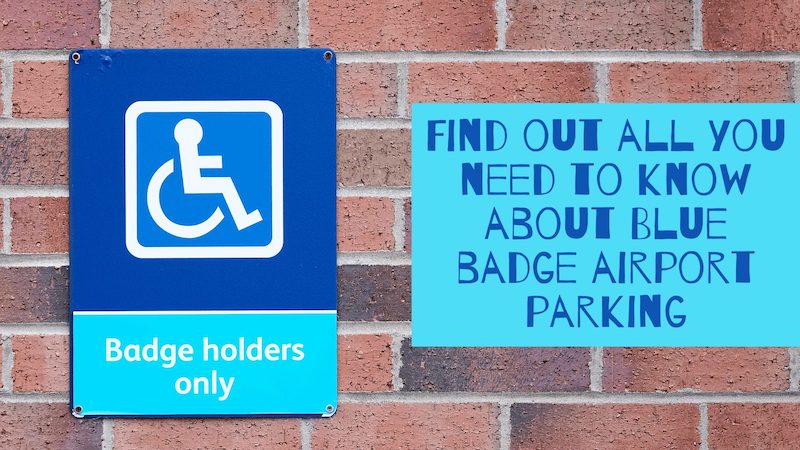 Coping with the hassle of airports is always stressful, but spare a thought for the millions of travellers with disabilities and special needs who find the whole experience even more of a headache.
Airports and airlines have become increasingly been doing more to help those with special assistance once you are in the terminal but, but what about parking? Will, there be anyone to help, and what needs to be done ahead of arrival to make sure it all works smoothly? So, we thought we'll investigate and find out all you need to know about blue badge airport parking! 
A few points apply to all disabled airport parking:
– With security high at airports, the normal Blue Badge system does not apply on the roads around them and if you fall foul of the rules you can expect to be towed away and have a hefty fine imposed for recovery of the vehicle.
– If you want to park in a Blue Badge space but also need to take your badge abroad with you, this is normally possible by contacting the operator before you leave the car park so that they can see your badge.
– If you are unable to reach the payment machine, there should be an assistance button to press for help.
– Parking charges normally apply, although, at Gatwick for instance, you will only pay standard rate even although the Blue Badge spaces in the short-term car park are in the Premium area. This is applicable up to 4 hours. Press the assistance button on the ticket machine to speak to an operative and provide your blue badge number. Don't out your ticket in or you'll be charged the premium fee.
– Meet and Greet car parking can be the best bet for people with disabilities or special needs.  Most airports offer a meet and greet service, either with their official parking services, or one of the onsite providers.
– If you have an unusual special need, have a look on online forums for advice. The chances are that someone else will have had experience and be willing to offer tips and advice.
– It goes without saying that you should always allow plenty of time for your transfer from the car park to the terminal.
With the above in mind, let's look at some of the UK's airports and what they offer for blue badge parking.
Blue Badge spaces are available in the short-term car park close to terminal access routes. Help points are situated near these spaces, and assistance is free. There are various help points located close to the space and you can use them to ask for help free of charge. You can call +44 (0)20 8757 2700 for terminal 2, 3 & 4. For terminal 5, you can call at +44 (0)20 8283 6415. you can also ask a team for help with your luggage or give you help with mobility assistance. 
If you don't want to splash out on the short-term car parks, there are also Blue Badge spaces in long-term and business car parks close to the bus stops and admin office respectively. As ever though, it's worth phoning ahead to make specific arrangements for assistance with the individual operators.
As with Heathrow, there are plenty of Blue Badge spaces in short-term car parks, but perhaps of more interest to those flying off on holiday are the spaces in the long-term car parks, all of which are easily accessible and close to the bus stops. Please note that the normal parking tariffs apply in the long stay and business car parks
If you have parked in the long-term car park but want to pick up a disabled companion from the short-term car park (thus avoiding the hassle of them getting on and off the transfer bus), ask the staff at the long-term car park to arrange this.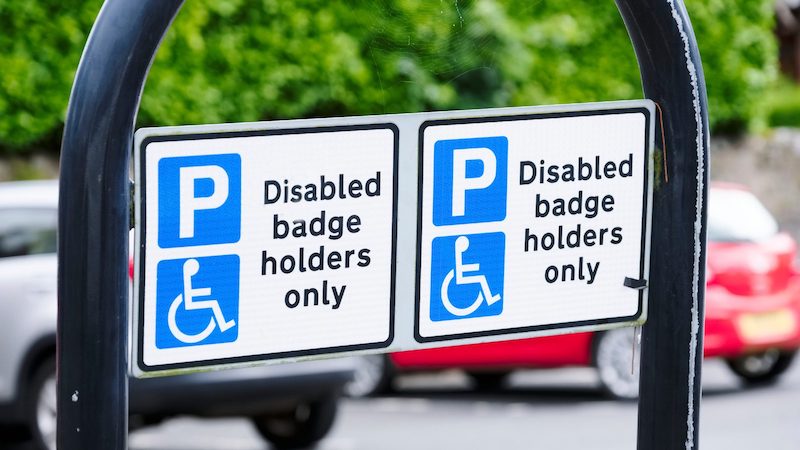 Disabled airport parking/ Blue Badge spaces and full assistance are available in all three car parks (Short, Mid and Long stay). If parking in the Mid or Long stay areas, you can use the courtesy shuttle service to the terminal building. Simply press the help button on the assistance point and inform the operator that you have a wheelchair; they will dispatch a vehicle as soon as possible. Blue badge parking is also available in the Express Set Down area as well as the free Drop Off / Pick Up location in the Short Stay car park.
You can find disabled parking in Car parks 1, 2 & 5 and the free drop off / set down area. You'll be charged the normal rate for parking in these car parks. If you need any assistance, you can use their help points which are located next to the disabled. You can also take advantage of having half an hour free in the Premium Set Down car park. You can also use this for picking up passengers. If you exceed the limit, you will be charged the normal rate. 
Disabled airport parking spaces can be found in Multi-Storey car parks, JetParks and Drop Off. As JetParks is not located onsite, there are free shuttle bus services available to the terminal. The buses are fully accessible and blue badge holders will get priority space and seating. If you need help getting on the bus, the driver will be able to help you.
All car parks at Luton offer blue badge spaces and are either close to the terminal in the short stay area or close to a pick up station in the long and mid stay car parks. All shuttle buses are wheelchair accessible and the drivers are happy to assist! If you park in the Short Stay car park, you'll need to head to the Priority Parking reception to validate your blue badge.
The disabled airport parking bays are situated at:
There are 82 bays available on ground and first floor at Terminal Car Park 1.
In Terminal Car Park 2, there are 100 bays available on the first and second floor.
There are 47 bays situated in rows C8 and C12 in Mid Stay Car Park.
Long Stay Car Park has 113 bays that are situated by the bus stop 7.
Blue badge spaces are available in the Short Stay, Premium Short Stay, Meet & Greet Parking, Mid Stay Car Park, Viking Airport Parking and Long Stay Car Park. If you are picking up or dropping off, Blue Badge holders can get a discounted rate of being charged £5 for an hour. But remember to show your blue badge, plus a travel document and this can be a Passport, booking confirmation or a boarding pass.
You can find blue badge parking in car parks 1 and 2. You'll also get the first half an hour completely free of charge. All you have to do is quote your blue badge number as you buzz the intercom when you exit the car park. If you want to pick or drop someone off, you should use their car park 2.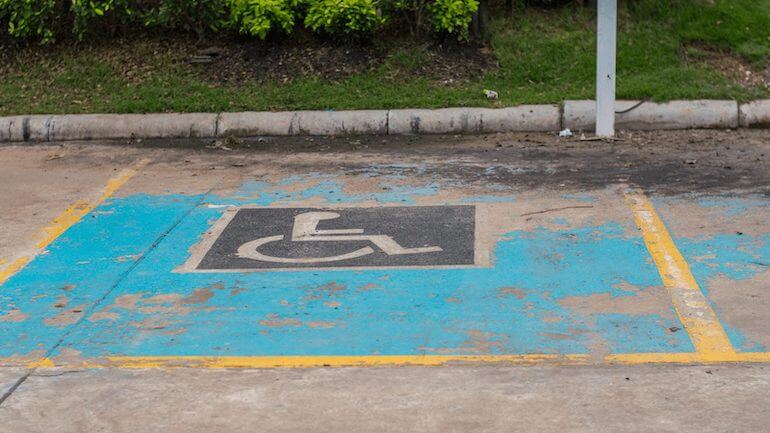 Except for the Mid Stay car park, all the car parks have blue badge parking available. Blue badge holders are allowed an hour's free access to any of the car parks, except for Mid Stay. In terminal parking and multi-storey parking, you can find call points near the bays and assistance is free of charge. As for Long Stay, the call point can be found near bus stop 4 and for Plane Parking, you'll find it by the two bus stops available. It is recommended that you contact the car park well in advance to ensure that suitable arrangements are made.
Disabled airport parking are available in the following car parks:
Long Stay
Short Stay
The Express Drop Off & Pick Up area
The Fast Track
The Fast Track Family
Call Points are available near all these bays, alternatively you can call 01519071030
However, there are two car parks where there is no disabled parking available. Those are: The Cheap Parking Car Park and The Drop off 2 area.
In the Express Drop Off Car Park, you are allowed up to 40 minutes free but you must present your badge in order to use this service
The special assistance bays are distinctly marked in all the car parks and assistance is available. They're placed near the terminal in each of the car parks and next to the reception in Silver Zone. If you need to use a shuttle bus, simply press the request button and assistance will be provided. Blue badge holders are given up to 30 minutes of free parking in the Drop & Go Car Park. 
We hope our information on blue badge airport parking helped you! Let us know if you have any questions, and we'll do our best to answer them.