Travel tips for LGBTQ+ holidays, destinations and airports
06 Feb, 2023
Lauren Perry
1 Comment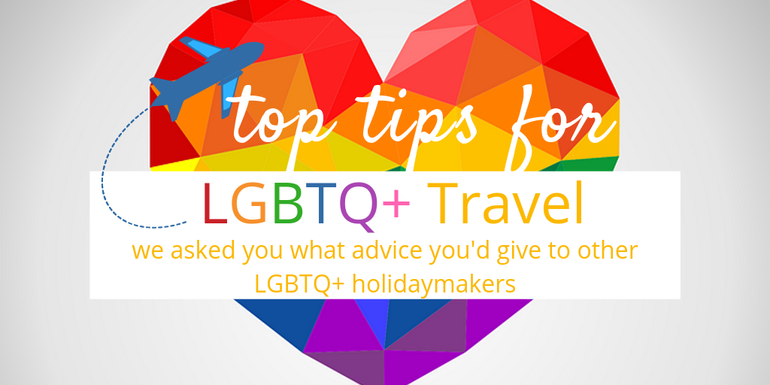 Holidays can be some of the best times of your life; strolling down the beach with your partner, enjoying dinner out with friends and family and creating fond memories to look back on!
Sadly for some travellers, it isn't always as straightforward as that.
In some countries where homosexuality is still prosecuted, holding hands with your boyfriend in public can become a political statement, getting through security can be scary and having drinks with friends can be met with hostility.
We're here to offer some advice about LGBTQ+ friendly destinations, how to get through the airport and what worldwide events are a must see. It's all thanks to a survey we sent out in 2018 to ask our readers about their experiences and what tips they'd like to pass on.
First stop on your booking process: Is travelling abroad a good call for you?
Let's look at our audience (the lovely people who filled in our survey):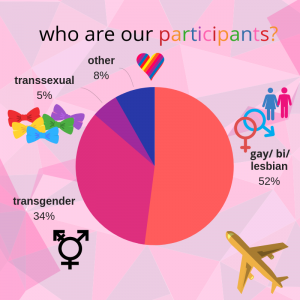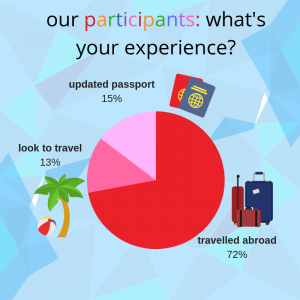 A massive 72% have travelled abroad and 13% are looking to travel. So don't worry about being a lone traveller out there! You could meet loads of familiar travellers making the same journey and seeing the same sights as you.
It's not all about if you travel, but how. 38.5% of our transgender and transsexual audience have travelled with an updated passport after officially changing gender. So, as long as your passport is valid, you should have nothing to worry about.
If you're looking to update the gender on your passport, why not pop over and visit our LGBTQ+ and Transgender: How to change gender on your passport guide?
We also asked our survey respondents if they would recommend going abroad on holiday.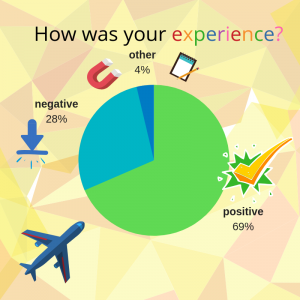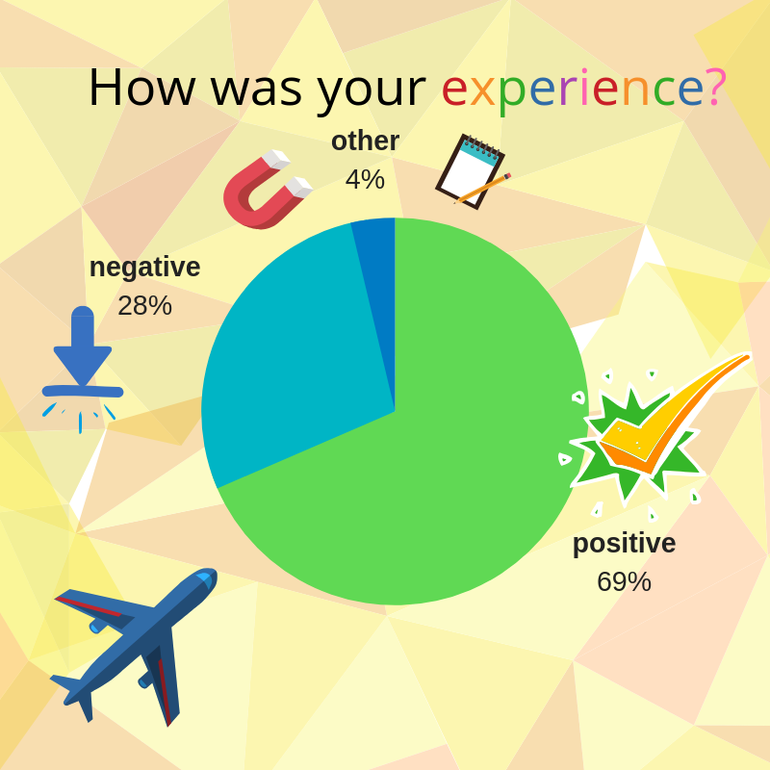 69% of our group said that they've had positive experiences travelling abroad and only 28% said they'd had a negative experience. Often those who had negative experiences stated they were due to "other tourists" or from "overly straight areas" rather than because of any local hostility.
Since two thirds of our readers reported a positive experience, it seems travelling, no matter who you are can be a great idea. It's a matter of planning ahead and finding the best destinations for you.
Many respondents were adamant not to let their gender or sexuality get in the way of their travel plans. To quote one person: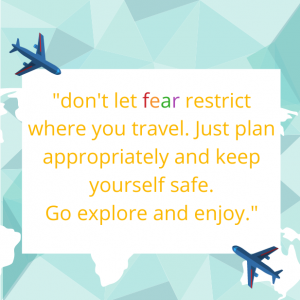 Second stop: let's look at the destinations
We asked our readers which places they would recommend to other LGBTQ+ travellers and which they'd recommend avoiding.
Please note that we're not disregarding places to travel, we are simply sharing the thoughts and feelings of those that completed the survey. There are so many cultures and countries to discover, so we encourage you to travel safely, do your research and consider getting a trusted holiday rep to support you.
From the responses we received, it was clear that the priorities and issues faced by the LGB community varied from those of the T community, so for the purpose of transparency in this article, we have discussed the needs separately.
Spain came out on top with the majority of our audience recommending a holiday there (33% of our audience who recommended destinations). Particular promotions came for cities like Barcelona, Madrid and Sitges.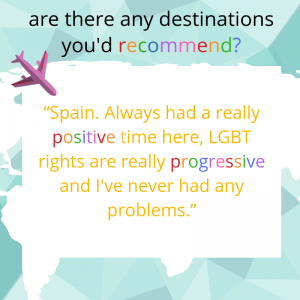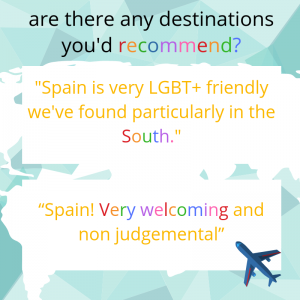 Meanwhile Russia and Dubai (United Arab Emirates) were regarded as the top places to avoid. 20% of our LGB audience recommended avoiding Russia as did 20.6% of our T audience, and no one recommended going there. One response said, "I would love to go to Russia but as you know they have a very poor record when it comes to LGBTQ rights.".
Here's the breakdown based on the respondents from our survey:
Top LGBTQ+ friendly places to visit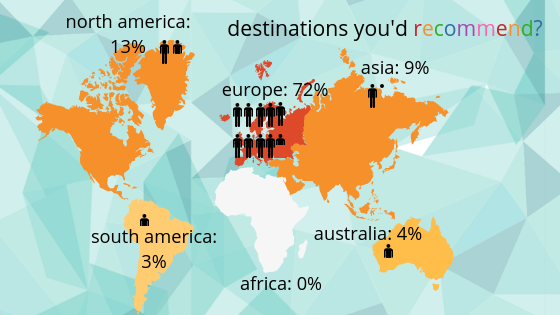 Best 15 LGBTQ+ travel destinations recommended, ranked:

Your next holiday

 

| | |
| --- | --- |
| Rank | Destination |
| 1 | Spain |
| 2 | UK and Ireland |
| 3 | Germany |
| 4 | USA |
| 5 | Greece |
| 6 | Italy |
| 7 | Canada |
| 8 | France |
| 9 | Thailand |
| 10 | New Zealand |
| 11 | Malta |
| 12 | Netherlands |
| 13 | Hungary (Budapest) |
| 14 | Iceland |
| 15 | Australia |
Top destinations to avoid on your next LGBTQ+ holiday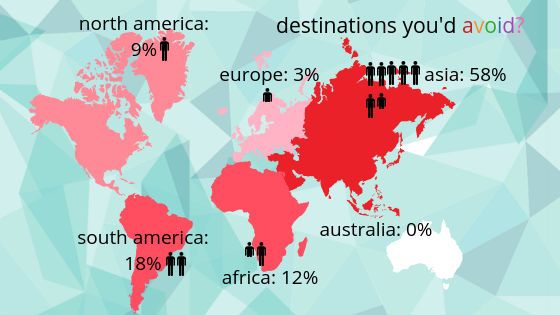 Top 15 LGBTQ+ holiday destinations to avoid, ranked:

Where not to go

 

| | |
| --- | --- |
| Rank | Destination |
| 1 | Russia |
| 2 | UAE (Dubai) |
| 3 | Saudi Arabia |
| 4 | 'Most of Africa' |
| 5 | USA |
| 6 | Jamaica |
| 7 | Israel |
| 8 | Iran |
| 9 | Brazil |
| 10 | Peru |
| 11 | Egypt |
| 12 | North Korea |
| 13 | Morocco |
| 14 | Ibiza |
| 15 | Indonesia |
There were some very interesting points from our survey responses.
For example, our audience were completely torn when it came to travelling to the USA as part of the LGBTQ+ community.
North America
5 responses recommended holidaying in America, particularly mentioning Florida,Pittsburgh and New York. Meanwhile, 6 people suggested avoiding America – one response even said "we won't travel in the US until Trump is out of power".
Our readers really were on the fence: 9% recommended going to the USA, while 11% recommended not going.
Canada, in contrast, was exclusively recommended. 7% said they would recommend holidays there and no-one said they would avoid it.
Time to get those pancakes frying and the maple syrup ready!
South America
Peru and Brazil were picked out by our audience and met with a mixed view. Generally, 11% of our audience said they would not promote travelling to South America, while 2% said they definitely would recommend a visit.
Peru was particularly divisive. 3 of our participants said they'd recommend a trip to Peru, while 4 said not to.
Despite the carnival season and open attitude, none of our responses said they'd recommend Brazil. None of our LGB group had an opinion on Brazil but 3 from our T group said they would avoid it.
Europe
Spain was recommended the most: 33% of those that recommended a location opted for Spain. Meanwhile, Malta was specifically recommended by 12% of our transgender and transsexual participants but none of our LGB group. France, Germany, Greece, Italy and Iceland also got very positive mentions and should definitely be on your bucket list.
Check out Lonely Planet's LGBTQ guide to travelling around Spain.
The feedback from our survey reminded us that staycations are always an option!
11% of our audience pulled the UK and Ireland out as particularly good destinations so you don't always have to fly out to Greece or Malta to have a good time. Why not hop on a plane to London, Dublin or Edinburgh? Or if you're local, choose a staycation as people from the surrey suggested that staycation is a great idea! So, go ahead and check out our ideas for a staycation in Scotland or Ireland! We've listed some great locations, some of which include staying in a forest dome, a lighthouse and even a castle!
Third stop: what international events would you want to see when you travel abroad?
Landmarks like the gay quarter in Barcelona, Palm Springs and the island of Mykonos were highly recommended as LGBTQ+ friendly but what about the big worldwide events? Here are our results: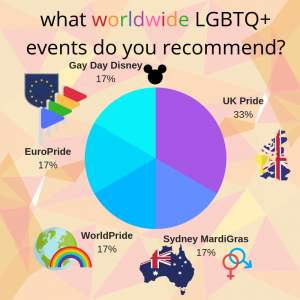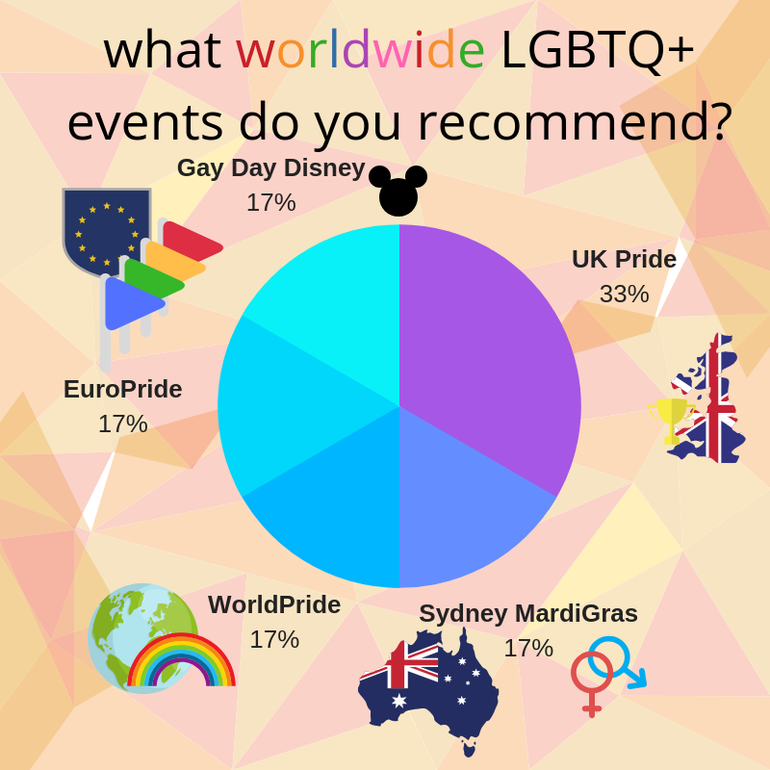 In tune with the staycations promoted by some of our participants, UK Pride is the highest-ranking worldwide event with a massive 33%! The biggest UK Pride events are London, Brighton and Manchester – we recommend seeing them all.
EuroPride is a continent-wide event hosted by a different city each year. It comes highly recommended by our audience (17%).
WorldPride is similar to EuroPride and is hosted every 4 years by countries all over the world, much like the Olympics. Previously we've seen WorldPride in Rome, Toronto, New York and Jerusalem. The next WorldPride will be in Sydney in 2023 so book now for the best flights.
Finally, Sydney Mardi Gras was recommended by 17% of our participants. Unlike the Mardi Gras in New Orleans, Sydney specifically celebrates everything LGBTQ+. It's been going for 40 years strong and happens around February each year. The twist here is that it emphasises the LGBTQ+ members in local emergency services like police and paramedics.
Whatever your plans are for your next holiday, make sure to find the best LGBTQ+ areas or plan it around a must-see event! A great place to discover international events is the IGLTA travel guys, they have an event finder where you can filter by country and time of year.
Final Stop: getting around the airport
Difficulties through UK security: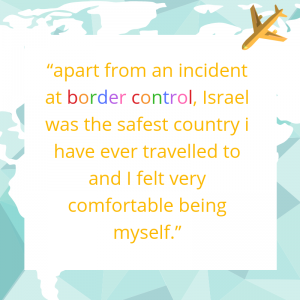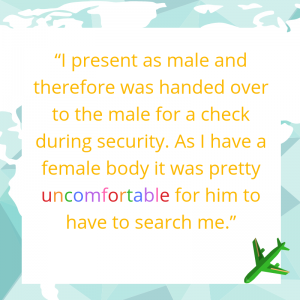 Top tip here is plan ahead and don't panic.
Make sure to pack appropriately (medication can count as liquids so pack these in your hold luggage if you can). Be aware that you may experience difficulties with security scanners or with security staff. Often they are just doing their job so the trick is to remain calm and answer any questions – you're not doing anything wrong.
All UK airports are LGBTQ+ friendly, particular mentions in our survey came for Gatwick Airport for being trans-friendly. If you're worried about foreign airports then choose countries with a positive LGBTQ+ record and consider taking documents with you or learning key phrases in their language so you can communicate appropriately.
"Keep calm and remain friendly"
Travelling with testosterone gel:
We asked the airports on this one. Here's London Heathrow's response: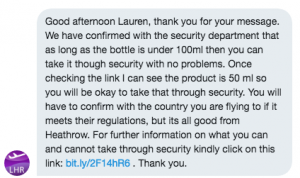 Bear in mind that most testosterone gels prescribed from your doctor will be 50-100ml, in which case it will be fine getting through security. It's always worth asking yourself, do I really need this for the flight or can I pack it in the hold luggage?
Chances are, security staff may need to test it if you carry it in your hand luggage but so long as you're not exporting more than 100ml you should be absolutely fine.
If you do have more than 100ml, we recommend packing it in your hold luggage for short-haul flights. This way, you can keep your gel in its original packaging.
If you're on a long haul flight or need to use it while you're in the air, you may need to take it in your hand luggage. Our general advice is that you can take your doctor's note/ prescription with you to show the security officers if they ask (and if you're comfortable showing them). Alternatively, section out the amount you'll need for the flight into a clear bottle or pillbox so it's definitely under the 100ml allowance and store your main container in your hold luggage.
Sharing a hotel room
We had a mixed response from our survey but generally if you stay polite and explain the situation, everything is fine.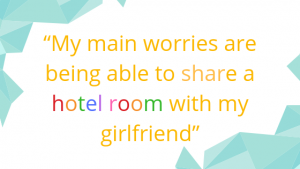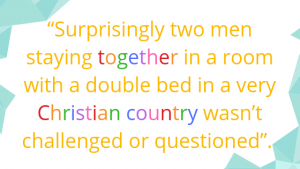 One member said they weren't shown much respect in America, but the "hotels were fine" which suggests that local attitudes don't always dictate how staff will react or the service they'll give you.
On the flipside, Ibiza is traditionally a great holiday destination with a very open culture but another member said that they had an "awful" experience from their hotel there, both from staff and other tourists. So in all honesty, you can't judge a book by its cover.
While most of our respondents suggested they were nervous about their hotel rooms, most users also reported that it was fine. "Surprisingly two men staying together in a room with a double bed in a very Christian country wasn't challenged or questioned".
Our top tip, if you are nervous would be to read the reviews or even contact the hotel to check their customer service.
How to keep safe as an LGBTQ person abroad

Stay together with your travel companions. Keep an eye out for each other in case someone wanders off on a night out or gets lost in a new city.

Know your local area well – check with Google maps, local printed maps or tour guides. It's best to know areas where you know you'll be more than welcome. If you're really worried about travelling abroad but are desperate to go, why not try package or resort holidays? One of our respondents said that they travelled to Egypt and felt welcome "within the bubble of a resort".
Pick a holiday resort with a good LGBTQ+ friendly reputation; our survey suggested Sweden, Malta, Spain and Greece gave the warmest receptions. See our heat map for recommended destinations above.

Have a backup rendezvous point and know your way home. There's nothing worse than being lost in a foreign city, not having phone reception and not being able to find where your companions are. Avoid this by having a backup landmark (this could be the friendly cafe you had breakfast in or outside the local police station).
Some words of wisdom from our readers: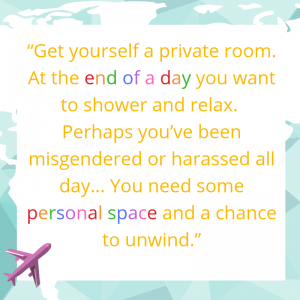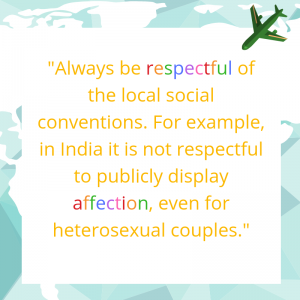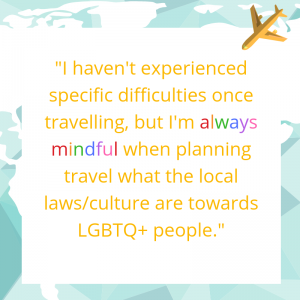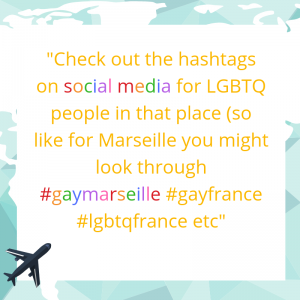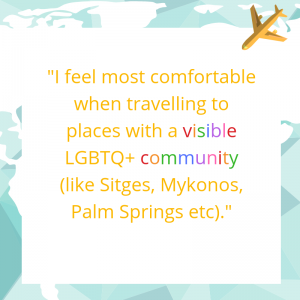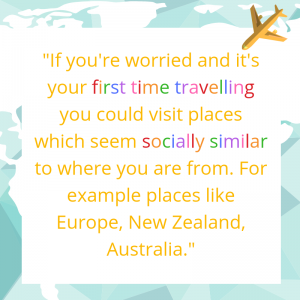 Conclusion: travel but know where you're going, plan ahead and be safe.