How and when to renew your passport?
14 Sep, 2021
Hadiya
No Comments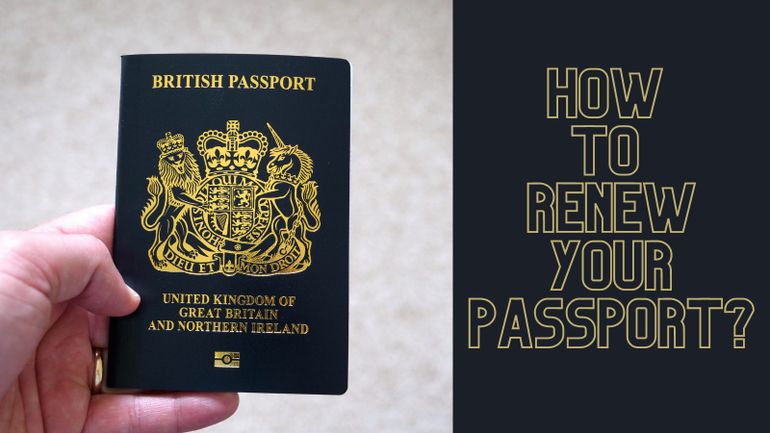 When should you renew your passport?
A lot of times, we will simply book our holidays, pack our bags and be on our way to the airport. But it is very important to check the expiration date on your passport because if it is expiring soon, you could be refused entry. Some countries aren't so strict about having your passport valid for a period of time before your travel. For instance, Australia, Canada and the USA require your passport to only be valid for the duration of your stay. But some countries, such as China, Thailand, Egypt, Turkey and most of the European (not including Ireland) countries aren't as lenient. They will require you to have your passport valid for at least six months after your return. This will also be the case for most countries that require you to have a visa to enter.
Want to find out how you can know what the requirements are for each country? Well, it's easy! Simply visit the Travel Advice section on the Foreign, Commonwealth & Development Office website. From there, click the foreign travel advice section and select the country you want to visit. In their entry requirements section, you need to find a section on 'Passport validity'. That should have the rules for that specific country.
What about Brexit? How does it affect my passport?
If you're travelling to a non-EU country, the rules haven't changed. As for travelling to the EU, as mentioned above, you need a minimum of six months left on your passport from the day you return.
If you have an EU passport and it's not expired yet then you're allowed to use it till it expires.
You will also need to make sure that the passport is less than 10 years old. This means that any extra months that have been added to your old passport will not count. The government states "If you renewed your current passport before the previous one expired, the extra month may have been added to its expiry date. Any extra months on your passport over 10 years may not count towards the 6 months needed".
So we suggest you double-check your passport's renewal date before travelling to any EU country!
How to renew your passport?
Now that we've told you when is the best time to renew your passport, let's explain how to do it.
The easiest way to renew your passport is by doing it online. The application should only take a few minutes to complete. All you need is a digital photo, credit or debit card and your passport. For the digital photos, there are some rules you must follow or your application might be delayed. You can read up about the criteria here.
If you're worried about getting something wrong, you can use a Digital Check and Send. All you need to do is head over to your nearest post office and ask for their Digital Check and Send Service. They will take your photo for you so you don't even need to worry about having to take your picture to the specific criteria. The post office will make sure that the photo is compliant with the HM Passport Office's guidelines. They will check that all your information is correct and will send off your old passport to HM Passport Office by special delivery. HM Passport Office will keep you informed about the application via text and email.
If you don't want to apply online, you can get a paper application from the post office and simply send the application via post. But if you wanted to ensure that everything was done correctly then we recommend using their Check & Send service, although this does come with a small fee. If you want to use this service then you simply need to pop into your nearest post office branch and pick the application form. Then you need to have two photos ready; be sure they fit the criteria! At some branches, they do have the option to do this for you. Once the form is completed, someone at the post office will check that all the information you've provided is correct. After all the checks are complete, they will send them off for you via Special Delivery.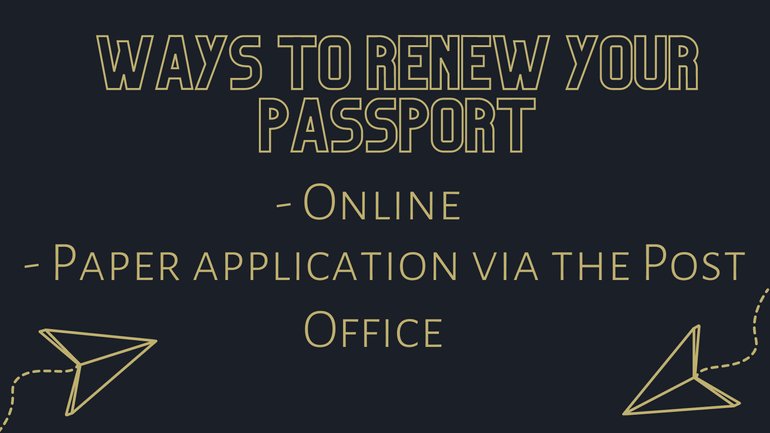 But what if my passport is lost/stolen?
If you're renewing your passport because your old one is lost or stolen, then you're going to need a countersignatory that will need to sign your application and photos to verify your identity. They will be emailed or sent a letter regarding this so ensure that you've let them know that you want them to be your countersignatory.
They must abide by the following rules:
Have known you personally for a minimum of two years
Cannot be related to you or in a relationship with you or living at the same address as you
Be over 18 years old
Hold a current UK passport and a UK resident
Know the person who's applying for a new passport personally, they cannot know you just professionally.
Working or retired from a "recognised profession"
People who cannot be someone's countersignatory
Works for the HM Passport Office
Works for UK Visas and Immigration on British citizenship or right of abode applications
How to renew a child's passport?
If you want to apply for your child's passport, the same rules apply. The only difference is that if they're under 12 years old then you'll need someone to confirm their identity after you've sent their application online. You can let the person know and they will be notified via an email from HM Passport Office. They can confirm your child's identity online and don't need to sign their photo.
If you're renewing your child's passport by post then you can fill in sections 1, 2, 3, 4 and 9. Your child will need to sign section 6 if they're 12 or over. If your child is under 12 or isn't recognisable from their previous passport then they will need a countersignatory to fill in section 10 and verify your child's photo. Lastly, you need to just sign the application, and if your child is between 12 – 15 then they too must sign it.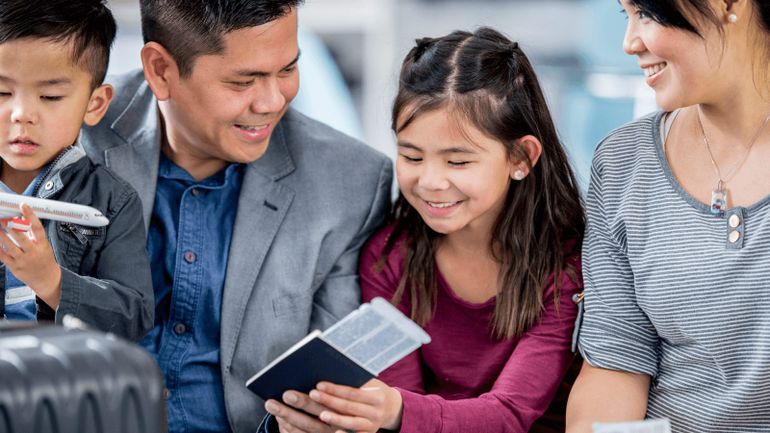 How long will the process take?
A standard online application will usually take around 5 weeks to process for both adults and children. However, the timings may vary so we recommend you don't leave it to the last minute. Especially during times of high demand, it can sometimes take several months to renew your passport. So, we recommend, you try to renew it sooner rather than later.
What if you need it urgently?
It could be that you need to travel somewhere urgently and need your passport ready quickly. All you need to do is pay for a faster service that should get you your passport within 3 weeks. To do this, you'll need to make a passport office appointment and pay online.
How can you apply?
There are two ways you can apply for a passport if you need it urgently. Part of the process of applying is that you'll need to attend an appointment at your local passport office.
The first way is online premium. You'll need to apply and pay for an appointment online and the earliest possible appointment that you can get is 2 days after you've applied. You'll get your new passport at your appointment and it may last up to half an hour.
The other way is a 1-week Fast Track service. For this, you need to pick up a paper application from the post office as this service is not available online. But you will need to book your appointment online. Then you fill in your paper application and bring any supporting documents, as well as two identical pictures for your appointment. You'll get your new passport delivered to your home within seven days of your appointment. Be sure to have someone at your home sign for this delivery.
If applying online is an issue then you can book your appointment by calling at 0300 222 0000 and pay via phone.
How much does it cost?
If you want to renew your passport, the prices will vary depending on which service you use and if it's for an adult or a child.
| Service | Prices |
| --- | --- |
| Adult online passport renewal | £75.50 |
| Adult Digital Check & Send Service | £91.50 |
| Adult Post Office passport renewal | £85 |
| Adult Post Office Check & Send Service | £101 |
| Child online passport renewal | £49 |
| Child Digital Check & Send Service | £65 |
| Child Post Office passport renewal | £58.50 |
| Child Post Office Check & Send Service | £74.50 |
| Online Premium Service | £177 |
| 1 Week Fast Track Service Adult | £142 |
| 1 Week Fast Track Service Child | £122 |
We hope you found our guide on how you can renew your passport useful. If you've any questions, let us know in the comments below!