Travelling after Brexit: Leaving without a deal
11 Mar, 2020
Franki Napolitano
4 Comments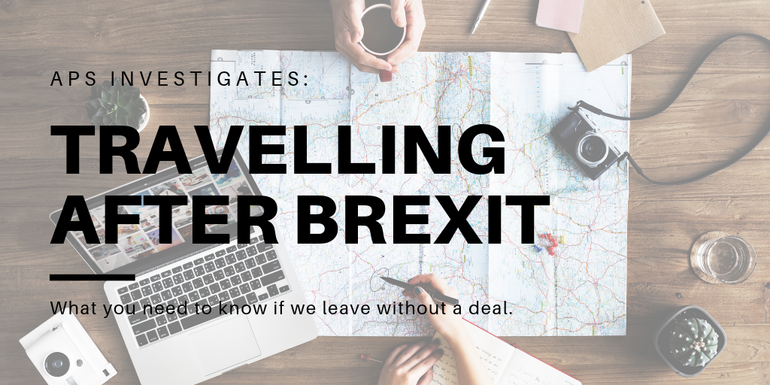 Brexit has been on people's minds a lot these days, especially with all the extension and the delays, it's hard to keep up! Currently, the UK has been given an extension till 31st january 2020. So what happens if we actually leave? Well, We've looked into what considerations you'll need to make, travelling after Brexit, what happens to your passport, those all important data roaming fees and more to give you a well rounded view on how to prepare…
Travelling after Brexit: Will I need a new Passport after Brexit?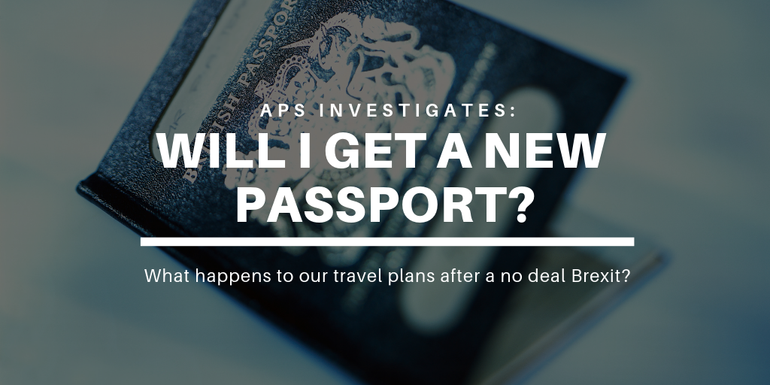 Take a look at your current passport; does it have less than 6 months until it expires? If so, get yourself a new one as you will need at least 6 months on your passport to travel within the EU in the event of a no deal Brexit. Some EU countries won't allow you in without this, even for a holiday. You will recieve a Burgundy passport, almost identical to your current one, except it will not mention the Europen Union.
If you have more than 6 months on yours, you'll be okay and won't need to renew it straight away. The Blue passports won't be released until late 2019 / early 2020 so there is no rush to get yours renewed.
Please note: If you have any extra months on your passport as a result of an early renewal, they will no longer count (as of September 10, 2018). If you are unsure as to whether or not you can travel on your current passport, use the Gov.uk passport checker to be sure.
Obviously, we are going by the information available to us right now, and this is all subject to change, depending on whether we leave the EU with a deal or not.
Travelling in Europe after Brexit: You won't need a visa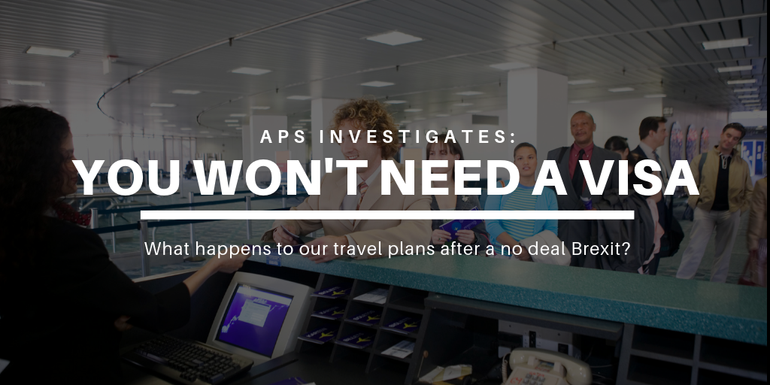 You may not need a visa, but deal or no deal, if you're aged 18-70 you'll need to apply and pay for an ETIAS (European Travel Information and Authorisation System), which is just like an ESTA, if you've ever travelled to the U.S.
It'll cost you just £6.30 (€7, which is still cheaper than an ESTA) and is valid for 3 years. This system will be brought into practice from 2021 so until the end of the transition period in 2020, you're free to travel throughout the Schengen Area* on just your passport or Identity Card.
The ETIAS is an electronic way of keeping track of visitors to and from the country that uses them. They take around 10 minutes to complete online and collects personal data such as your passport details, any criminal history and your return decisions.
Automatic application processing takes a matter of minutes and once you have been authorised, be sure to keep a copy of the authorisation. Printing it out and keeping it with your passport is the easiest way to make sure you remember it!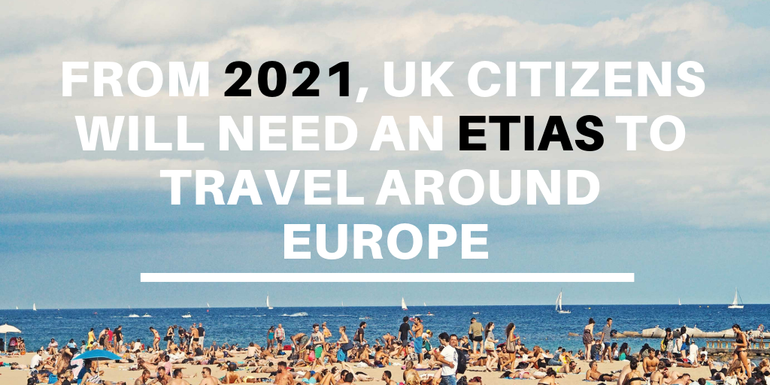 It's worth mentioning here that the UK will be able to have visa free travel to other EU countires if they too offer visa free travel to all EU citizens, so the above information could change if the government decide to restrict travel into the UK.
*What's the Schengen Area?
The Schengen area is a borderless collection of European countries, excluding Bulgaria, Croatia, Cyprus, Romania and the United Kingdom, which make up the World's largest visa free zone. This means travel between the 26 member states is unrestricted and works to harmonise the rules on the external borders. When we leave the EU, there have been discussions about the UK joining the Schengen Area, like other non-EU countries like Norway and Switzerland, but this remains to be seen.
Booking Holidays After Brexit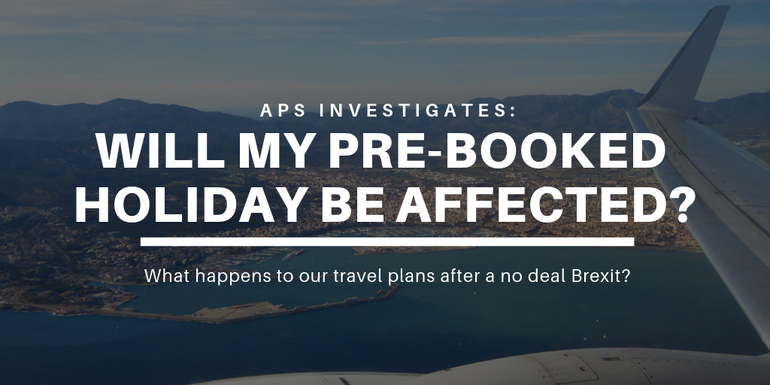 There have been many stories floating around stating that once we hit Brexit, we won't be able to fly or sail as the ports and airports will just shut down. We have been reassured by the European Commission that this will not be the case and in fact, they have stated that even in the event of a no deal, no flights will be grounded and business should continue as normal.
That being said, what happens if your flight is delayed or cancelled as a result of Brexit? There is currently a regulation in place that helps passengers claim compensation in the event of a delayed or cancelled flight, or are denied boarding. This is the EU261 and it will remain in place post Brexit.
However, (you knew that was coming), the EU261 doesn't cover for circumstances out of the airline's control which includes, you guessed it, Brexit. Read more from the guys at MoneySavingExpert for in depth insight into what it all means (as well as 24 other need-to-know-about-Brexit facts!)
Will Brexit invalidate my EHIC Card?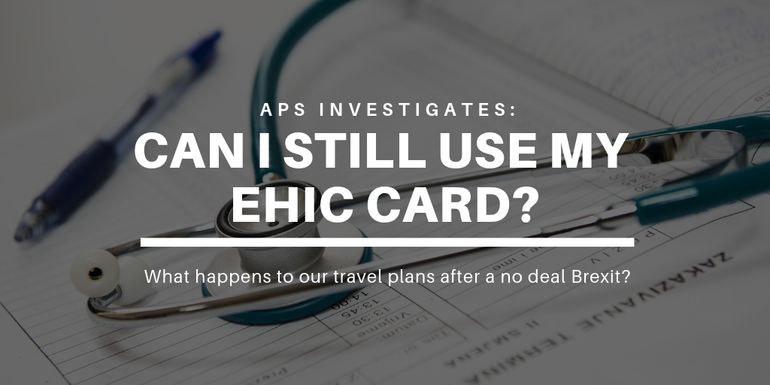 Carrying an EHIC card, previously known as the E111 card, whilst visiting another EU country entitles you to state proivided healthcare or treatment should you fall ill abroad. If we leave without a deal, the card will no longer be valid and you will have to view your healthcare in the same way as we currently would visiting a non-EU country.
If we do leave with a deal, we will still be under EU law until Decemeber 31st 2020 whilst we are in the trasitition period, so your card will work as normal until then.
– Thank you to reader Martin for asking the question in the comments, prompting the addition of this impoertant point!
Will flights and hotels be more expensive after Brexit?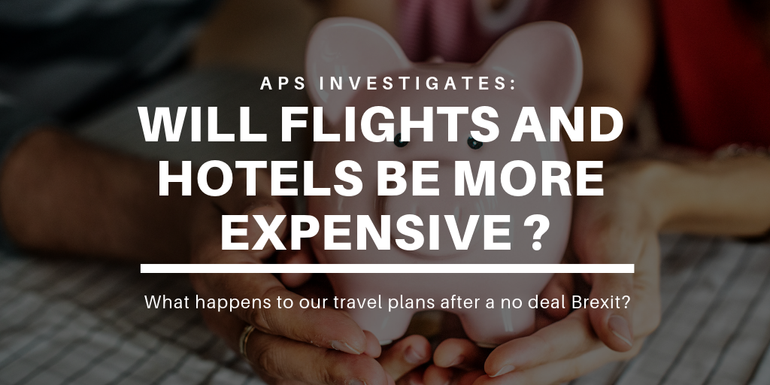 It's hard to say; it's really dependent on the value of the pound against the Euro and the US Dollar and the price of oil. Given that the UK is one of the biggest travel markets for Europe at the moment, it would be hard to imagine countries who rely on our tourism will make things difficult for us by increasing prices. We'd hope, anyway!
If the pound to dollar rate decreases much more, flight prices may increase because oil is priced in US Dollars. As you can probably tell, we really don't know any answers yet as we don't know what leaving the EU will do to the value of our pound.
Data Roaming charges; will they come back?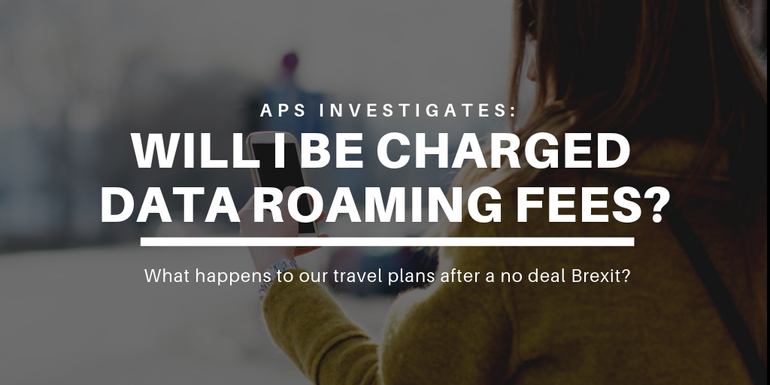 Now, this answer hLeaving as a couple of variations depending on whether we leave with a deal or not. Leaving with a deal will mean that during the transition period, we will still get our data roaming without charges. After this period, at the end of 2020, the arrangements for roaming and charges will be wholly dependent on the decisions made by the Future Economic Partnership.
Leaving without a deal will mean that UK network providers are no longer obligated to stick to the roaming regulations set out by the European Union. Some providers have said that they won't re-introduce charges, but this isn't for certain.
What we do know is, if we do end up with a no deal the UK government would legislate that providers are to set a £45 limit per monthly billing period on data charges, with warning messgaes to tell you when you reach 80% and 100% of your limit, thus hopefully not causing you too much of a heart attack when you get your holiday bill through.
Can I still hire a car or drive mine abroad after Brexit?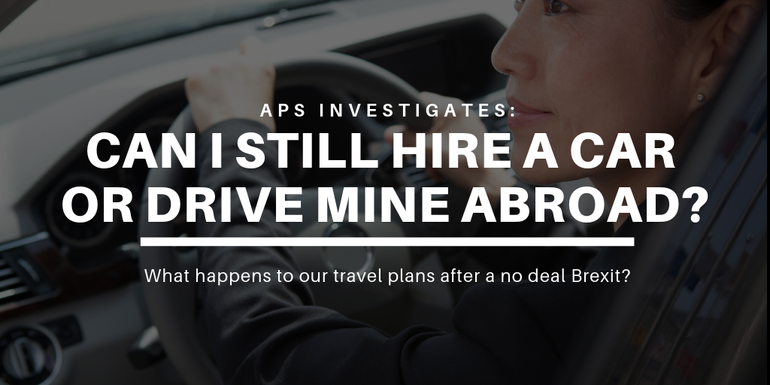 You will be able to do both after Brexit, but the documents you'll need may change. Following a no deal Brexit, UK drivers may also need an IDP (International Driving Parmit) alongside their UK drivers licence when they rent or drive a car.
Applying for an IDP will set you back a mere £5.50 and you can pick up the application forms from your local Post Office. There are 3 types of IDP available, the 1926, 1949 and 1968 and which one you'd need is dependant on the country you're driving in. To check which one would be suitable for you, head over to Gov.uk for more information. This is espeically important if you drive for work or intend to drive across multiple countries as for instance, Spain and France both require different IDPs.
If you hold a UK driving licence but live in another EU country, you should exchange this licence for a local EU drivers licence before Brexit which is expected to be 31st january 2020. If you don't, you may be required to take another driving test in the country you are living in. Please note, you will still be ok to drive in the UK on your new European Driving licence.
For in depth information surounding driving your car abroad after Brexit, head over to the Gov.uk factsheet.
Should I Buy Euros Before Brexit?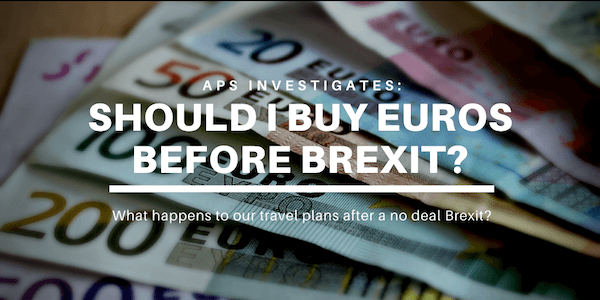 So, you're thinking that with all this Brexit uncertainty, is it worth buying some euros before we actually leave? Well, the answer isn't as simple as yes or no. It's a little more complicated than that but we'll try to break it down for you.
The exchange rate is fluctuating all the time so it's hard to say whether you'll get a better bargain by buying it now or by waiting. One of the things you can do is use the halving rule, buy half of the cash now and then wait for the rest for when you actually need it. This is a bit of gamble because you might get the better deal if you wait or you might get it on the day. The point is you simply can't predict it but there are factors that go in like for instance pound rates dropped after the Brexit results so we can only predict how much it will drop after we actually leave.
Right now, 1 euro is worth 86p so you can see, the difference isn't actually that huge anymore. But of course, it does add up so we'll let you decide that one.
Another point to consider is that if Brexit were to take place, some say that the euro is expected to be hit even worse than the pound and thus the rates for euro will drop significantly. So, when you think about this, it appears that conversion doesn't seem like a great idea. But the future is uncertain, no one knows what will actually happen. We have provided you with the options, you can now decide for yourself what will be the best course of action for yourself!
Will we be worse off after Brexit?
It's hard to give definitive information regarding travel as we may still leave with a deal. If we do, some of the points above regarding travelling after Brexit could change, and if they do, we'll be sure to bring you the latest and most up to date information we can!