The Best Golf Holiday Destinations Around The World
14 Oct, 2021
Hadiya
No Comments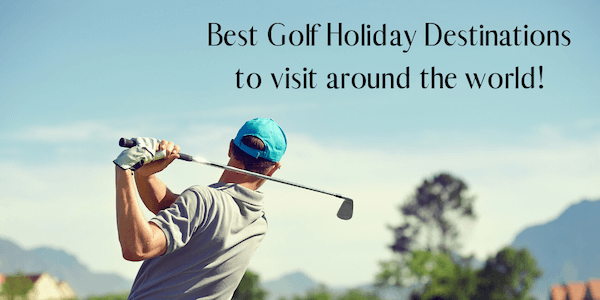 Booking a golf holiday can be stressful. Trying to find the best deals on hotels and flights can be very exhausting! This is why all inclusive golf holidays are on the rise, this way, you simply buy a package and it has all and everything you may need. By doing this, you no longer have to try and find the perfect hotel and your dream golf course, you simply book a golf resort and that's it! Whilst, there are so many stunning golfing locations around the world, but we have conveniently narrowed those down to our top 5 best golf holiday destinations.
If you're going with your family and you have little ones, why not read our useful guide on how to keep the kids entertained during long journeys? This way, you'll be all set for the long journey ahead!
Best Golf Holiday Destinations
Turkey
Turkey has been a favourite place to visit for golfers for a while now. Whilst there are many options to choose from, Montgomerie Maxx Royal Belek Golf Resort is the best option as you can visit this stunning spot all year round. With the stunning Mediterranean beach setting, the resort offers 7 pools and 5 restaurants! Not to mention that if you're going with the family, you'll be pleased to know, it has an amazing on-site funfair which the kids will surely love. If after playing golf all day, you want to have a little spa treatment, then this place has got you covered! They offer a range of massage rooms, skin treatments, as well as a traditional Turkish bath. It's also only a 10-minute walk from the local shops and restaurants so you can wander around during the evening in the beautiful town of Belek.
The site offers an exceptional 18 hole golf course which the world-famous golfer Colin Montgomerie designed so you'll certainly fall in love with this one. It's home to some of the finest golf tournaments which will provide you with a unique experience – for example, the last 9 holes in the course are specially lit! You'll also get the chance to play at Faldo Championship Golf course which legendary golfer Nick Faldo designed so this will be a treat! Finally, you'll be able to play at the beautiful Titanic Golf Club course which is set amongst the picturesque Taurus Mountains.
Prices start from £1400 for a week, per person.
It is located roughly 24 km from Antalya Airport.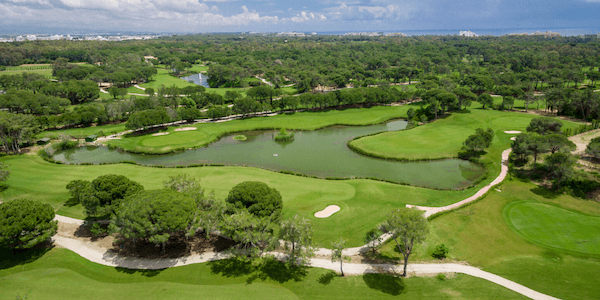 Portugal Golf Holidays
Portugal has some of the best golf resorts around Europe so if Turkey didn't seem like your cup of tea, why not visit Portugal instead? Their Sao Rafael Suites is located within walking distance to the Sao Rafael beach, which is known to be the fourth-best in Europe and a favourite amongst the tourists in Portugal! If you're coming with children, the beach will provide the perfect location in which you can relax and the kids can play! The resort includes access to the golf courses.
The Alamos golf course is a short course however it is a technical field and should still be challenging for any golfer! Salgados golf course is the one for you if you're an absolute nature lover. It has stunning views, as well as a shelter for birds, some of which are nearly extinct, so enjoy the golf course with the beautiful bird song in the background. Last but certainly not least, Morgado golf course is a relatively new course, it only opened in 2003. This one features views of the stunning Monchique Mountains so it's the perfect backdrop!
It is located roughly 40 km away from Faro Airport.
Prices start from £950 for a week, per adult.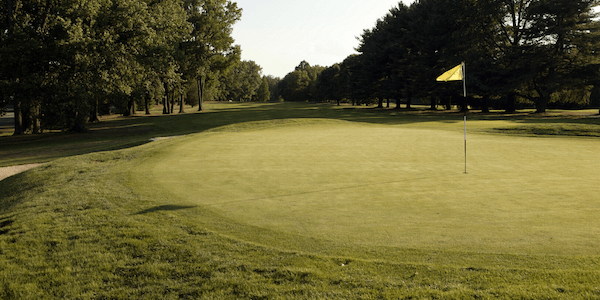 Golfing in Spain
Spain is often referred to as one of the best golf holiday destinations in Europe. The Vincci Tenerife Golf resort is one of the best in Spain! The resort captures the insanely beautiful views of South Tenerife bays. It's the perfect place for both families and couples as there are a variety of activities that will suit your needs! The local shops and restaurants aren't too far away either so do go out and explore the local area.
There are 4 golf courses available at this resort, all of which have been built by specialists, who are trained in creating spectacular and challenging course for any golfer. Although all impressive, Golf del Sur is the one to look out for! It was designed by Jose Gancedo and Manuek Oinero and it has three 9-hole courses.
Prices start from £1220 for a week.
From Tenerife South Airport, it is only 7.5 km by road and 72km from Tenerife North Airport.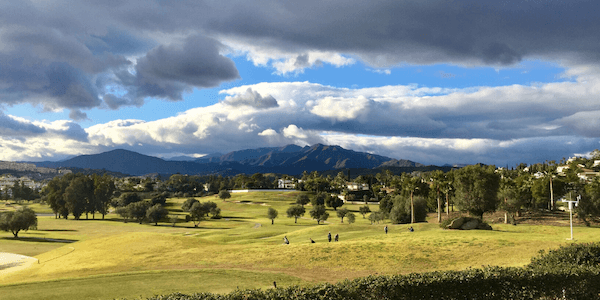 Morroco
Morroco is the place for you if you're looking for a golf holiday during the cold winter months as it's known for its warm climate. Clubhotel Riu Tikida Palmeraie is one of Morocco's prime golf resorts to visit because of its exotic location which is surrounded by beautifully kept gardens and a peaceful atmosphere. It is located in the beautiful city of Marrakesh which is rich in history and is renowned for its colourful markets. Walk through the narrow streets and soak up the local history!
The resort offers 3 different courses. The Assoufid course is a stimulating 18 hole course that overlooks the beautiful Atlas mountains. The Noria Golf course is another great course that golfers of all ranges will enjoy. Last but definitely not least, the Al Maaden golf course cannot be one you miss out on, it is a challenging 18 hole course that any golfer would enjoy.
Prices start at £500 for a week, per adult.
The resort is located around 6.9km from Marrakech Airport.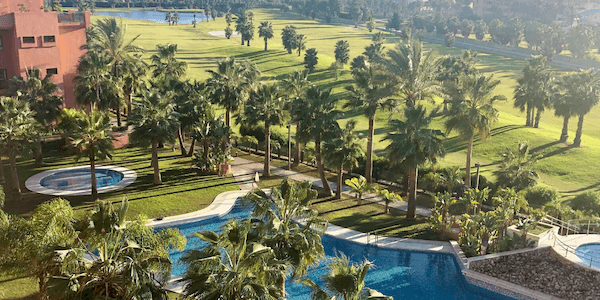 Golf Holiday Destinations in Cyprus
Cyprus may not seem the obvious choice for a golf holiday but that's exactly what makes it the perfect spot! The Aphrodite Hills Golf and Spa resort offers you the best of both worlds, you can have the perfect spa day to relax and unwind as well as enjoy your golf too! It is located in Paphos surrounded by hills and nature and will leave you with an unforgettable experience. You can get yourself a stunning villa which will have air conditioning, a comfortable and roomy living room and a flat-screen TV.
The resort offers 2 golf courses. The Aphrodite Hills course was the first of its kind to open in Cyprus and it offers a spectacular 18-hole golf course. The well-known architect, Cabell Robinson designed this and it was officially opened in 2002. It was designed to cater for golfers of all ages and abilities. Elea's course is another wonderful course and it was designed by Sir Nick Faldo. He uses many different natural features in order to create a true Mediterranean experience.
Prices start from £650 for a week, per adult.
Paphos International Airport is roughly 19 km from this resort.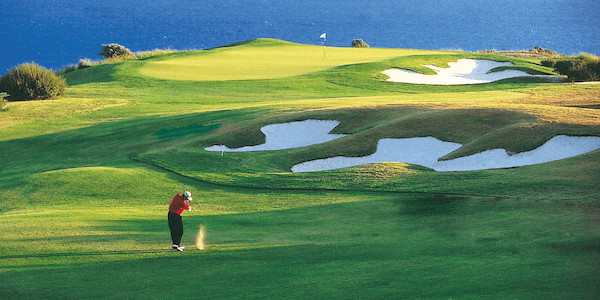 Photo credit: CTO Zurich
We hope you liked the sound of all of these because we definitely did! However, if you wanted to venture out further, there are some other great locations available around the world. For instance, Dubai has many wonderful places to golf and with its perfect weather, it'll certainly be a holiday you won't forget. Likewise, America has some of the world's finest golf resorts, all of which promise a world-class experience. Some of these include: Pinehurst in North Carolina, Pebble Beach in California, The Broadmoor in Colorado Springs, and Sea Island Resort in Georgia.
Flying With Golf Clubs
Airline
Airline charge
Max weight limit
Max size
Ryanair, flying from Gatwick
£30 if booked online and £40 if booked at the airport
20 KG
N/A
British Airways
Your golf equipment should be packed in a protective bag or case and it will count as checked baggage. 
23kg, there will be a charge if it goes over
90cm x 75 cm x 43 cm
easyJet
Flying from Glasgow
£37 (if pre-booked) and £47 (airport price) per person and per item for small sports equipment.
20kg
N/A
Lufthansa
It's free as it counts as normal baggage but if it's extra then €50. In first-class, you're allowed three bags
23KG for economy class and 32KG for first class.
N/A
Air France
Flying from Edinburgh
It's free because it's counted as normal luggage. If you exceed this then it's £70 each way
23KG for economy and 32KG for first class.
N/A
Air Canada
It's free as the equipment will count towards one baggage allowance.
23KG, there will be a charge if it goes over.
N/A
Emirates
Flying from Stansted
It will be counted as regular luggage.
Depends on your ticket selection
300cm
Southwest Airlines
Golf equipment will be allowed as standard baggage.
23KG, there will be a charge if it's exceeded
62 inches
Jet2
Flying from Manchester
Charges apply
22KG
182 x 91 cm
JetBlue
No extra charge as it'll be counted as baggage
22.68KG
62 inches
Golf travel insurance
So now that you've got the perfect holiday booked, you want to ensure you book specialist golf travel insurance too! As you're perfectly aware, golf equipment is not cheap so the last thing you want is to lose it.
Buying golf insurance is different than regular insurance as it'll be catered to your specific needs as a golfer. There are usually added extras too that will be really beneficial to you! This way, you can now relax and really enjoy your holiday and not have to worry about damaging your equipment.
Golf insurance will usually cover things like damage, loss or theft to your golf equipment, this includes your clubs too. It will also cover green fees, which are essentially non – refundable payments that you have already made in case of an emergency or illness, if you're unable to pay, this cost will be covered.
With some sports, you may get insured for injury too, however, as golf is not considered to be a very dangerous sport, it's very unlikely you'll sustain an injury. Therefore, most insurance for golf won't include insurance for injury. Likewise, if you were to hurt someone else whilst playing, it is unlikely that it'll be covered in your insurance. However, some insurances may provide it but it is a good idea to check with your specific provider.
Do bear in mind that if you're paying extra for the golf equipment and then insurance on top of it, it may simply be cheaper to hire equipment from the local resort. In some cases this works out cheaper than having your own equipment. This way, you're also given peace of mind because you don't have to carry and look after the equipment.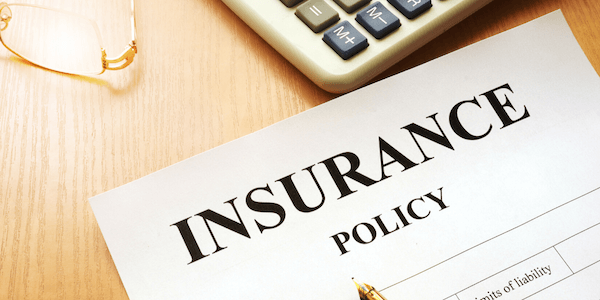 Tips for taking Golf Clubs on the plane
If you decide there's no way you can be parted with your beloved clubs then worry not! We have some tips to help you out.
Label your golf bag properly, just like you would any other luggage. Put a tag on with all the relevant information both on the inside and outside so that it can be easily identified. The information should include your full name, contact number, hotel details, flight details and home address in case it was misplaced.
Store all your golfing equipment in one bag, there are usually pockets and there's loads of room so ensure your shoes and other accessories are all in one place. This way, you don't have to try and find one thing or risk losing it.
Make it really secure! Most airlines say that they won't be held responsible if there's any damage to the equipment. So ensure there are no holes or any broken zips and it's tightly wrapped.
Ensure your golf clubs are properly protected! Like the rest of luggage, this will probably be tossed around so make sure you pack your golf clubs in a hard case.
Whilst booking your flight, make sure to select sports equipment option so that your airline is aware that you'll be bringing sporting equipment with you.
As shown above, there are weight restrictions for the golfing equipment so ensure you know the maximum you're allowed as well as the extra cost if the airline has one.
We hope this guide helps you find the best golf holiday destinations! Let us know if you have any further questions and we'll try our best to answer. Whilst booking for your flight, don't forget to book airport parking too as this will usually save you a lot of money when booked in advance!