Should I take my suitcase or backpack? How to pick the best luggage
28 Jun, 2023
Franki Napolitano
No Comments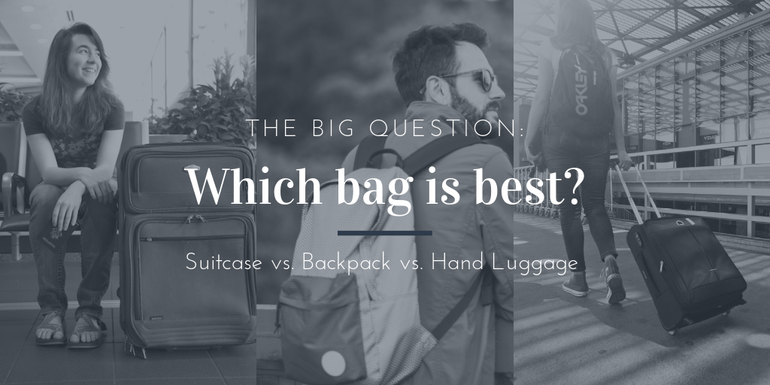 | This blog contains affiliate links, see the links with the asterisk sign |
We've all been there; heading off on a trip, planning our packing but unsure on whether or not our favourite old suitcase is the best luggage option to take.
With a myriad of options available to us nowadays when it comes to travel bags, it's no wonder we can get a little confused over the most efficient ways to pack and travel; some bags are just better suited to some trips over others. As much as we love our handy, rollable carry-on, is it the best option when we leave for Borneo?
With this in mind, we look at the most popular travel bag options available and which trips they are best suited to, hopefully making that question an easy one to answer the next time you need to pack!
Should I take my Backpack?
Ah the noble backpack, be it your on trend Vans rucksack or your trusty, I've-seen-more-festivals-than-I-care-to-admit-to number, the backpack can prove an invaluable piece of travel kit. Even better if it has padded shoulder straps and across the body fastening!
Pros
– You'll have both hands spare for map, camera, phone or ice cream holding. Free hands are also brilliant when travelling with children; you never know when you'll have a nose to wipe or strewn toy to pick up!
– The weight of your luggage is evenly distributed in a backpack. No tired arm or sore hand from carrying a heavy bag on one side.
Cons
– More easily broken in to by opportunist thieves. Easily done, especially in a crowd.  And they make you look more touristy – not so great when you're on holiday.
– Much harder to organise your belongings and find things in a hurry.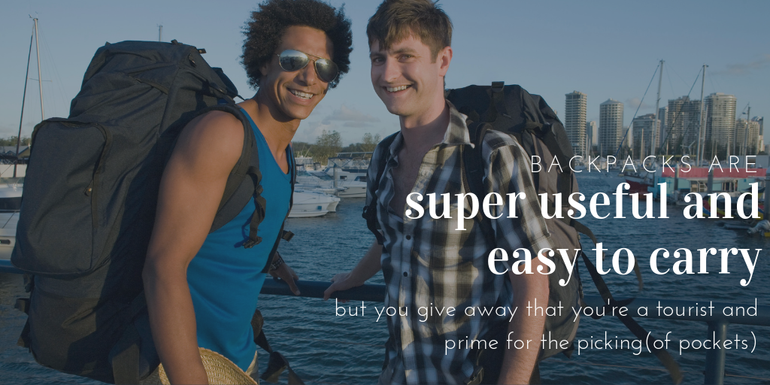 The Best Backpack for…
Travelling or backpacking: One of the best features of the The Highlander Explorer Backpack is that you get two bags in one, so that's already a winner in our eyes! The padded shoulder straps, along with the chest and waist straps, also add the all needed comfort and security you want on your trek!
A holiday with kids: We have two for you to choose from here; 1) The Greco Gotham Smart Organiser  is a nappy bag but on your back! With handy sections for nappies, bottles, food and clothes, everything is easy to reach and find. The Lowe Alpine Vector 18 bag is more of a standard rucksack, but with lots of space! Perfect for storing daily essentials, food and valuables.
An adventure holiday:  If a lightweight bag with enough storage space to pack away a day or so worth of walking or cycling essentials is what you're after, then how about The Osprey Daylite Backpack? The bag has a panel loading opening compartment giving ease of access, alongside those much needed chest and waist straps for the added security. All that and it's showerproof, too. Result!
Our personal favourite: We liked this one as it could be the perfect all rounder; your carry on luggage, work or school bag, day bag whilst city walking and sight seeing, the list is endless! Available in a range of colours, the Osprey Ultralight Stuff Rucksack*
also folds right down into a small carry case so it can be packed away when not in use. What's not to like!?
Do I take my Suitcase on holiday…or to a festival?!
For those of us that don't do minimalism… Suitcases take away the stress of decanting your favourite creams, aftershaves and shampoos into smaller bottles. They also mean you can take those extra "just in case" outfits and extra shoes. Suitcases are much better for those going on a longer holiday or needing the extra room for post holiday treats!
Pros
– Lots of space and weight allowance meaning you can share your large suitcase with a partner, friend or children to save money!
– A case on 4 wheels is extremely easy to manoeuvre (if it isn't too un-sturdy)  and let's face it, fun to use! You can also sit your hand luggage on top and off you go – no aching shoulders!
Cons
– Not so great if you have lots of walking to do i.e. along cobbled streets to your hotel or across grass if you take one camping – Yep, I've seen people take suitcases to festivals… Just don't do it. All that mud and grass just gets clogged in the wheels and it takes ages to move with one. The small wheels just aren't made for grass; dry or not!
– They can be heavy and tricky to pick up from the baggage carousel, especially if you're on your own with children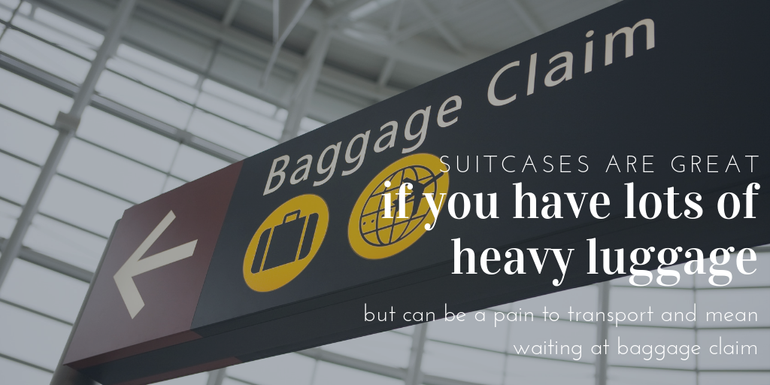 The Best Suitcase for…
Family Holidays: We'd recommend investing in a hard wearing luggage set for all of your baggage needs! The largest case can be shared between the parents and include any bulkier child items, the middle case can be full of the kid's clothes, toys and such, whilst you then have the smallest bag ready as hand luggage.
Sets such as the VonHaus 3pc Hard Shell or the HAUPTSTADKOFFER – X- Berg set are ideal for families; they stack perfectly inside one another to save space when not in use and the bold colours ensure no-one gets lost in the airport..!  
Long Haul Trips: Honeymoons, All-Inclusive Breaks and Cruises, you know, the trips that mean you may be away for a bit longer than a week. You want to opt for a case such as the Karabar Evora XL; it's spacious enough to pack both sides of the case, with a bright, hard shell exterior, 4 wheels and weighs less than 5kgs. If you need to go even more lightweight, how about the IT Luggage World's Lightest Spinner which weighs in at just 1.9kgs?!
Our personal favourite: Well it had to be this Samsonite Cosmolite – Spinner in Ice Blue*
.  Everything from the colour and weight to the durability and trust in the brand got us. We're not so sure about the price tag though..!
Should I just take my hand luggage?
The case that we would all love to be able to travel with, especially when travelling on a budget airline. You needn't just save it for the plane either; if you're off on a weekend trip, often taking your rolling hand luggage is easier to transport than an overnight bag.
Pros
– Lightweight and easy to transport. No waiting around at check in desks or baggage carousels.
– Perfect way to avoid the often extortionate checked baggage fees slapped on by budget airlines. If you're a newbie to packing light, we've got a blog to help with that..!
Cons
– The lack of space can be an issue for those that can't compromise on the amount of luggage they need to take
– Getting them into the overhead storage can be tricky, especially if you're struggling for space and you have a solid case that can't be squished..!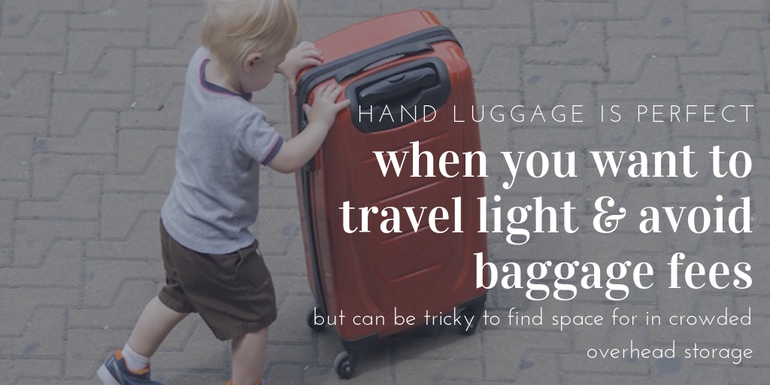 The Best Hand Luggage for…
A weekend away: We'd suggest the InTravel Cabin bag or the Aerolite Super Lightweight bag for your lightweight, soft sided cabin bag; both weigh in at less than 2kgs and are approved by most airlines (including easyjet, and Ryanair).  The handy outside pockets also come to great use if you are restricted to just one piece of hand luggage (easyjet!)
If style is more what you're after, perhaps something more like the 5Cities Lightweight ABS bag? With 4 wheels, a hard outer shell and 3 barrel security lock, this bag is perfect for all means of travel!
Business Trips: The Samsonite 55cm Hand Luggage is the ultimate mix of sophistication, convenience and reliability. The strong curve exterior acts as the perfect protection to your valuables inside whilst remaining extremely light and easy to manoeuvre. Available in a range of colours and sizes, it's the perfect start to your new collection of travel bags!
Find packing with just hand luggage a struggle? Read our handy blog on how to do just that, including the size restrictions on popular airlines and more, over on our hand luggage blog!
Our personal favourite: The Bluesmart International Luggage*
might come with a hefty price tag, but international business travellers will agree it's well worth the investment. Not only is it sleek and modern in design, it also comes with a range of cool tech features, too; USB charging ports for your devices, self weighing scales, 3G/GPS tracking in case the case is lost or stolen and even a digital lock which you control from your smartphone. Pretty cool, huh?!
Speaking of pretty cool…
We couldn't help ourselves when it came to these babies; what's not to love?!
Traxpack – The Smart, rollable-up-the-stairs one
Modobag – The letting adults be kids one
Néit – The space conscious one
We hope you found this article useful! What are your go-to bags? Do you have different ones depending on your trip? Or have you already got one of the ones we recommend above? We'd love to hear your thoughts on what is the best luggage for trip!