20 Jun, 2014
Jurga Sefton
No Comments
You've worked out your summer holiday budget, booked your flights, and then… you groan. You forgot the airport parking. Extortionate, rip-off, always more expensive airport parking.
Or is it?
At Airport Parking Shop, we decided to have a look at whether or not airport parking really does always get more expensive year on year. So, we gathered data for 27 of the UK's leading airports, looked at the cheapest available option for each, and found that over a quarter of airports have parking options available that are cheaper this year than they were in 2013, while prices remained the same for 19% of the UK's airports.
Although London City had the biggest price reduction with prices down 39% year on year, it is still the most expensive overall with 2 weeks parking costing £140.
Leaving your car for two weeks in August at Stansted and Gatwick airports will cost you less this year than last year, with cheapest option now available at 30% less for Stansted and 3% less for Gatwick.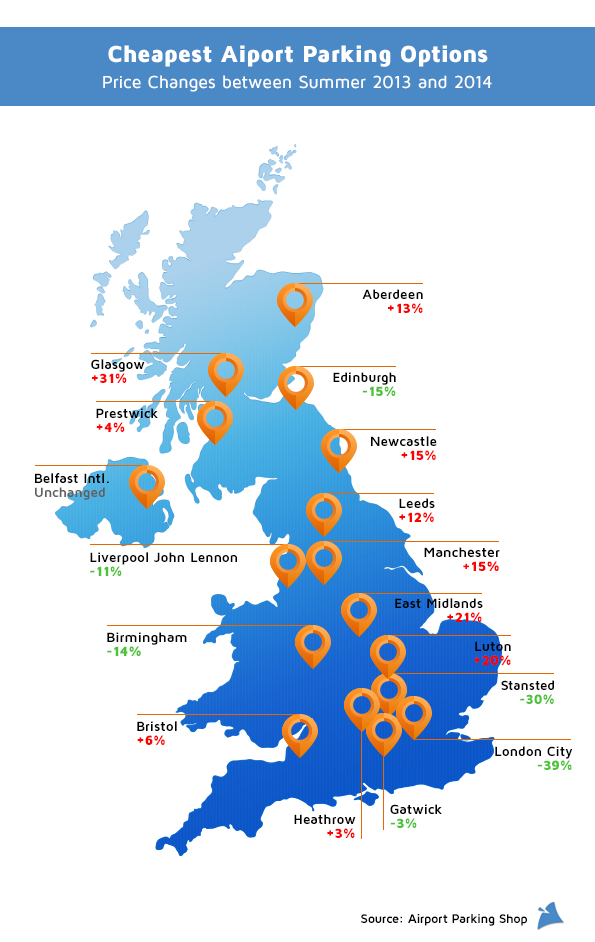 What We Compared
A year ago, we took an example of 14 days (two weeks' trip) in August and ran parking searches for each and every airport listed on our site. The dates we chose were 12-26 August, and we repeated the same search in early summer this year.
Airport Parking Shop runs thousands of quotes a day, comparing airport parking from both official on-airport and independent off-airport car parks. We were specifically aiming to find the cheapest possible way to park a car for the set period of time; as we pull in data from a wide range of parking providers, some cheapest options were off-site, some didn't have ParkMark award and were much further from the main terminal buildings.
Please note that some airport parking prices will be higher for this year; this research only looked at the cheapest parking option for a given airport.
Prices have been rounded to the closest pound.
Parking Prices Unchanged
Passengers using Teesside, Belfast International, Cardiff, Exeter and Humberside airports will be excited to know that the lowest parking fare for these airports hasn't changed in the year; two weeks of airport parking will set you back from £30 at Teesside Airport to just over £60 at Humberside Airport.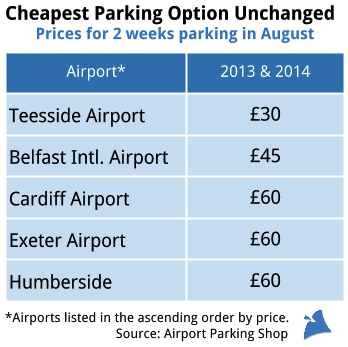 Parking Price Drop
We call it a price drop; it may not mean exactly that, as some new parking options become available during the year, whilst others are discontinued. For example, Gatwick Airport seems to be benefiting from heavy competition in the Meet and Greet sector, which is cheaper than parking at the airport during August.
If you like the good news, here's the list of airports where there are cheaper options to park your car this year than there were last year. The biggest airport parking cost drop can be seen at London City Airport, one of the most expensive UK airports to park at: last year, we couldn't find anything cheaper than £230 for two weeks' worth of parking in August 2013; this year, you can park your car there for £140.
Stansted Airport also has a pleasant surprise this year; our parking search reveals you can now park your car for £53 for two weeks instead of budgeting £76 (that's 30% lower than in 2013).
Other airports that have more attractive airport parking options compared to last year are Edinburgh Airport (15% lower than 2013), Birmingham Airport (14% lower than 2013), Bournemouth Airport (14% lower than 2013), Liverpool Airport (11% lower than in 2013) and Gatwick (3% lower than in 2013).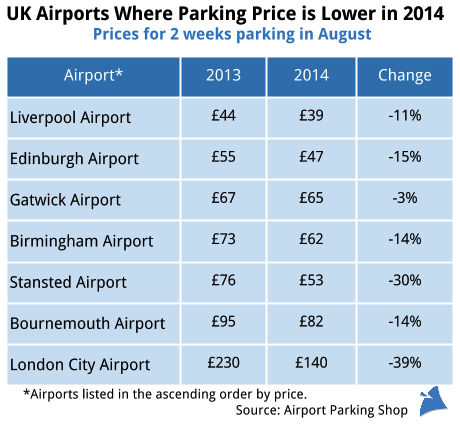 Higher Airport Parking Cost
Parking cost at over half of the airports (15 out of 27 airports researched) is higher this summer, compared to summer 2013. The cheapest possible parking options went up by 3-31%; the cheapest option to park your car for two weeks at Glasgow Airport this August would cost 31% more than August last year (an increase from £45 to £59); another airport where the cost of the cheapest parking seems to be higher this year is East Midlands Airport (a 21% increase from £66 to £80).
Among the airports where cheapest parking increased very slightly are Heathrow (3%), Norwich (3%), Prestwick (4%), Robin Hood (5%), Southampton (5%), Bristol (6%) and Manchester (15%).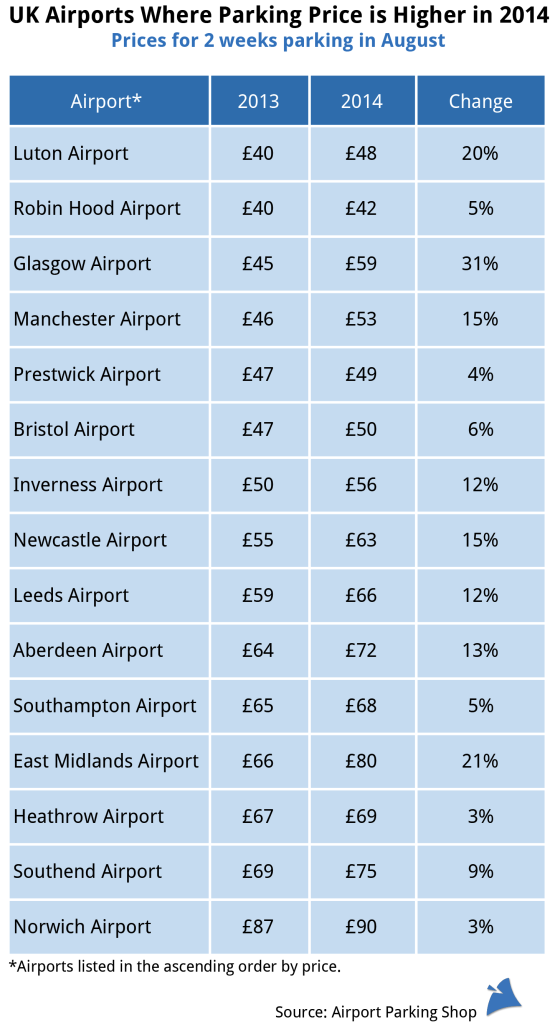 Looking at the Full Picture
Price comparison is what we enjoy doing; if you want to know how the cheapest possible parking compares throughout the airports in the UK, have a look at this table: the lowest parking cost varies from £30 (Teesside Airport) to £140 (London City Airport) for two weeks (12-26 August 2014), depending on a variety of factors, such as location, local parking competition, demand, etc.
With Teesside Airport and London City Airport being at the opposite ends of the price range, the others vary from £47 for 2 weeks at Edinburgh Airport to £75 at London Southend Airport, and from £53 at Manchester and Stansted to £90 at Norwich Airport.
On average, it would cost you £62 to park your car for two weeks this August if, of course, you were only going for the cheapest option available.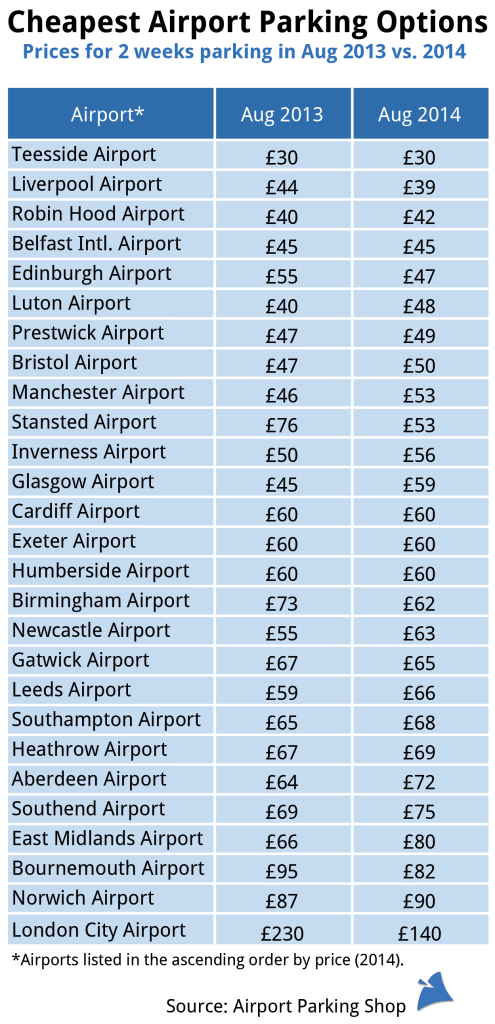 About Airport Parking Shop
Airport Parking Shop is a UK airport parking comparison website owned and managed by Fubra Ltd. Founded in 2003, it is considered to be one of the first airport parking comparison websites in the UK.
You can download this data as a Google spreadsheet here. To find out more, visit: Airport Parking Shop