Let's plan a weekend away in Poland; what to see and where to go
17 Nov, 2021
Franki Napolitano
No Comments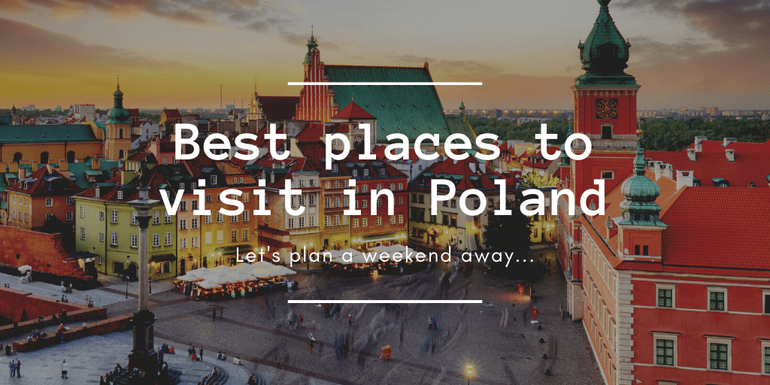 You fancy a weekend away but you're on a bit of a budget. There are plenty of options to choose from across Europe but our colleague Rob tells you why Poland should be your destination of choice. So go ahead and read his suggestions on great places to visit in Poland.
Located in the heart of central Europe, Poland is a country with access to the Baltic Sea in the north (sharing its coast line with Germany in the West and and a Russian enclave – Kaliningrad Oblast – in the East), and a vast mountain range in the south. So depending on the season, you can either enjoy yourself on one of the sandy beaches in the summer, or have fun skiing and snowboarding in the winter!
Handpicked by us: The best places to visit in Poland
Within easy reach from major UK airports (Luton, Gatwick, Heathrow just to name a few) and with connections to a number of its Polish counterparts, not only is the destination a short flight away, it also offers its best at affordable, if not budget, prices compared to other European destinations.
So, let's dive in and explore how you can really enjoy a weekend in Poland!
Kraków
Kraków [krakuf], one of the most cultural and politically significant cities, is no.1 by far. My recommendations for 'must see and not to miss' locations would include Main Market Square, Church of the Virgin Mary (Kosciol Mariacki), Wawel Royal Castle with its Wawel Cathedral, Polish Aviation Museum, and the Jewish District – Kazimierz. I would say these, hands down, are the best places to visit in Poland as they offer an eclectic mix of history, modern living and eating opportunities!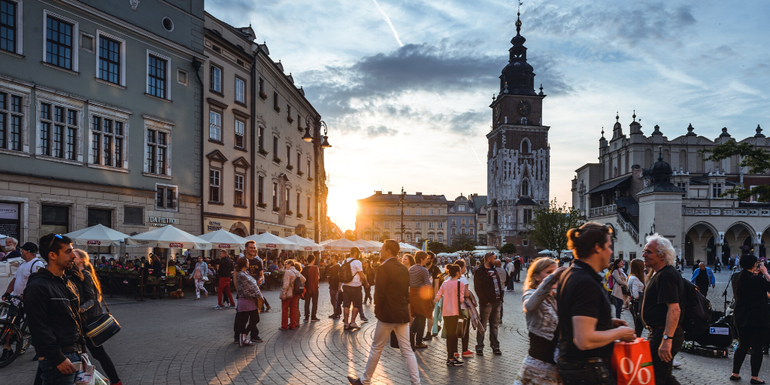 Gdańsk
On the Baltic Sea coast lies the town of Gdańsk [ɡdaɲsk] which is one of the most beautiful places to visit in Poland and serves as a major seaport. It's also one of the main tourist attractions throughout the year. If you're ever around, do see the Old Town with the unmissable Neptune Fountain in the main street and numerous buildings bearing the style of Hanseatic League days.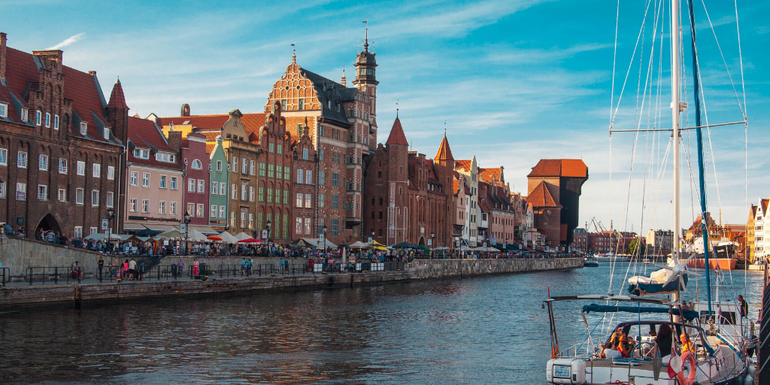 Warsaw
Poland's capital, Warsaw (Polish: Warszawa (ava)) has lots to offer, too. The city spreads across a vast area with contrasted architecture, introducing you to revived Gothic, post-communist concrete, contemporary glass and steel, revealing its rather complex history.
Worth seeing are the Old Town with its Market Square and Royal Castle Square, the Chopin Museum, the former Jewish Ghetto, and the gigantic Palace of Culture and Science – Stalin's 'gift' to the nation.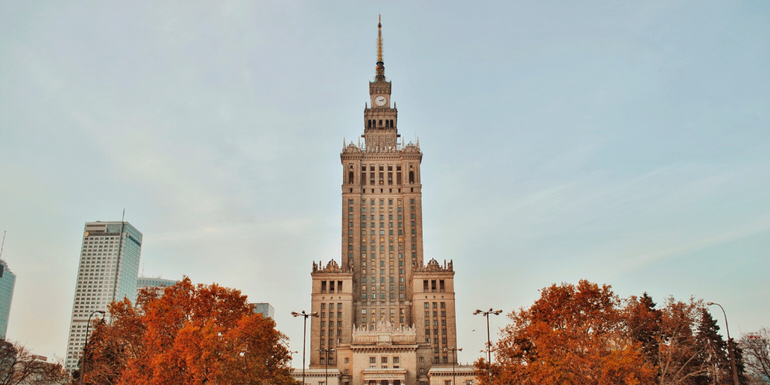 Wrocław
Wrocław [vrɒtswəf], Poland's fourth largest city and the capital of Lower Silesia. It pleases the eye with its one-of-the-kind architecture of the Market Square where Bohemian, Austrian and Prussian/German influences are present.
There's a treat for lovers of Gothic style with its splendidly preserved Cathedral Island Ostrow Tumski, too.
It's worth noting that the city is the leading industrial and commercial hub and educational centre making it one of the favourable places to go in Poland for students.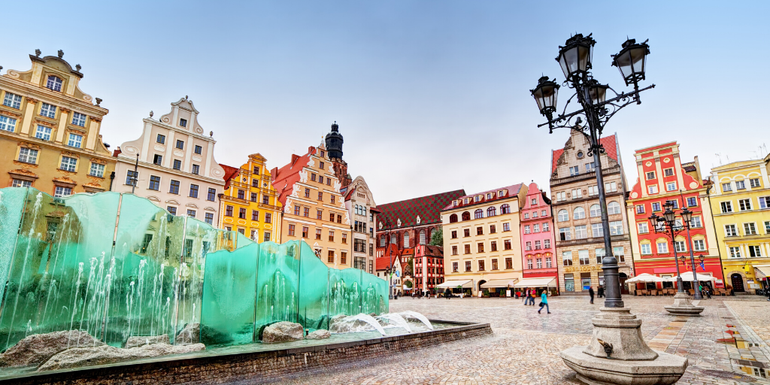 Poznań
Once a cradle of the Polish nation and the capital of Poland, today Poznań [pɔznaɲ] is the capital of the Wielkopolska region (Greater Poland).
It's famous for its Renaissance Old Town, badly damaged during World War II. Yet it was beautifully restored afterwards; upon Ostrow Tumski (Cathedral Island) stands Poland's oldest Basilica of Saints Peter and Paul. The city has also become known for the trade fairs with the first one taking place in 1921.
Don't be fooled that Poland is all about historic monuments, museums, churches and its mostly tragic past. The restaurant and entertainment scene is present and the towns and cities are brimming with all sorts of cafes, pubs and shops too; perfect for a weekend in Poland. This allows you to affordably shop and dine on a variety of cuisines from around the globe.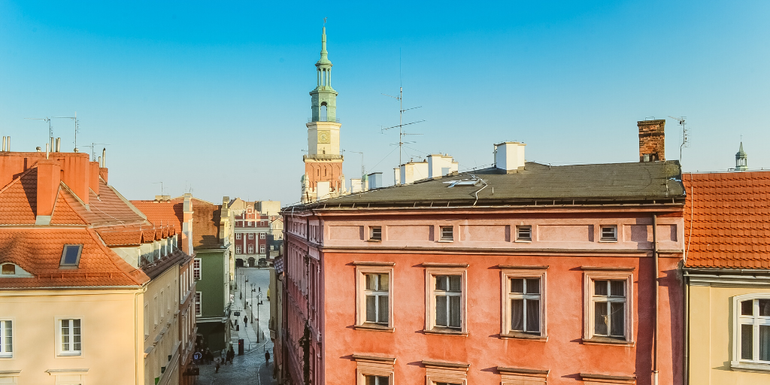 Polish Seaside Resorts
No, it's not a tropical dream destination, what with its rather mild climate and temperamental summers of late. But it offers you a number of interesting places to choose from along the 500km stretch of Baltic coastline. Its undeniable charm lies in the scattered beaches full of amber sand. That, with a combination of a really hot summer, CAN be considered a dream destination by some German, Russian and Polish holiday-makers, hence some of the resorts being packed in summertime!
A few of our popular seaside resorts include Gdańsk, Gdynia and Sopot (all three combining Tri-City), Władysławowo, Ustka, Świnoujście, Międzyzdroje and Krynica Morska.
Let's take at quick look at a smaller and less crowded Krynica Morska [krɨˈɲit͡sa ˈmɔrska] for its location. It was once in East Prussia within Germany, it's located on the Vistula Spit and is the main tourist destination there. It's a rather sleepy town in low season but very lively June through September making it a great place to visit in Poland come those summer months! It offers access to the Baltic Sea and attracts hordes of travelers. But if crowds aren't for you, head to the Vistula Lagoon on the other side of the spit which is considerably quieter.
What's more, for those who are brave enough to 'lose' their clothes and present their bodies au naturel to the rest of the crowd, there's a nudist beach available just outside Krynica Morska and in the direction of Piaski.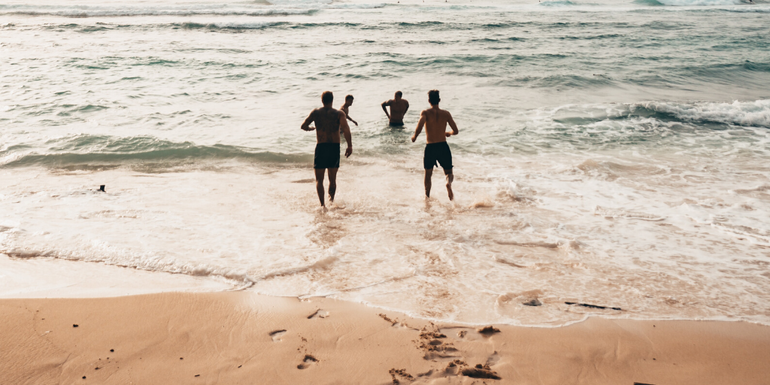 Where to go in Poland for Winter Sports
Ever considered going on a snowboarding weekend in Poland?! The country gets its first snow around November and this is when the temperatures fall below freezing point until you get to January and February; the coldest months in the year. The best part is that the slopes seem to be uncrowded compared to those in other European resorts. So all you winter sports fans should head to one of our main ski resorts such as Krynica, Łysa Góra, Szczyrk, Karpacz, Czarna Góra, Wisła and Zakopane.
Being the largest ski resort and the Polish 'winter capital', Zakopane [zakɔˈpanɛ] lies in southernmost Poland at the foot of the Tatra Mountains near the border with Slovakia.
The resort offers access to 50km of pistes catering for all levels of ability. There are wide and gentle slopes for the rookies and some steep demanding runs for expert skiers and snowboarders. The main slopes are Kasprowy Wierch, Gubałówka and Nosal.
Take a look at some extreme speed flying/freeskiing activities on skimagazyn.pl to get an idea how extreme it can get…!
There are some scenic cross-country skiing trails around the town and ski jumping opportunities. Traditional horse-pulled sleigh rides or kuligs are also offered. Those with less sporty spirits can take a stroll down Krupówki. This is the town's most popular street with its bars, restaurants, souvenir stores, performers, and lively nightlife in general.
If it's your first time skiing, it can be stressful. So why not check out our helpful guide on stress-free ski holidays?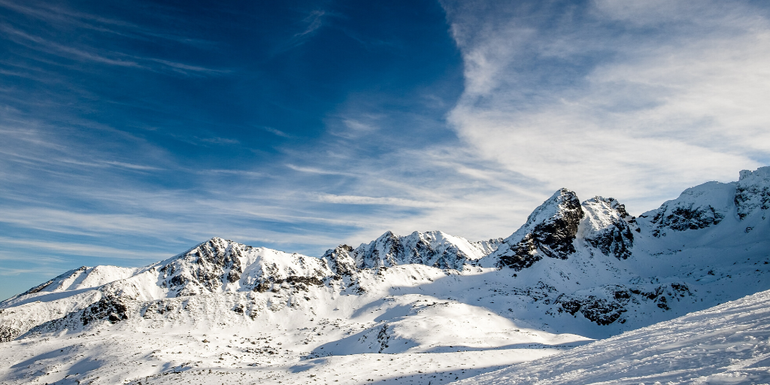 Sounds great! What's the best way to get around?
Poland, the country of contrast, where the new meets the old, where traditional culture is still present and intermingles with modern and vibrant big city life, and where the locals are renowned for their hospitality towards visitors. This intriguing destination remains reasonably inexpensive. The perfect option to explore the country's best, whether that's sea resorts or just big cities with their monuments and museums, seems by getting a car hire and cruising around Poland.
We hope this our list of amazing places to visit in Poland has inspired you! Let us know if you have ever been to Poland and if so, tell us about your favourites!