Loving life on the French Slopes: Snowboarding in Les Arcs
21 Jul, 2021
Franki Napolitano
No Comments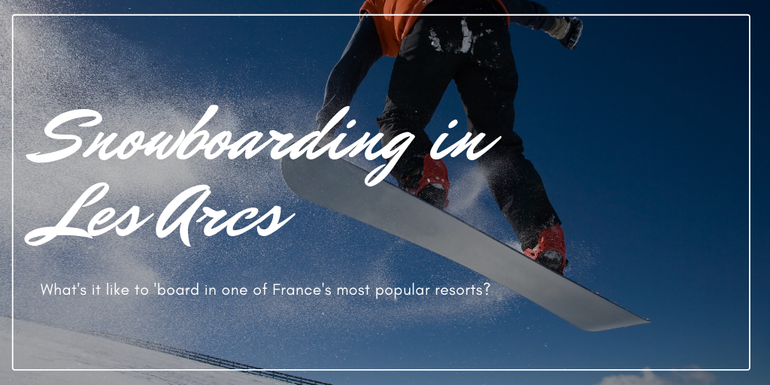 One of the most popular ways to get some winter sun has got to be hitting the pearly slopes of The Alps; and where better to head than the French resort of Les Arcs. Comprised of 5 locations, there is something for all; from the mountainous town of Bourg Saint Maurice which is favoured by hikers to the 5* Ski Resort of Arc 1950. 
We asked Airport Parking Shop customers Howard and Zuzana, who are avid fans of Snowboarding in Les Arcs, to give us some inside, need to know knowledge of the resort! They frequently visit Arc 1600, Arc 1800 and Arc 2000 and give a run down of what they offer below.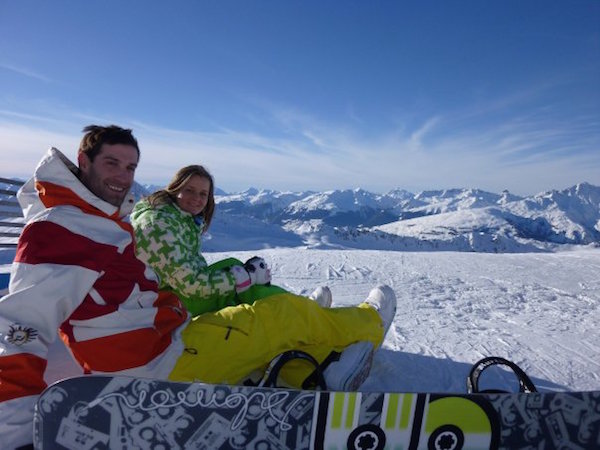 So, when's the best time to visit?
There are two great times to visit Les Arcs, the first would be the first two weeks in January as this is outside of the French holiday season so the lift queues are much shorter! You'll need to keep an eye on the weather though, as it can be unpredictable and you may get a few White-outs (these are blizzards – if this happens, hit the bar!), however, the white-outs mean you're more likely to get 'powder snow days' afterwards – The favoured snow to board on!
The second is towards the end of February/early March as the snow has calmed down a lot by then, and you can expect a lot of sunshine! Be mindful though that this does make the pistes a bit more icy at times and there are less powder days, but sitting in the sunshine drinking your vin chaud (mulled wine) definitely makes up for this!
How much should I expect to spend going on a boarding break?
No doubt about it, Skiing and Snowboarding are expensive hobbies to learn, with ski lessons costing up to €300 for the week per person and lift passes costing roughly the same for 6 days on the mountain. Once you've mastered the art however, you obviously don't need to pay for the lessons.
Here's a rough breakdown of your costs per person for a Beginner:
Flights with ski bag: £160
Transfer by bus: £75 return
Ski pass: £220
Ski lessons: £250
Accommodation: £300 – £750 all dependant on how luxury you want to go
Food and Shopping
If you are self catering whilst away and looking for a cheaper meal or shops, take the funicular from Arc 1600 or Arc 1800 down to Bourg St Maurice – your ski pass gives you free access and you'll find plenty of supermarkets and restaurants at a fraction of the cost of the ones in resort!
Alcohol – wine all the way, everything else will empty your wallet faster than Jamie Nicholls can nail a slopestyle run! Definitely have a few before hitting the apres bars too!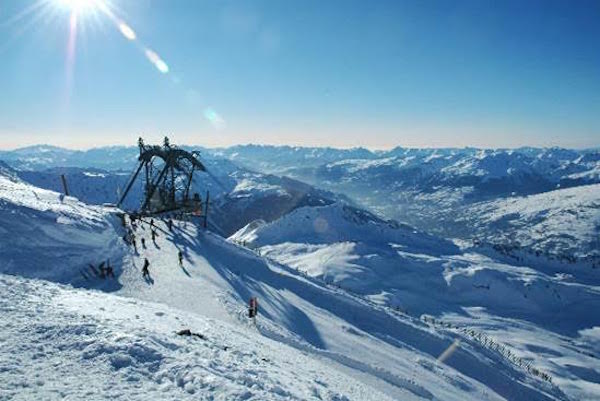 When I'm not Boarding, what else would you recommend I check out?
1. Watching the Ski Schools – it's like watching a live version of 'You've Been Framed' and can't be beaten for laughs!
2. The views from the top of the Aiguille Rouge Peak are one of the best in The Alps.
3. Thursday nights see the Instructors coast down the mountain holding flame lit torches, great to watch from the bottom.
4. The Apres Ski –Arc 1800 hosts some of the best apres bars in The Alps and is the most lively resort in the area.
5. The Savoyard Restaurants where you can try Tartiflette and a Cheese Raclette or Fondue – all amazing and one of Zuzanas favourite things about Les Arcs!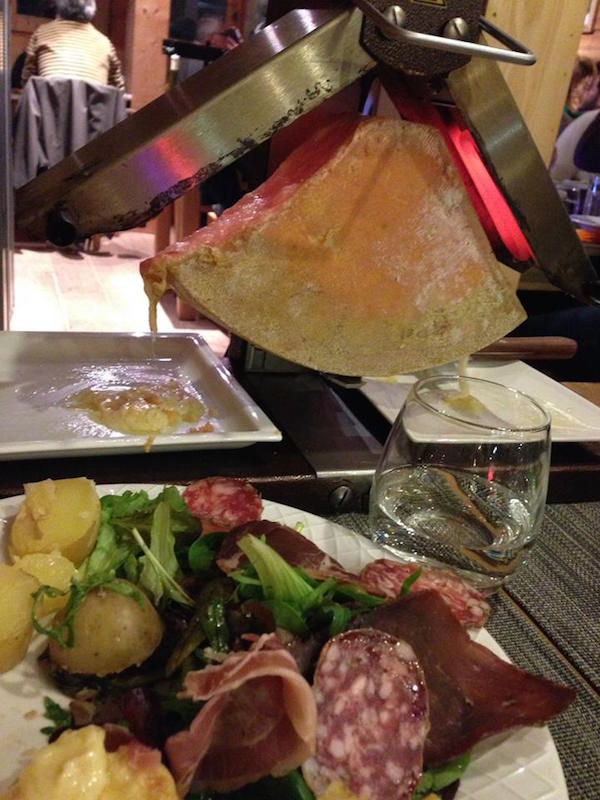 6. The Water Jump – either sit in the bar and watch the loonies attempting to clear the gap on skis and boards, or opt for the 4D version and risk getting a soaking by sitting on the deck chairs right up close!
7. The Toboggan Run from Les Arcs 2000 down into the village; no matter how old you are, this is a must – 5km of serious fun for everyone!
8. Mille 8 – this is a new addition to Arc 1800, this £32 million investment hosts a variety of activities for everyone, from a huge top of the range gym with spa and pools, to a specifically designed snowball arena. If you fancy keeping your adrenaline levels high, why not rent a Snow Bike and hit the powdery terrain?!
Anywhere you'd recommend I stay?
Accommodation wise, you can either go all out and stay in a Catered Chalet, where all your food and alcohol requirements are met with, or go Self Catering and rent an apartment from one of the many apartment blocks. The Pierre Menta Apartments in Les Charvet Village (Arc 1800) are a 3 minute walk to the slopes, or you could go for a bit more luxury and stay in a Ski In, Ski Out Apartment in Arc 2000 with postcard views of the area.
And what about where I should head after my day on the Slopes?
If you are thinking of heading out in the evening, either for dinner or drinks as well, here's what you need to know about the 3 main areas;
Arc 1600 – This is a sleepy area of Les Arcs with the minimum amount of restaurants and a scattering of bars.
Arc 1800 – This is the place to be if you want nightlife, with a huge selection of bars and restaurants. Snow resort nightlife is the same as your typical summer locations, people generally head out around 10pm and don't leave for their chalets until gone 2am! – This means quiet lift queues in the morning for those hardy borders that like to make use of fresh snow and clearer slopes.
Arc 2000 – A lot of choice for restaurants but not many bars, much more family orientated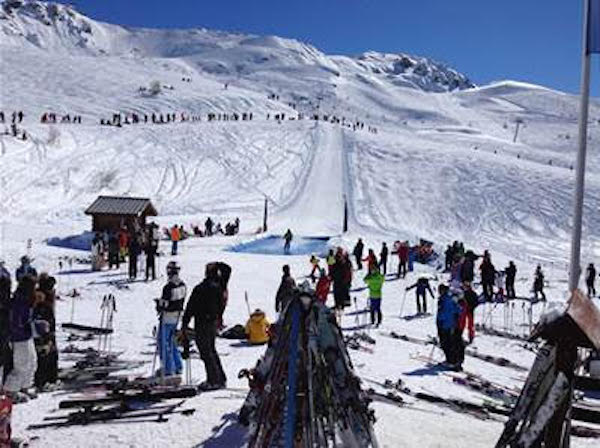 This sounds amazing! How do I get there?!
There are several ways you can travel to The Alps, the first obvious method is to fly – most UK airports fly to either Geneva, Grenoble or Chamberry, all of which being roughly a 2 ½  hour transfer from the airport to your resort. Word of warning, the transfer fees can be more expensive than the flights depending on how you do it! Do your homework and you can find transfers from £75 per person return. A private car transfer will cost anything from £200 – £500 per person! There is little point hiring a car as you won't need it during the time you are there!
The second option is to drive yourself either via the Channel tunnel or by Ferry. Time wise, expect the trip to take around 14-18 hours door to door depending on your route, driving style and how many stops you need to make! You're looking at least an 11 hour onward journey from Dover (if you make no stops!)  If you choose this option, be wary of the toll costs on the different motorways – each differing route will include several tolls to pass through so be ready to part with a lot of cash!
The third way is the Eurostar that runs from St Pancras to Bourg St Maurice  direct. Prices Range upwards from £70 each way during the peak months of December to April.
You've totally sold it to me! Any tips for me as a beginner?
1. The most important and obvious rule, regardless of whether you are a beginner or a pro, is to always wear protection! Helmet, Knee Pads, Impact Shorts and Wrist Guards will all protect you from the guaranteed slams, scorpions and edge catches you will do on an hourly basis.
2. Get some lessons on the mountain! No matter how much pre trip time you've had at your local indoor snow dome, nothing can compare to boarding on a mountain! Be prepared for the differences in terrain and texture of the snow as well as the varying weather conditions and of course, learning how to navigate your way on ski lifts!
3. Have fun and enjoy it!! Lessons can be frustrating and the bruises can get you down as much as the thought of another cold early morning when all you wanna do is stay in bed and hide from Powerful Pierre the Demon Ski Instructor! But once it clicks and you can stay on your feet for a run you'll never look back and your winter pilgrimage to The Alps will be a must!!
Most people will use transfers to get to and from the resort, but if you're considering venturing outside of the resort, then hiring a car in Les Arcs is probably the best option, the Car Hire Centre will help you find some of the cheapest prices possible.
For tips on what to pack for your snow-filled adventure, read our Secrets for a stress-free ski holiday blog to help you get started (and save some space!)
Many thanks to Howard and Zuzana for their great guide to Les Arcs!
Sounds pretty great, right?! I think I feel a new hobby coming on… watch this space!