A day on the slopes; a day in the life of a snowboarder
10 Nov, 2021
Franki Napolitano
No Comments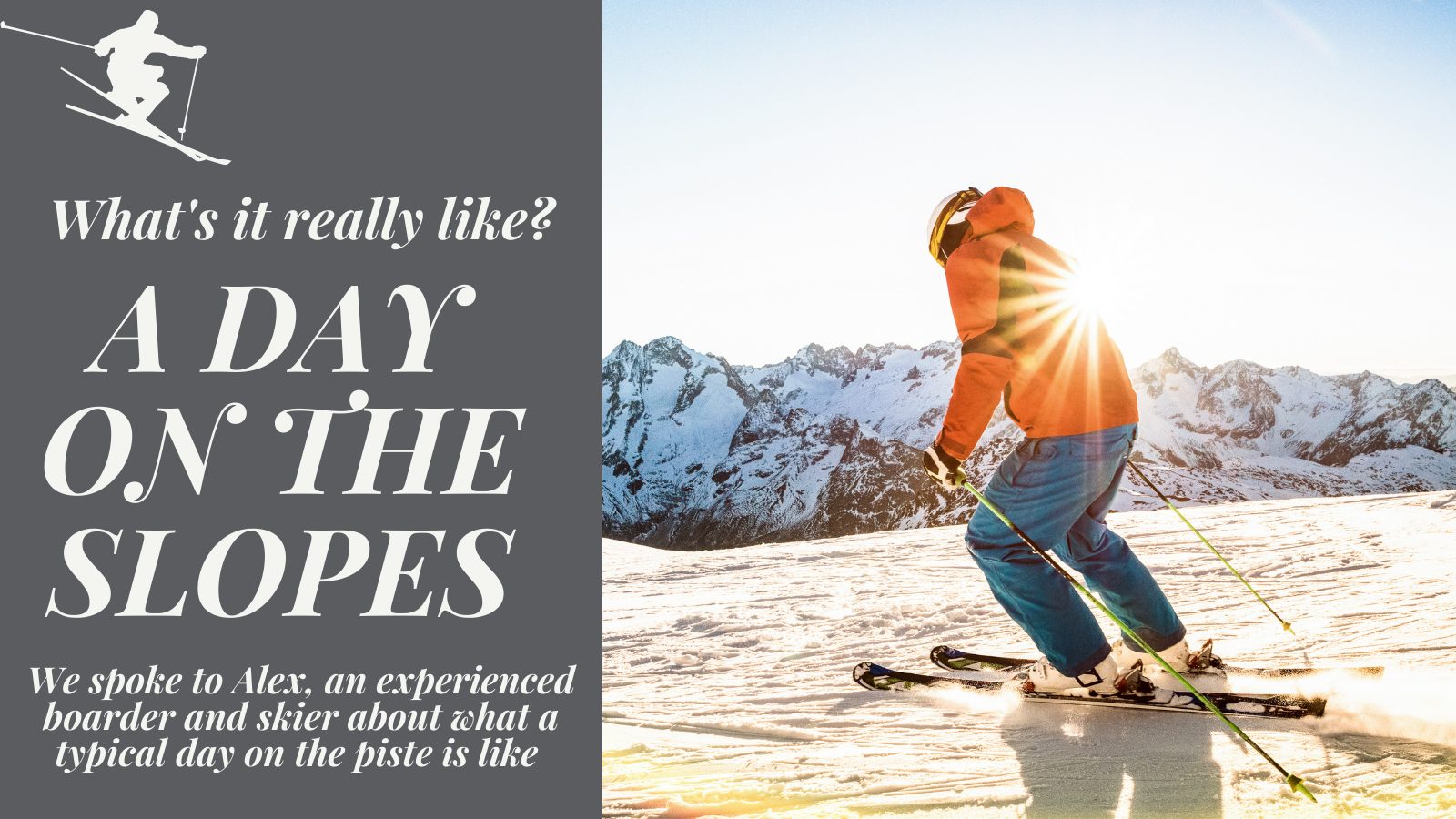 Do you like the idea of a skiing trip, but not too sure what to expect?  We spoke to Alex, an experienced and well-travelled Skier and Snowboarder, who brings you "A day on the slopes"…

Skiing and Snowboarding for the first time; what's it like?
"Hey, I'm Alex and my passion for the slopes started when I first went on a school trip to Grindelwald, Switzerland! Since then, I have visited several pistes in Europe, including Morzine, Les Gets, Tignes, Val Thorens, Val D'isere, Les Arcs and Les Deux Alps in France, Borovets in Bulgaria and even Perisher, Australia, where I learned to be a Snowboard instructor and spent about 3 months teaching.
So, what's a day on the slopes like for me? Typically, I would say this actually starts the night before – making sure I check snow forecasts and the general weather expectations. If I'm in for a load of fresh snow, I set my alarm early and head for breakfast by 7am, with a big old coffee. I'm then out on the first lift which is typically between 8 and 8:30am depending on the resort.
Before leaving the apartment, I'd recommend those that are budget minded to stuff their pockets full of food of some sort. Having lunch on the mountain will cost you, from my experience, double what you would pay at the base of the resort, and about 3 x as much as it would cost you to make lunch at your apartment!
Ski all the way through until lunchtime, eating snacks on the chairlifts and gondolas. I'd usually start with some easier runs, normally with the aim of getting to the area me and my friends want to ski that day.
After a few hours of adrenaline fuelled activity, I'd pop back to the apartment and grab a coffee on my way back through the village (doesn't matter where you are, it's the nicest coffee on earth!)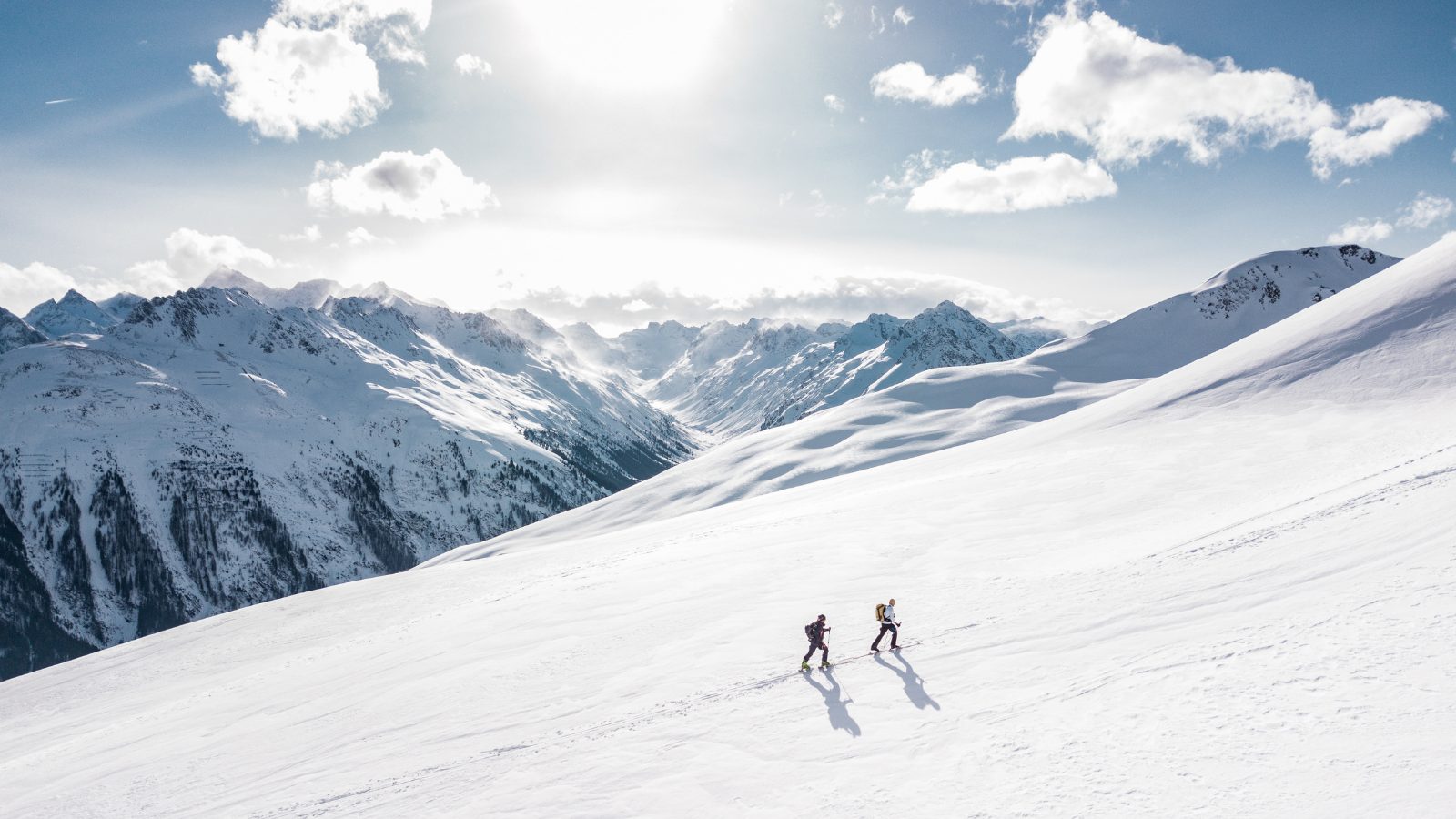 After my caffeine injection
I'll then be back out on the slopes until around 4 – 4:30pm and once I've had my fill for the day, I'll head to an apres bar, ideally on the slopes! I'd have a few drinks here, (obviously, skiing is all about the Apres Ski, right?!) and mingle until about 6 and then think about dinner – this would usually be a big group meal cooked in the apartment, or we head out to a recommended restaurant to sample local delicacies or our favourite nostalgic dishes.  
To round off the day nicely, I try and take a dip in the pool / sauna / steam room if there is access to one; I highly recommend this to anyone to try and relax and wane off any bumps or bruises you may have accumulated that day – which, let's be honest, is bound to happen!
Spending an evening on the slopes
If the weather is looking great for the next day, it will be early to bed, early to rise! This theme is usually repeated throughout the duration of my stay… Unless I get a little too roped in to the Apres Ski 😉
For those that are more party conscious, the big night out in the resorts is usually when the seasonaires (people working a season) have the next day off – normally a day in the mid week. This is usually advertised, so you'll know when to get involved!
For those just wanting to ski, the quietest days on the slope tend to be transfer days, typically a Saturday or Sunday. However, around the time of English, French, German, Austrian and Swiss school holidays, the slopes tend to be much busier in the neighbouring Ski Countries all week through.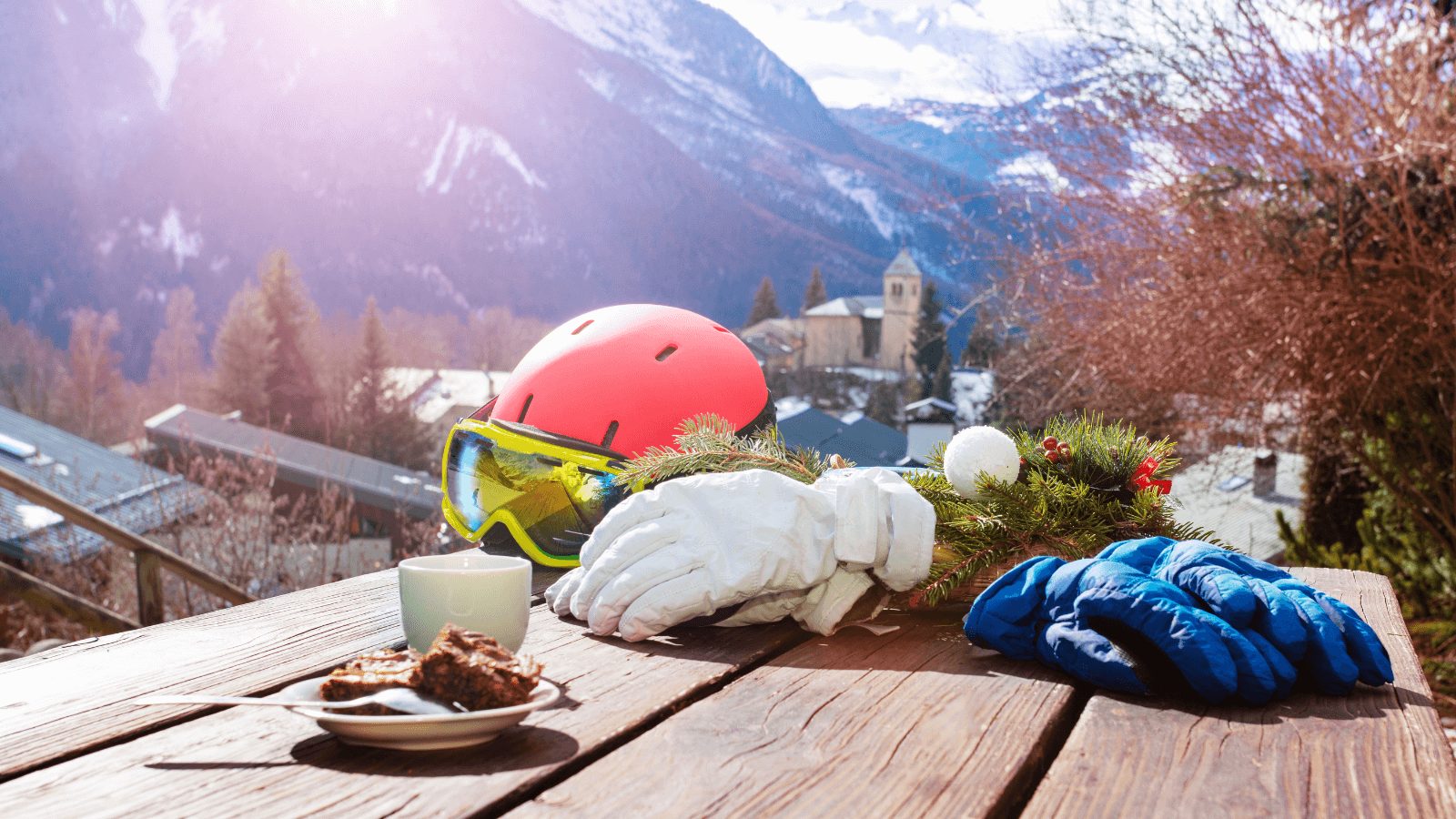 Before it's great, it can be pretty bad…
It's not all plain sailing though, and we all have bad experiences, it's all part of the initiation into slope life, if you like.  
Thinking back, my first day was my scariest experience so far. After learning how to control my snowboard on the flat, and then the kiddies slope (where everyone first learns!) I had to face my first run. This was a world away from the short and shallow slope that I had learnt on, and to me at the time it appeared sheer and endless, and felt almost like an ice cliff. I was the last person in my group to actually make it down the run, and the instructor had to guide me near enough whole way down it!  
If I had any pearls of wisdom for newcomers, I'd suggest a good 10 hours of lessons in a snow dome before a lesson on the slopes. The two are completely different in many respects, but at least you will get a feel for what to expect and won't be as horrified when facing your first run like I was!
Ski and Snowboarding lessons are a must!
Get a morning lesson or guide! If it's your first time in a resort and you are with a group, getting an experienced guide will save you having to search the resort for the whole week; they'll show and take you straight to the good bits! This is especially helpful for that first visit to a resort as it can go a long way to building up your confidence, as well as taking you through things like mountain etiquette and get you over the sheer vastness of it all.
Lastly, Ski Hard, Play Hard. Unfortunately, getting away to Ski or Board isn't the cheapest trip and the people that get the most out of a ski getaway are those that treat it as an active holiday. I know it's a break, but resist the urge to lie-in and just get out! Grab a coffee and ski until you are exhausted, honestly, it's the best way! The atmosphere of the ski town will pick you up and energise you! You'd really regret it if you slept in until midday in knee deep powder snow, whilst all your friends are out there having the time of their life!"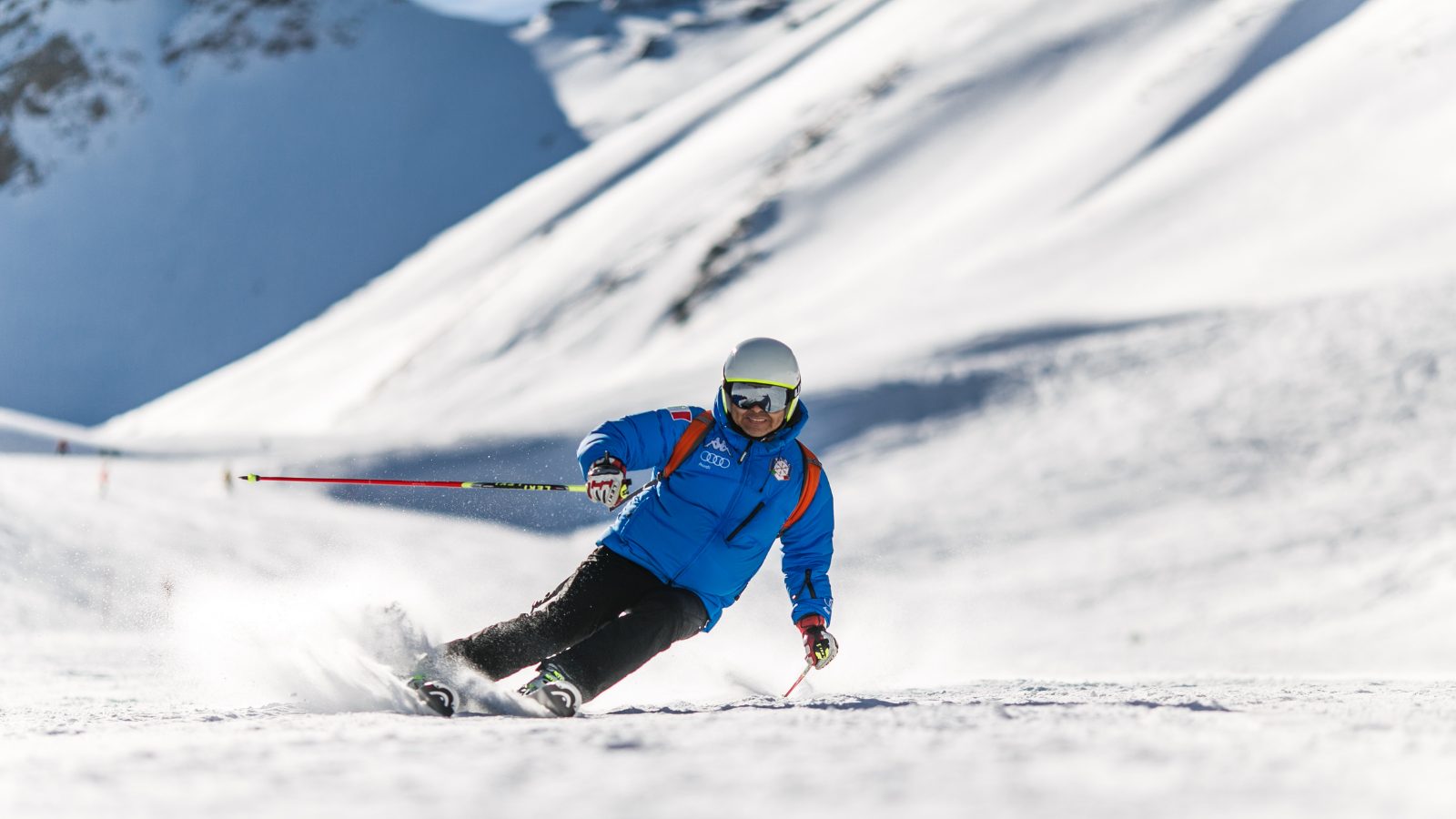 Alex has visited some pretty great places so far and next up, he plans to add Whistler, Vancouver to his list of slopes to conquer!
Unexpected destinations for skiing and snowboarding.
His locations seem pretty logical, right? The type of places you'd expect to, and only be able to, ski? We thought this too, but after a little look, we discovered the below locations are also popular for skiing and snowboarding…!
Oukaïmden in Morocco has 5 runs serviced by the 3,258m Jebel Attar, with donkeys rather than shuttle buses to transport you to the chair lifts!
Mauna Kea (White Mountain) in Hawaii believe it or not is a 4,270m mountain which occasionally sees heavy snowfall between December and February – Apres Ski on the beach, anyone?!
Yongpyong, South Korea previously hosted the Alpine Skiing World Cup and boasts 31 slopes and 15 lifts amongst half pipes and ramps. And the occasional AV Screen showing the latest government propaganda , obviously….
Gulmarg, India offers an exhilarating backcountry, off-piste experience, suitable for advanced skiers and boarders along the ungroomed Himalayan powder snow, described as some of the best snow in the world!
Got a bit of extra cash? A more obvious ski location could be Union Glacier, Antarctica. No lifts, cars or cables, this is an authentic ski experience with guided explorations of the vast terrain and snow capped canyons, where you can sleep in specialised snow tents…for around £18,000!
These are just a few of the surprising locations we came across. Other popular destinations included Mount Olympus and Mount Etna, in Greece and Sicily respectively, Lebanon, Afghanistan, Israel and South Africa!
Of course, we didn't forget the 2022 Winter Olympic Hosts, Beijing and their vast array of impressive slopes! Finally, not ones to be left out, you can also ski and board on a huge purpose built indoor selection of slopes in Dubai, complete with artificial snow and the world's first indoor black run!