Copenhagen vs Bruges – a Christmas weekend away
23 Nov, 2021
Alice Fowler
No Comments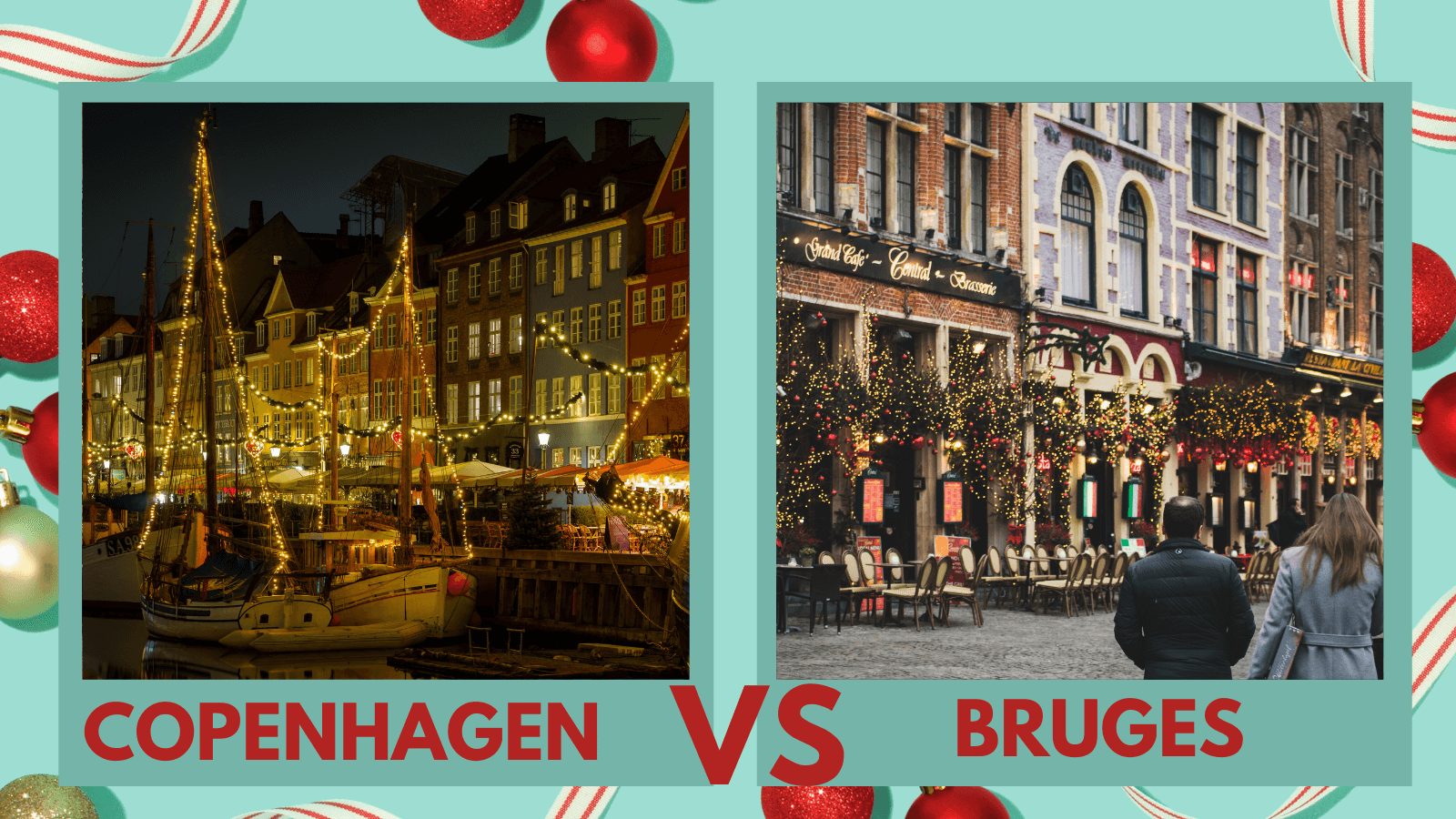 It's December and even in the UK Christmas Markets are popping up everywhere you look in towns and city centres, but there's nothing quite like popping across to the mainland and finding some real Christmas infused locations to visit for a weekend. There are so many choices however, we've picked two of the popular ones and pitched them against each other – let's find out which one's the winner!
Members of our team visited both places on the same weekend for a festive getaway, and picked out some key highlights and things to know so you get the most out of your weekend away.
Christmas Markets
Well, it's the main reason you've come, isn't it?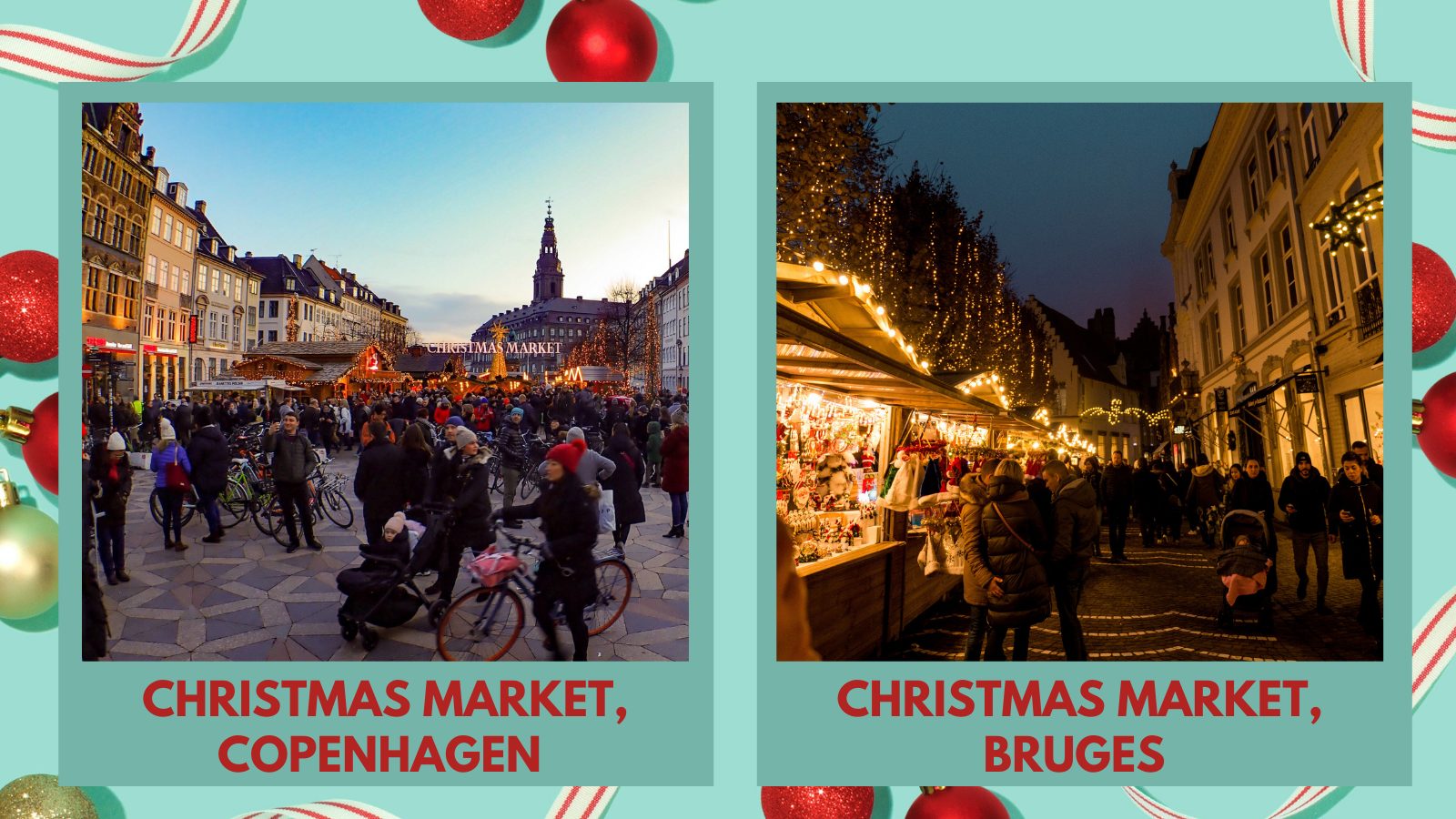 Photo credit for Christmas Market Copenhagen: Trine Syvertsen
Copenhagen
The city has plenty to choose from, however, our opinion was that if you want something a little different head down to Christiana where amongst the normal eclectic markets available there's also an indoors one where plenty of goods can be found, not just Christmas themed. From hats handmade in Nepal, to locally made produce and beautiful Christmas ornaments, it's easy to spend an hour or two browsing! Just be careful of the opening hours and be prepared to queue as there is a limited capacity inside. If you want something a bit more standard, head across the new pedestrian bridge near Papiroen and browse the markets at Nyhavn, where you'll find gløgg and treats galore.
Bruges
There are fewer Markets in Bruges but the aptly named Market Square has a good-sized market with lots of options of food and drink, and there is also an ice skating rink if you fancy a bit of exercise to work off all that glühwein and chocolate!
What to Eat
Okay, on that subject, what's something you should definitely try if you're browsing the markets in these Christmas wonderlands?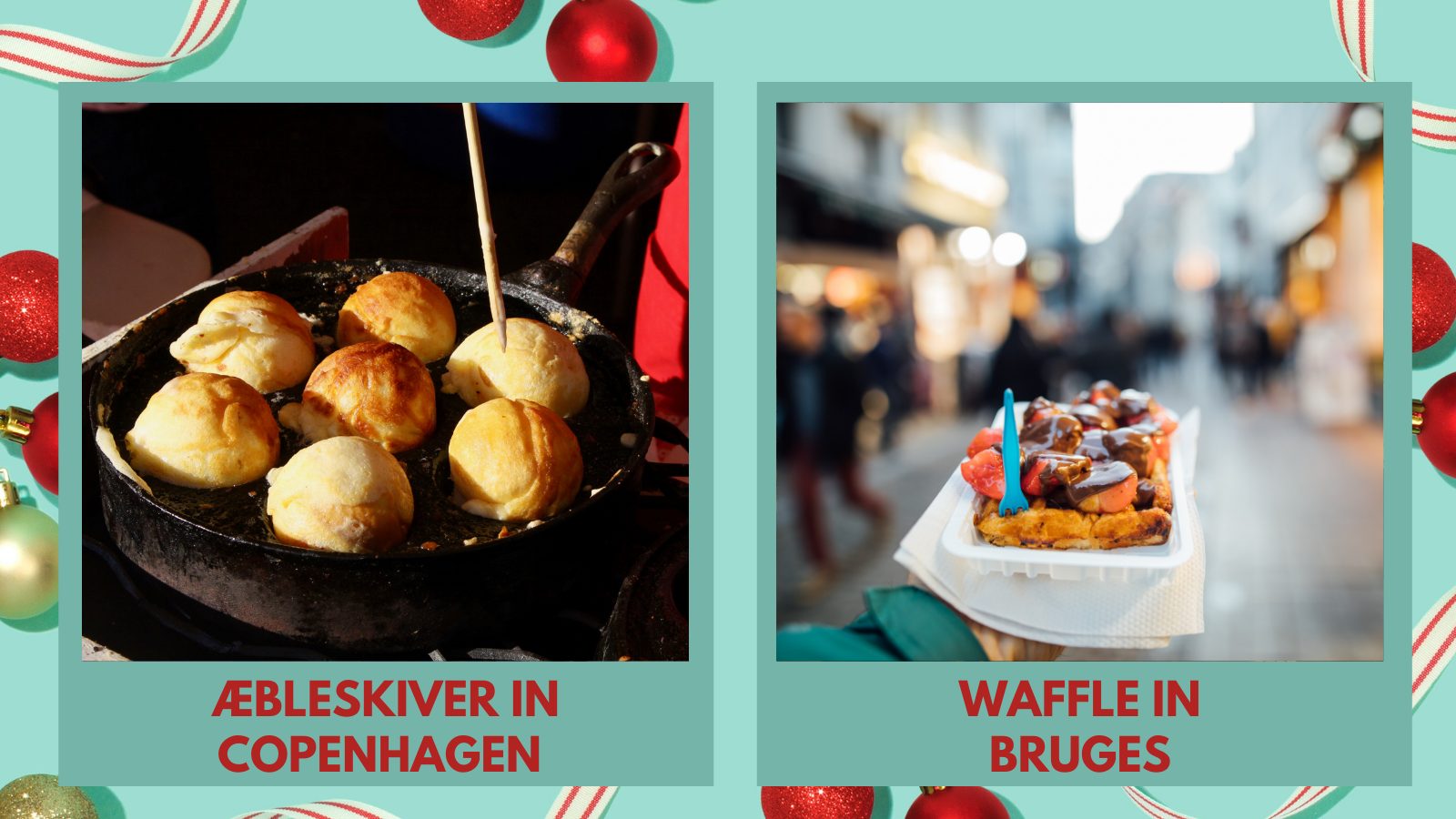 Copenhagen
If you take a moment to ignore the delightful bakeries full to bursting with fresh pastries and bread, the ultimate Christmassy delight has to be the Æbleskiver, small round pancake-like treats served with jam and sugar, or a tasty helping of Nutella, whichever takes your fancy! These are enjoyed all the more if you can follow it up with a hot mug of gløgg.
Bruges
All battered out yet? I hope not, as a great choice at the Christmas Market in Bruges is a warm waffle, with a choice of toppings! They aren't called Belgian Waffles for nothing! Of course, Bruges is the home of the chocolatiers, so make sure you stop by one in addition to your Christmas Market browsing.
Prices
Before you get too carried away dreaming of chocolate, pastries, waffles and miniature pancakes, let's compare how the prices stand up between the two. In Bruges you'll need a wallet full of euros, and Copenhagen will find you puzzling over quite how much 100 Danish Krone are!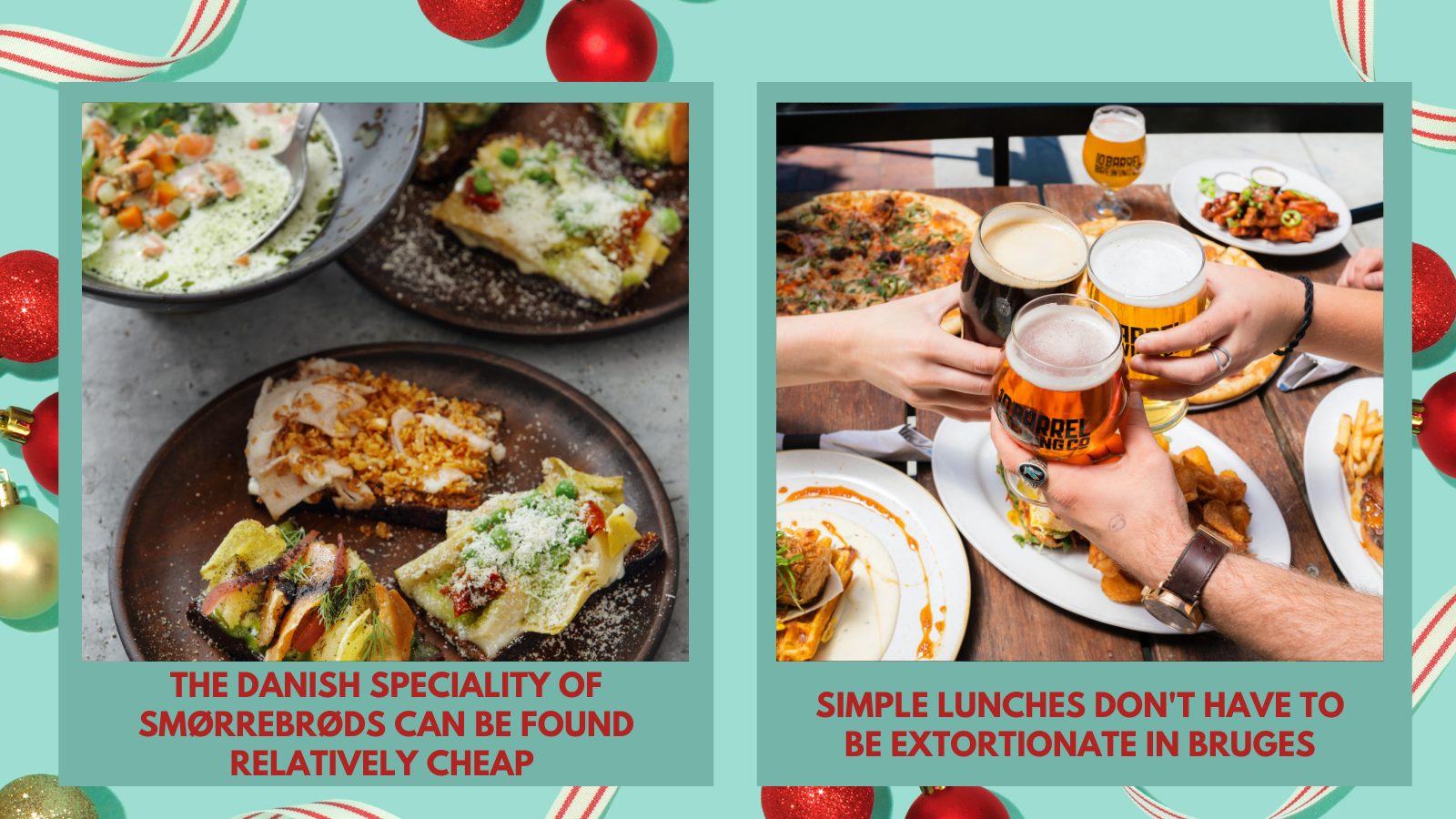 Copenhagen
Well, it's Scandinavia, so we can't attempt to reassure you. It is expensive. Roughly, £1 gets you around 8.86 Danish Krone! This means your gløgg is likely to cost you between £2.50 and £3, and a lunch could cost you in the region of £20. Be savvy and check out a few options for whatever you are after to try and save yourself some money if you are visiting on a budget, and try to source some of the delicious food that can be cheaper, such as hot dogs and  Smørrebrøds (open sandwiches). Alochol tends to stay on the expensive side, so again, choose wisely! However, the plus side is that for a capital city, it's pretty small so you won't have to spend much on transportation.
Bruges
Here the exchange rate on the euro may determine how expensive your trip is – we found that that a cup of glühwein cost about €2-3 and entrances to museums and similar attractions were between €10-14. Overall, it's not the cheapest place for a weekend away but also not overly pricy either.
Getting Around
Well, there are other things to see than the Christmas Markets, so let's find out what the best way to get around the two destinations is.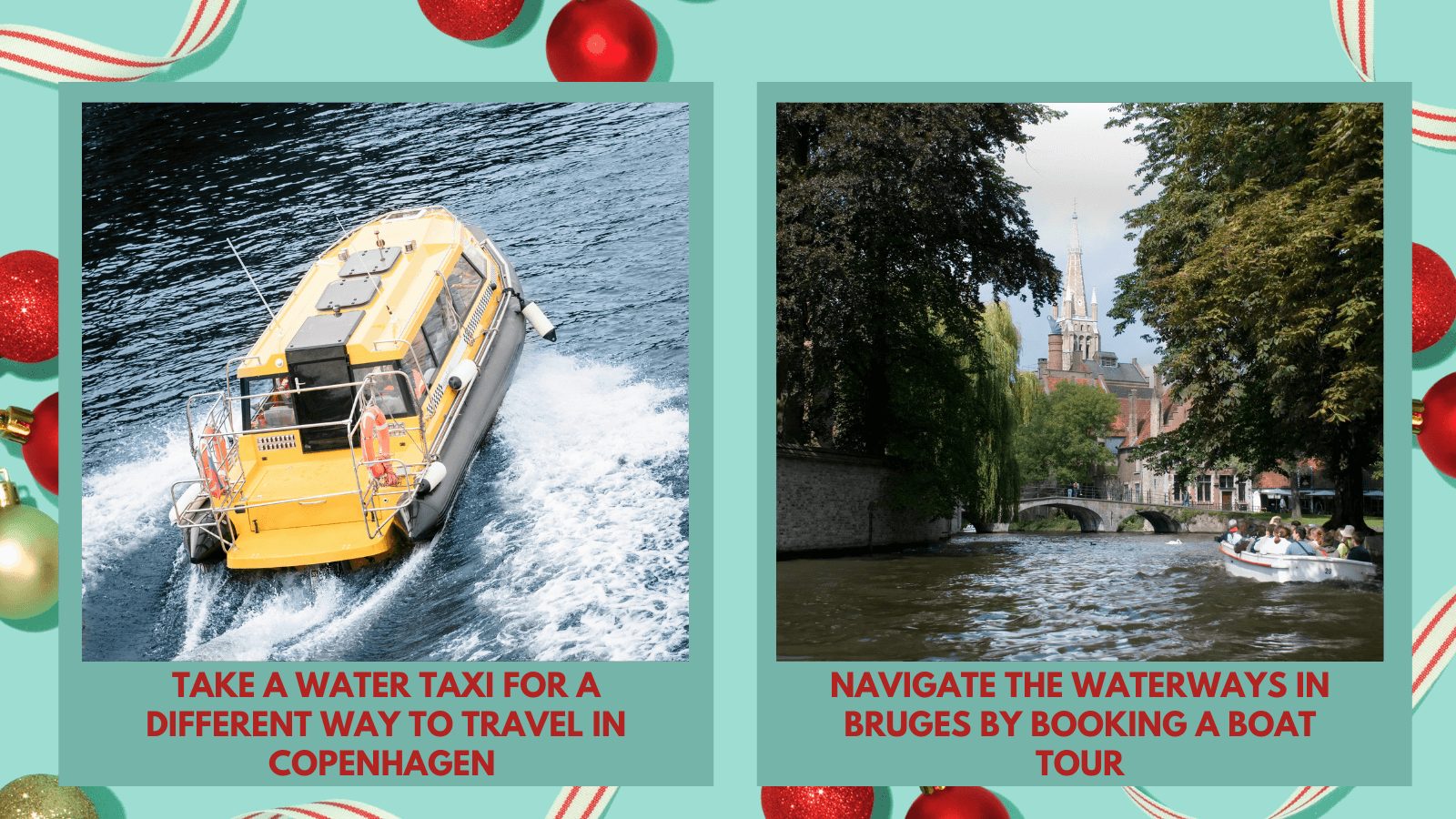 Copenhagen
Transport is very good around Copenhagen – you could grab a taxi if you wanted but traffic can be very poor, especially around Christmas time. Instead, opt for one of the local buses or the metro, which is currently in the midst of expanding. If you plan on using a lot of public transport in one day, you can get an all day ticket that will allow you to use the bus, metro, and even the harbour boat all for one price. It must be said, however, that the city is quite small and if you are prepared for a lot of walking it is quite feasible to do most of it by foot.
If you really want to try the local way, rent a bike from one of rental centres and see the city by pedal, joining the thousands of others who cycle their way across the city every day. Dedicated cycle paths and bridges aid this journey!
Bruges
There are buses around Bruges, but in such a small place with such quirky and plentiful small alleys and roads, walking is a much easier and better method. Everything is within walking distance and there are plenty of places to stop off and refuel if necessary.
If you fancy things from a different perspective you can go on a boat tour which is a great way of seeing the sights without having to walk too much and explore the many waterways!
Christmas Activities
There are things that are a must-do during the festive season!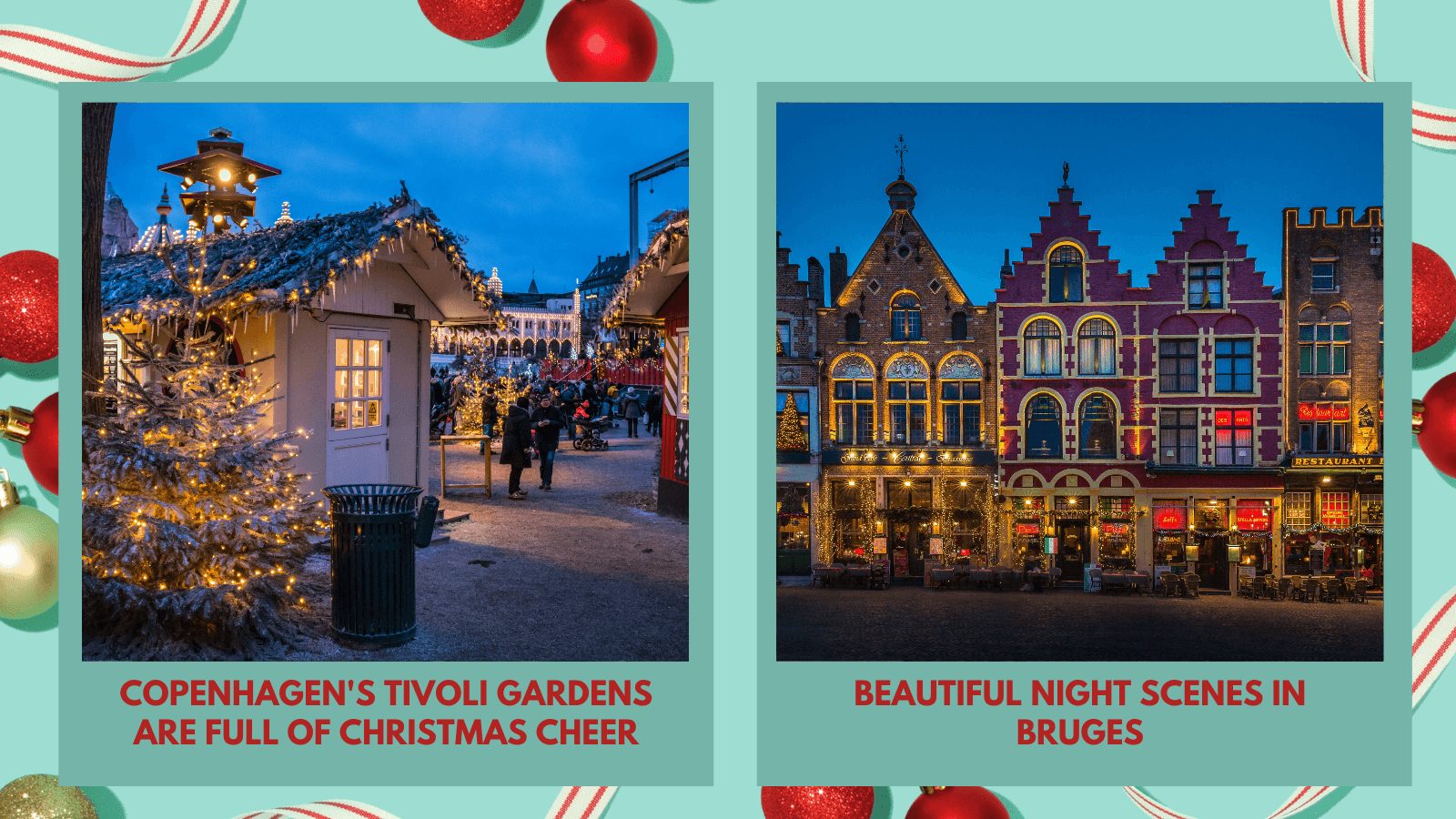 Photo credit for Christmas at Tivoli Garden: Susanne Nilsson
Copenhagen
You can't talk about Copenhagen without bringing up Tivoli Gardens. This amusement  park is open all year round but it is  definitely at its best when it is festooned with Christmas lights and teeming with stalls and eateries.  You pay a fee to enter and if you want to go on any rides you will need to pay extra, however it can't be beaten for Christmas spirit and vibes!
Bruges
Aside from browsing the Christmas markets and the abundant chocolatiers,  you'll find the wonderful Käthe Wohlfahrt store selling delightful wooden Christmas ornaments. They are pricy but beautiful and will surely make a great addition to the  Christmas tree back home!
Christmas Spirit
You want to head home feeling warm and full of Christmas spirit – so which location is the best for feeling festive?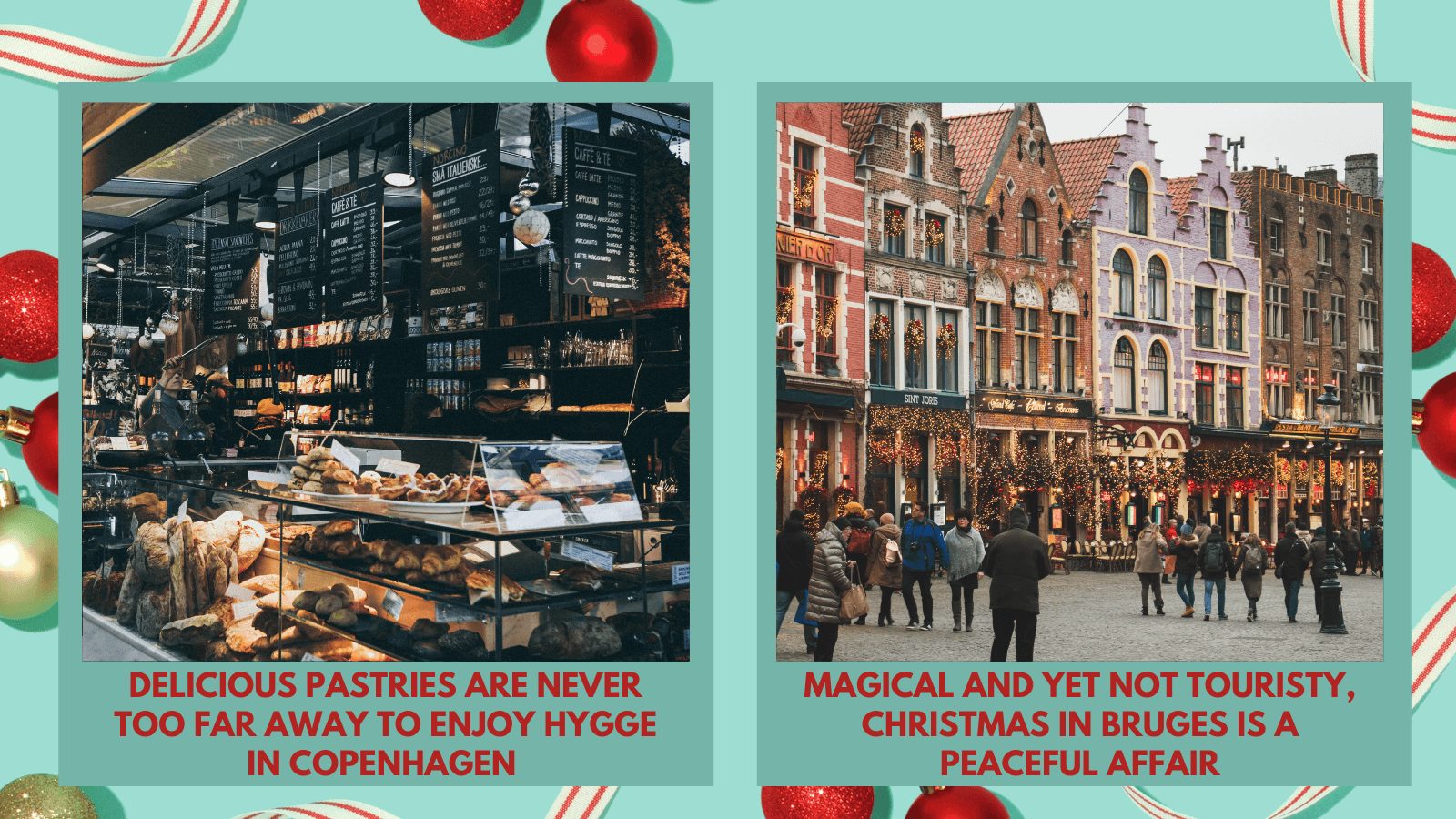 Copenhagen
There's something about the Scandinavian culture that lends itself to feeling Christmassy  and Copenhagen is no different , if you are lucky enough for the temperatures to plummet  then indulging in the culture of  hygge is perfect. The word doesn't really have an English translation but it represents the cosy  and warm feeling  that comes with having a hot drink and probably a pastry in a sweet cafe out of the cold. We were there in surprisingly mild temperatures but there's always a place for hygge especially when you can watch the twinkling Christmas lights.
Bruges
Bruges itself is magical, very Christmassy and relaxing, no crowds of tourists to push through, and  understated in all the right ways. It somehow manages to retain the peace and atmosphere of  Christmas without the over-touristy elements that spoil other popular locations. 
Getting There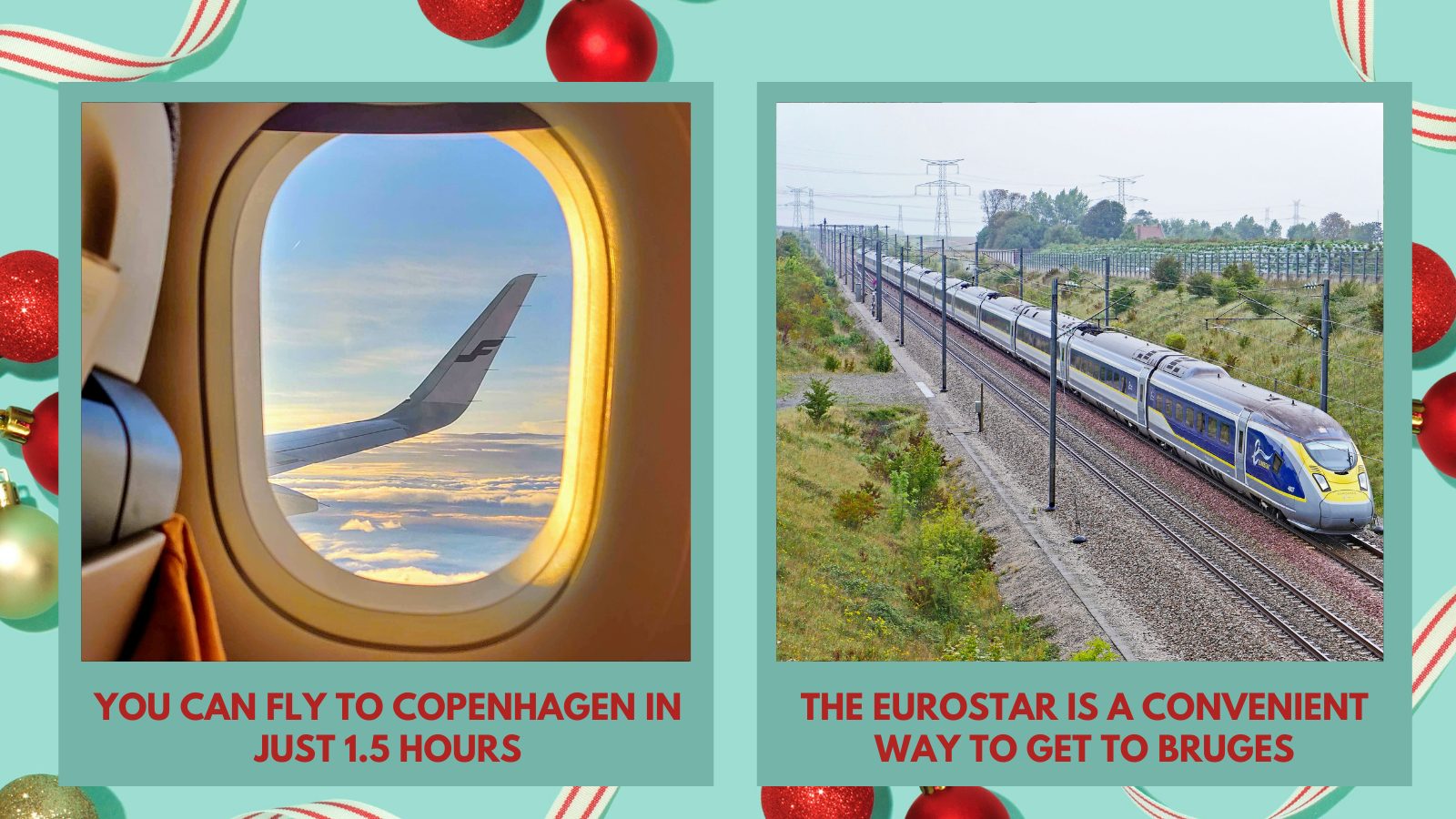 Copenhagen
There are plenty of low-cost flights to Copenhagen now and if you are savvy and book in advance you can get flights really cheaply. Norwegian, EasyJet, and Ryanair all fly direct from London airports and the flight was only 1.5 hours from Gatwick.
Bruges
Bruges is  a great destination if you don't particularly like flying as it's really accessible by train. From St Pancras in London to Bruges it is only 3.5 hours and you don't have to deal with any of the hassle of flying – minimal time for check-in, no 100ml liquid rule,  and  the Eurostar is well-known for its roomy seats!  You will have to change in Brussels however, but this should be relatively short with plenty of trains. You can even stop off for a few hours in Brussels itself!
So bearing all the above in mind, what's the decision?  Are we following the lure of freshly baked Danish pastries, or are we  indulging in Belgian chocolates down small alleyways?
And the winner is…
The unanimous decision for a true Christmas getaway, with good food, a relaxing atmosphere and a unique experience, was Bruges! It really offered that away-from-everything trip without having to deal with crowds and noise. A peaceful weekend of Christmas and culture –  I for one know where I'm heading next year. This isn't to say Copenhagen  isn't worth a visit, just be prepared for  more crowds and a more city-break feel.