The best dressed Christmas Airports
16 Dec, 2021
Luc Horncastle
No Comments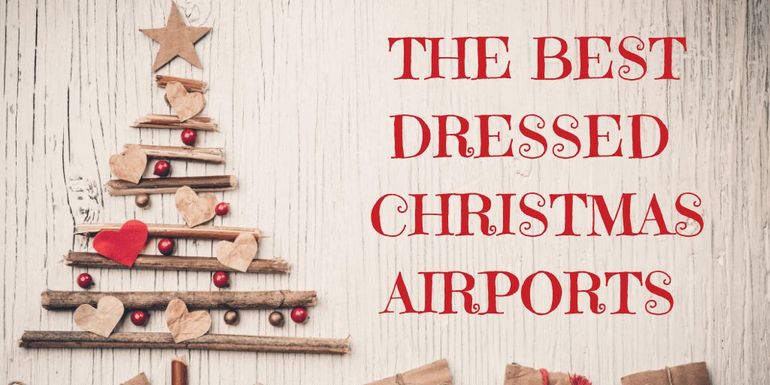 This is usually one of our favourite blogs of the year; marvelling at the creative genuis the airports come up with to make their passengers feel extra festive. 2020 may be a little different for obvious reasons, but we wanted to kepe the Christmas spirit alive so we are revisting the airports of last year and se what they're doing this year…where they can!
Amsterdam Airport Schiphol
Our European neighbours have shown how it's done with a great array of Christmas lights on show at the main terminal. The tree's looking great again this year but we're a little sad that Father Christmas isn't wondering through the baggage reclaim hall with last minute prezzies this time!
Orlando International Airport
Across the pond this time to Orlando International Airport who has a stand out Christmas theme that's certainly attracted the attention of its passengers! Many travellers are keen to snap a pic in front of the wonderful tree sitting in the terminal; their 40ft wonder has made a return for this year.
Changi Airport
Changi Airport is arguably the prettiest looking airport for Christmas lights in Asia. This year, they've opted for Changi Festival village for those travelling through the airport; this will an absolute dream for both kids and adults alike…
Atlanta Airport
Atlanta airport is full of festivity with its beautiful Christmas tree and people dressing up to sing along to various events taking place throughout the festive period!
#ATLAirport Presents: Toyland- a special event designed to spread holiday cheer and education. This year we partnered with three local schools to give over 350 gift bags to students and teachers. Thank you to all our volunteers and sponsors for making this joyful event happen🎄🧸 pic.twitter.com/0UhJ2sa78i

— Atlanta Airport (@ATLairport) December 14, 2021
We're decking the halls and fa la la-ing throughout the terminals here at #ATLAirport 🎄 If you're traveling ✈️through #ATL this holiday season, grab a selfie or picture in front of our tree located in the Domestic Atrium 🤳📸 pic.twitter.com/yTXjtpDFsc

— Atlanta Airport (@ATLairport) December 7, 2021
Vancouver International Airport
If you thought the previous ones were cool, just wait to see what Vancouver International Airport have put on for their passengers to help bring them into the festive spirit.
They've a YVR cabin where they created an upside-down west coast chalet! So that's a must-see if you're going through this airport.
Representing APS' local airport, Heathrow yet again have put on a great display for their travellers in the month of December.
Charles de Gaulle Airport
n Paris, you can see absolutely fantastic arrangement of Christmas trees being displayed. Be sure to check this out if you're travelling through this airport. 
Le temps d'une nuit, la féérie de #Noël s'est répandue dans les aéroports de Paris-#CDG et Paris-#Orly. 🎄
Entre ciel et terre, la magie des #fêtes de fin d'année vous accompagne pour partir retrouver celles et ceux qui vous sont chers. 🎅 🌟#ParisVousAime pic.twitter.com/7KtGIraMVd

— Paris Aéroport (@ParisAeroport) December 10, 2021
Hong Kong International Airport
Back in Asia, in Hong Kong, they have a great display of a huge Christmas tree and a little Santa! It is a very cute display and we're sure if you're travelling with the little ones, they will enjoy this very much.
Zurich Airport
Over to Switzerland where Zurich Airport really treated their passengers to a great array of Christmas themes! In their airport park, they hosted the Zauberpark festival, this amazing festival had everything you could think of! What's more, is that they even have a Christmas market within the airport!
DANKE von ❤ 18 Zauberpark-Tage, 18 Konzerte & Kids Shows, 12 Lichtinstallationen, 14 Genusshäuschen und unglaublich viele fröhliche Besucherinnen und Besucher – das war der Zauberpark 2021✨ Wir sehen uns im Zauberwald Lenzerheide und 2022 wieder im Zauberpark! pic.twitter.com/0IckYTqN5k

— Zurich Airport (@zrh_airport) December 13, 2021
Denver International Airport
Don't underestimate the creative abilities of Denver International Airport. They've live piano being played in the centre of the terminal. This will certainly put you in the holiday spirit
From now until Dec. 24, keep an ear out for a piano player in the center of the terminal on level 5, typically from 11 a.m.-2 p.m. and 4-7 p.m. Request your favorite holiday song or just enjoy the tunes to get you into the holiday spirit. 👂🎹🎵 #HappyHolidays pic.twitter.com/CgDQabW2XO

— Denver Int'l Airport (@DENAirport) December 15, 2021
We would love to know if you have seen any of these in person, or if we've missed an airport who's done the Christmas fairies proud. Make sure to drop us a tweet letting us know @airportparkshop – Merry Christmas!