The best dressed Christmas Airports for 2019!
27 Oct, 2020
Luc Horncastle
No Comments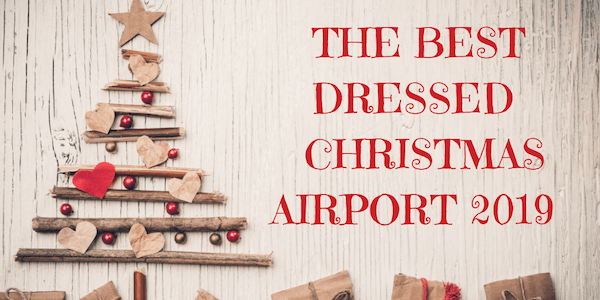 Wherever your travels take you across the world, it's that time of year where the lights are up and airports around the globe are looking that extra bit decorative for one month of the year. The aim is to help nudge passengers that little bit closer to the festive spirit, and we hope that you get to see some of these destinations first hand! However if your travels don't take you through an airport this December, look no further than a round up of the best dressed Christmas decorations at airports around the world!
In no particular order:
1. Amsterdam Airport Schiphol
Our European neighbours have shown how it's done with a great array of Christmas lights on show at the main terminal. Not only is the tree looking great but you may also find Father Christmas wondering through the baggage reclaim hall with last minute prezzies to hand out!
2. Orlando International Airport
Across the pond this time to Orlando International Airport who has a stand out Christmas theme that's certainly attracted the attention of its passengers! Many travellers are keen to snap a pic in front of the wonderful tree sitting in the terminal.
3. Changi Airport
Changi Airport is arguably the prettiest looking airport for Christmas lights in Asia. This may be down to the spectacular display of festive trees and life-size snowmen which have captured the imagination of passengers and staff alike. Not only that but Terminal 2 features a Frozen inspired winter wonderland! Now, who wouldn't want to visit that?!
4. Atlanta Airport
Atlanta airport is full of festivity with its beautiful Christmas tree and people dressing up to sing along to various events taking place throughout the festive period!
5. Vancouver International Airport
If you thought the previous ones were cool, just wait to see what Vancouver International Airport have put on for their passengers to help bring them into the festive spirit.
Pop down to Jade Canoe to have a look at the YVR cabin where they've created an upside-down west coast chalet! There are also loads of stunning spots around the airport for the perfect insta-worthy airport pictures!
6. Heathrow Airport
Representing APS' local airport, Heathrow yet again have put on a great display for their travellers in the month of December.
7. Charles de Gaulle Airport
Trees galore in Paris! A noticeable number of fantastic arrangements are dotted around the site, one of note being around the retail spaces, where they have combined green leaves with the brands and companies available at the terminal. Travel trinkets and other high-end accessories can be found hanging in replacement of some of the more traditional baubles. You can of course still find some of the more traditional trees at Paris Charles de Gaulle Airport, too!
Avant d'embarquer pour un vol de #rêve avec le #PèreNoël 🎅, les @petitsprinces s'amusent en chanson 🎼 à Paris-#CDG. pic.twitter.com/fUDvH8pjCB

— Paris Aéroport (@ParisAeroport) December 4, 2019
8. Hong Kong International Airport
Back to Asia, where in Hong Kong they really have pushed the boat out with an amazing tunnel of light which can been seen stretched across the terminal building. Not only do they also have a great tree, but life size Santas can be seen catching the attention of the younger passengers who are encapsulated by the Christmas feeling.
9. Zurich Airport
Over to Switzerland where Zurich Airport has really treated their passengers to a great array of Christmas themes. Much like Hong Kong, follow the bright lights draped across the terminal building to initially get you in the festive spirit… And it doesn't end there; a huge tree and more lights lining the escalators will get you feeling even more merry (if you weren't already). The site also has artistic looking presents dotted around & a white grand piano, keeping in theme with the snowy setting, which self-plays Christmas tunes.
10. Denver International Airport
Just because it's in position number 10, do not underestimate the creative abilities of Denver International Airport; we've saved some of the best till last. The animal shaped trees have your back covered when it comes to pre-flight company! Although once you're finished getting to know them, if you still have some extra time to kill, you might wanted to check out the fully operational ice rink that's available to use on site! Think of it as the little holiday before your main trip away…
Wherever your travels take you over the near future and into 2020, we hope you get a chance to see some of these amazing Christmas decorations dotted around at some of the world's most popular airports. We would love to know if you have seen any of these in person, and if you have, make sure to drop us a tweet letting us know @airportparkshop on Twitter – Merry Christmas!