The best dressed Christmas Airports
13 Dec, 2022
Luc Horncastle
No Comments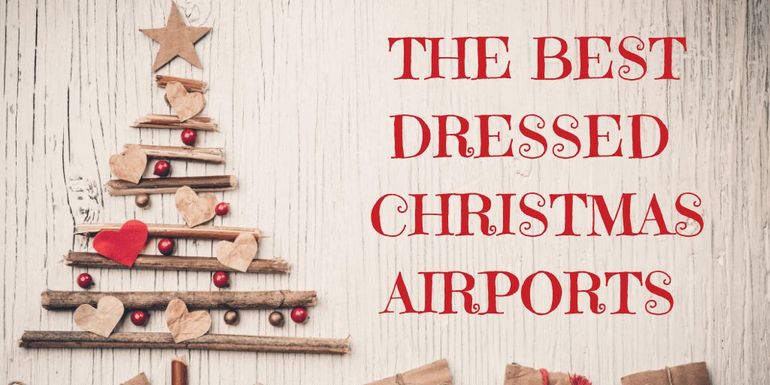 This is usually one of our favourite blogs of the year; marvelling at the creative genuis the airports come up with to make their passengers feel extra festive. The aim is to help nudge passengers that little bit closer to the festive spirit, and we hope that you get to see some of these destinations first hand! However if your travels don't take you through an airport this December, look no further than a round up of the best dressed Christmas decorations at airports around the world!
Amsterdam Airport Schiphol
Our European neighbours have shown how it's done with a great array of Christmas lights on show at the main terminal. The tree's looking great again this year but we're a little sad that Father Christmas isn't wondering through the baggage reclaim hall with last minute prezzies this time!
Orlando International Airport
Across the pond this time to Orlando International Airport who has a stand out Christmas theme that's certainly attracted the attention of its passengers! Many travellers are keen to snap a pic in front of the wonderful tree sitting in the terminal; their 40ft wonder has made a return for this year.
Changi Airport
Changi Airport is arguably the prettiest looking airport for Christmas lights in Asia. This year, they've opted for Changi Festival village for those travelling through the airport; this will an absolute dream for both kids and adults alike…
Chicago O'Hare International Airport
This airport is known to be one of the most festive airports! In fact, it's been named Best Airport in North American for the 19th year running!
Vancouver International Airport
At Vancouver International Airport, they put their passengers in a festive spirit by having music played by Kurt Von Hahn, he has played for millions of people travelling through the airport!
Beloved YVR celebrity, Kurt Von Hahn, has played for millions of travellers. His musical stylings can be enjoyed all month-long Tuesday & Friday between 7-9AM in Domestic Departures & 9-11AM in Pier C post-security. He'll also have additional shows leading up to the holidays!🎄 pic.twitter.com/MRY1TjYNiH

— YVR (@yvrairport) December 7, 2022
Representing APS' local airport, Heathrow yet again have put on a great display for their travellers in the month of December.
We're looking forward to welcoming many families to our airport over the coming weeks. 👨‍👨‍👦‍👦✈️

Apart from our mesmerising decorations, we have a number of family-friendly facilities to keep your little ones amused, fed and watered.

Find out more: https://t.co/lJFyZKYlgn pic.twitter.com/kXq01UXVcU

— Heathrow Airport (@HeathrowAirport) November 28, 2022
Atlanta Airport
Atlanta airport is full of festivity with its beautiful Christmas tree and people dressing up to sing along to various events taking place throughout the festive period!
Hong Kong International Airport
Back in Asia, in Hong Kong, they have a great display of a huge Christmas tree and a little Santa! It is a very cute display and we're sure if you're travelling with the little ones, they will enjoy this very much.
Zurich Airport
Over to Switzerland where Zurich Airport really treated their passengers to a great array of Christmas themes! In their airport park, they hosted the Zauberpark festival, this amazing festival had everything you could think of! What's more, is that they even have a Christmas market within the airport!
Denver International Airport
Don't underestimate the creative abilities of Denver International Airport. They have an ice rink within the airport! Now, it doesn't get more exciting than that!
Saturdays are for skating at the DEN ice rink! Here are some of our favorite moments from this past week, featuring @AvsBernie and Ice Patrol from the @Avalanche and the Fort Collins Youth Figure Skating Club! Have you made it out to the rink to skate for free yet? ⛸️ ❄️ pic.twitter.com/li4puw3JBj

— Denver Int'l Airport (@DENAirport) December 10, 2022
We would love to know if you have seen any of these in person, or if we've missed an airport who's done the Christmas fairies proud. Make sure to drop us a tweet letting us know @airportparkshop – Merry Christmas!