05 Nov, 2014
Jurga Sefton
No Comments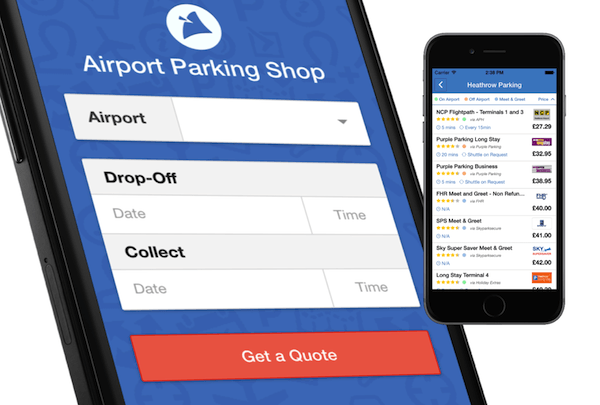 Still buzzing from all the excitement of our last challenge of building a responsive website, the team here at Airport Parking Shop decided to make things for UK travellers even easier. Our mobile app – Airport Parking Shop mobile app – was launched in October, making it a useful addition to the apps developed here at Fubra Ltd.
The app is free to download from App Store and Google play and was developed in preparation for the inevitable change: we forecast that by January 2015 more than half of the visitors to Airport Parking Shop will be accessing it on a tablet or smartphone.
Watching the trends in device usage among our users we couldn't ignore the rapid increase of people comparing parking prices on the move. In the first six months of 2014 the total of tablet and phone users has increased by 10 percent; it now stands at 45 percent: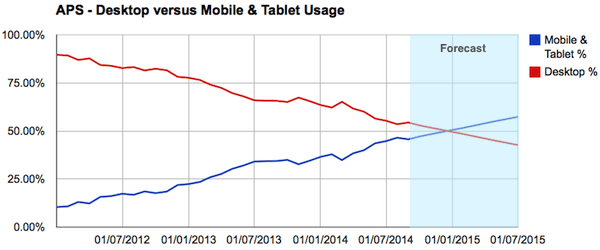 So what does the app do?
Our regular users would recognise most of the website's features that are transferred into the app, such as the easy and straight-forward quote search form, a list of results sorted by price, with additional features including transfer times and type of parking.
We compare the same car parking providers on the app as on the website, and you will recognise them if you've booked through our site before: APH, Purple Parking, BCP, FHR, SkyParkSecure, Holiday Extras, Essential Travel and Park and Go.
Users are advised that our app – as with our website – compares the prices, but users are passed directly on to the merchant's website and proceed with the booking on their site. Our task and expertise lies with finding and presenting airport parking options, prices and availability in customisable way.
Airport Parking Shop app at a glance
Launched: October 2014
Developer: Ray Viljoen, Fubra Limited
Development duration: two weeks
Other apps by Fubra Limited: World Airport Codes
System requirements:
Minimum for iOS: 6
Minimum for Android: v4.4.0 KitKat
Market: UK, but available globally
App cost: free
Prices displayed in: GBP
Providers compared: 8
Car parks compared: over 300
Language: English
Press: Download the Press Kit
We're really excited about the new app and we hope you will be too – if you give it a go we would love to know what you think!