08 Jan, 2015
Alice Fowler
No Comments
Some important trends over the last ten years are set to make travelling a different experience than it was. Let's take a look at some of the changes that have been happening to see where we are all headed in 2015!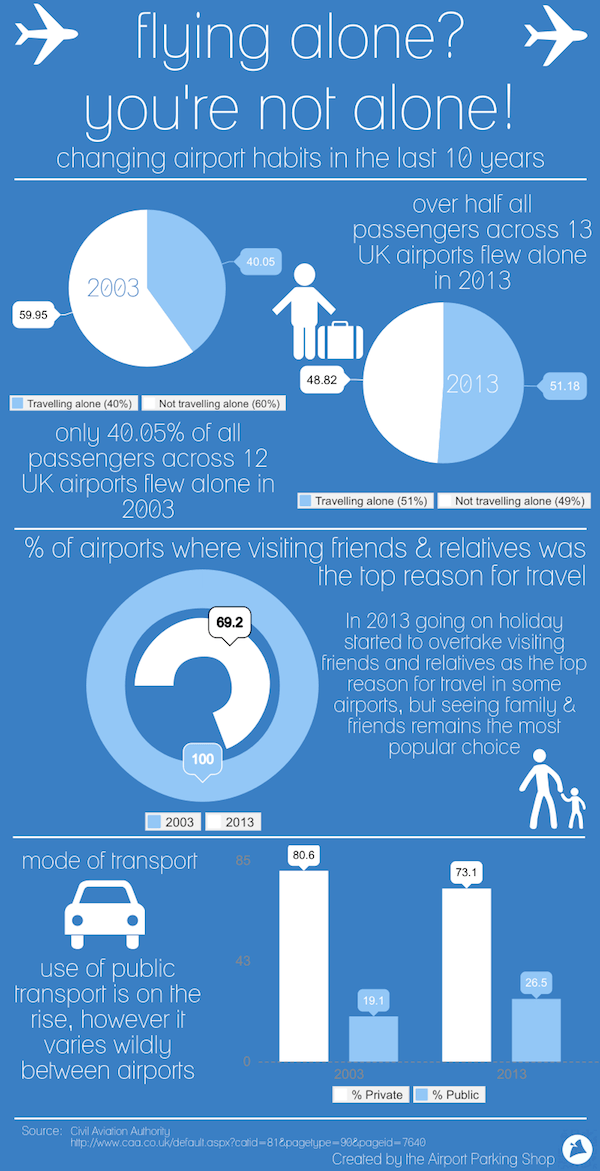 Travelling by yourself may seem daunting, but it seems more and more of us are doing it. In 2003 only around 40% of travellers flew alone, but this has risen to over 50% now flying by themselves. Somewhere you've always wanted to go but never made that final decision? 2015 could be your year – take the plunge and book your trip, knowing that the chances are your fellow passengers could well be flying by themselves too. These figures may well be even higher at the end of 2014; the Civil Aviation Authority have currently only released data up until 2013.
Top reasons for flying alone
Our flights may be lonely but our reasons for travelling are ever social. Family and friends are our priority when taking a trip, and this has not changed a great deal since 2003. However, flying is more accessible, cheap flights are far more common, and contact with the family is much more regular through means such as Skype and Facetime. A range of cheap package holidays can also be purchased and so holidaying is creeping in as a big reason for travel. It is still only the main reason for a small handful airports – major holiday-central airport Gatwick being one of them – but it may soon be time to move aside the family trip and get out the beach towels!
Next, the ever popular debate of how to get to the airport; do you drive and hope that traffic is kind? If so, do you get a friend to drive you or do you hope to find a good deal on airport parking? Do you get the train, knowing that overcrowding on trains is a pretty common occurrence now? Well, research shows that it is pretty unanimous across all the airport data that private transport is the method of choice, whether that be your own car, hiring a car, or getting a taxi.
Which airports are most popular to fly alone from?
London Gatwick may well be the tipping point in this area, with their 2013 figures showing 42.6% of people are using the public transport links to get to the Surrey-based airport, an increase from 32.3% in 2003. Having grabbed the Gatwick Express straight into the terminal myself, I can vouch that they are certainly doing things right.
The data here is of course pretty skewed, as the London airports unavoidably have great public transport links. Gatwick does appear to be winning the race but Heathrow, Stansted and London City all have good figures for people arriving by train, bus and tube. Take the more regional airports, however, and it's a different story: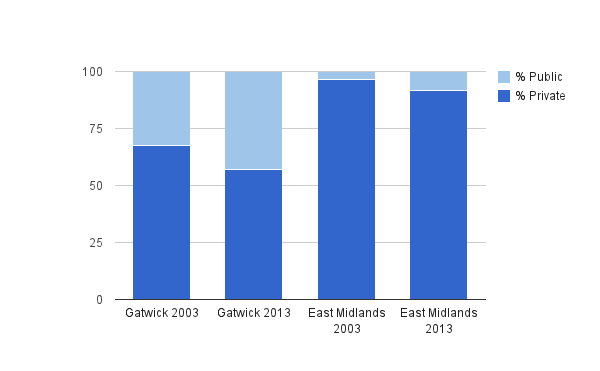 A comparison of Gatwick to East Midlands Airport shows that regional airports do not have quite the same links, and a whopping 91.8% of people used private transport to get to the airport in 2013: only a 4.5% decrease from ten years ago.
Could 2015 be the year of the single traveller?
If so airports need to ensure that their services are appealing to what could potentially be over 50% of their users; and poor transport links is one way to scare people off. With so many options for airport parking becoming more and more competitively priced, poor transport connections may fail to attract someone travelling alone.
Of course, many of these single travellers could be well-travelled businessmen, who might roll up to their usual airport car park, perhaps hop in their airline provided chauffeured car, be ushered through check-in and security, and can be seen relaxing with a G&T in the lounge by the time the holidayer has even gotten their perilously overweight suitcase on the scales at check-in, but hey, we can dream, right?