This Father's Day, treat Dad with a visit to his idol's hometown!
31 May, 2016
Franki Napolitano
No Comments
Father's Day; across the world, it's a day dedicated to honouring and showing appreciation for not only your father, but depending on where you are in the world, any important male figure in your life.
With this in mind, we thought it'd be quite cool to pick some hometowns of a few truly kick-ass dads from around the globe to see how their different home countries celebrate the day!
Europe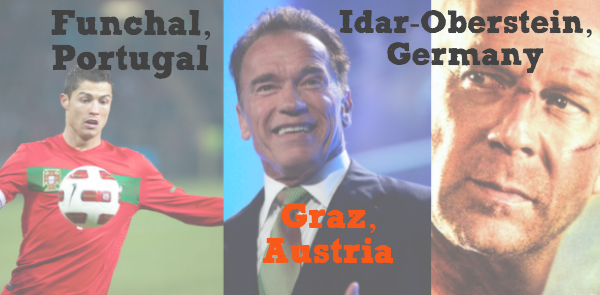 Germany
Day celebrated: On Ascension Day, which is 40 days after Easter. In 2016, this fell on 5th May.

Tradition: The typical traditions center around beer – and lots of it! It's not uncommon to see groups of men hiking with wagons full of food, beer and various other liquor towards the woods. For those that prefer a less strenuous day, they opt for a pub crawl instead!
Take your dad to: It would make sense to say take him to Oktoberfest, but everyone will say that! Instead, why not go wine tasting? Head to the region of Rheinhessen to sample a deliciously sweet glass of Liebfrauenmilch (a personal favourite, hic) or if his palate prefers a drier tipple, Rhine is the place to go for a great Riesling – Welcome to the party, Dad! 
Funchal, Portugal:
Day celebrated: On St Joseph's Day. In 2016, this was March 19th.

Tradition: As Father's Day falls on a religious day, it seems only fitting that a traditional celebration is to attend a church service with the family and to tuck into a gourmet feast! Children also make cards and gifts for their fathers and generally spend the day with the whole family. 

Take your dad to: If he's a footie fan, an obvious choice would be to take him to Andorinha Football Club, the first club Ronaldo played for. Or why not spend a few hours amongst thousands of indigenous flowers, trees and plants, marvelling at their beauty at the Jardim Botânico, a short venture just outside of the town.  Visit the Natural History Museum that was once the Manor House, and simply soak up the sun whilst you admire the views of the bay. A perfect day out, as long as dad doesn't have hayfever!
Graz, Austria
Day celebrated: It falls on the second sunday in June, so in 2016, this is June 12th.

Tradition: As with other countries, it falls on Sunday, the day of rest – and this is what the Austrians do! It isn't recognised as a public holiday, and there are usually no events held, but local restaurants will always be willing to accommodate parties of all sizes to celebrate and some hotels even offer pamper packages for your beloved Papa! 

Take your dad to: Arnie's home town of Graz, the hidden gem nestled away in the middle of Europe. It offers a refreshing mix of old town tradition and contemporary edge, making it Europes architectural and design capital. Visit the Old Town Graz, a UNESCO World Heritage site, adorned with italian renaissance buildings, for a walk through the town as it once was. Then visit Kunsthaus Graz and experience the complete opposite! Dubbed "the friendly alien" by locals, the creation has totally revived a once forgotten part of town along the river Mur, and has brought with it an exhibition space, as well as bustling cafes and eateries. A visit to Graz is like stepping in and out of a time machine, with so much to do, we'll guarantee that once you leave, you'll be back!
Australia
Essendon, Melbourne
Day celebrated: On the first Sunday in September. This year, that'll be September 4th

Tradition: The Aussies like to do things big, and a day spent celebrating their dads is no exception. Around Essendon, there are plenty of groups and societies that organise trips, days out and events to mark the occasion; big breakfast meet-ups, fishing trips or an afternoon of food and games in a local park with plenty of the other local families.

Take your dad to: Or rather on, a Helicopter tour across Melbourne! It's the unrivalled way to see this magnificent city, either illuminated at night or in all its glory on a clear day. If heights aren't his thing, why not treat him to a spa package?! Dads don't mind a pamper too, you know – despite what he might say…! 
Of course though, we can't forget Australia Zoo,*  the legacy that the late legend Steve Irwin left behind for his beloved wife and children. Not only can you spend hours being simply dazzled by the wildlife that inhabit the zoo, you can book your dad in for one of their incredible experiences! Take a photo cuddling a koala, take a guided tour of the grounds and even sneak a peek at the cheetahs sleeping quarters! 
*Crikey mate..it's about an 18 hour drive from Essendon..! 
USA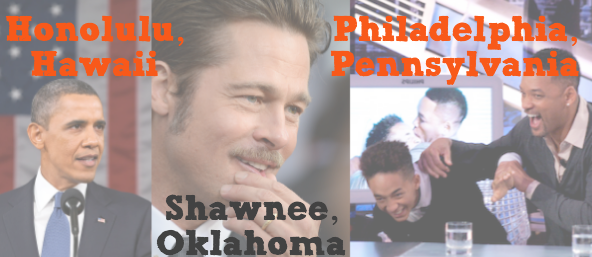 Date celebrated: Across all States, Father's Day will be celebrated on June 19th this year.
Traditions: Father's Day is celebrated in a very similar way to the UK – Dad might get breakfast in bed, some new clothes and a hand doing the "dad jobs" like mowing the lawn and DIY*, followed by a nice lunch or dinner out with his pride.
We have Sonora Smart Dodd to thank for this tradition; after attending a Mother's Day sermon in 1909, she felt that Fathers needed to be celebrated the same way (especially as her father was a civil war veteran who had single handedly raised her and her five siblings since her mother passed away.) 
Father's Day has been a recognised tradition in the the US since President Nixon declared it a national day of observance in 1972.
*All very stereotypical, we know! 
Philadelphia
Take your dad to: Valley Forge National History Park for a journey back in time to the 1700s where you'll discover what life was like during the American Revolutionary War. If he's a foodie, a trip to the food haven that is Reading Terminal Market should be the top of your list, with the infamous Philly Cheese Steak being the first thing he must sample! If he's into his sports, we're sure there are plenty of spots to shoot some b-ball , too – just don't get in a little fight! 
Oklahoma
Take your dad to: Brad Pitts hometown of Shawnee in October this year to see ZZ Top take to the stage!  How about letting him feel like an assassin for the afternoon by taking him to an indoor shooting range or extreme paintballing?  However, if he happens to go by the name of Mr. Smith, it may be better to suggest a quieter experience. With plenty of museums and galleries to explore, as well as amazing National and State Parks with everything from fishing and canoeing to archery and wildlife spotting, there is sure to be enough to keep him entertained!  
Hawaii
Now, we don't want to bore you too much as we have previously written about the marvelous things to do in Hawaii in our Travel Trends Part 1 Blog – but we had to include Mr Obama because let's face it, he has to be the most kick-ass dad of 'em all! However, if you visit his hometown of Honolulu, we suggest a hike to the top of Diamond Head for breathtaking views of the island, as well as an unrivalled snorkelling experience in the tropical waters of Hanauma Bay. Airport Parking Shop, out.
Do you have any fond memories of your favorite Father's Day gone by, or are you one of many that celebrate both parents, regardless of whether it's Mother's or Father's Day? We'd love to hear your memories!
Photo Credits
Cristiano Ronaldo – Ludovic Peron
Arnold Schwarzenegger –Eva Rinaldi
Bruce Willis – Daiki Tomidokoro
Steve Irwin – Michelle
Irwin Family – Kim
Barack Obama – Pixabay
Brad Pitt – DoD News Features
Will Smith – El Hormiguero