Flying with dementia: Why We Need Dementia Friendly Airports
31 Mar, 2023
Franki Napolitano
13 Comments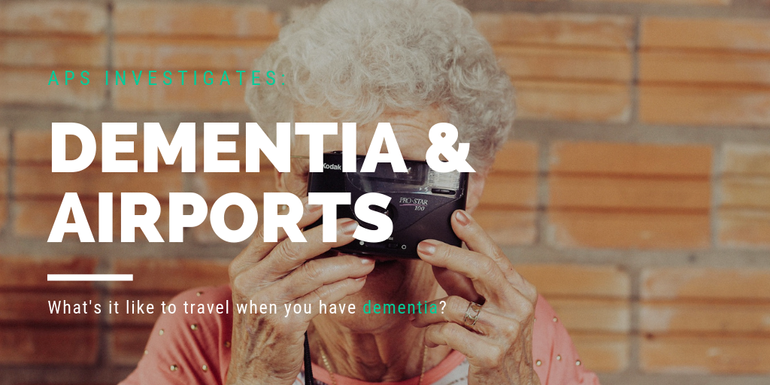 When we first wrote this blog in 2016, it had just been announced that London Heathrow was set to become the World's first Dementia Friendly Airport. That meant all 76,000 staff would be trained to help passengers with what is referred to as a Hidden Disability, mainly dementia, and inspired us to write this blog with the hope that flying with dementia might become that bit easier.
We thought we'd give this piece a 2023 update to see how far the UKs airports have come in just 7 years…
What is dementia?
The term dementia refers to symptoms experienced as a result of disease to the brain. It can present itself in several ways, the most common being memory loss, and difficulties with communicating and problem solving.
The effects of dementia can range from the person becoming frustrated and confused by seemingly normal day to day activities, to having to rely on a loved one or carer to look after them when they can no longer do said activities, or even remember who they are.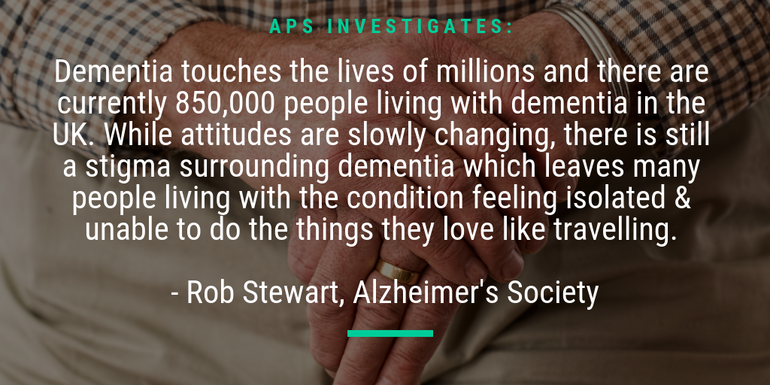 It's also worth mentioning that there are several forms of dementia that affect the brain in different ways; Alzheimer's, dementia with Lewy Bodies and both Vascular and Frontal-temporal dementia are the four of the most common.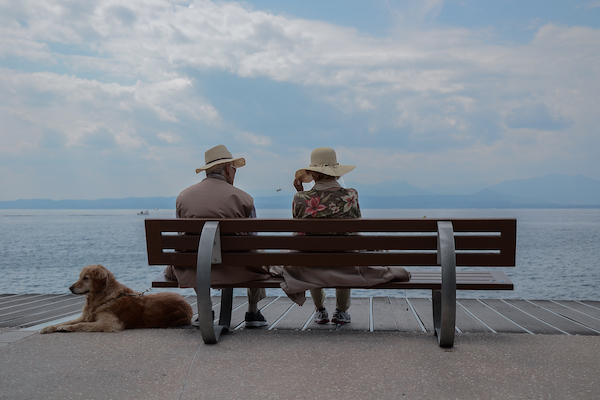 The news from got us thinking about the current experience had by those flying with dementia; both those with the condition themselves and their travel companions.
We set out to see what UK airports currently have in place and with the help of several dementia related charities and services, we surveyed the public on their thoughts, experience and knowledge of flying with dementia.
Firstly, let's see how the stats compare between what we found in 2016 and how they are looking in 2023;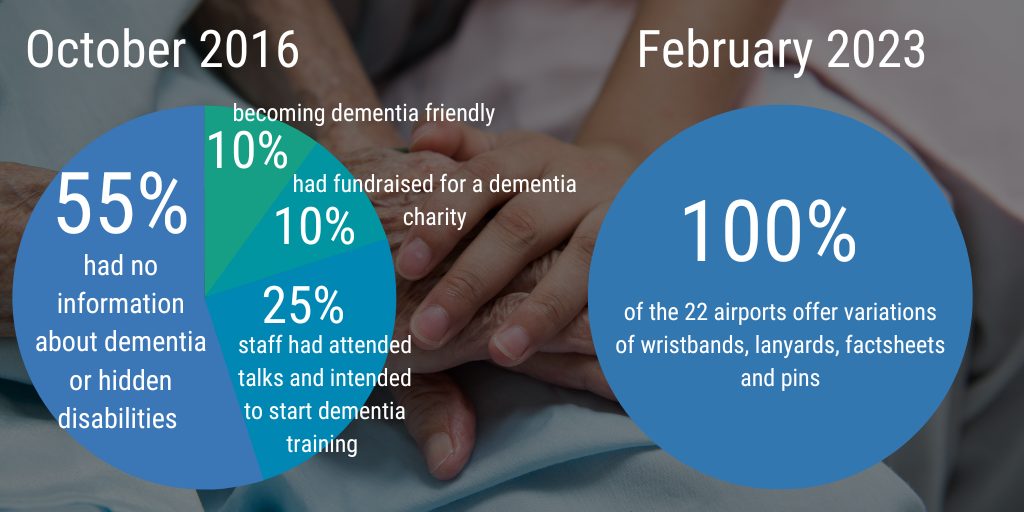 How brilliant is this! From 55% of the airports having no information on Dementia or Hidden Disabilities at all on their site, to 100% of the airports offering a form of support for those with dementia in just 7 years. It's really encouraging to see the stats shift so much!
What does my airport offer for passengers flying with dementia?
With that in mind, let's see exactly what is on offer at the UKs leading airports. If you click the 🌻 for each airport, you'll be taken to full information on their website.
Airport
Details of assistance available
Aberdeen Airport
Lanyards for hidden disabilities are available and the airport work with the relevant local and national charities. 🌻
Belfast City Airport
They have a hidden disabilities lanyard available for use free of charge 🌻
Belfast International Airport
Lanyards are available but they don't give you Fast Track through security. 🌻
Birmingham Airport
Head to the OCS desk to pick up a lanyard; you'll find it on the ground floor opposite Spar. 🌻
Bristol Airport
All staff in customr facing roles have been trained in awareness and as well as the lanyard scheme they operate, they also issue discreet hidden disability cards 🌻
Cardiff Airport
Wristbands, lanyards, pin badges are available for those with hidden disabilites, and you can collect them from the PRM desk. 🌻
East Midlands Airport
Alzheimer's Society have produced a helpful, downloadable factsheet on travelling with dementia and the airport operate a lanyard scheme. Pick the lanyard up from the Passenger Services desk in the check in hall. 🌻
Edinburgh Airport
You can pick up a lanyard or a pin to alert staff to any additional needs. You can collect these items whether you have requested assistance or not and they can be obtained from the Special Assistance Reception. 🌻
Gatwick Airport
Awarded the Dementia Innovation Award in 2016 for introducing the first of its kind hidden disability lanyard and are a Dementia Friendly airport. Pick up a lanyard from one of the assistance reception areas. 🌻
Glasgow Airport
Became the first UK airport to host a virtual dementia tour in 2018. Grab one of their lanyards from the special assistance desk on the ground floor. Glasgow Airport's also been working with Alzheimer Scotland in order to raise awareness for Dementia. 🌻
Heathrow Airport
The airport has pledged to make all 76,000 members of staff a Dementia Friend. Sunflower lanyards are available to use but they ask that you contact them at least 4 days in advance to ensure it arrives to in you time by post.  🌻
Leeds Bradford Airport
Lanyards are available, but they do not permit you a higher level of priority or Fast Track. 🌻
Liverpool Airport
They have a useful guide to the airport on hand to make the journey a little easier and you can also contact them to use their Butterfly Flyer or Sunflower Lanyard. 🌻
London City Airport
Customer Experience, Terminal Front and Security staff have all been trained as Dementia Friends and the Sunflower lanyard is avaialble for use. 🌻
Luton Airport
They are currently working towards becoming Dementia Friends, they operate the Sunflower lanyard scheme and they have a Special Assistance Waiting Area, quiet areas located at Gates 19–27 and at Gate 7, as well as a quiet room next to Gate 17. 🌻
Manchester Airport
Pick up a Sunflower lanyard from any of the Assitance Reception desks in each terminal. 🌻
Newcastle Airport
Lanyards and a downloadable hidden disabilities passport are avaialble. 🌻
Prestwick Airport
Some of the staff are Dementia Friends trained and they also provide hidden disability lanyards. 🌻
Southampton Airport
Southampton have signed up to be a Dementia Friend and are following their 3 dementia-friendly actions. These includes:

Holding accessibility forums with disability organisations 
Carrying an environmental audit of the Southampton Airport by those people that are affected by dementia 
Give their teams an in-depth training to ensure that they understand dementia better 

They also have sunflower lanyards and quieter routes!🌻

Stansted Airport
More than 1000 staff are now Dementia Friends and it's encouraging other business on-site to also train their staff to become more dementia aware. There are Sunflower lanyards also available for use. 🌻
Teesside Airport
There are sunflower lanyards are available for use for those with hidden disabilities. 🌻
What do airports have in place for people travelling with dementia?
Aside from Heathrow's training programme, inspired by Dementia Awareness week in May 2016, Gatwick followed suit and brought in their lanyard scheme for those travelling with hidden disabilities. These are voluntarily worn by those who feel they may need extra assistance or to simply alert staff that they may need a little extra time or patience shown at security or passport control.
Next up, Luton announced that as part of their 2016 commitments, they would have at least 40% of the airport staff undergo Dementia Friends training by the end of the year… By 2021, we can now see that they are working to become a Dementia Friendly airport and also have a lanyard scheme.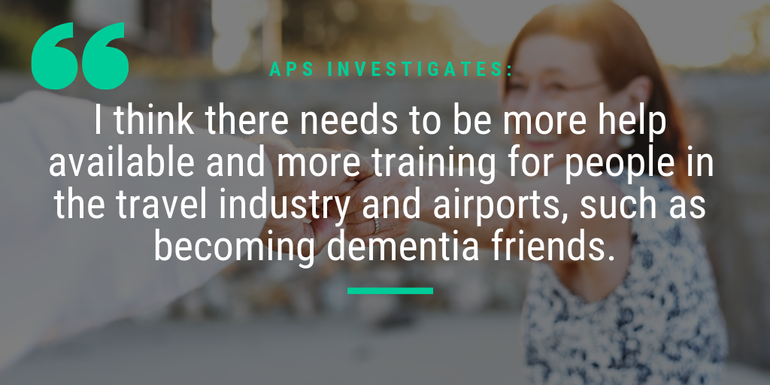 Manchester, Glasgow, Belfast City and Bristol had all stated in 2016 that either representatives from the airport or small selections of staff had attended Dementia Friends talks or focus groups with charities to establish what they need to implement to better their services. Today, they've all implemented a lanyard scheme, with Glasgow becoming the first UK airport to host a virtual dementia tour to help staff and other passengers understand the struggles. They're also working with Alzheimer Scotland to raise awareness for Dementia.
In early 2016, the staff at World Duty Free in Stansted hosted an "Orange Day" in conjunction with Alzheimer's Research UK. The project aimed to raise at least £150,000 to fund the Dementia Research Infoline. In September 2018, they successfully trained their 100th Dementia Friend and they operate a Sunflower lanyard scheme for those with hidden disabilities. Since then, in 2020, they trained over a 1000 staff to become Dementia Friends and they continue to raise even more awareness about Dementia.
Meanwhile, Aberdeen awarded part of its 2015 Airport Community Fund to Alzheimer Scotland, putting them as early runners for a dementia concious airport, and today, they offer a lanyard and card to those that require them.
How are the Dementia support organisations working with airports?
Many of the survey responses mentioned the need for Dementia Friends at airports so we asked Roshni Jaura from Vida to explain who Dementia Friends are and why they would be a beneficial service for airports to offer.
Dementia Friends was set up by the Alzheimer's Society in the UK with the aim of increasing the general public's awareness and understanding of Dementia and what it entails. What sets Dementia Friends apart from other organisations is that their main goal is clear and simple—they strive to educate the public about Dementia in order to make society more understanding and caring towards those suffering from the condition—thus allowing them to be highly effective. In order to have the greatest impact and the widest reach, Dementia Friends is open to anyone of any age, even if they have no previous knowledge or experience of Dementia.

Since the Dementia Friends initiative was launched in March 2013, two avenues of training have developed—the first is face-to-face training and the second is online training. The face-to-face session is run by a Dementia Friend Champion volunteer—who is trained and supported by the Alzheimer's Society. Each session lasts one hour and consists of lessons on Dementia and the ways in which you can help those with Dementia, from spreading awareness about the condition to visiting someone who has Dementia. The online video is an interesting training opportunity as well. The video introduces you to Gina, who is living with Dementia, and essentially depicts the challenges that an individual with Dementia is faced with on a daily basis. Both training sessions aim to instill the idea that we must take the time to help and understand individuals with Dementia.
Travelling can be a hectic experience for anyone, let alone an individual with Dementia
Having Dementia Friends at airports would alleviate some of the stress associated with traveling for individuals with Dementia. Individuals with Dementia could take comfort in knowing that Dementia Friends were amongst the crowds of hurried travelers and there to assist them with anything that they may need. Having Dementia Friends in airports would be a great start to improving Dementia patients travel experiences.

We at Vida can proudly say that we are Dementia Friends!
We also spoke to Rob Stewart from Alzheimer's Society about how the organisation is working with various UK Airports to raise dementia awareness and how they are continuing to  support the efforts of Heathrow and Gatwick as they lead the way;
Alzheimer's Society is actively trying to break down the barriers that prevent people with dementia living life to the full and tackle social stigma with two important initiatives.

Dementia Friends is the biggest ever social action movement to change perceptions of dementia and is transforming the way the nation thinks, talks and acts about the condition. There are now 1.7 million Dementia Friends nationwide who have a better understanding of dementia and the small ways that they can help.

Alzheimer's Society is also building Dementia Friendly Communities to ensure people with dementia feel more able to take part in community life. There are now 208 such communities in England and Wales with pubs, hairdressers, transport schemes, art galleries and supermarkets all set up to welcome people living with dementia.
Both initiatives will help people with dementia in all areas of life and that includes travelling from a local airport for a trip abroad
We know there are lots of benefits to a holiday, such as having new experiences and giving the person with dementia and those close to them a break from routine.

Flying off on holiday from your local airport should be a relaxing and enjoyable experience for everyone but air travel can be daunting or frightening for many people affected by dementia because people with dementia might find a new environment like an airport confusing, or may become worried if something doesn't go as planned.

That does not have to be the case because life does not have to end when dementia begins.
That's why they are working with airports across the country, so people with dementia can continue to do the things they enjoy after a diagnosis
Alzheimer's Society is working with a number of airports including Heathrow, Gatwick, Glasgow, Manchester and Birmingham, Bristol and Southend help them become dementia friendly. For people with dementia and their carers, going on holiday should start and end in a safe and stress-free environment.

Heathrow showed its commitment to become the world's first truly global dementia friendly airport when Alzheimer's Society supporter Carey Mulligan led a Dementia Friends session for staff around the airport. The airport is now developing a customer journey which includes improvements to the handover process. Gatwick Airport has launched a lanyard for passengers with hidden disabilities to act as a discreet sign for staff that they may need support when travelling through the airport.
Can you travel with dementia?
Of course you can, however, you don't need us to tell you that taking holidays in the earlier stages of dementia is easiest as severe cases may cause more hurt and frustration for all parties involved.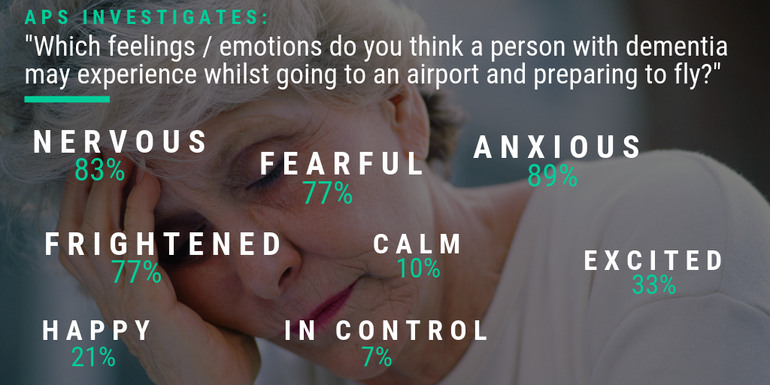 We initially thought that the travel market for people with dementia and their companions was almost non-existent and as we expected, 93% of those we surveyed knew nothing about travel options available to those with dementia and unsurprisingly, 97% of respondents felt that those with dementia are too put off by possible complications to want to travel abroad.
"Yes – much less likely. Travelling can be too overwhelming and stressful for both the person with dementia and their carer/ family member. Travelling alone also becomes fraught with confronting issues"
However, we were pleasantly surprised after a little research showed us exactly what's out there.
Across the UK, you'll find several travel options available to you. Companies such as Mind for You, Amy's Care and Revitalise offer supported holiday schemes in which you can choose to have time apart from your loved one, while their trained professionals take over the care for a while.
If you're still able to be a little active, Dementia Adventure run a selection of group breaks around the UK, including boat trips and coastal treks.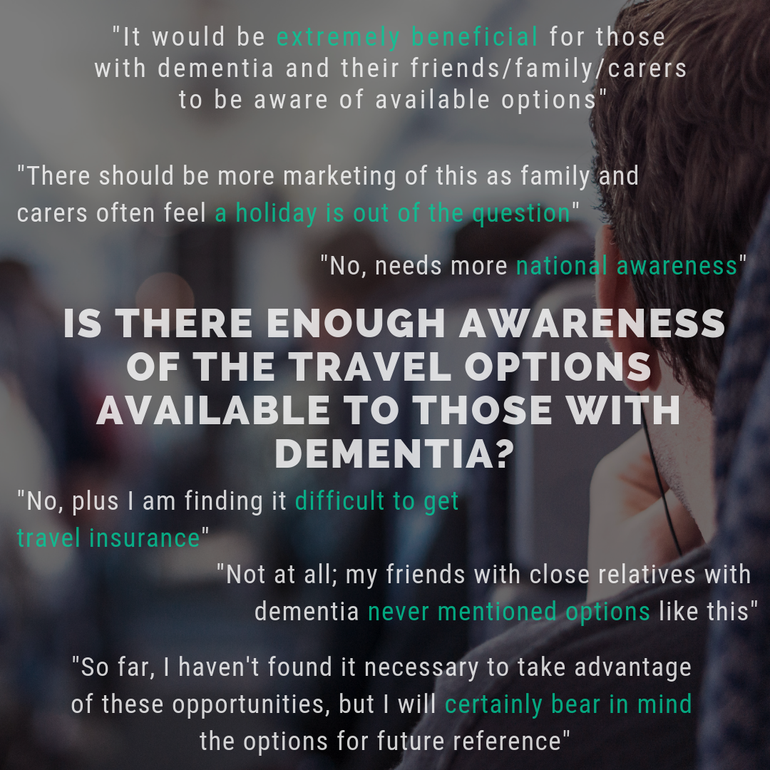 If you're looking at heading overseas, DisabledHolidays.com and Disability Holidays Guide all specialise in disabled travel across the world and can help you arrange your dream break, whilst Cinnamon Grove run by Cinnamon Care Services specialise in dementia care and has become Sri Lanka's first European standard assisted living facility.
"At the present time I am reasonably happy to travel any distance (including to our children and grand-children, who all live in Australia; I am lucky in that my husband would be able to guide me if, for example, I was in danger of finding the female toilets in Heathrow Airport"
Should you travel with dementia?
You should always be aware of the risks that may be involved with flying with dementia. An article entitled "Fear of Flying" written by Dr Gianetta Rands, Specialist in Dementias and Mental Capacity at Re:Cognition Health, suggests that:
"Flights with current cabin environments may challenge mental and physical health due to reduced air pressure and lower humidity. This can cause dehydration, hypovolaemia and reduced peripheral circulation thus meaning the body and brain receives less oxygen than usual, and could accentuate the cognitive difficulties experienced by the person with dementia."
Real life experiences
We gave our respondents the opportunity to tell us about their personal experiences in airports and onboard flights. Generally, airport experiences were far less positive then those in flight. Here are the results of the 2016 survey; we'd love to see how these would differ in 2021!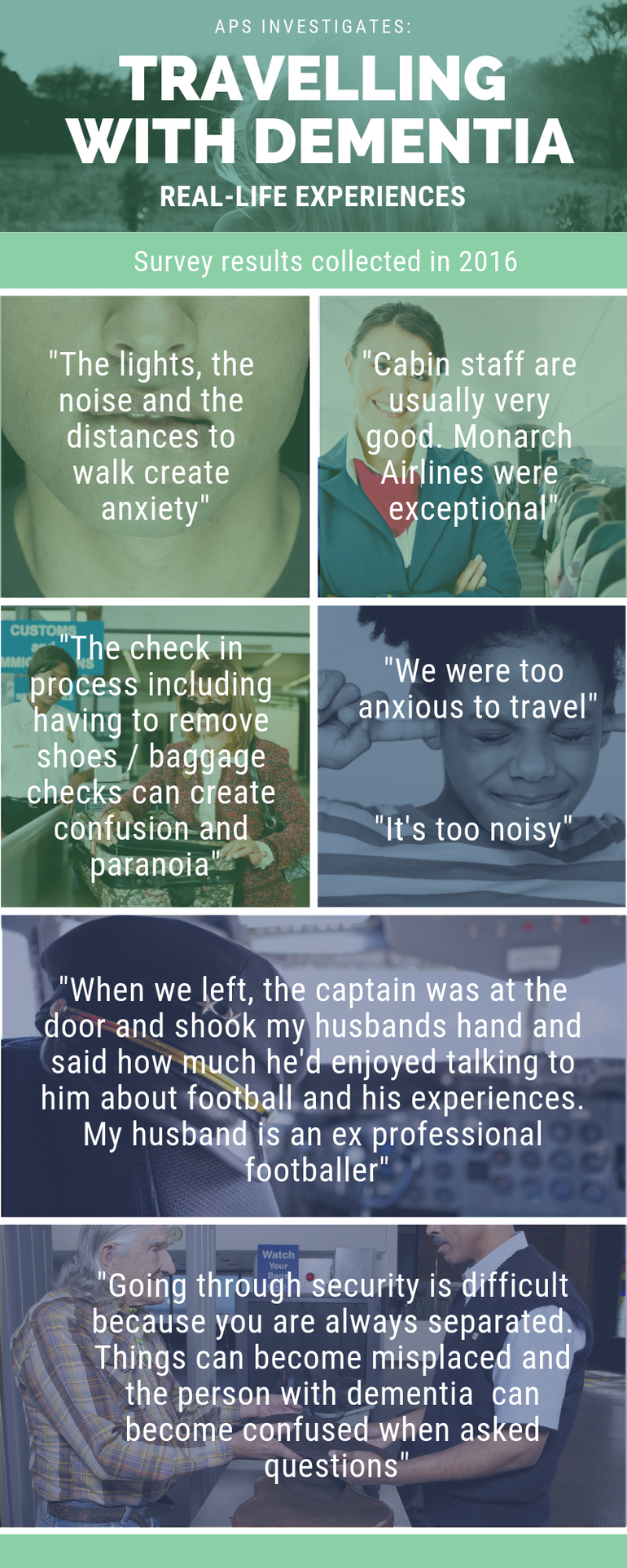 It was also noted that flying was deemed too stressful for both the person with dementia and the people caring for them. When asked if they thought there was a lot of frustration surrounding airports and the apparent lack of concern and knowledge of dementia, our respondents strongly felt that this was the case.
"People do not appreciate why someone may be acting in a way that they do not consider appropriate. There are very strict procedures which can be quite hard to understand" and "Not just airports but the method of getting to them at each end".
Respondents who had dementia themselves told us that they feel they should be entitled to fast track at security as the queuing can cause more stress and confusion, as do the bright lights and music within terminals.
"Being crowded, pushed around and rushed, especially by staff, is very frightening" 
Comments from carers included pointing out the rudeness, aggressive behaviour and apparent lack of consideration shown by airport staff, especially at security or when using e-passport gates. In these cases, this lead to the embarrassment and confusion of the person they are caring for, making them upset or panicky.
"It is the atmosphere of rush that creates anxiety, being asked questions and feeling unable to get the answer out. We only travel through local airports now as the large ones are just too stressful."
Top tips for travelling with dementia
We gathered a lot of extremely useful information from our respondents; be it on experiences, insight into the level of awareness within the community and most importantly, suggestions on how processes could be improved. We feel that the concerns, thoughts and feelings are all extremely valuable and makes it clear that the steps that Heathrow and Gatwick are taking are in the right direction.
With that in mind, we'll leave you with a collection of helpful tips which were collected via our survey, through our insights into open UK based chat forums and with the help of Maria and Nicole and their survey results conducted on behalf of The Australian Journal of DementiaCare, all of which you may find useful, and hopefully, encouraging.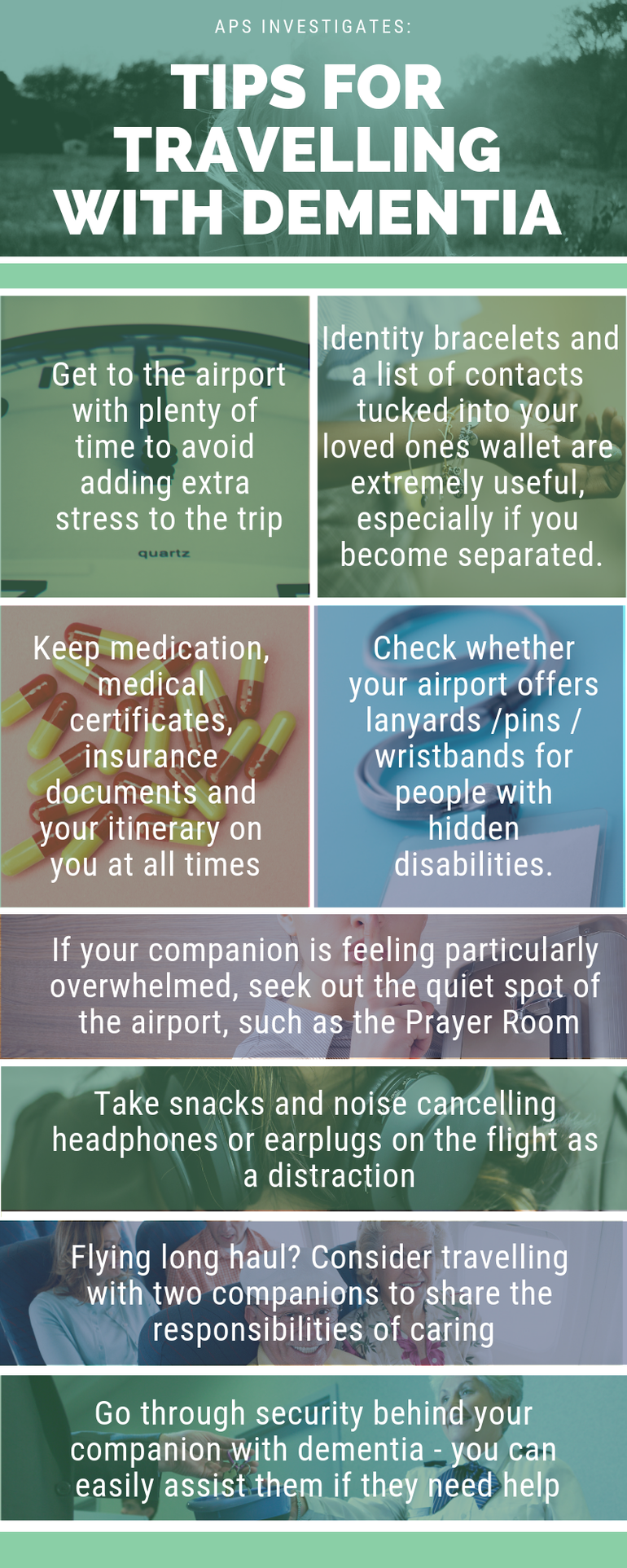 We would like to thank all of those that helped us with our research into this article, especially those who took our survey and the organisations who offered their expertise and insider knowledge.
We are passionate about bringing issues with travelling such as this to light and are excited to be in talks with Ian Sherriff, Academic Lead for dementia at Plymouth University, and chair to the PM's air transport group, about his involvement in helping airports and airlines become dementia friendly. We are keen to see if our article can compliment his continued efforts when he visits the house of commons for his quarterly meeting later this year – watch this space!
On a final note,  if you are interested to know, below, you will find a summary of our survey findings.